May is American Wetlands Month!
The U.S. Environmental Protection Agency encourages Americans to celebrate and value the important services provided by wetlands – wherever they may be found.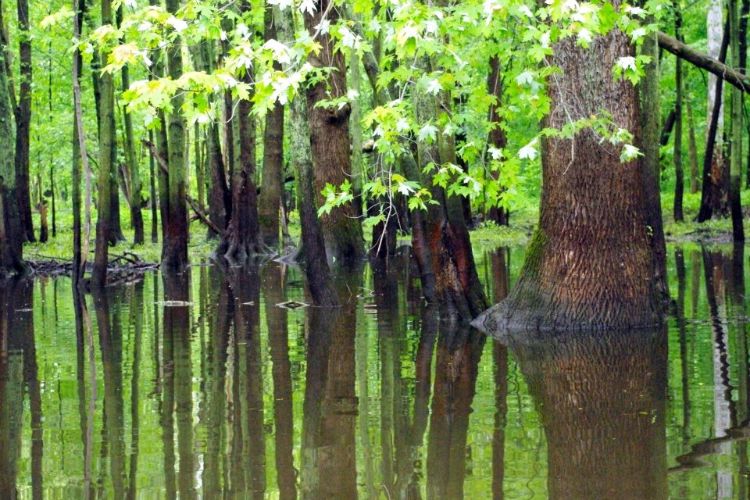 There is a saying out there that "Every swamp is a wetland, but not every wetland is a swamp!" What does that mean? It means that technically, there is a type of wetland known as swamp, but there are also marshes and bogs. And within these wetland types there are all sorts of shapes, sizes and functions.
As we, celebrate the 24th anniversary of American Wetlands Month, it is not just the vast coastal wetlands that come to mind. Although Michigan has lost nearly 50 percent of its wetlands to drainage and development, we still have many wetlands in all shapes, sizes and types.
While traveling around our state this month, Michigan State University Extension recommends that you try to see how many types of wetlands you can identify. The most common type of wetland in Michigan is the wooded wetland – usually referred to as a swamp. A swamp is characterized by tree species that can withstand variations in water levels. These kinds of wetlands can go unnoticed during dry periods, but their soils, trees and plant species serve as indicators to the careful observer. A wooded wetland in your community might be storing flood waters right now but appear to be dry by late summer. Where does that water go? It is recharging important groundwater supplies! Turn that drive to soccer or little league practice into a "wooded wetland watch" and notice how water levels vary during the summer months.
Marshes are easier to spot. They are usually more open to sunlight and support cattails and other wetland plants, along with animals like frogs and ducks. Unfortunately, marshes are often vulnerable to invasion by Purple Loosestrife, Reed Canary Grass and Phragmites which reduce their value to these animals. Water sources for marshes may include spring flood waters from adjacent rivers, lakes and streams, overland flow of stormwater and groundwater discharging into these low areas.
Bogs are wetlands whose main water source is rain water. They are characterized by ancient peat deposits and have been historically "mined" for their peat moss. Some bogs have thick, floating mats of sphagnum moss (yes, the kind you may have seen at the garden center) that actually bounce with each step you take. The conditions created by relatively "soft" rain water make for special plant communities that may include evergreen trees and a variety of shrubs.
There are millions of small, isolated "pothole" wetlands across the landscape. They may be swamps, marshes or bogs but all provide localized services such as flood water retention, cleansing, filtration and recharge of groundwater supplies, sediment and nutrient reduction and wildlife habitat. Small, contiguous wetlands (those with connections to streams and lakes) provide spawning and nursery areas for many Michigan fishes while storing and filtering flood waters before releasing them into our waterways.
For more information on Michigan's wetlands, please visit the Michigan Department of Environmental Quality's wetland protection pages. And remember to celebrate!