Meet Up and Eat Up Summer Food Service Program brings healthy meals to communities
For students who rely on school meals as a primary source of nutrition, summer vacation can pose a challenge for continuing to get regular, nutritious meals.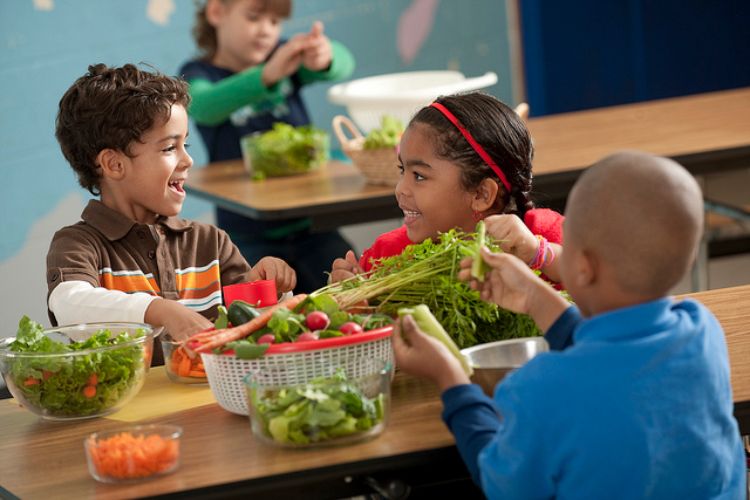 For many children in Michigan, their primary source of nutritious food is through school meals. Since most Michigan schools still take a summer vacation – what does this mean for children who rely on school meals for healthy food?
Fortunately, Michigan schools, community organizations, parks and other locations have the opportunity to provide meals to children throughout summer vacation. This program is called Meet Up and Eat Up, also known as Summer Food Service Program (SFSP). The goal of Meet Up and Eat Up is to provide free nutritious meals in the summer to children in Michigan who rely on school food as a source of energy and nutrition. These sites are located all over the state. The Michigan Department of Education manages a site locator tool, so anyone can search for nearby Meet Up and Eat Up sites in their area. You can also text "food" to the number 877877 and the closest sites to your location will be shared with you via text message.
Sites are located in lower income communities in Michigan. Eligibility to host a Meet Up and Eat Up site is based on having a school with a free and reduced lunch rate of greater than 50 percent in the community or by analyzing income data from the census which shows that the area income would qualify as 50 percent or higher free and reduced lunch rates.
Any young person under the age of 18 is eligible to receive meals from the Meet Up and Eat Up sites throughout the state. Not only do these sites offer nutritious meals, many have other programs available during meal times. Some sites will offer fun activities like crafts, health related activities around movement and physical activity as well as educational activities.
Currently there are 1,707 active Meet Up and Eat Up SFSP sites throughout the state. These sites are managed by 292 sponsors, which oversee the program by providing oversight, training, administration and reimbursement. These sponsors are a variety of schools, community organizations, parks and other locations.
While there are a large number of students eligible for meals through the Meet Up and Eat Up program, in 2014 it only had a participation rate of 17.5 percent. Michigan's total number of students in the 2014-2015 school year was 1,550,802. Of that total, 725,964 students were eligible for free and reduced lunch. With a 17.5 percent rate, that means that 12,704 students participated.
Transportation to meal sites can be a challenge, particularly in rural areas. Some sites have now started doing mobile routes to address this challenge, bringing meals to the communities that need them. Awareness of the program is still building, and fortunately, many agencies and schools are working to promote the opportunities provided by the Meet Up and Eat Up SFSP.
Community members can also be advocates for this program in their own communities. This can be as simple as locating nearby sites and supporting them or sharing with friends, family, local community organizations, schools and faith based organizations or places of worship.
Michigan State University Extension supports healthy meals for all of Michigan's children during the entire year.