Menominee County Program Highlights 2018
MSU Extension made a difference in the lives of Menominee County residents through educational programs and resources. Find out more.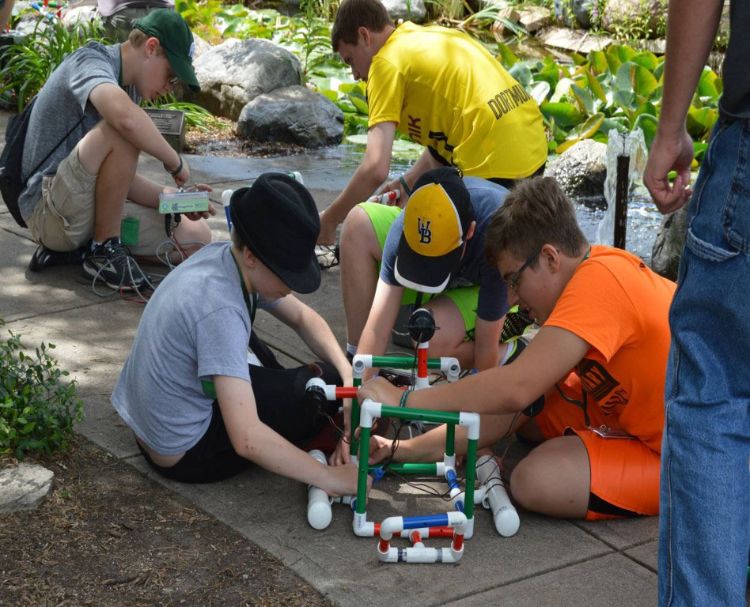 Investing in Menominee County Youth with 4-H
In Menominee County 4-H, we believe in the power of young people. By providing opportunities to learn and lead, 4-H helps youth become informed and engaged community members. While exploring new
topics and activities in an experiential way, youth build the skills they need for life.
One of our premier 4-H events is Super Saturday. This event is held in March at our local school. Me-nominee County leaders and teen leaders share talents and lead sessions throughout the day. There are four sessions that youth can register for. Examples of previous sessions include: climbing the rock wall, glass etching, robotics, where does pizza come from, ice cream and butter making, sewing a pillow case, mask making, clay creatures and mason jar aquariums. We typically have approximately 150 youth attending classes during this event every year.

Agriculture & Agribusiness
In Menominee County, 178 people participated in agriculture related program pertaining to field crops, business management, dairy production, social and emotional well-being, and youth. An example of research and education being done to improve local agricultural production is a Corn Hybrid Variety Trial at Pleasant View Dairy Farm in Stephenson, MI. The August field day attracted 36 participants who gained knowledge in variety selection, corn development and disease management. Staff at the Menominee County office also participated in Breakfast on the Farm located at Brock Dairy Farm with over 1000 attendees.
Supporting Family Health & Nutrition
Over 250 Project Fresh coupon books were distributed to seniors in Menomiee County in 2018.
Steph Meck, Community Nutrition Instructor in Menominee County has continued to reach out to community members through nutrition education series conducted in Stephenson, Carney and North Central Elementary schools, sharing information about healthy choices students can make for snacks and meals. The six session program reaches approximately 500 youth and discusses the USDA My Plate, the five food groups and the importance of physical activity and keeping food safe to eat. Taste testing is shared with students sampling healthy snack alternatives to perhaps not so healthy treats.
Nutrition education is also provided with the summer distribution of the Senior Project Fresh coupons that are redeemed at any Michigan Farm Market. Recipes, nutrition facts for fruits and vegetables and food safety and storage tips are provided as well. This program provides over 250 coupon books valued at $20 to eligible seniors to purchase fresh produce and the health benefits that offers. This program is also provided for Tribal members in Hannahville, where MSU Extension has a presence almost every farm market day throughout the summer.
Other areas where MSU Extension nutrition education is provided are at Farm Markets, WIC nutrition education with their Farm market coupons, Family Fun events at the elementary schools and Healthy Kids Day in collaboration with the Great Start Collaborative and they YMCA.
Community Development
Parker Jones started work as an Innovation Counselor in May 2018. In this role, he acts as a business counselor to help entrepreneurs launch products in the sectors of food, agriculture, natural resources and forestry. He has been active in building clients across these sectors and across the UP. Some projects with clients include – for example – assistance in accessing funding, understanding regulatory requirements, selling through new sales channels and lowering packaging costs. Parker was also trained in the Food Safety Modernization Act Produce Safety Rule, a set of federally mandated minimum standards for safe produce production and harvesting. He is available to help you understand how this law will impact your operation. A mandated training for covered produce growers will take place at the Stephenson Annex on April 11th.
Forestry
On March 1, 2018, 48 adults attended a presentation in Stephenson by Bill Cook, MSU Extension Forester, on the subject of oak wilt and how to report exotic species. This session was part of a larger Forest Health meeting held by the Menominee County Conservation District.
On September 19, 2018, the Michigan Technological University forest health class attended a presentation in Menominee County about oak wilt and wildland treat-ments. Presenters included Bill Cook, MSU Extension, Simeon Wright and Scott Lind, MI Department of Natural Resources and Tara Bal, MTU.