Michiana Irrigated Corn and Soybean Conference on March 6
The Michiana Irrigated Corn and Soybean Conference in Shipshewana, Indiana, will prepare farmers and irrigation professionals for the 2023 growing season.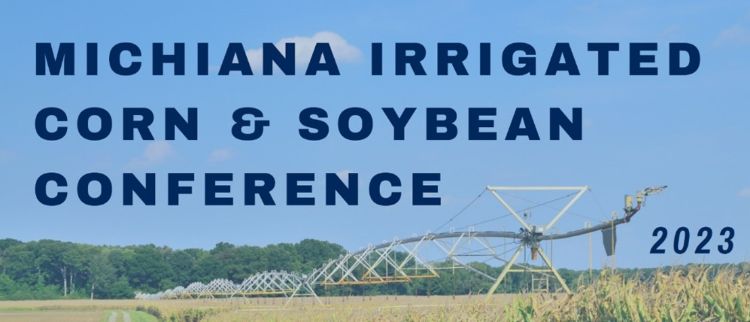 The 2023 Michiana Irrigated Corn and Soybean Conference will be held March 6 from 8:30 a.m. to 4 p.m. EST at the Blue Gate Theatre, 175 N Van Buren St, Shipshewana, IN 46565. This is a long-standing meeting hosted jointly by Purdue University and Michigan State University Extension for farmers and agribusiness professionals interested in irrigated crop production.
The cost is only $20 per person due to the generous sponsorship of the Indiana Corn Marketing Council, Indiana Soybean Alliance, Corn Marketing Program of Michigan, and the Michigan Soybean Committee. Cost includes a light breakfast and a family-style meal served by the Blue Gate. Pre-registration deadline is Feb. 27, but walk-in registrations will be accepted at $30 per person.
The morning will begin at 8:30 a.m. with check-in and a light breakfast with the first session beginning at 9 a.m. The topics and the presenters for this year's conference are as follows:
Soybean Cyst Nematode - Greg Tylka, Iowa State University
Managing Disease in Irrigated Systems - Marty Chilvers, Michigan State University
Intense Irrigated Corn and Soybean Management - Dan Quinn and Shaun Casteel, Purdue University
Anhydrous Ammonia Safety - Ann Kline, Purdue Extension
Economics of Water Use - Daran Rudnick, University of Nebraska-Lincoln
Irrigated Land Values - Michael Langemeier, Purdue University
Improving and Maintaining Irrigation Equipment - Younsuk Dong, Michigan State University
Producer Panel – area producers
Available credits include PARP (1) and CCH (Category 1, Category 14, RT) for Indiana applicators and RUP (2 Commercial/Private Core or 1a) credits for Michigan applicators as well as five CEUs (1 IPM, 2 NM, 2 CM) for Certified Crop Advisors.
Contact the St. Joseph County MSU Extension office (269-467-5511 or msue.stjoseph@county.msu.edu) with questions about registration or the Noble County Purdue Extension office (260-636-2111 or nobleces@purdue.edu) with questions about the program.