Michigan chestnut crop report for the week of Sept. 5, 2021
Burs continue to develop around the state.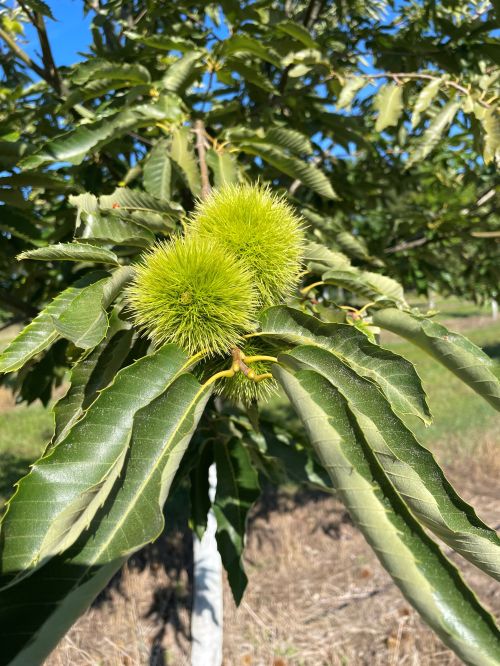 Weather
Last week offered a hint of our seasonal change with much cooler temperatures than the previous week. Last week was also wetter than normal. Looking back on the growing season, we began the year very dry, with several inches of deficit. We now have major surpluses across much of the state.
Soil moisture levels (plant extractable water in top 3 feet) are slightly above normal across much of the state. In terms of degree day totals, most areas of the state are still in surplus (seven to 10 calendar days), going back to beginning of March. It looks like these surpluses will continue based on the 6-10 day outlook.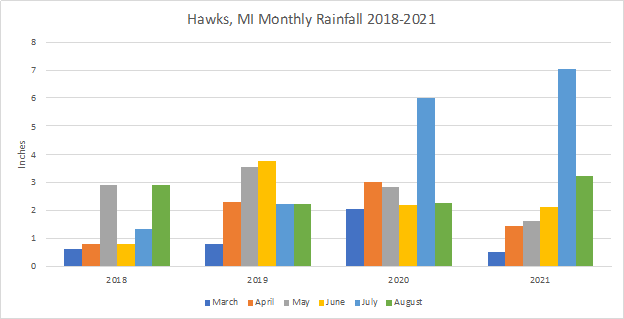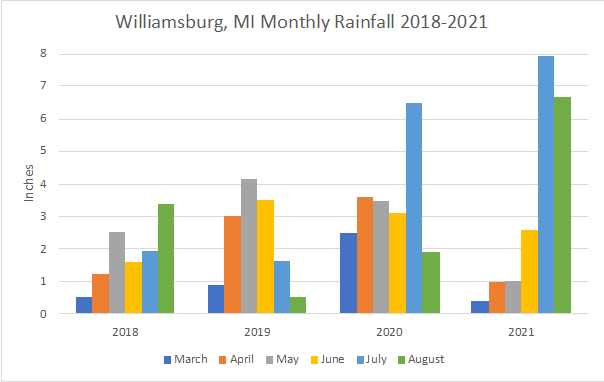 A major storm system rolled through northwest Michigan Tuesday morning. Some areas experienced 60 mph winds and hail. There is a 30-40% chance of showers Wednesday and Thursday across most of the state, with cooler than normal temperatures. Friday and Saturday are shaping up to be very pleasant prior to an increasing chance of rain early next week. Looking ahead, the 6-10 day outlook (Sept. 12-16, 2021) suggests above normal temperatures and average precipitation across the entire state.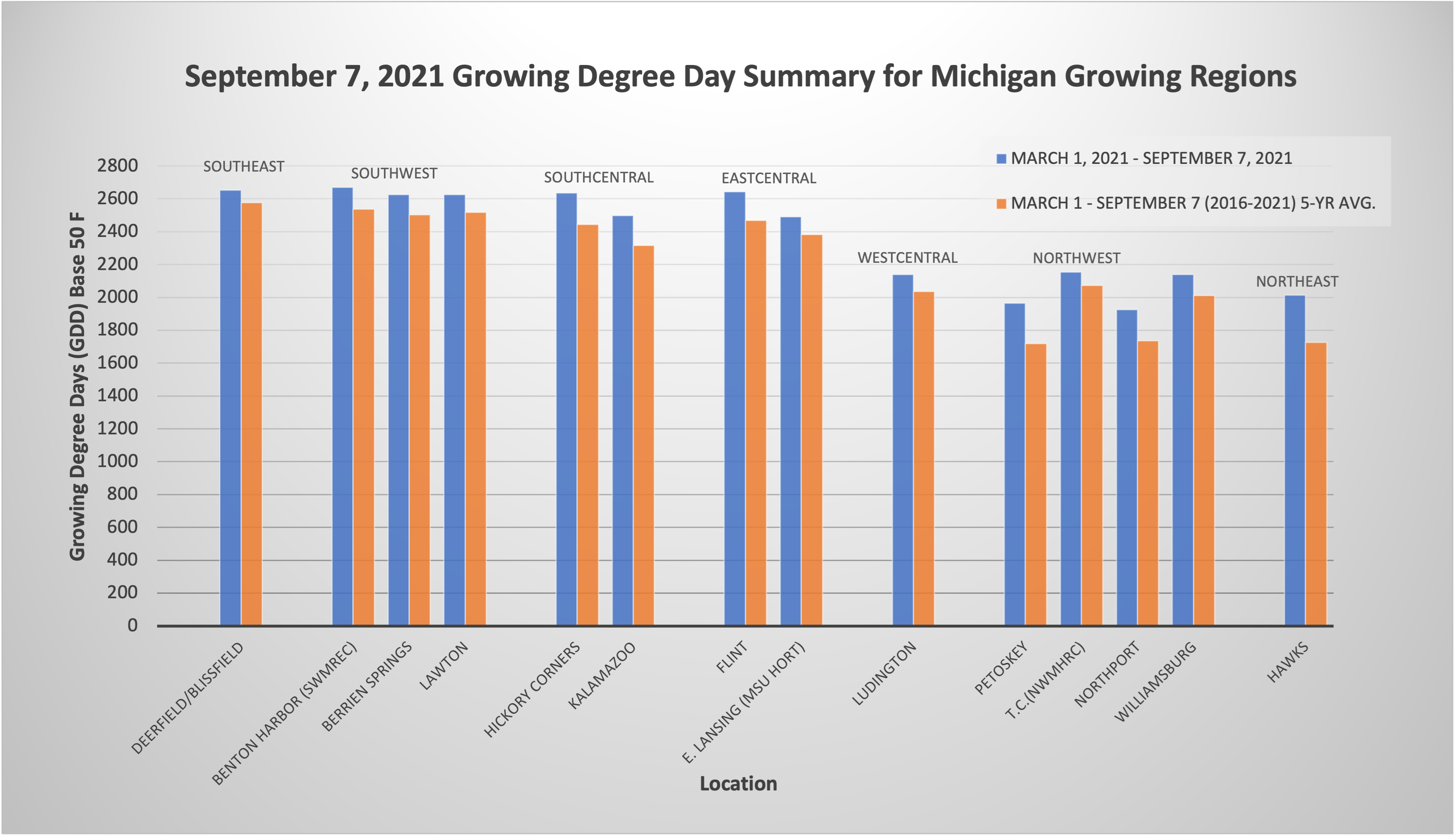 Watch the most recent agricultural weather forecast from Michigan State University state climatologist Jeff Andresen.
Crop development
Burs continue to develop. Growers attempting to estimate crop load can refer to the Michigan State University Extension article, "Estimating Crop Load in Edible Chestnuts," for some ideas on improving accuracy.
Integrated pest management
Growers should be scouting for chestnut weevil as burs develop. Chestnut weevil lay eggs on kernels and developing larvae feed on and compromise the kernel. If left unchecked, the larvae can infest and destroy the nuts. Larvae can be present at harvest resulting in "wormy" nuts making their way to consumers.
Michigan chestnut producers have reported an increase in the number of larvae in nuts at harvest. It is likely that the observed larvae are immature lesser chestnut weevils (Curculio sayi). As an emerging issue, Michigan producers have had very little experience with chestnut weevil, but formal research on this pest in Michigan is currently underway.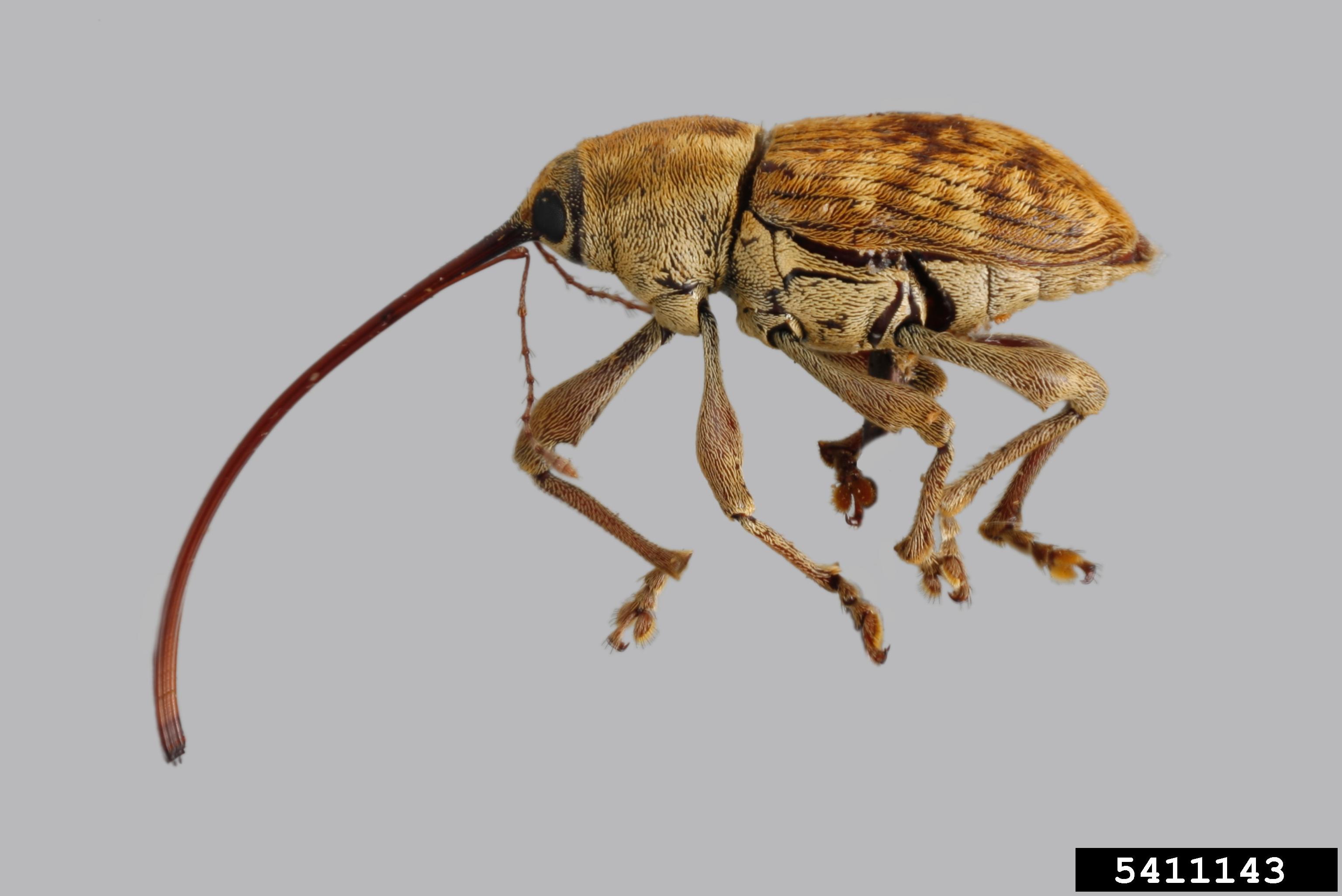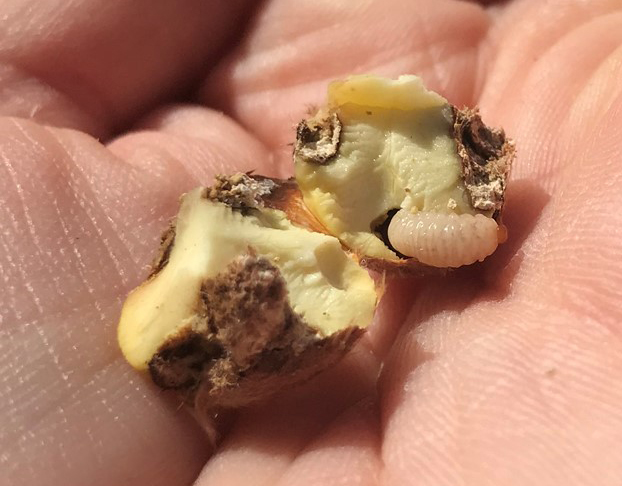 Lesser chestnut weevils have robust bodies, long snouts and are dark brown or tan with brown mottling or stripes. Lesser chestnut weevil is 0.25 inch in length, with a snout of equal or greater length. Scouting for adult weevils should begin just before bloom and continue regularly until harvest.
At this time, effective passive trapping techniques for chestnut weevil have not been identified; you should instead focus on the limb-tapping technique. To use the limb-tapping technique, place a light-colored sheet under the limb you are sampling and tap the branch with a padded pole or stick; tap gently to avoid damage to the tree. Jarring the branch causes the weevils to drop from the tree onto the sheet.
Weevils will "play dead" when disturbed, so don't be fooled. Chestnut weevils are substantial in size and should be easily visible if present. Sample at least 30 branches per acre. Scouting locations should include both the edges and interior of orchards as well as any known hotspots.
To read more about chestnut weevil, refer to the article, "Managing chestnut weevil in Michigan 2020."

Japanese beetles are still active. Japanese beetle adults are considered a generalist pest and affect many crops found on or near grassy areas, particularly irrigated turf. Larvae prefer moist soil conditions and do not survive prolonged periods of drought. Adult Japanese beetle typically emerge around early July and feed on hundreds of different plant species. Adult beetles feed on the top surface of leaves skeletonizing the tissue. If populations are high, they can remove all of the green leaf material from the plants.
There are no established treatment thresholds or data on how much Japanese beetle damage a healthy chestnut tree can sustain, but consider that well-established and vigorous orchards will likely not require 100% protection. Younger orchards with limited leaf area will need to be managed more aggressively. Managing Japanese beetle can be a frustrating endeavor as they often re-infest from surrounding areas, especially during peak adult emergence in July. This re-infestation is often misinterpreted as an insecticide failure, but efficacy trials have shown that a number of insecticides remain effective treatment options.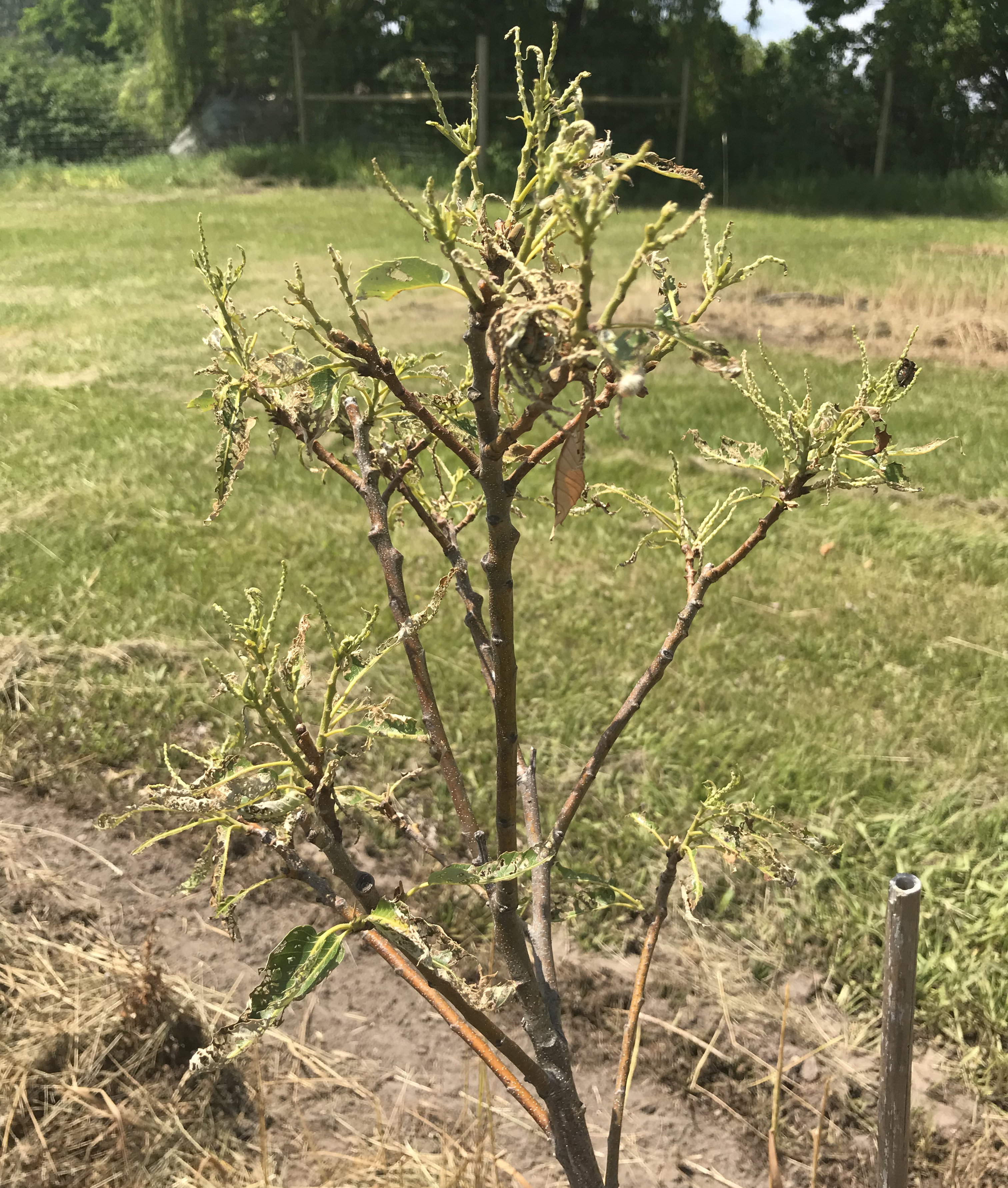 Japanese beetle adults are a substantial insect and measure 3/8 to 1/2 inch long. The thorax is green and wingcovers are copper colored. There are five tufts of white hairs on both sides of the abdomen and a pair of tufts on the end of the abdomen that can help distinguish the Japanese beetle from other look-alike species. The legs and head are black.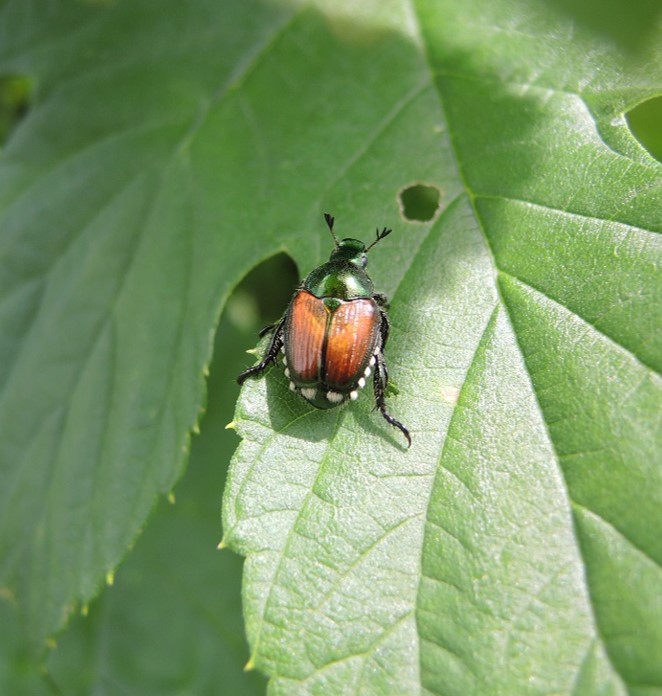 Visual observation of adults or feeding damage is an effective scouting technique. Scout along a transect through orchards at least weekly until detection, paying special attention to the tops of trees. Because of their aggregating behavior, they tend to be found in larger groups and are typically relatively easy to spot. Pheromone and floral baited traps are available but are not recommended as visual observation is adequate to determine when beetles emerge and should be managed. For more information on insecticides available for the treatment of Japanese beetle refer to the current Chestnut Management Guide.
Potato leafhopper feeding damage is visible in some orchards. Like many plants, chestnuts are sensitive to the saliva of potato leafhopper, which is injected by the insect while feeding. Damage to leaf tissue can cause reduced photosynthesis which can impact production and quality and damage the tree. Most injury occurs on new tissue on shoot terminals with potato leafhopper feeding near the edges of the leaves using piercing-sucking mouthparts. Symptoms of feeding appear as whitish dots arranged in triangular shapes near the edges. Heavily damaged leaves are cupped with necrotic and chlorotic edges and eventually abscise from the tree. Severely infested shoots produce small, bunched leaves with reduced photosynthetic capacity.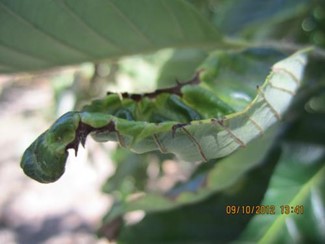 Adult leafhoppers are pale to bright green and about 1/8 inch long. Adults are easily noticeable, jumping, flying or running when agitated. The nymphs (immature leafhoppers) are pale green and have no wings but are very similar in form to the adults. Potato leafhopper move in all directions when disturbed, unlike some leafhoppers which have a distinct pattern of movement. The potato leafhopper can't survive Michigan's winter and survives in the Gulf States until adults migrate north in the spring on storm systems.
Wildlife
Growers with wildlife management concerns are encouraged to check out the resources at the Integrated Pest Management Wildlife Management page. As we move into harvest, excluding wildlife, particularly deer, from the orchard is important to preventing crop loss and maintaining produce safety standards.
Become a licensed pesticide applicator
All growers utilizing pesticide can benefit from getting their license, even if not legally required. Understanding pesticides and the associated regulations can help growers protect themselves, others, and the environment. Michigan Pesticide Applicator Licenses are administered by the Michigan Department of Agriculture and Rural Development. You can read all about the process by visiting the Pesticide FAQ webpage. Michigan State University offers a number of resources to assist people pursuing their license, including an online study/continuing ed course and study manuals. For more information on becoming licensed, contact Lisa Graves at 517-284-5653.
Stay connected
For more information on chestnut production, visit www.chestnuts.msu.edu and sign up to receive our newsletter. Also, save the date for the Midwest Chestnut Producers Council Membership Meeting March 18-19, 2022. This event will be packed with lost of great topics presented by industry leaders and MSU faculty. More details to follow.
This work is supported by the Crop Protection and Pest Management Program [grant no 2021-70006-35450] from the USDA National Institute of Food and Agriculture. Any opinions, findings, conclusions, or recommendations expressed in this publication are those of the author(s) and do not necessarily reflect the view of the U.S. Department of Agriculture.