Using the Michigan EnviroImpact Tool when applying manure: environment and economics
Learn more about how the Michigan EnviroImpact Tool can help with nutrient application in this Ag Innovation Day Session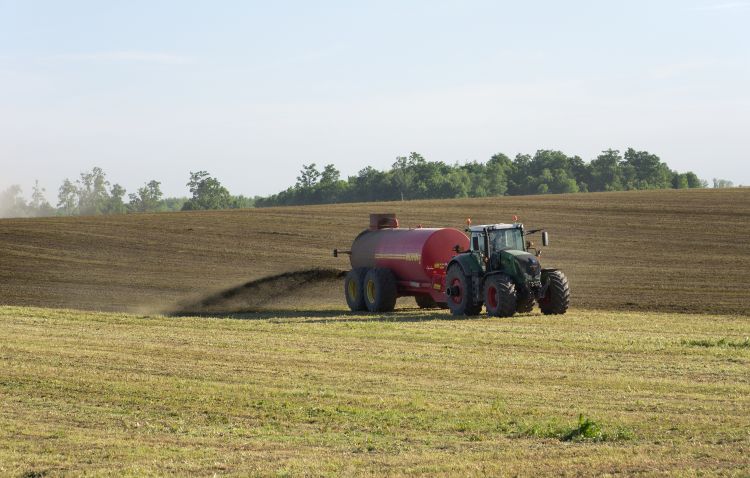 The Michigan EnviroImpact Tool is a short-term manure nutrient application planning tool that shows daily runoff risk across Michigan using National Weather Service information about precipitation, soil moisture and temperature, as well as landscape characteristics. This free tool can be used by those in agriculture and communities to better target appropriate times for nutrient administration.
Manure can be a great alternative fertilizer source that may help some farmers to save money due to less commercial fertilizer purchases. It is important to keep these manure nutrients on the field not only from an economic standpoint, but also from an environmental standpoint. Best management practices for individual farms and fields along with the Michigan EnviroImpact Tool can be used to mitigate nutrient runoff.
Most of our waterways in Michigan flow to the Great Lakes, which is home to 84% of North America's surface fresh water and 21% of the world's fresh water supply. When excess nutrients flow into these waterways, harmful algal blooms can occur. When these blooms decompose, they use up oxygen that other aquatic life needs in order to survive. Theses blooms can also produce toxins that are harmful to both humans and animals and may cause the impairment of drinking water.
At Michigan State University Extension's Agriculture Innovation Day, the Michigan EnviroImpact Tool will be described in one of the available sessions. A rainfall simulator will be used to demonstrate how different types of soil, surfaces, and management practices can effect runoff to supplement how the Michigan EnviroImpact Tool can help plan the timing of manure application based on field variability. Additionally, the developer, Dustin Goering (NOAA), will be discussing some of the ins and outs of the tool. Lastly, Large posters and a flipchart will be utilized to showcase the tool. Handouts will also be available for participants to take home to supplement the session.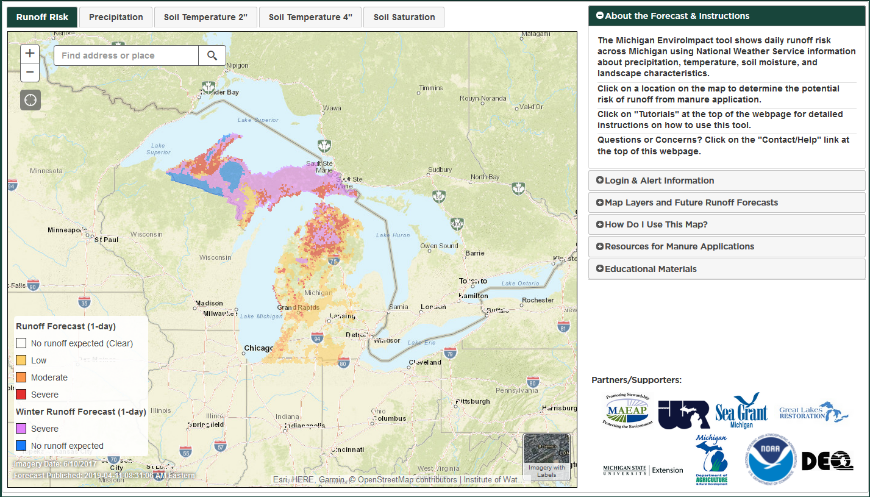 MSU Agriculture Innovation Day is an annual event focusing on in-depth education on critical topics. The event rotates to various locations throughout the state to give farmers access to experts who can help them improve their businesses while maintaining environmentally sound practices on their farms.
MSU Agriculture Innovation Day: Focus on Precision Technology That Pays takes place from 8:30 a.m. to 5 p.m. July 26 at MSU Farms, 3750 N. College Rd., Lansing, MI 48910. The event features how implementing technology that aids in decision-making can improve yields, increase profit margins and reduce environmental impacts on today's farms. The event has been approved for Restricted Use Pesticide credits (6 credits) and Certified Crop Advisor continuing education units in integrated pest management, crop management, soil and water management and sustainability. For detailed session descriptions,
visit https://www.canr.msu.edu/msu_agriculture_innovation_day/ or contact Ron Bates at batesr@msu.edu. Registration is available at https://events.anr.msu.edu/msuaginnovationday/.