Michigan hop crop report for the week of July 26, 2021
The Michigan hop crop is progressing nicely.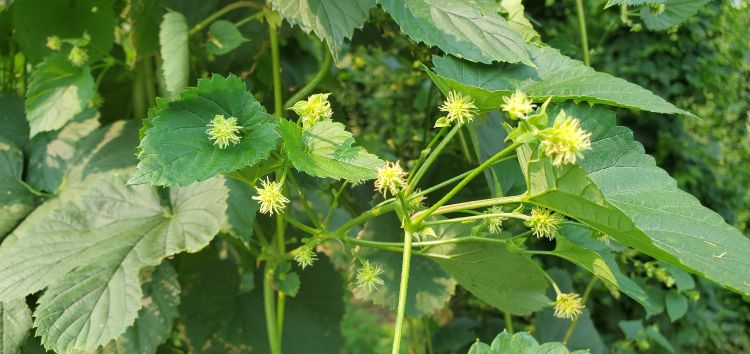 Weather
For the last week, mean temperatures were 1-2 degrees Fahrenheit below normal in southeast Michigan and 2-3 F above normal in the Upper Peninsula. Most areas of the state received significant precipitation this past week (0.5-2 inches). The southeast half of lower Michigan received some severe weather with tornados and high wind.
In terms of degree day totals, most areas of the state are still in surplus (three to seven calendar days), going back to beginning of March.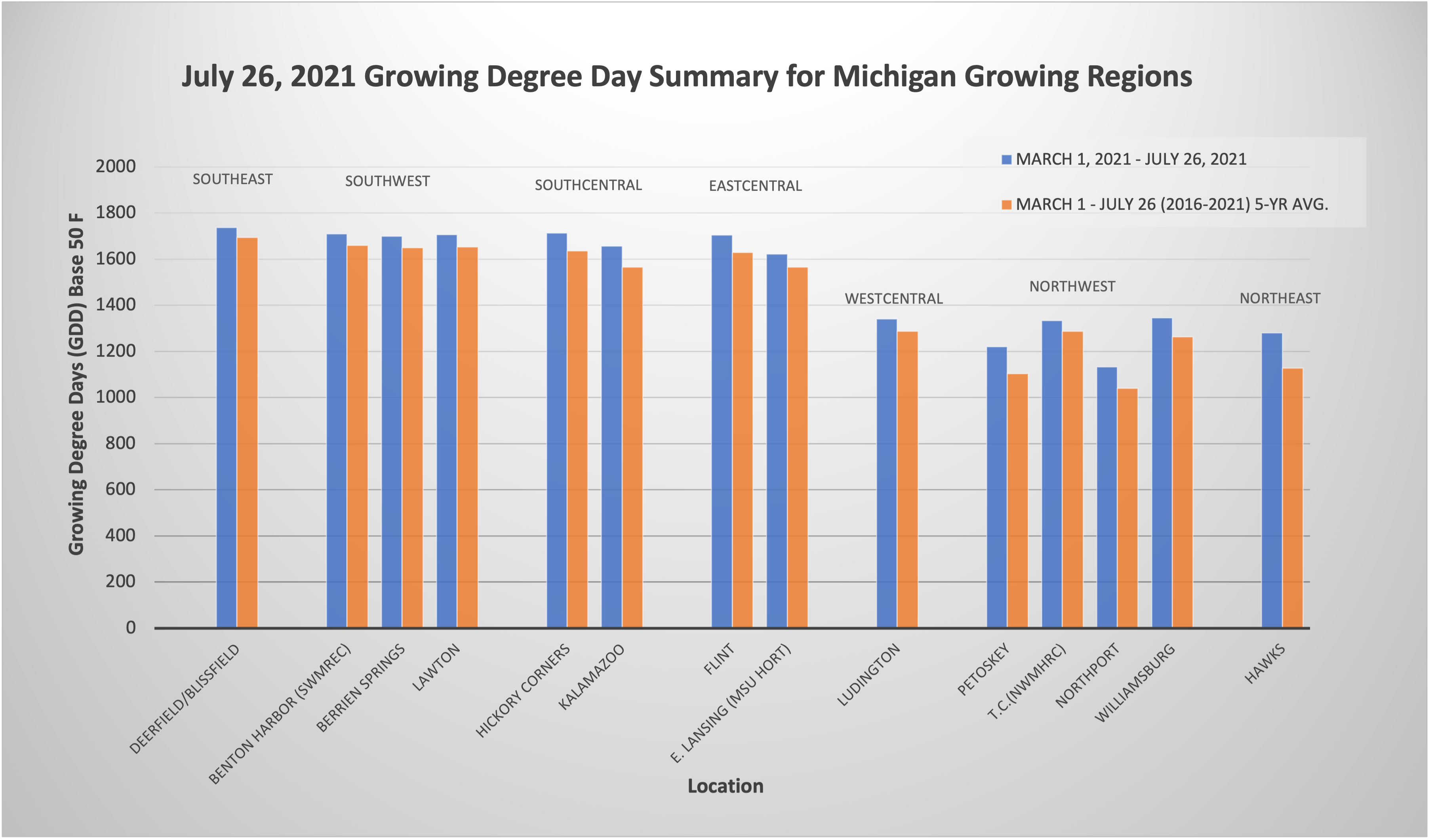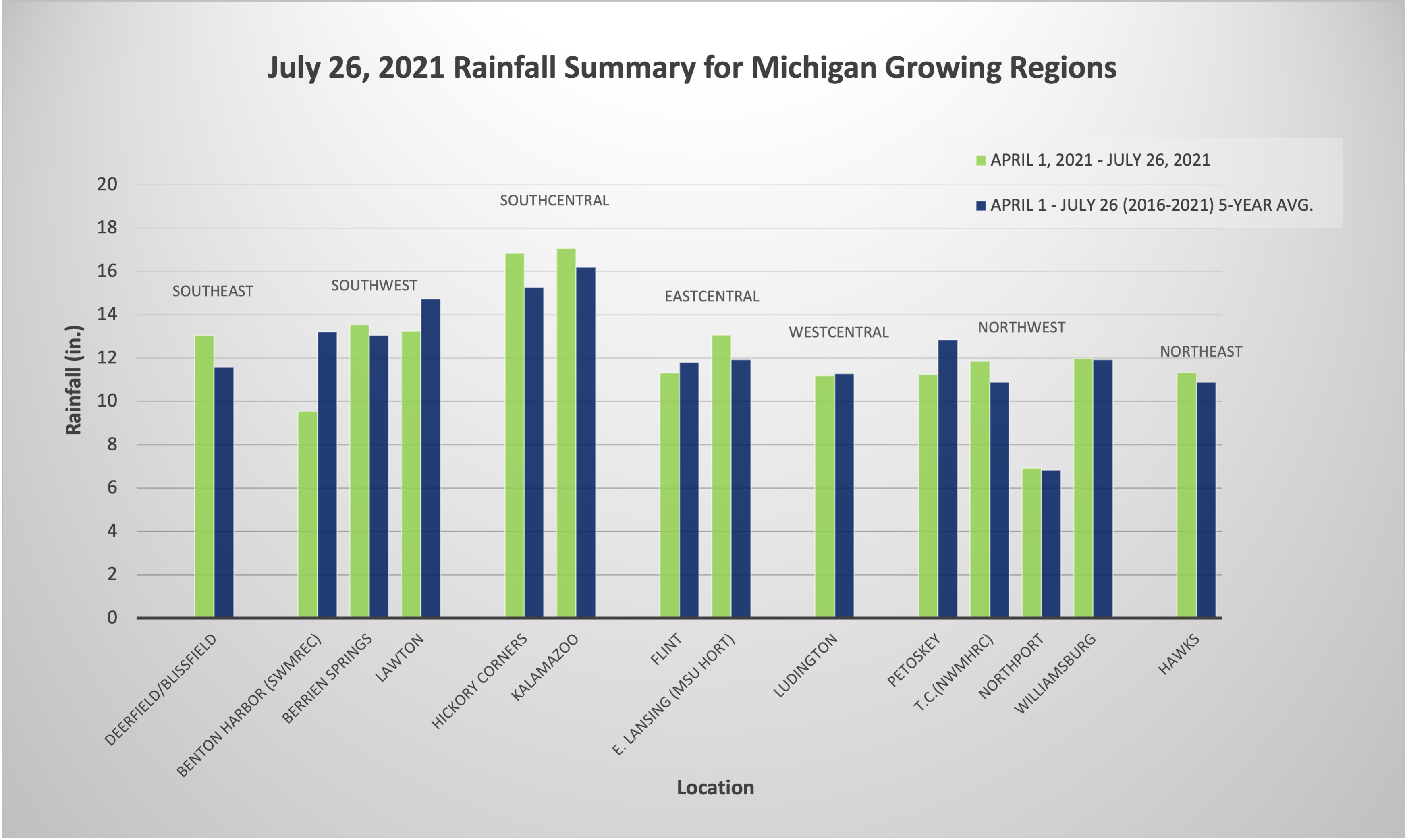 Soil moisture is now higher than normal, except the Thumb region and the western Upper Peninsula, which is connected to the drought conditions in the upper Great Plains. According to the U.S. Drought Monitor, there have been major changes in last four weeks in Michigan. In mid-June, one-third of Michigan was in D2 severe drought, and now less than 1% of the state is in severe drought.
Scattered showers will move south and eastward across mid-Michigan on Tuesday. This will likely break up as it moves across the state. Wednesday afternoon into Thursday morning there is a high chance of heavy precipitation, especially across southwest Michigan. This front will also bring in fair conditions and cooler than normal temperatures on Friday. These cloudy and cool conditions will continue over the weekend with a chance of scattered showers. The cooler than normal trend will also carry through early next week with high temperatures in the 70s and lows in the 50s. The 6-10 day outlook (Aug. 1-5) suggests cooler than normal temperatures and less than average precipitation.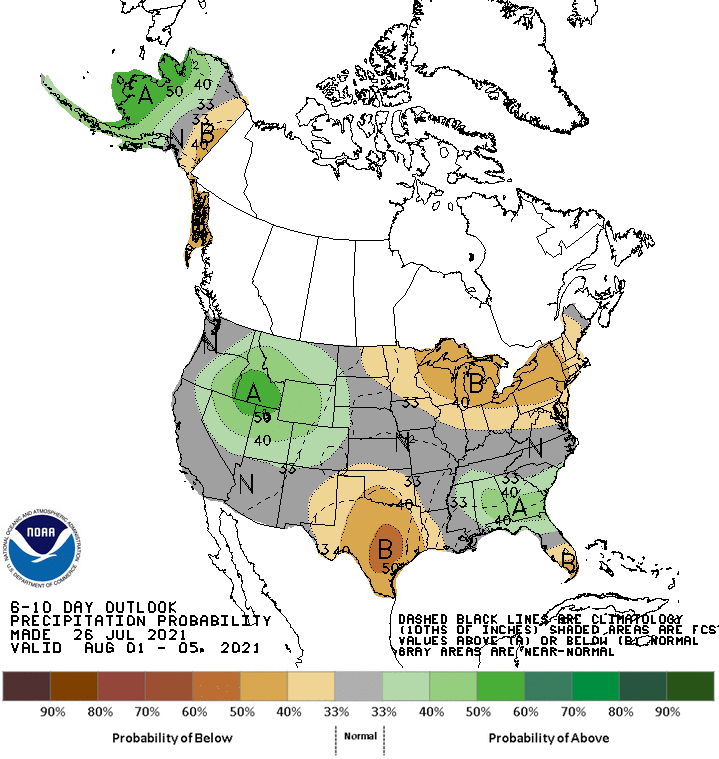 Watch the most recent agricultural weather forecast from Michigan State University state climatologist Jeff Andresen.
Stage of production/physiology
Hops range from Principal Growth Stage 6: Flowering to Principal Growth Stage 7: Development of Cones. Average cone height by cultivar can be viewed in the table below.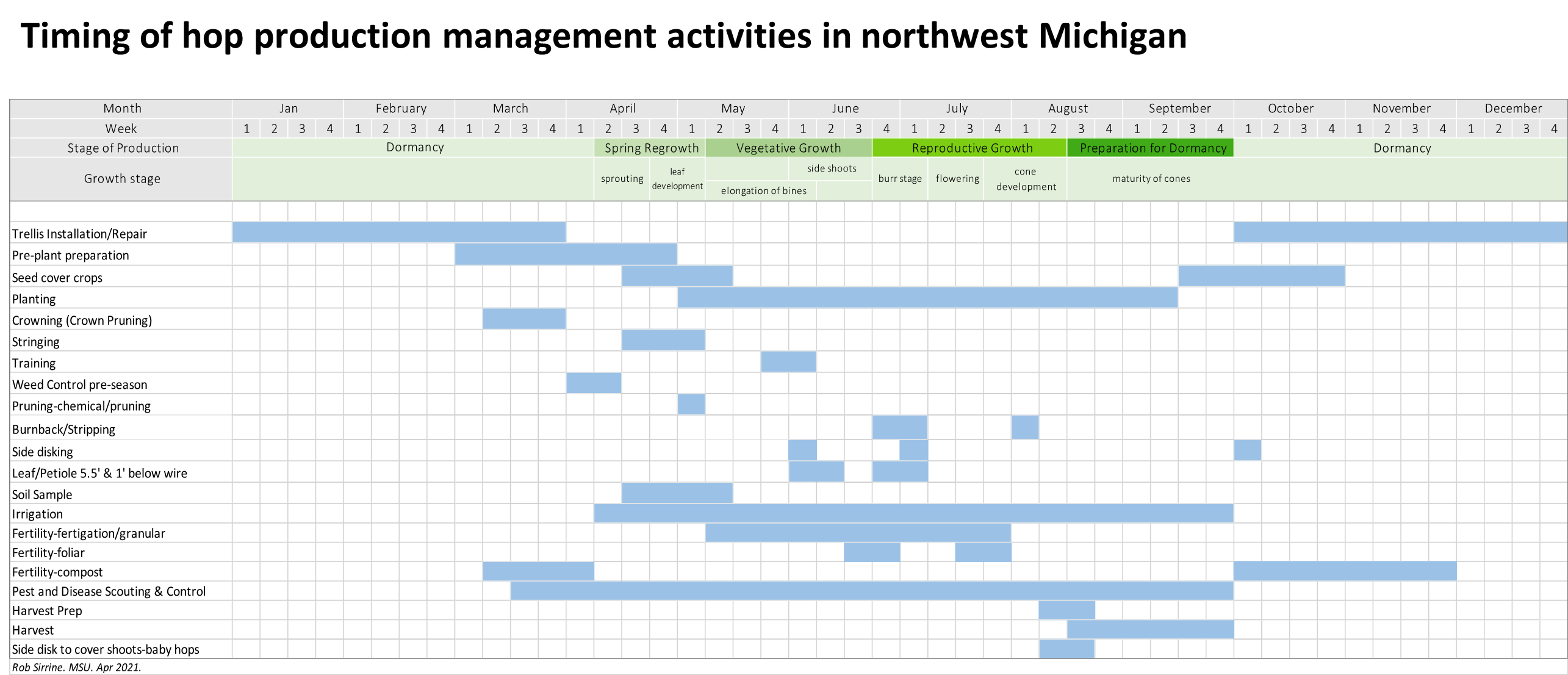 Statewide update
Hop plants are looking very healthy across the state. Parts of Michigan have experienced wet and humid conditions over the last few weeks. Growers are reporting signs of mildew here and there in more susceptible varieties and working diligently to keep the plants covered on a tight spray program.
Mite pressure has been relatively low overall as has European corn borer. Second generation European corn borer flight has started but numbers appear low. Japanese beetle numbers have been high. Growers are prepping for harvest.
Diseases
Sclerotinia wilt (also known as white mold) is being observed at this time. According to the Hop IPM Field Guide, Sclerotinia wilt affects nearly 400 weed and crop plant species, including green bean, pea, lima bean, canola, carrot, lettuce, potato, sunflower and squash. The disease is caused by a fungus, Sclerotinia sclerotiorum, and is only an occasional problem on hop in wet, cool climates. Sclerotinia wilt can cause damage when soil and plants remain continuously wet and temperatures are mild.
Disease symptoms generally appear in late spring or early summer as soft, watersoaked lesions on bines just below or near the soil surface at the crown. The infected tissue collapses, creating a light brown to grayish lesion approximately 1 to 4 inches long. In some instances, the fungus can colonize stems higher on the plant. During wet weather, fluffy white growth of the fungus may form on the infected tissue.
Small (about 1/16 to 1/8 inch), hardened, black overwintering structures (sclerotia) form on and in diseased bines. As the disease progresses, the lesions expand and may girdle the bine, causing a wilt. Bines with smaller diameter seem more likely to fully wilt than larger diameter bines. Leaves generally remain green until the bine is girdled completely. Disease symptoms may appear similar to those caused by Fusarium canker or Verticillium wilt, however, the presence of fluffy white mycelia and sclerotia are diagnostic for Sclerotinia wilt.
Control measures for Sclerotinia wilt of hop usually are not needed. Cultural practices that reduce the duration of wetness on plants and the soil surface can reduce disease incidence. These practices may include limiting nitrogen fertilization, removing excess basal shoots and leaves, stripping leaves from lower bines, delaying the first irrigation as long as possible, and timing irrigations to allow the top two inches of the soil to dry completely between irrigations.
For more information, refer to the Hop IPM Field Guide.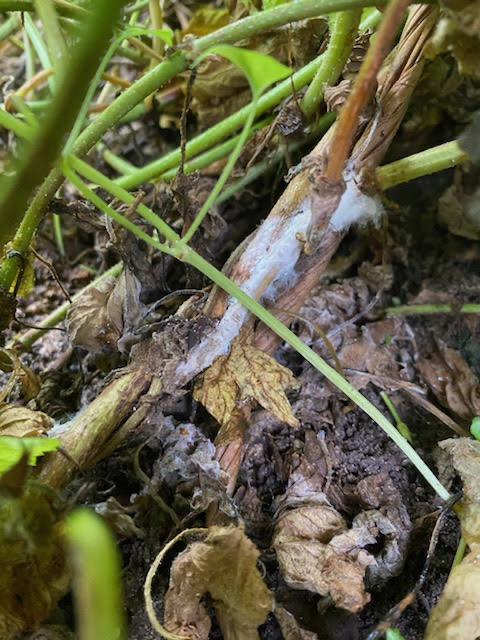 Basal spikes and lateral infections of downy mildew have been seen in southwest Michigan for the past few weeks. Downy mildew symptoms will likely continue to develop into secondary downy mildew on lateral shoots if left uncontrolled. Most growers have made one to two chemical application already. Several effective foliar fungicides are available and include products in FRAC codes 4, 11, 21, 40, 43, 45 and 49.
See the MSU Extension article, "Managing hop downy mildew in Michigan," for more information on management methods for downy mildew and refer to the Michigan Hop Management Guide. This is a critical time to control downy mildew to prevent the development of lateral downy mildew and additional spikes in the yard.
We have been observing powdery mildew in southwest Michigan on some specific hop cultivars as early as May 18. Occasionally we saw flagged shoots but now have been seeing more typical symptoms on the foliage. In Michigan, because powdery mildew appears to be more sporadic, using clean planting material when establishing new hop yards can be a very useful strategy since it is readily spread via nursery stock.
Please consult the MSU Extension article, "Managing hop powdery mildew in Michigan in 2020," for more specific details about how to manage powdery mildew using other cultural practices and chemical applications.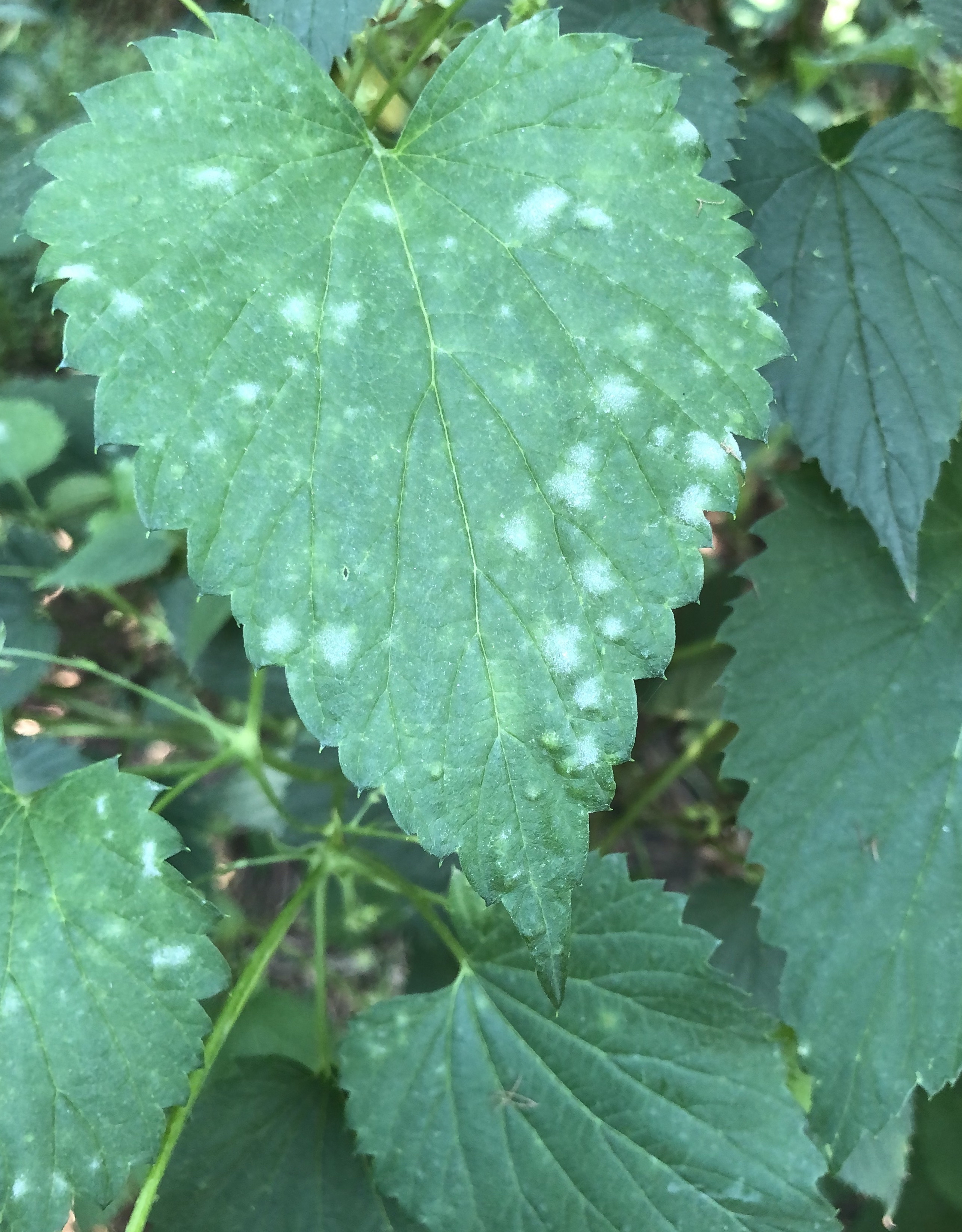 Now is a great time of year to look for viral disease symptoms on new growth. On June 1, we observed a Centennial plant that is known to be infected with four viruses: 1) American hop latent virus, 2) hop latent virus, 3) hop mosaic virus and 4) hop stunt viroid. The best way to control viruses is to utilize sanitation practices prior to planting (e.g., using virus tested stock, destroy heavily symptomatic plants). For more information about hop viruses, please check this article, "Virus visible in Michigan hopyards."
On May 28, we began to observe foliar halo blight in hopyards. These infections are caused by a fungus. This fungus is a Diaporthe sp. and researchers at Michigan State University have been studying management methods for the past two years. Halo blight can be a serious disease in specific yards and lead to significant cone infections and ultimately shatter during harvest. It appears to have a wider geographic range than previously thought and has been recovered throughout Michigan on both leaves and cones. How the pathogen survives during the winter, spreads, causes new infections is still being investigated. The goal is to provide management tools that can be used to prevent foliar and cone infections in yards.
Insects
Twospotted spider mite activity continues around the state and mites found during scouting should be treating. Twospotted spider mite is a significant pest of hop in Michigan and can cause complete economic crop loss when high numbers occur. Feeding decreases the photosynthetic ability of the leaves and causes direct mechanical damage to the hop cones. Leaves take on a bronzed and white appearance and can defoliate under high pressure. Intense infestations weaken plants, reducing yield and quality. Dry, hot weather provides ideal conditions for outbreaks.
Scout carefully for mites season long and treat while populations are at low levels when mites are most effectively managed. Refer to the Twospotted Spider Mite Factsheet for more information on identification and management.
Potato leafhopper numbers have continued to build in untreated areas. Like many plants, hops are sensitive to the saliva of potato leafhopper, which is injected by the insect while feeding. Damage to leaf tissue can reduce photosynthesis, which can impact production, quality, and cause death in baby plants. Refer to the Hop Potato Leafhopper Factsheet for more information on identification and management.
European corn borer remains a concern this year, particularly on sites with infestations in 2019-20. European corn borer has been a minor pest of hop in Michigan over the last decade. Other Midwestern states have experienced more substantial damage from this introduced moth. Unfortunately, damaging levels of European corn borer larvae were present in some Michigan hopyards for the last two years. The Enviroweather corn borer model has predicted adult moth emergence in all major hop production regions in Michigan at this time.
Regardless of location, scout for adults, eggs and larvae now. For more information on European corn borer, refer to the MSU Extension article, "Be on the lookout for European corn borer in hops."
Japanese beetles are being widely observed at this time. Adult Japanese beetles aggregate, feed and mate in large groups after emergence, often causing severe and localized damage. They feed on the top surface of leaves, skeletonizing the tissue between the primary leaf veins. If populations are high, they can remove all the green leaf material from plants. Japanese beetle may also feed on developing flowers, burrs and cones.
For more information on identification and management, check out this Japanese beetle factsheet and refer to the Michigan Hop Management Guide.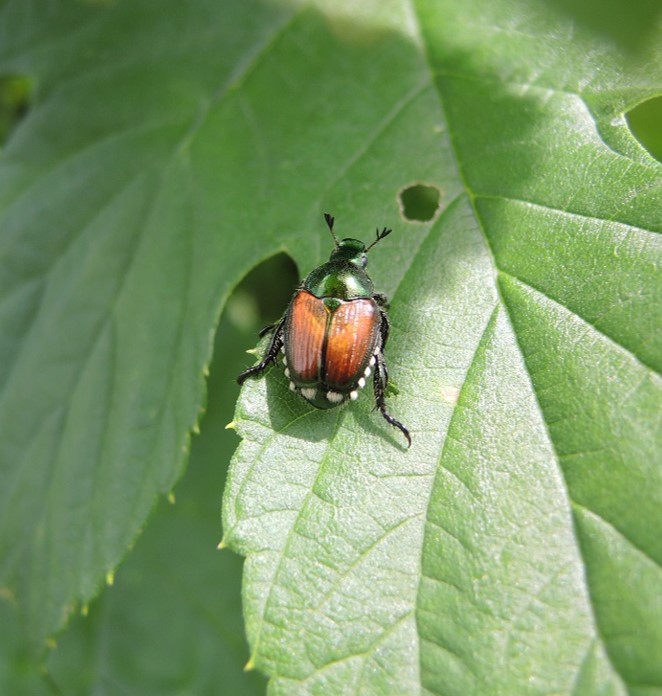 Weeds
Grass weed pressure remains substantial this season, especially with recent precipitation. Growers commonly use a selective grass herbicide containing the active ingredient clethodim to manage annual and perennial grasses within the row. Growers utilizing Aim will also get some control of grasses and broadleaf weeds in the row. Aim should not be used on baby hops. For more information on registered herbicides, refer to the Michigan Hop Management Guide.
Virus testing
MSU Plant & Pest Diagnostics is now providing testing for hop viruses and viroids! Please refer to the recent MSU Extension article, "MSU Plant & Pest Diagnostics provides testing for hop viruses and viroids," for information on costs and protocol for submitting samples.
Fertility
Growers should be dialing down nitrogen fertilization and considering applying micronutrients. Please reference the Nutrient Management section (pages 22-26) of the Michigan Hop Management Guide for fertility recommendations. As hops approach the wire, consider pulling leaf plus petiole samples for nutrient testing (from 1 foot below the wire) to determine if supplemental/foliar nutrient applications are in order. For more information on hop leaf plus petiole sampling, please refer to "The importance of testing hop fertility."
Soil testing labs
Plant-tissue labs
Comprehensive soil health testing labs
Stay connected
For more information on hop production, visit the MSU Extension Hops website. Also, Michigan State University Extension is hosting a series of interactive Hop Chat Zoom meetings this 2021 season to allow easy communication between producers and MSU faculty. These informal weekly sessions run every Wednesday at noon from May 4 through Sept. 7 and include crop and pest updates from MSU Extension's Rob Sirrine and Erin Lizotte. In addition, MSU faculty will drop in to address timely issues and provide research project updates. Bring your field notes, too! We want to hear what's going on in your hopyard. Registration is free but required. Sessions will not be recorded. Register here!
This material is based upon work supported by the National Institute of Food and Agriculture, U.S. Department of Agriculture, under Agreement No. 2017-70006-27175. Any opinions, findings, conclusions, or recommendations expressed in this publication are those of the author(s) and do not necessarily reflect the view of the U.S. Department of Agriculture.