Michigan hop crop report for the week of June 28, 2021
Burr stage in hops is imminent.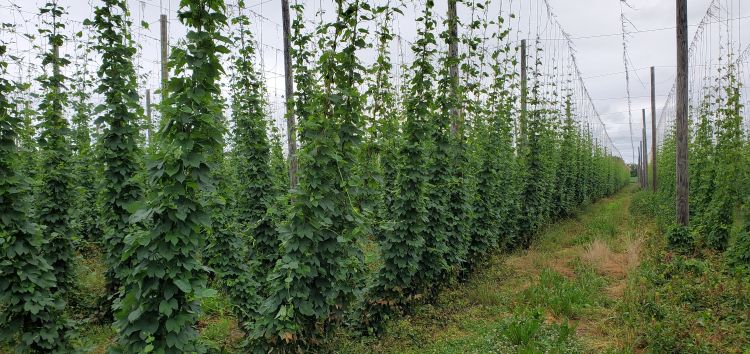 Weather
Some areas of the state experienced severe weather over the weekend with very heavy precipitation. The southern two-thirds of lower Michigan received at least 2 inches of rain; certain areas received over 5 inches, which caused localized flooding. In only two weeks, water deficits have nearly disappeared across most of the state. In northern lower Michigan and especially the northeastern Lower Peninsula, rainfall was only scattered and some moisture deficits remain. Although, because of heavy precipitation across most of the state, there has been a 25% increase in soil moisture in top 3 feet of soil profile.
Temperatures were 2-4 degrees Fahrenheit lower over the last few days. We are still generally ahead in growing degree days (GDD). Chances are likely for additional precipitation through Wednesday and then isolated showers Thursday. A cooler, dryer pattern will take shape as we move into the holiday weekend, and then by early next week temperatures will increase to above average.
Both the 6-10 day forecast and 3-4 week outlook suggest warmer than normal temperatures, although not nearly as warm as the all-time record breaking heat smothering the Pacific Northwest at this time.
Watch the most recent agricultural weather forecast from Michigan State University state climatologist Jeff Andresen.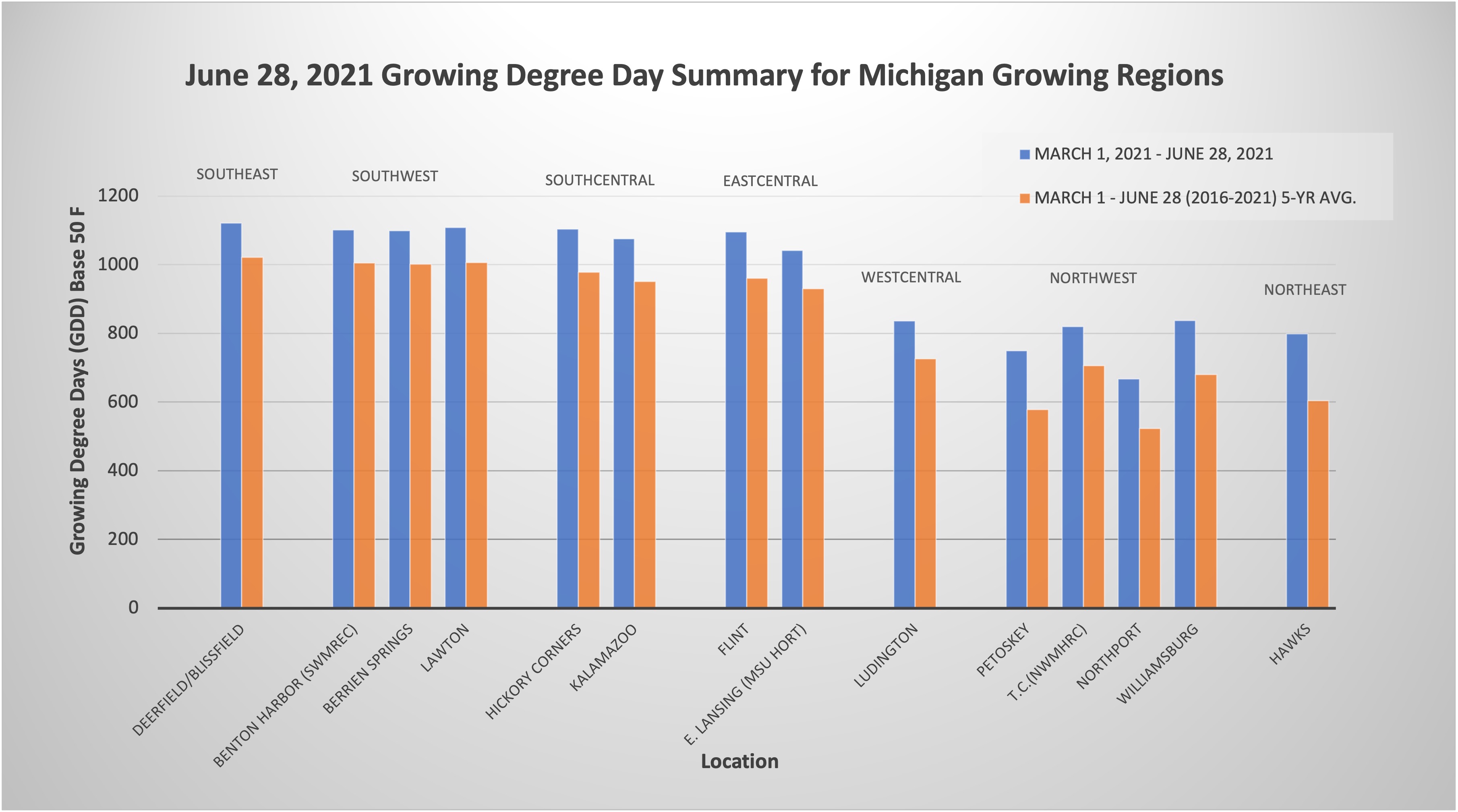 Stage of production/physiology
This week, we began seeing initial burrs in our experimental hopyard in East Lansing, Michigan, which supports several commonly grown cultivars. For each cultivar that had burrs, up to five burrs at the same developmental stage were measured for their height and width using a digital caliper. Values measured were then averaged. Several cultivars still do not have obvious burrs developing but we expect them to develop next week.
Cultivars

6/23/2021

6/28/2021

Average height (mm)

Average width (mm)

Average height (mm)

Average width (mm)

Cascade

N/A

N/A

7.9

3.14

Cashmere

7.08

11.65

8.88

10.2

Centennial

4.80

6.90

6.42

3.30

Chinook

7.80

8.72

7.02

3.54

Cluster L8

7.66

7.90

6.08

6.68

Comet

7.58

8.68

7.36

3.16

Crystal

12.02

3.72

9.90

3.83

Galena

N/A

N/A

6.30

3.86

Hallertau Mittelfruh

7.90

5.56

6.20

4.10

Horizon

N/A

N/A

5.80

4.64

Liberty

9.15

3.65

N/A

N/A

Newport

6.04

14.76

8.22

8.20

Northen Brewer

11.22

14.98

7.52

6.62

Nugget

N/A

N/A

7.32

6.54

Olympic

5.04

9.88

5.24

4.98

Sorachi Ace

10.12

3.72

7.62

5.94

Sterling

N/A

N/A

6.00

4.02

Tahoma

11.66

4.42

7.18

5.64

Triumph

8.85

7.05

6.02

5.22

USDA 32

5.39

7.44

8.80

5.92

USDA 74

9.66

10.1

10.38

9.16

USDA 8

10.04

6.28

6.70

3.24

Wilamette

12.82

13.5

10.4

6.92

Yakima Gold

N/A

N/A

5.56

5.44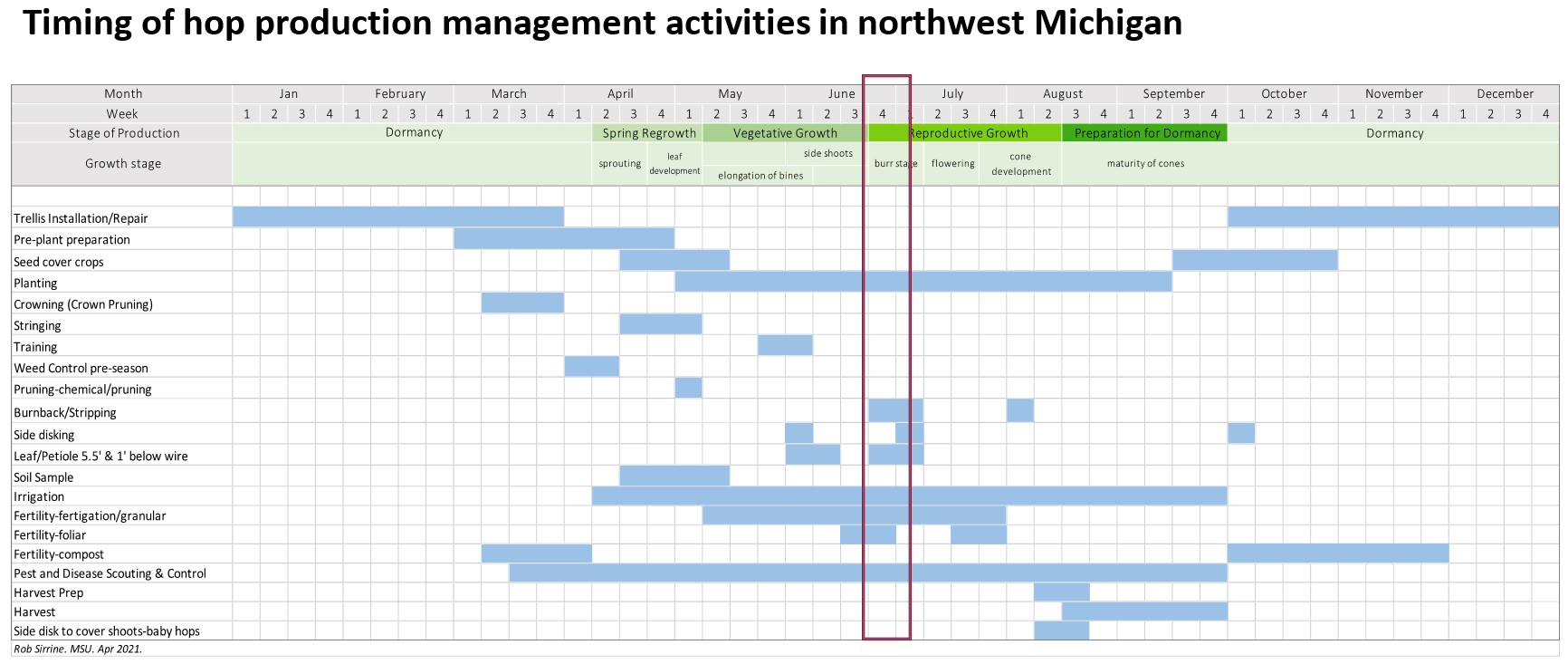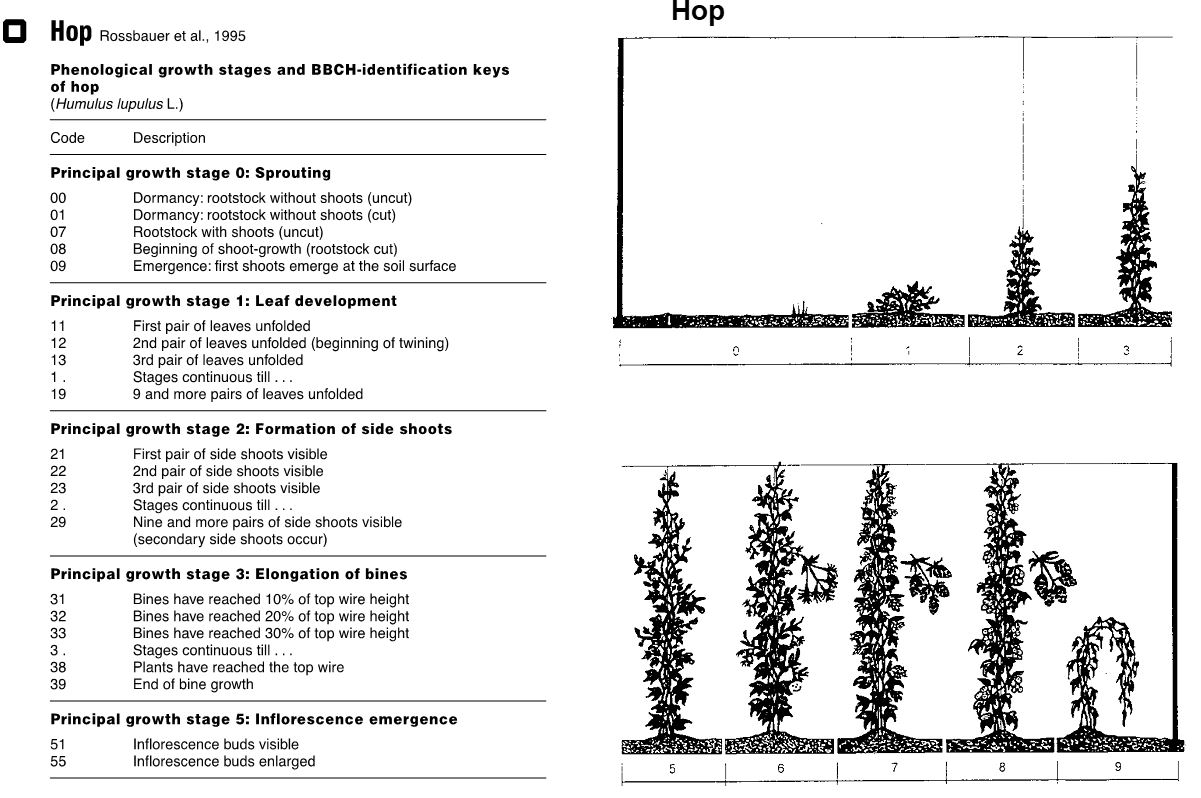 Crop development
Southeast Michigan
Hops are at the wire. Fungicides are being applied to prevent downy mildew.
Southwest Michigan
Corn borer pressure has been low. Growers are preventatively spraying for downy mildew. It is shaping up to be a good year.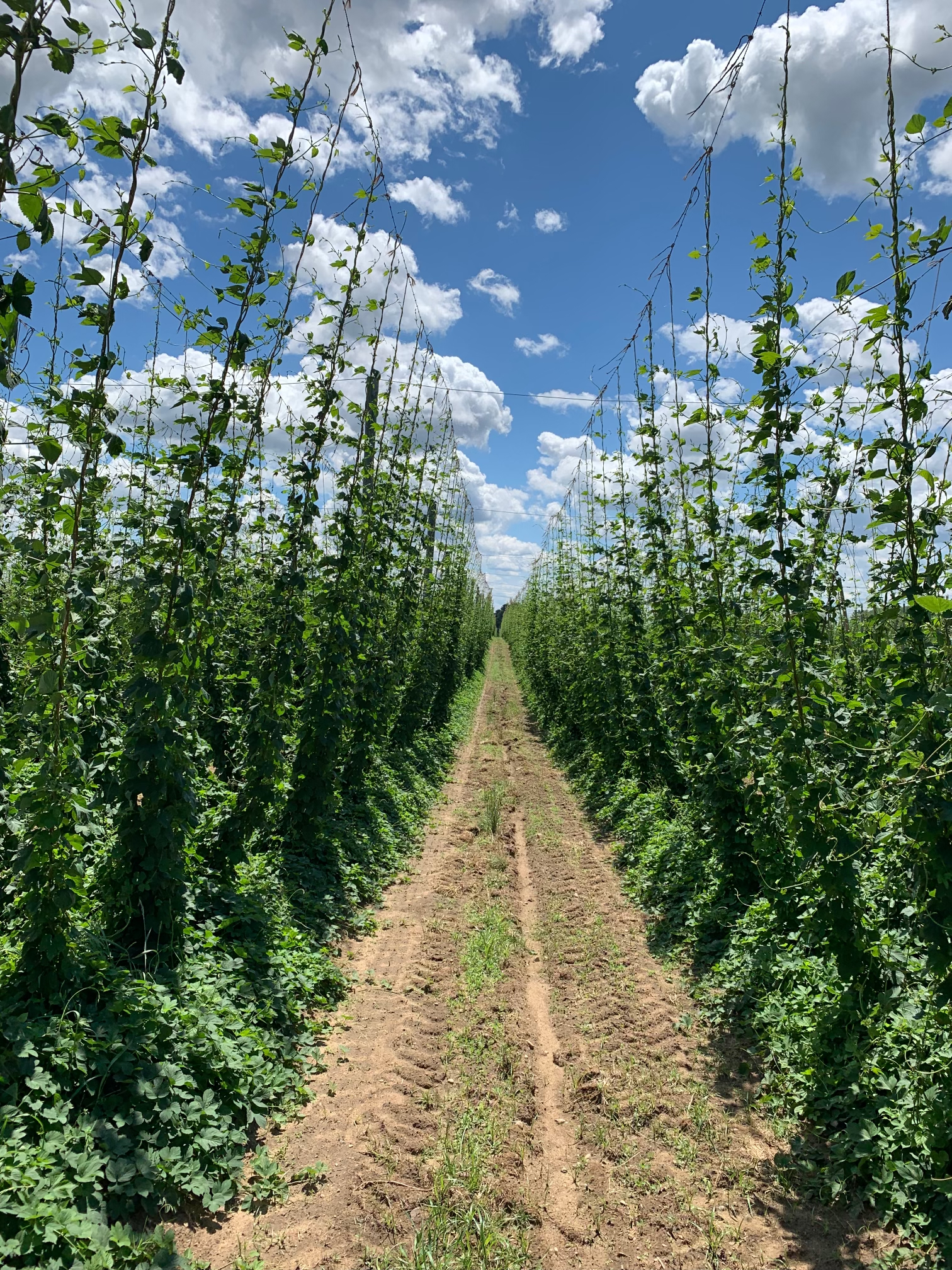 East central Michigan
Hop height varies by cultivar but most have reached the wire. Burn back herbicide has been applied to eliminate root suckers. Growers are preventively spraying for downy mildew.
West central Michigan
Burr stage is imminent. Recent rain has increased insect activity. Potato leafhopper pressure is high. Disease pressure is also high. Some growers are struggling to get pesticide applications on due to the weather. Grassy weeds are prevalent.
Northeast Michigan
Most cultivars have reached the wire. Growers are spraying to prevent downy mildew. Irrigation and fertigation are in full swing, and growers have applied burn-back herbicide to control sucker growth. Pest pressure has been light.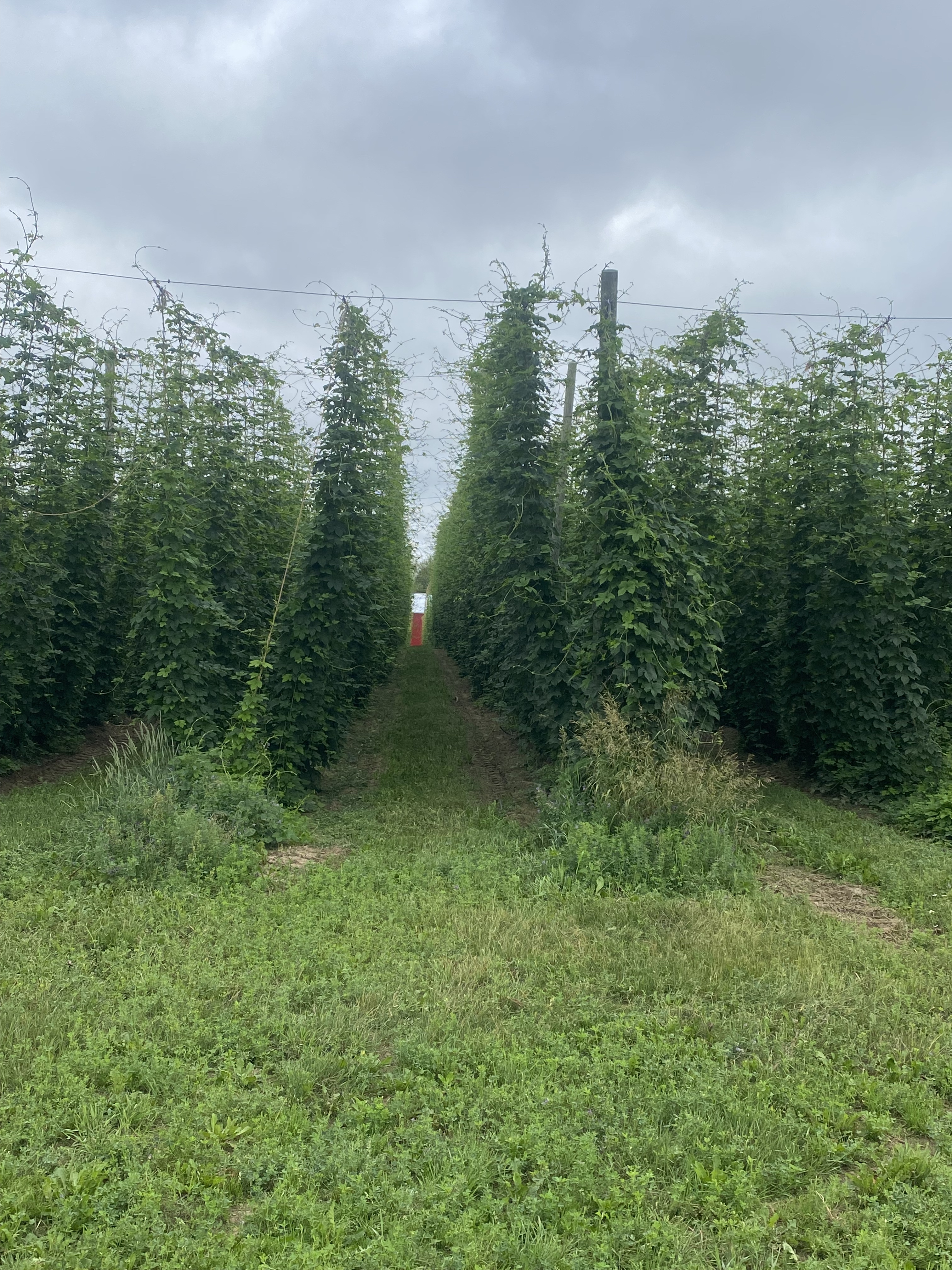 Northwest Michigan
Plants are looking very healthy and are nearing the wire. Growers are fertilizing and applying preventative sprays for downy mildew. Some growers completed their final side-disking of the season. Insect pest pressure is light, though some leaf hoppers and rose chafers have been spotted.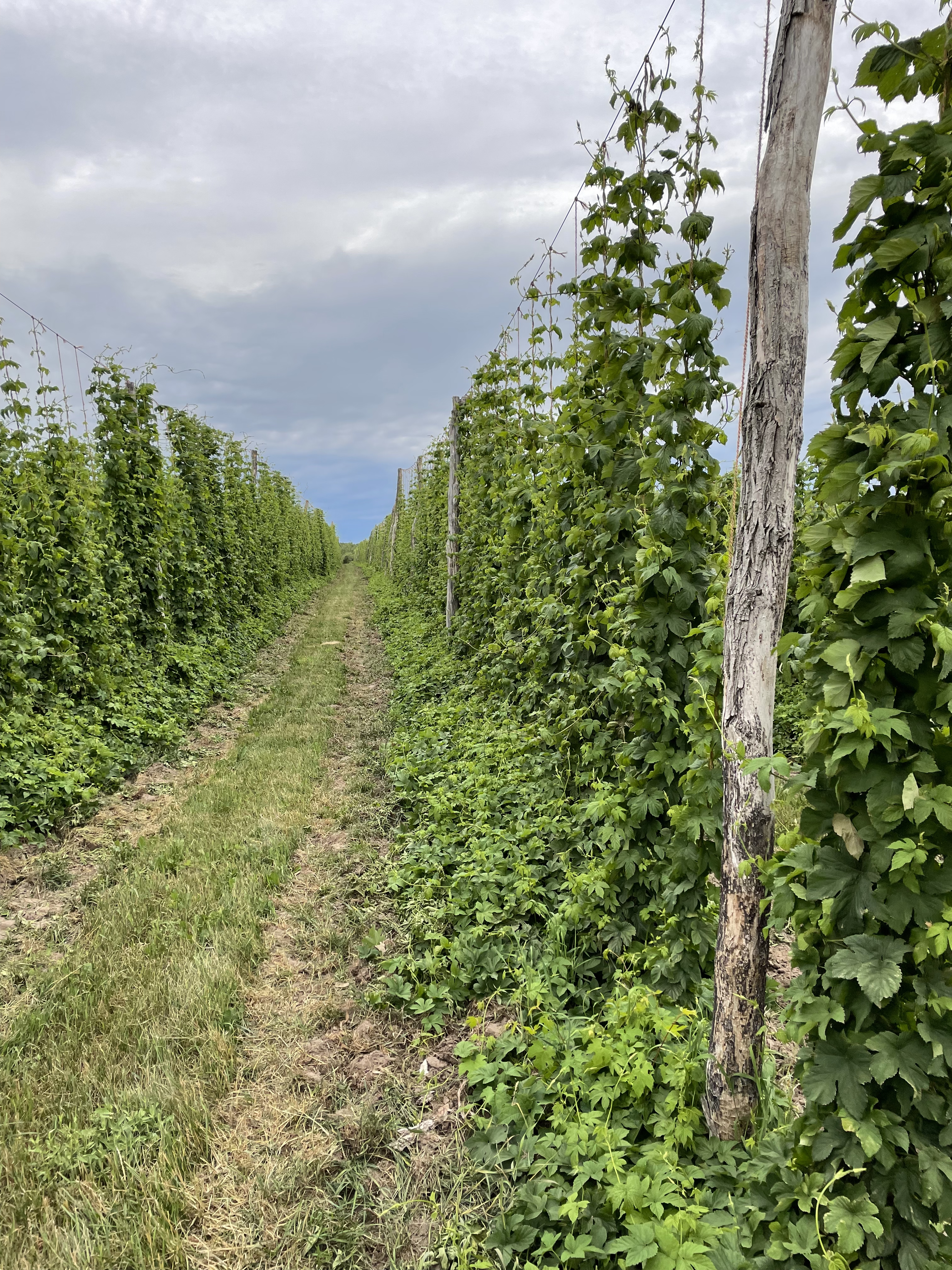 Diseases
Basal spikes and lateral infections of downy mildew have been seen in southwest Michigan for the past few weeks. Downy mildew symptoms will likely continue to develop into secondary downy mildew on lateral shoots if left uncontrolled. Most growers have made 1-2 chemical application already. Several effective foliar fungicides are available and include products in FRAC codes 4, 11, 21, 40, 43, 45 and 49. See the MSU Extension article, "Managing hop downy mildew in Michigan," for more information on management methods for downy mildew and refer to the Michigan Hop Management Guide. This is a critical time to control downy mildew to prevent the development of lateral downy mildew and additional spikes in the yard.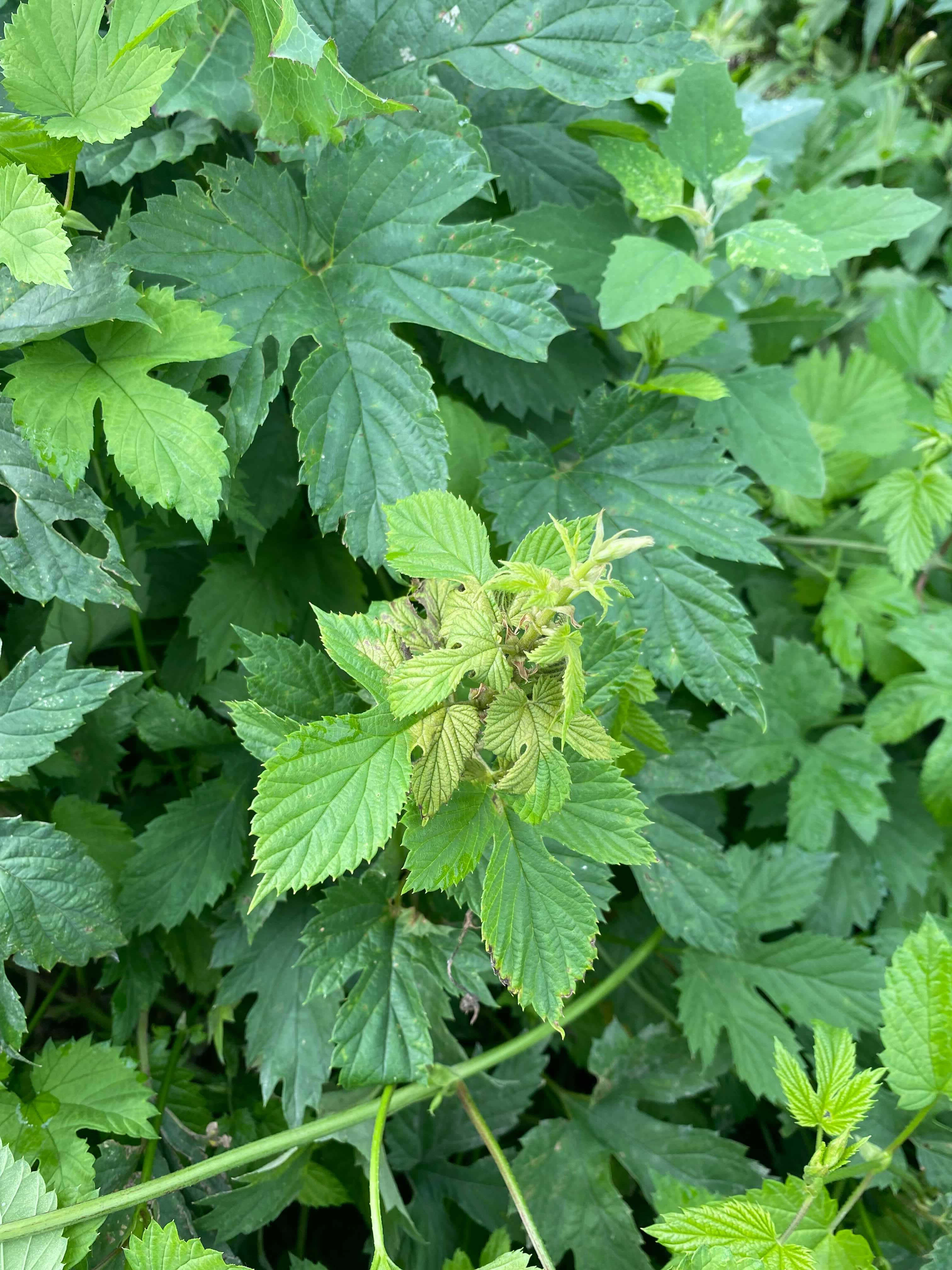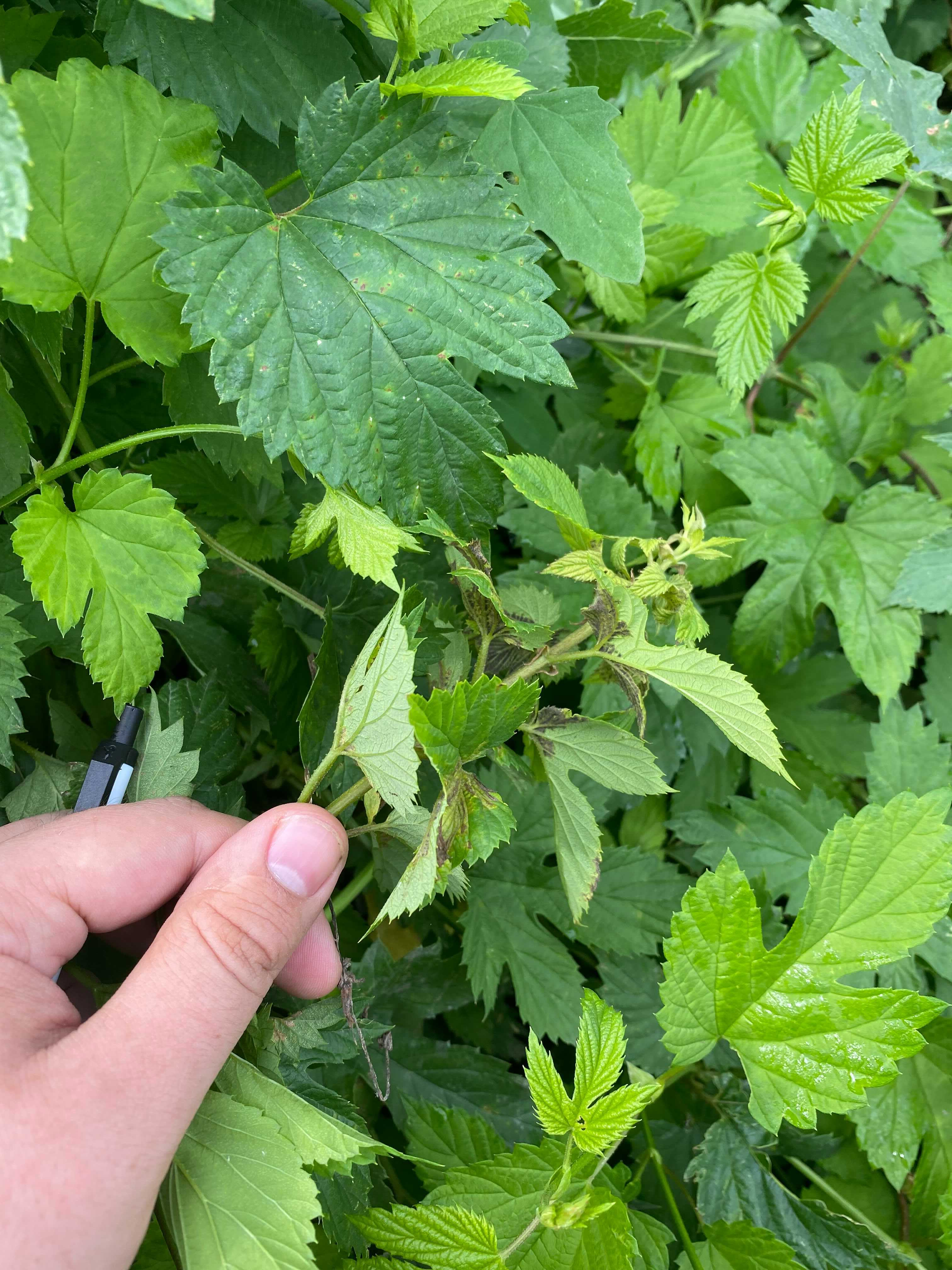 We have been observing powdery mildew in southwest Michigan on some specific hop cultivars as early as May 18. Occasionally we saw flagged shoots but now have been seeing more typical symptoms on the foliage. In Michigan, because powdery mildew appears to be more sporadic, using clean planting material when establishing new hop yards can be a very useful strategy since it is readily spread via nursery stock. Please consult the MSU Extension article, "Managing hop powdery mildew in Michigan in 2020," for more specific details about how to manage powdery mildew using other cultural practices and chemical applications.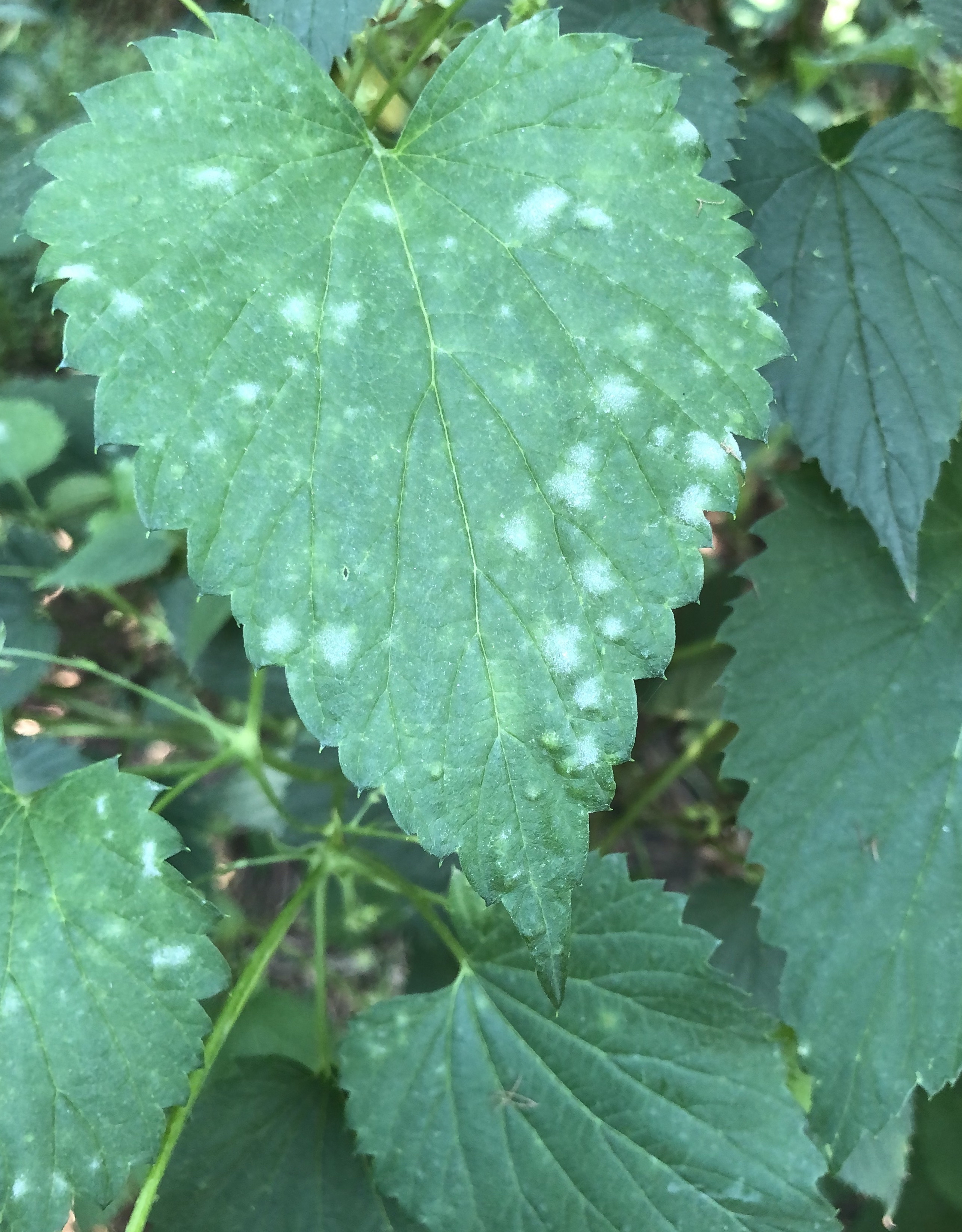 Now is a great time of year to look for viral disease symptoms on new growth. On June 1, we observed a Centennial plant that is known to be infected with four viruses: 1) American hop latent virus, 2) hop latent virus, 3) hop mosaic virus and 4) hop stunt viroid. The best way to control viruses is to utilize sanitation practices prior to planting (e.g., using virus tested stock, destroy heavily symptomatic plants). For more information about hop viruses, please check this article, "Virus visible in Michigan hopyards."
On May 28, we began to observe foliar halo blight in hopyards. These infections are caused by a fungus. This fungus is a Diaporthe sp. and researchers at Michigan State University have been studying management methods for the past two years. Halo blight can be a serious disease in specific yards and lead to significant cone infections and ultimately shatter during harvest. It appears to have a wider geographic range than previously thought and has been recovered throughout Michigan on both leaves and cones. How the pathogen survives during the winter, spreads, causes new infections is still being investigated. The goal is to provide management tools that can be used to prevent foliar and cone infections in yards.
Insects
Twospotted spider mite activity is building around the state and growers finding mites during scouting should be treating. Twospotted spider mite is a significant pest of hop in Michigan and can cause complete economic crop loss when high numbers occur. Feeding decreases the photosynthetic ability of the leaves and causes direct mechanical damage to the hop cones. Leaves take on a bronzed and white appearance and can defoliate under high pressure. Intense infestations weaken plants, reducing yield and quality. Dry, hot weather provides ideal conditions for outbreaks.
Scout carefully for mites season long and treat while populations are at low levels when mites are most effectively managed. Refer to the Twospotted Spider Mite Factsheet for more information on identification and management.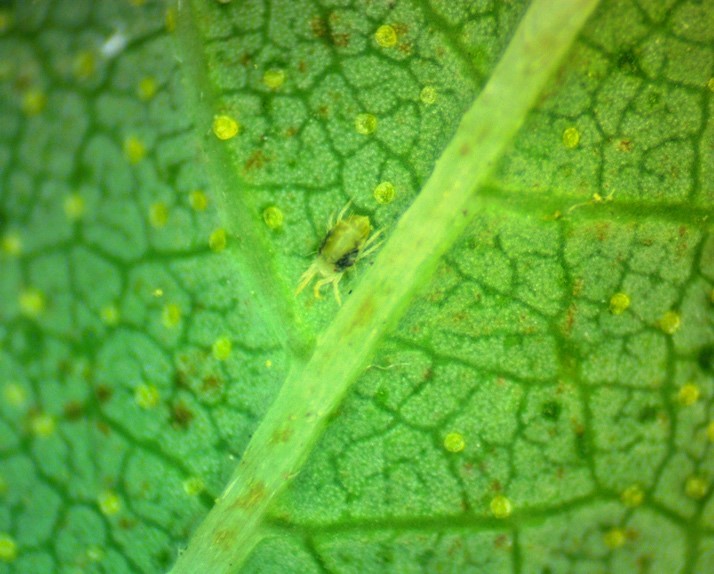 Potato leafhopper numbers have continued to build in untreated yards. Like many plants, hops are sensitive to the saliva of potato leafhopper, which is injected by the insect while feeding. Damage to leaf tissue can reduce photosynthesis, which can impact production, quality, and cause death in baby plants. Refer to the Hop Potato Leafhopper Factsheet for more information on identification and management.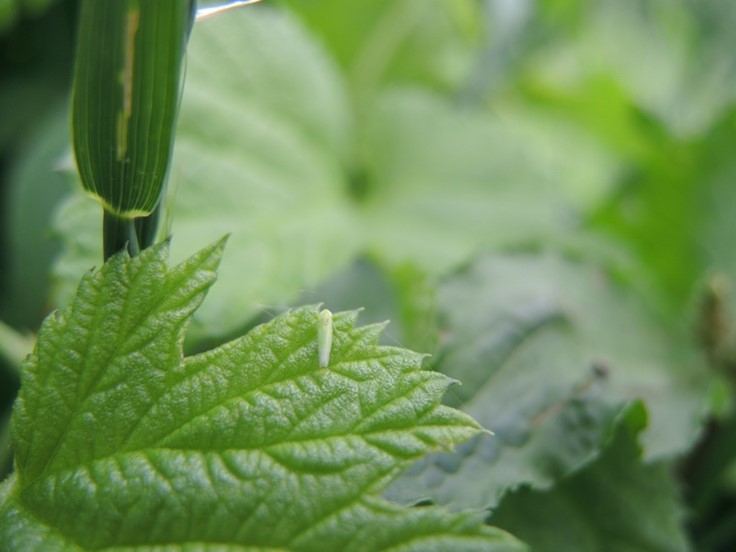 European corn borer remains a concern this year, particularly on sites with infestations in 2019-20. European corn borer has been a minor pest of hop in Michigan over the last decade. Other Midwestern states have experienced more substantial damage from this introduced moth. Unfortunately, damaging levels of European corn borer larvae were present in some Michigan hopyards for the last two years. The Enviroweather corn borer model has predicted adult moth emergence in all major hop production regions in Michigan at this time.
Regardless of location, scout for adults, eggs and larvae now. For more information on European corn borer, refer to the MSU Extension article, "Be on the lookout for European corn borer in hops."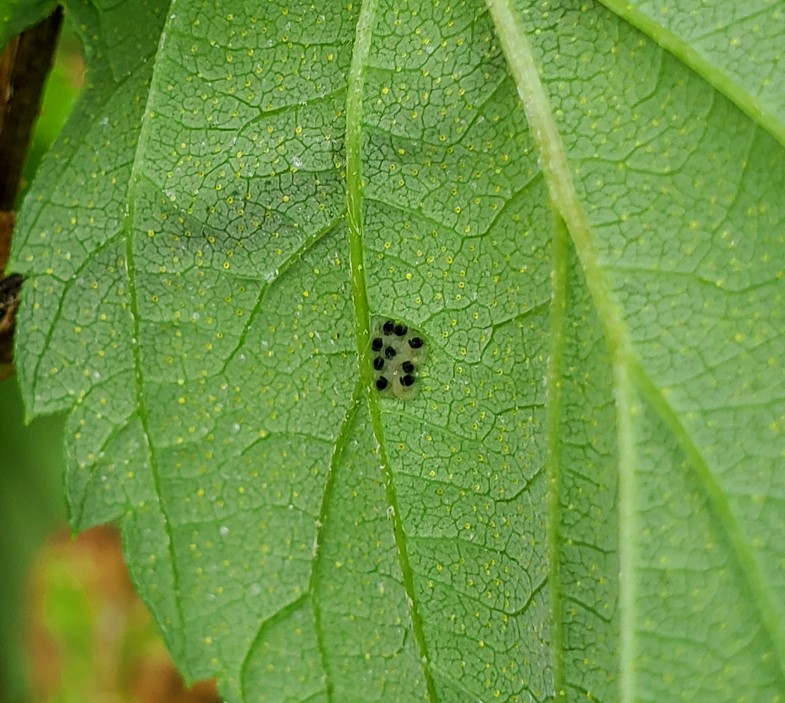 Growers are also reporting low levels of European rose chafer. Rose chafers are considered a generalist pest and affect many crops, particularly those found on or near sandy soils or grassy areas conducive to grub development. The adult beetles feed heavily on foliage and blossom parts of numerous horticultural crops in Michigan and can cause significant damage to hop plants, particularly young plants with limited leaf area. Rose chafer skeletonize leaf tissue, giving them a fine lace-like appearance. Rose chafer cause simple mechanical damage so growers should consider that established plants can sustain a significant amount of leaf feeding from rose chafer with no negative implications to the plant or crop. Young plants with limited leaf area may require more aggressive management.
Chafer activity has typically subsided by the time burrs are present so flower damage that could have yield implications is not an issue. For more information, visit the European rose chafer page and refer to the Michigan Hop Management Guide.
Japanese beetles have been reported in southwest Michigan. Adult Japanese beetles aggregate, feed and mate in large groups after emergence, often causing severe and localized damage. They feed on the top surface of leaves, skeletonizing the tissue between the primary leaf veins. If populations are high, they can remove all the green leaf material from plants. Japanese beetle may also feed on developing flowers, burrs and cones.
For more information on identification and management, check out this Japanese beetle factsheet and refer to the Michigan Hop Management Guide.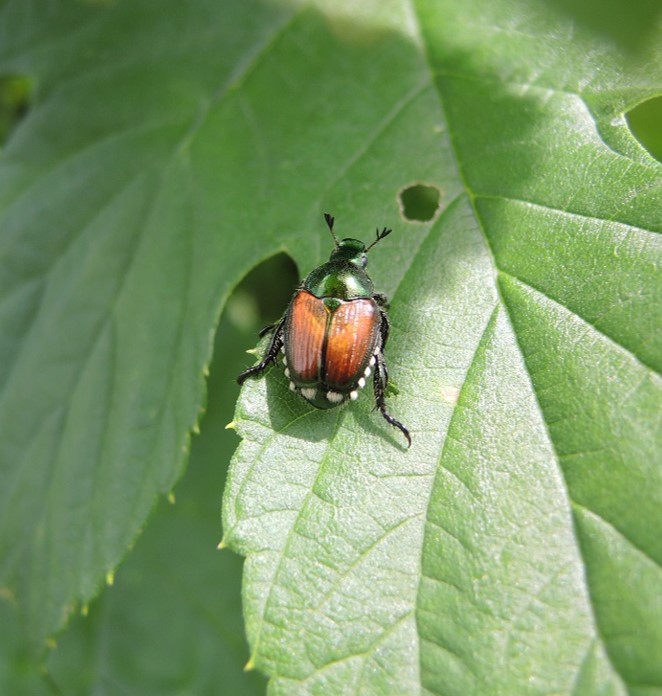 Gypsy moth larvae have been observed feeding on a number of agricultural crops and might event munch on a hop leaf. Growers with hopyards adjacent to oak-dominated forests may see increased pressure and should keep an eye out for this dark, fuzzy caterpillar. Insecticides containing Bacillus thuringiensis (i.e., Bt) will be effective, particularly when caterpillars are small. For more information on identifying gypsy moth and their lifecycle visit the MSU Gypsy Moth webpage.
Weeds
Grass weed pressure is substantial this season. Growers commonly use a selective grass herbicide containing the active ingredient clethodim to manage annual and perennial grasses within the row. Growers utilizing Aim will also get some control of grasses and broadleaf weeds in the row. Aim should not be used on baby hops. For more information on registered herbicides, refer to the Michigan Hop Management Guide.
Virus testing
MSU Plant & Pest Diagnostics is now providing testing for hop viruses and viroids! Please refer to the recent MSU Extension article, "MSU Plant & Pest Diagnostics provides testing for hop viruses and viroids," for information on costs and protocol for submitting samples.
Fertility
Growers should be fertilizing. As a reminder, June through mid-July is when hops uptake the majority of nutrients required for the season. Please reference the Nutrient Management section (pages 22-26) of the Michigan Hop Management Guide for fertility recommendations. MSU recommends submitting soil samples each spring around the same time (now would be a good time if you have yet to do so).
As hops approach the wire, consider pulling leaf plus petiole samples for nutrient testing (from 1 foot below the wire) to determine if supplemental/foliar nutrient applications are in order. For more information on hop leaf plus petiole sampling, please refer to "The importance of testing hop fertility."
Soil testing labs
Plant-tissue labs
Comprehensive soil health testing labs
Stay connected
For more information on hop production, visit the MSU Extension Hops website. Also, Michigan State University Extension is hosting a series of interactive Hop Chat Zoom meetings this 2021 season to allow easy communication between producers and MSU faculty. These informal weekly sessions run every Wednesday at noon from May 4 through Sept. 7 and include crop and pest updates from MSU Extension's Rob Sirrine and Erin Lizotte. In addition, MSU faculty will drop in to address timely issues and provide research project updates. Bring your field notes, too! We want to hear what's going on in your hopyard. Registration is free but required. Sessions will not be recorded. Register here!
This material is based upon work supported by the National Institute of Food and Agriculture, U.S. Department of Agriculture, under Agreement No. 2017-70006-27175. Any opinions, findings, conclusions, or recommendations expressed in this publication are those of the author(s) and do not necessarily reflect the view of the U.S. Department of Agriculture.