Michigan hop crop report for the week of May 17, 2021
Warmer weather has kicked hop growth into gear.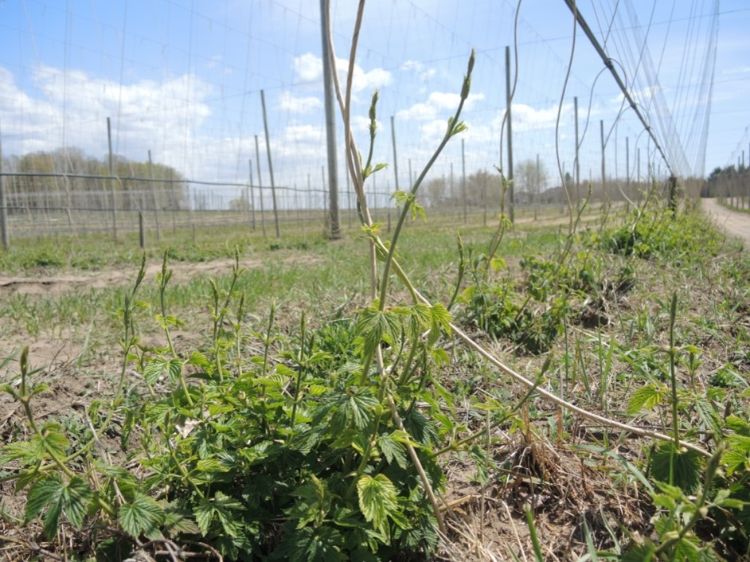 Weather
We are seeing big changes from the unusually cold first half of May this week.
Dry, warm conditions will persist across much of the state. Temperatures are likely to be 20 degrees Fahrenheit above normal this week and into the weekend. Lack of moisture will likely be an issue, except perhaps in the Upper Peninsula and portions of northwest Michigan. Significant precipitation did fall just to the south of Michigan last week, continuing a similar pattern.
Plant available moisture in the top 3 feet of soil is 20-35% of normal across the state.
Watch the most recent agricultural weather forecast from Michigan State University state climatologist Jeff Andresen.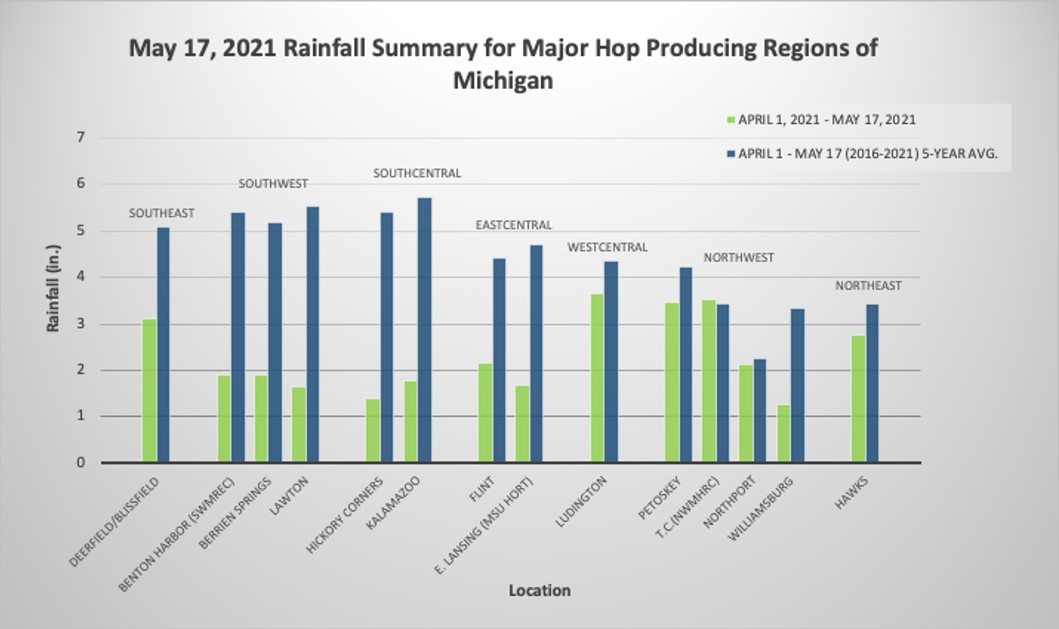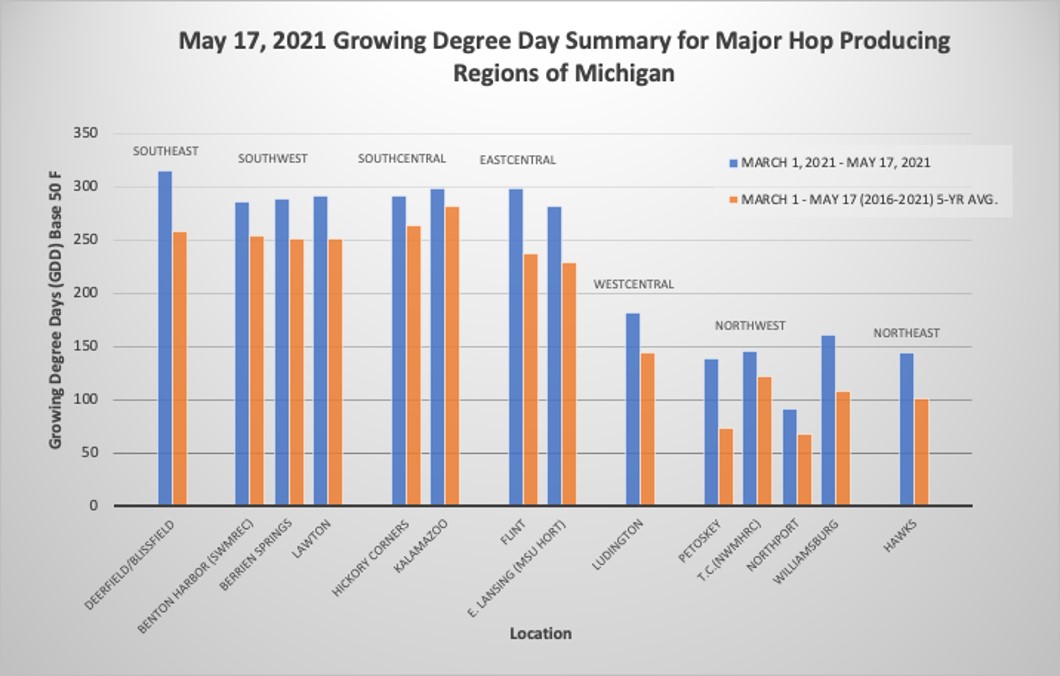 Stage of production/physiology
With the warmer weather over the last few days, hops have begun to grow rapidly across most areas of the state. Hops across Michigan are in Principal Growth Stage 1: Leaf Development (13-19) (see chart below). Most growers have completed stringing and some are beginning to train. Irrigation systems are coming back on-line.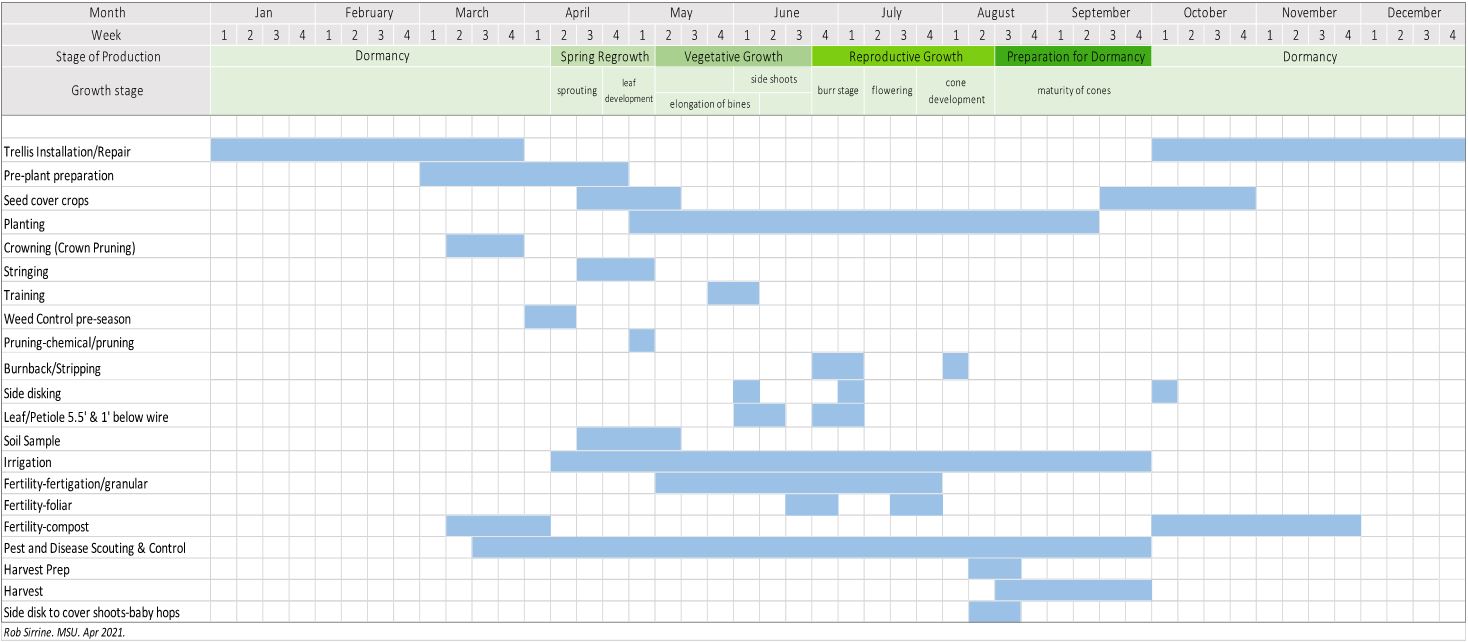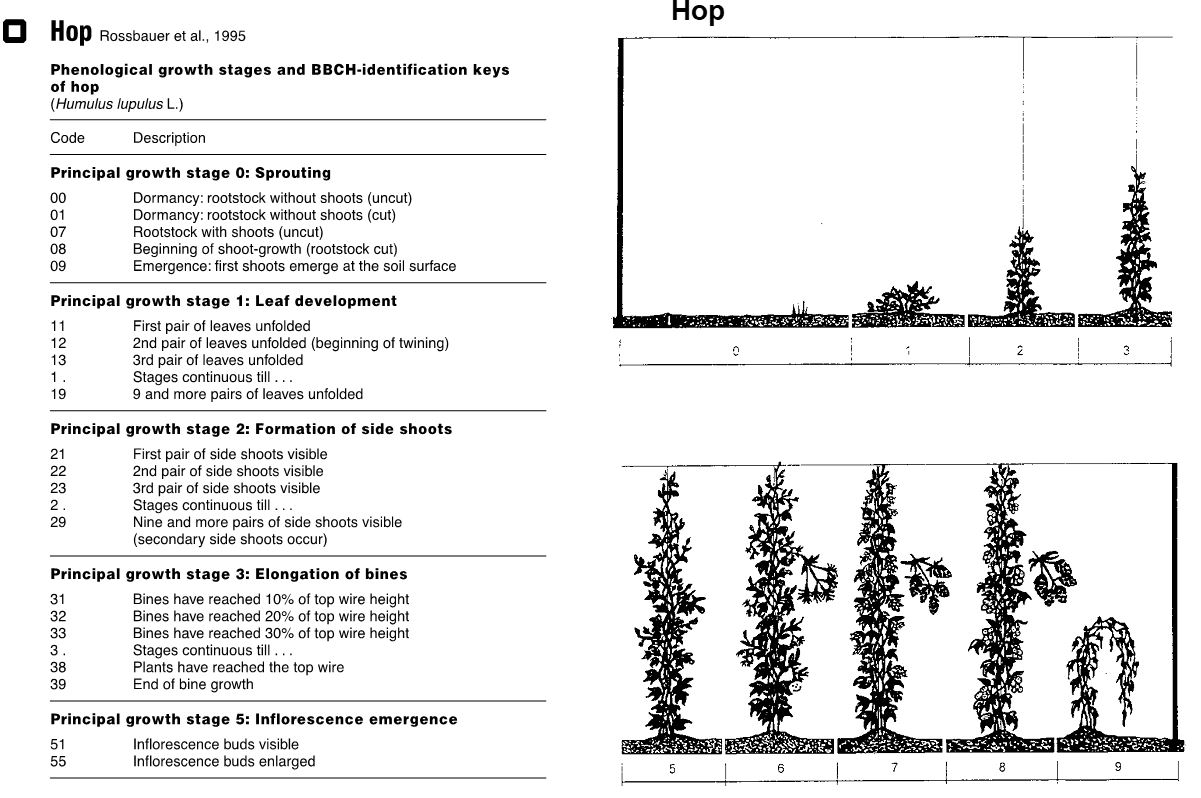 Crop development
Southeast
Things are moving along very quickly. Downy spikes have been spotted at some locations; growers should be actively protecting plants from downy mildew.
Southwest
Growers have begun training Cascade and will be slowly moving onto additional cultivars over the next three weeks. Irrigation will be critical for pushing bines up the string this spring as drought conditions persist across much of the state.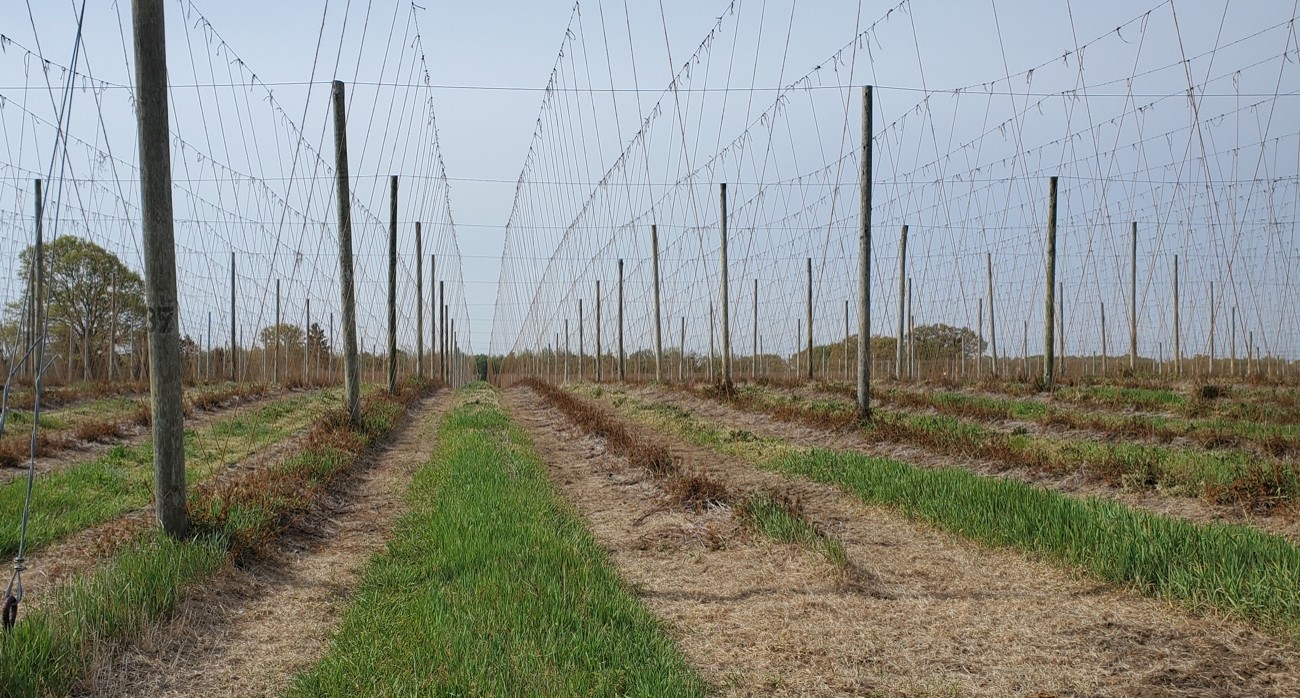 East central
Conditions in east central Michigan were similar to those in southwest and west central Michigan. Growers have pruned vigorous cultivars like Chinook twice, while less vigorous cultivars like Cashmere remain in early stages of growth.
West central
Growers are finishing up stringing and getting irrigation systems up and running. The cool-down last week was concerning for growers who are looking to train recently pruned hops soon. Regional conditions are dry and warm compared to the five-year average.

Northwest
Recent warm weather has kicked the hops into gear and they are coming back nicely from burnback. Growers are focusing on irrigation and earlier than normal nutrition. It continues to be very dry in the region with little to no mildew pressure at this time. Some growers have noticed mites coming out of diapause, which could be a concern.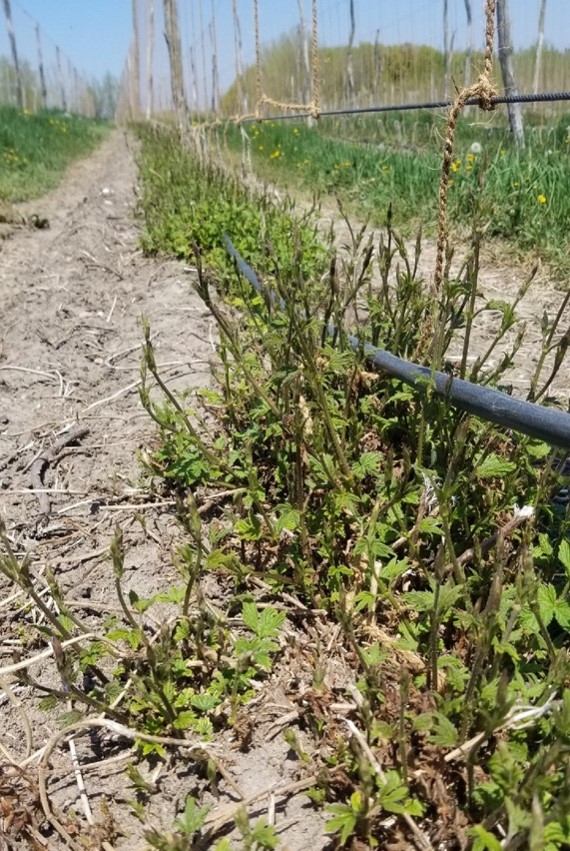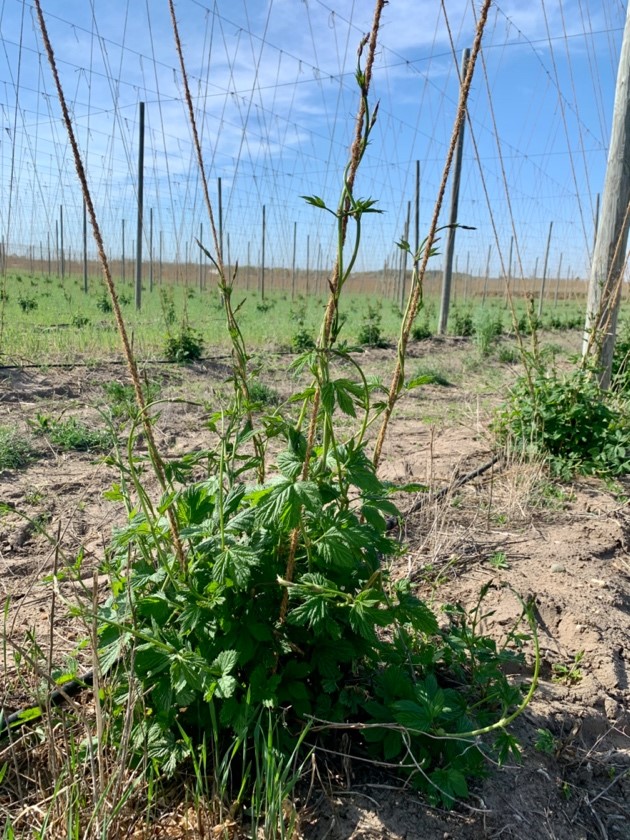 Northeast
With the warmer weather, there is a lot more growth happening. Growers will likely start training this weekend.
Weeds
Weeds need to be treated when small for optimal control.
Diseases
We continue to see downy mildew spikes in southwest Michigan on May 18, but more sporulation has been observed. Some growers have already made a chemical application. Several effective foliar fungicides are available and include products in FRAC codes 4, 11, 21, 40, 43, 45 and 49. See the Michigan State University Extension article, "Managing hop downy mildew in Michigan," for more information on management methods for downy mildew and refer to the Michigan Hop Management Guide. Growers might want to utilize a Ridomil/FRAC 4 drench now but please consider the long preharvest interval (PHI) interval.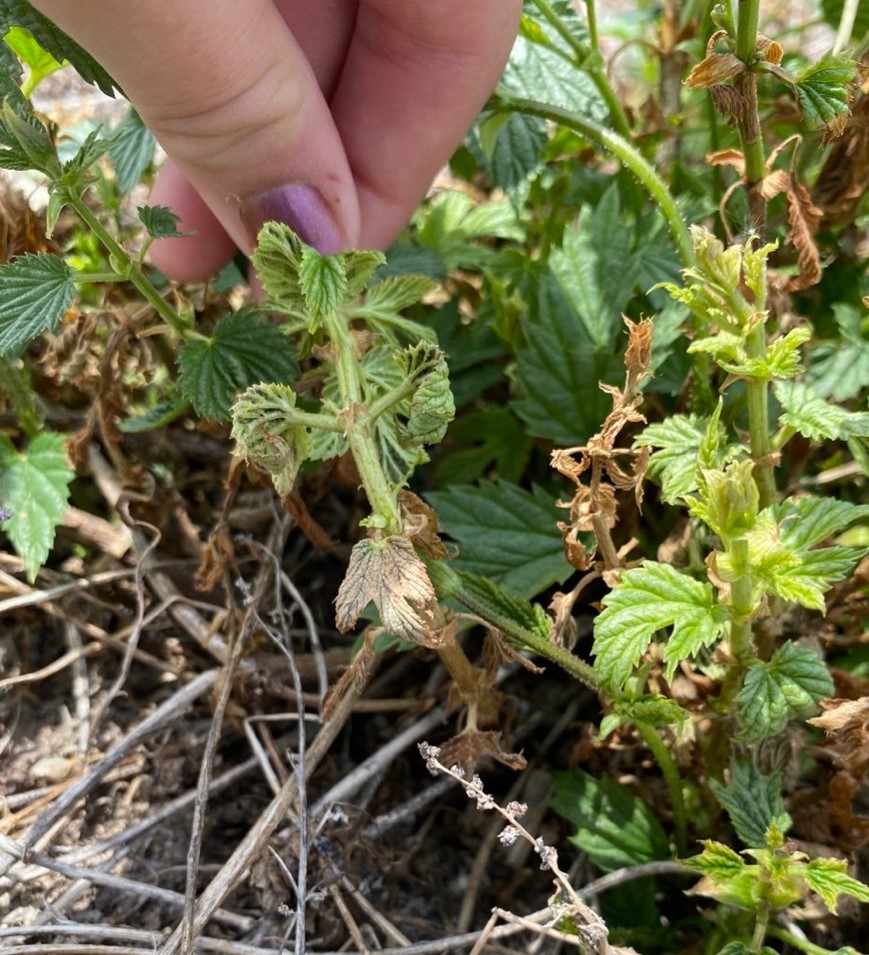 This week, we also observed flagged powdery mildew shoots in southwest Michigan. These are hard to spot shoots covered with white sporulation. Flagged shoots typically emerge in the spring and are rare, accounting for less than 1% of all shoots in a field and making detection at this stage very difficult. That said, they are the beginning of the disease cycle and are a cause for concern if several are found within a yard.
In Michigan, because powdery mildew appears to be more sporadic, using clean planting material when establishing new hop yards can be a very useful strategy since it is readily spread via nursery stock. Please consult the article, "Managing hop powdery mildew in Michigan in 2020," for more specific details about how to manage powdery mildew using other cultural practices and chemical applications.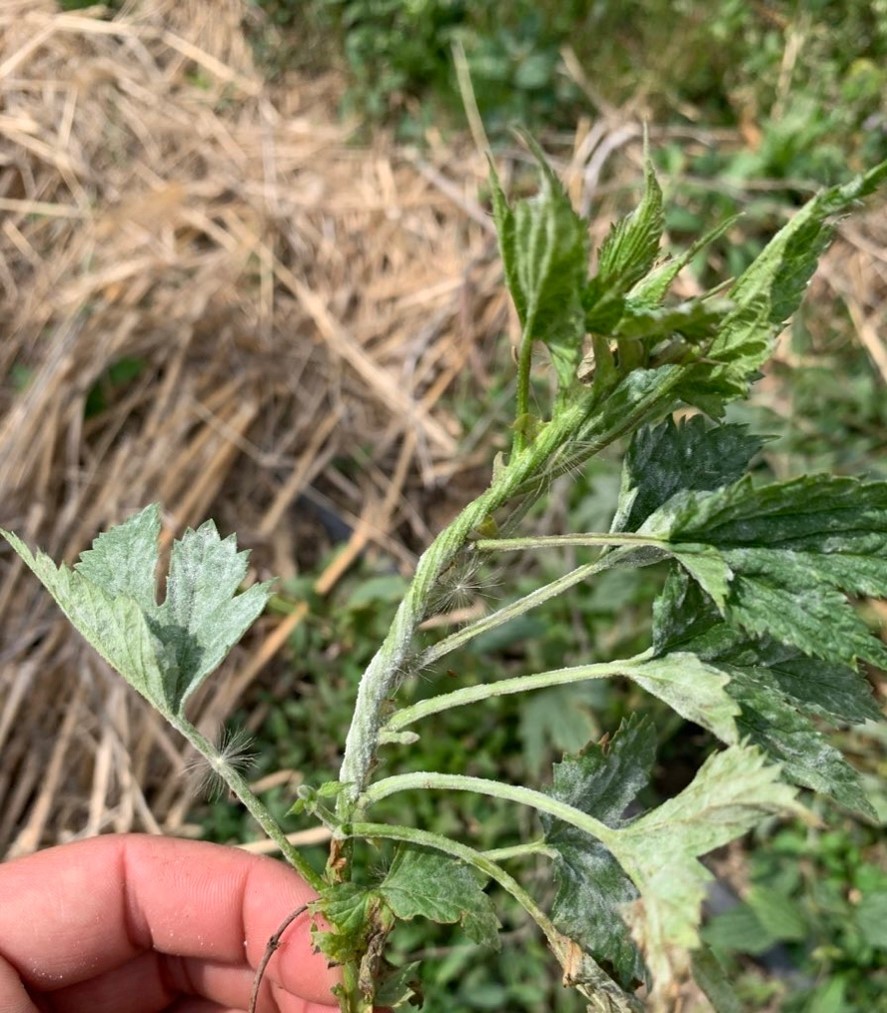 Insects
Mites were spotted emerging from diapause. Continue scouting your hopyard.
Other
MSU recently began evaluating the impact of plant parasitic nematodes (specifically northern root-knot and hop cyst nematode) on hop production in Michigan. Initial results have shown that young hop plants infected with these two plant-parasitic nematodes can reduce bine growth 40-70%. The hop-cyst nematode has only been documented once in Michigan, but it could be due to a lack of testing.
To address this potential concern, we will conduct a statewide survey of hopyards this month in an attempt to identify the most common plant-parasitic nematodes in Michigan hopyards and document and monitor hop cyst distribution. The most prevalent plant parasitic nematodes will then be evaluated to determine their impact on hop production.
Growers are encouraged to submit soil (nematode) samples to MSU Plant & Pest Diagnostics prior to planting new rhizomes, especially if the hopyard was used to grow hops previously. These tests will help growers identify any existing nematodes of concern and take steps to remediate issues prior to planting. Obtaining clean plant material is also vital to reduce the spread of infected rhizomes to clean yards. Some species of cyst nematodes have the capability to lie dormant in fallow soils for over 10 years, so it is unlikely that crop rotation or leaving yards fallow for years will alleviate pressure from this pest. Because hop cyst nematode has no known method of control and populations can rise quickly under optimal conditions, prevention is the best course of action.
Fertility
Most growers using granular fertilizers have already applied it or are planning to apply soon. As a reminder, please reference the Nutrient Management section (pages 22-26) of the Michigan Hop Management Guide for fertility recommendations. MSU recommends submitting soil samples each spring around the same time (now would be a good time if you have yet to do so). Please refer to lab sampling and submission instructions prior to sending in samples.
Soil testing labs
Comprehensive soil health testing labs
Stay connected
For more information on hop production, visit the MSU Extension Hops website. Also, Michigan State University Extension is hosting a series of interactive Hop Chat Zoom meetings this 2021 season to allow easy communication between producers and MSU faculty. These informal weekly sessions run every Wednesday at noon from May 4 through Sept. 7 and include crop and pest updates from MSU Extension's Rob Sirrine and Erin Lizotte. In addition, MSU faculty will drop in to address timely issues and provide research project updates. Bring your field notes, too! We want to hear what's going on in your hopyard. Registration is free but required. Sessions will not be recorded. Register here!
This material is based upon work supported by the National Institute of Food and Agriculture, U.S. Department of Agriculture, under Agreement No. 2017-70006-27175. Any opinions, findings, conclusions, or recommendations expressed in this publication are those of the author(s) and do not necessarily reflect the view of the U.S. Department of Agriculture.