Michigan hop crop report for the week of May 24, 2021
Warm temperatures advance hop growth.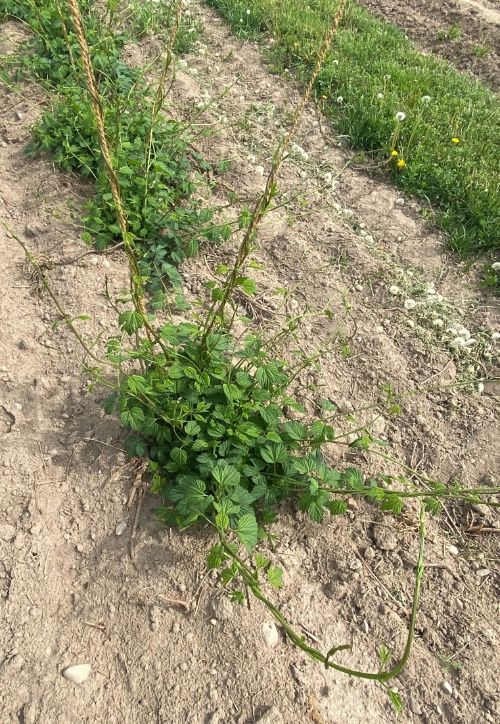 Weather
Dry, warm conditions were prevalent across much of the state last week with temperatures 10-20 degrees Fahrenheit above average. Some locations in west central, central and southeast Michigan picked up 0.5 inches of precipitation, while southwest and portions of the Thumb remained dry. In fact, the U.S. Drought Monitor upgraded southwest Michigan to D2 (severe drought), which we have not seen in Michigan for years. A "backdoor" cold front moved through on Sunday afternoon and temperatures dropped 20-30 F.
Looking ahead, there is a good probability that most areas across the state will receive some precipitation this week. Tuesday temperatures will remain above average (80s-90s) before dropping quite dramatically on Wednesday. A second front is projected to come through Thursday evening, which could result in steady light precipitation across southern Michigan. Temperatures will only reach the 50s on Friday. Conditions will be fair, cool and dry for the holiday weekend.
Watch the most recent agricultural weather forecast from Michigan State University state climatologist Jeff Andresen.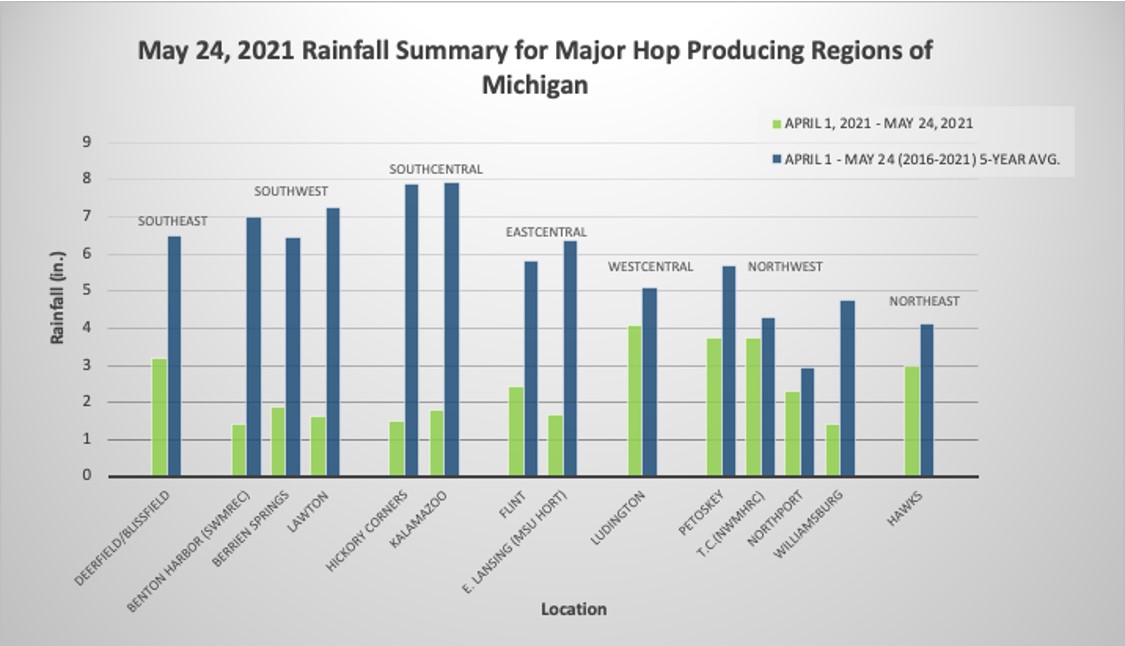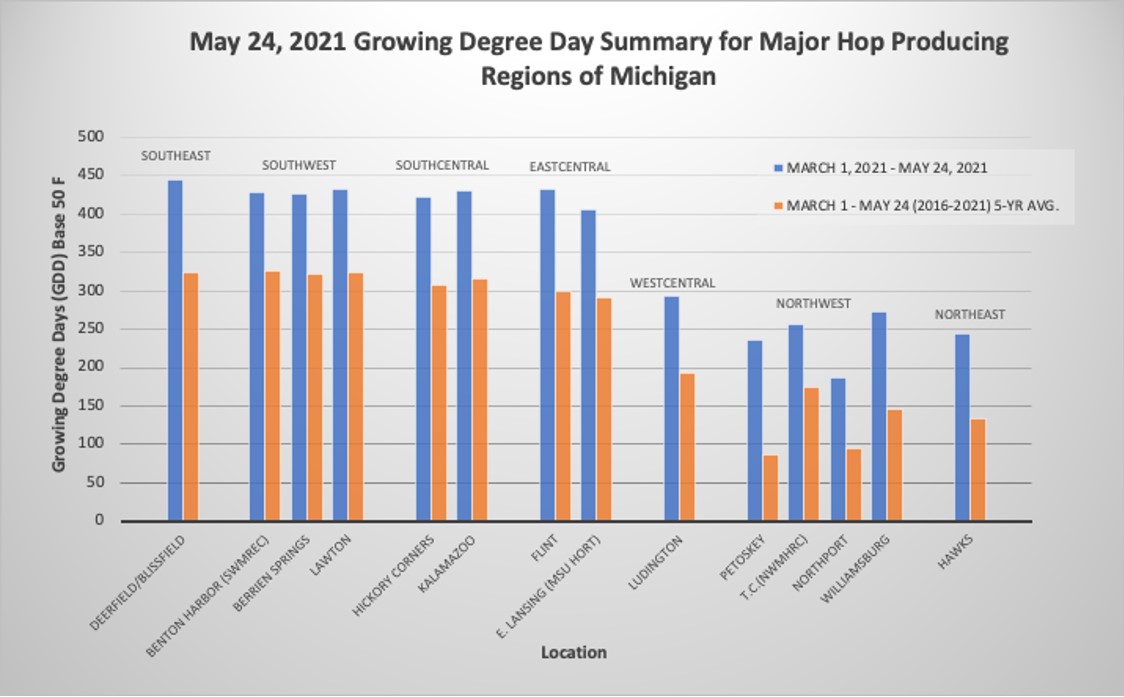 Stage of production/physiology
With warmer weather over the last few days, hops have begun to grow rapidly across most areas of the state. Hops across Michigan are in Principal Growth Stage 1: Leaf Development (13-19) with some early cultivars progressing to Principal Growth Stage 2: Formation of Side Shoots (see chart). Most growers have trained or will be finishing up training shortly.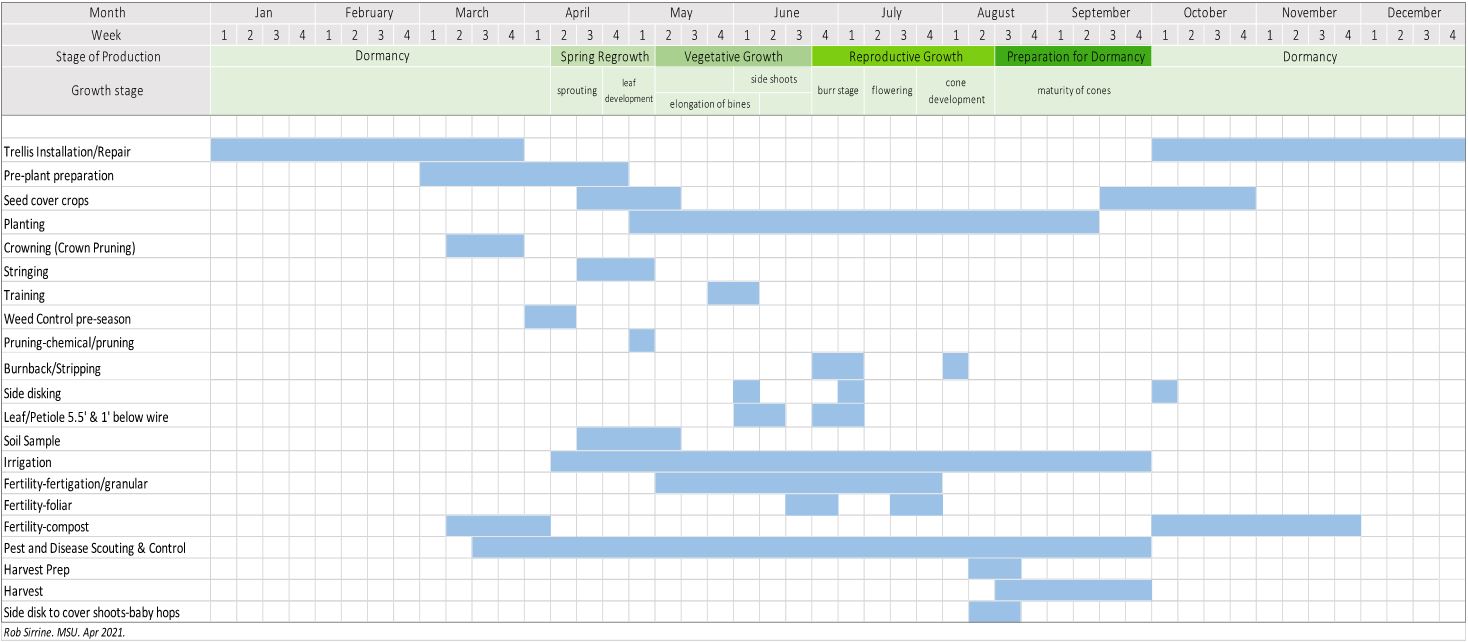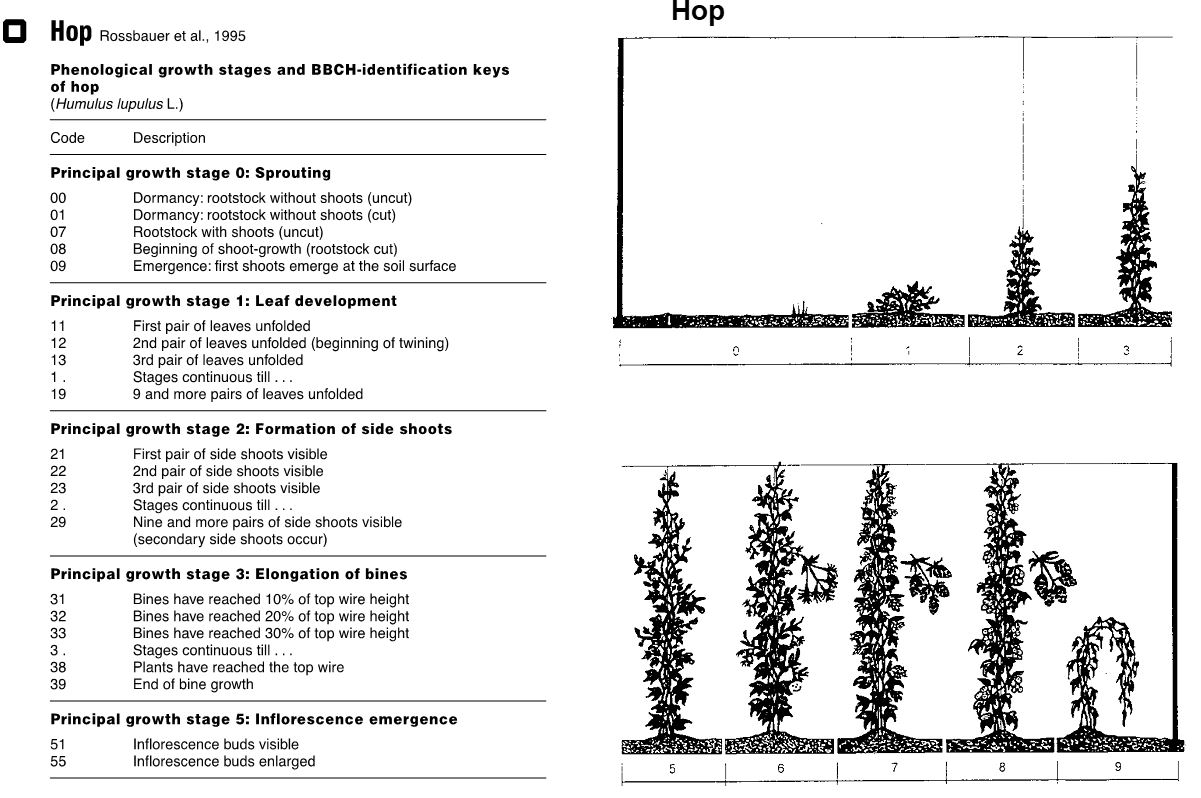 Crop development
Southeast Michigan
No update at this time.
Southwest Michigan
The heat has really increased hop growth over the last week. Growers are training hops as quick as possible. Hop cultivars are 3-6 feet tall. Weeds are growing quickly as well.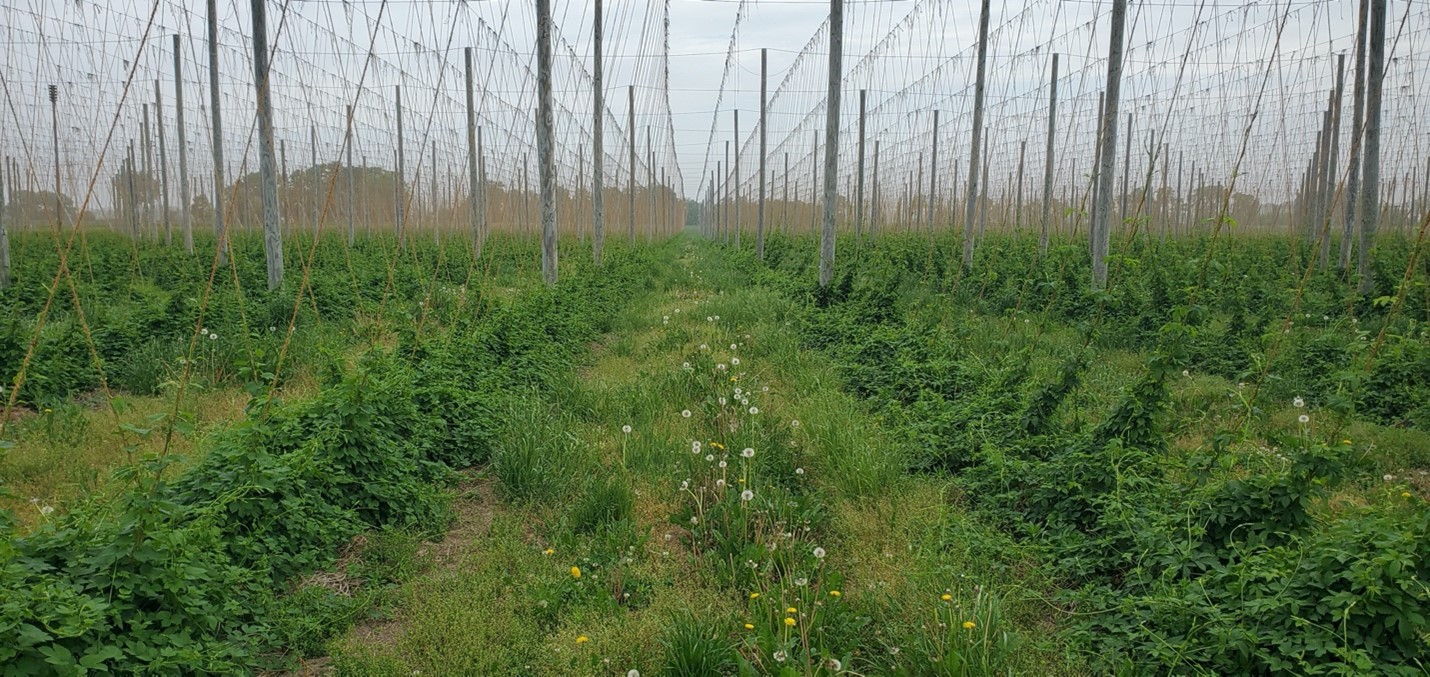 East central Michigan
Growers will be wrapping up training by the end of this week.
West central Michigan
Growers have finished stringing and are training. Irrigation systems are up and running. Regional conditions are dry and warm compared to the five-year average, but a small portion of the region received heavy rainfall with some flash flooding reported.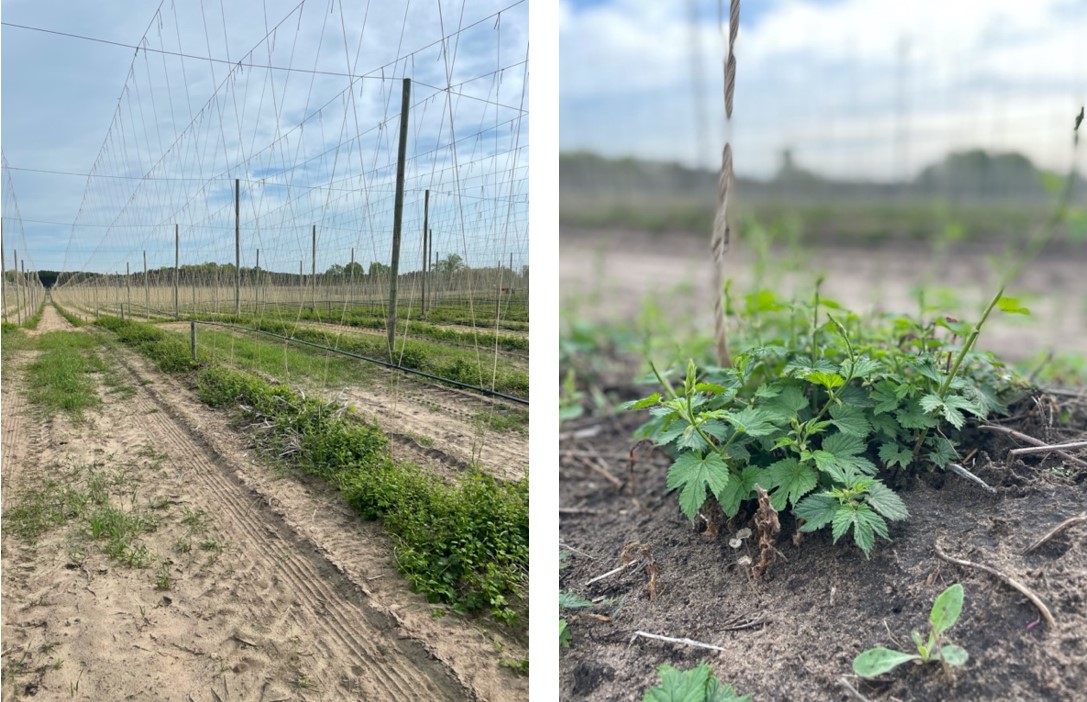 Northeast Michigan
Hops are 2-3 feet. Training should be completed by the end of the week.
Northwest Michigan
There was quite a bit of growth over the last week in northwest Michigan. Hops have been trained a few days to a week earlier than normal. Growers have started spoon feeding nitrogen. Mildew pressure has been light with the dry conditions and hops are being lightly watered to keep the soil moisture profile up.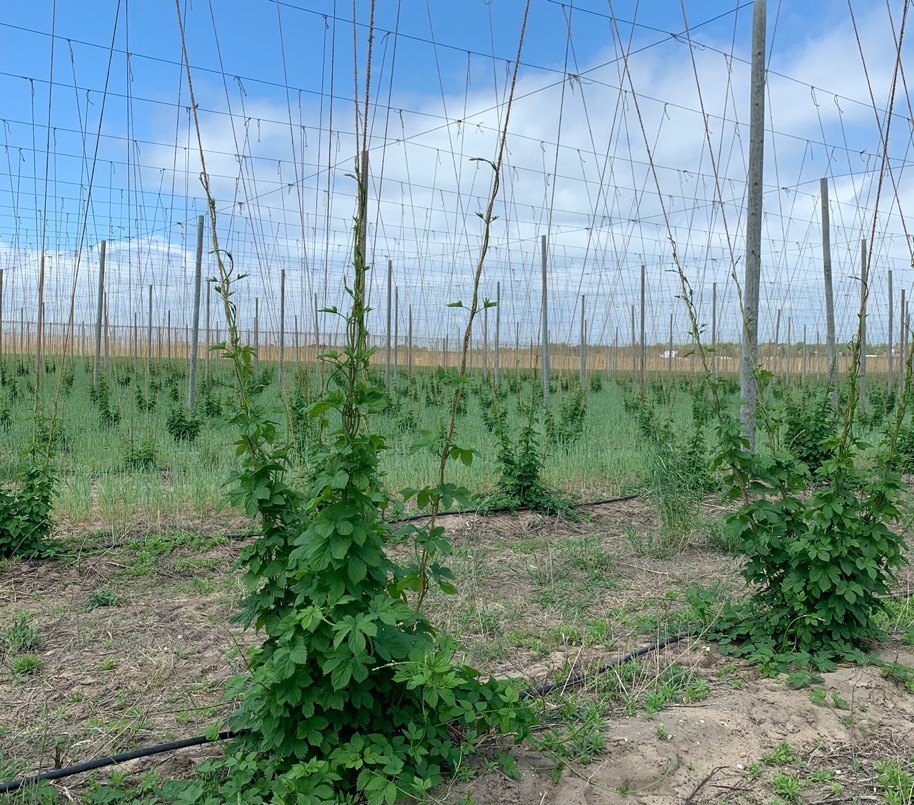 Weeds
As hops move into the stage of rapid growth, growers should minimize competition from weeds, which can compete for water and nutrients. As a reminder, weeds are best controlled when they are small.
Diseases
Sporadic downy mildew spikes were seen in southwest Michigan on May 25, but due to the predicted cool, wet weather in the forecast, this may increase. Most growers have made some form of chemical application already. Several effective foliar fungicides are available and include products in FRAC codes 4, 11, 21, 40, 43, 45 and 49. See the MSU Extension article, "Managing hop downy mildew in Michigan," for more information on management methods for downy mildew and refer to the Michigan Hop Management Guide. This is a critical time to control downy mildew to prevent the development of lateral downy mildew and additional spikes in the yard.
We observed a few flagged powdery mildew shoots in southwest Michigan on May 18. These are hard to spot shoots covered with white sporulation. Due to the warm, relatively "goldilocks" weather (i.e., not too hot and not too cold) we've experienced over the past few weeks, these infections should allow powdery mildew to spread if left uncontrolled. In Michigan, because powdery mildew appears to be more sporadic, using clean planting material when establishing new hop yards can be a very useful strategy since it is readily spread via nursery stock. Please consult the MSU Extension article, "Managing hop powdery mildew in Michigan in 2020," for more specific details about how to manage powdery mildew using other cultural practices and chemical applications.
Insects
Twospotted spider mite activity has begun but remains at low levels and tough to spot. Twospotted spider mite is a significant pest of hop in Michigan and can cause complete economic crop loss when high numbers occur. Feeding decreases the photosynthetic ability of the leaves and causes direct mechanical damage to the hop cones. Leaves take on a bronzed and white appearance and can defoliate under high pressure. Intense infestations weaken plants, reducing yield and quality. Dry, hot weather provides ideal conditions for outbreaks.
Scout carefully for mites season long and treat while populations are at low levels when mites are most effectively managed. Refer to the Twospotted Spider Mite Factsheet for more information on identification and management.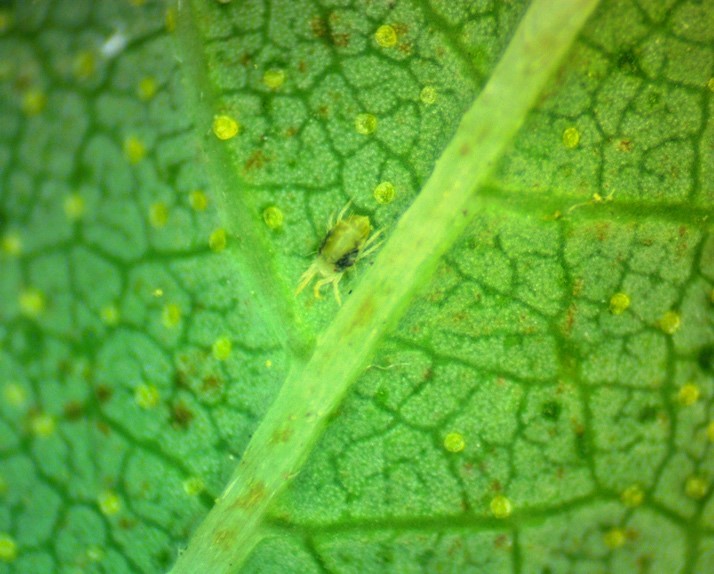 Potato leafhopper have arrived from Gulf states where they can overwinter but are still at low numbers. Like many plants, hops are sensitive to the saliva of potato leafhopper, which is injected by the insect while feeding. Damage to leaf tissue can reduce photosynthesis, which can impact production, quality, and cause death in baby plants. Refer to the Hop Potato Leafhopper Factsheet for more information on identification and management.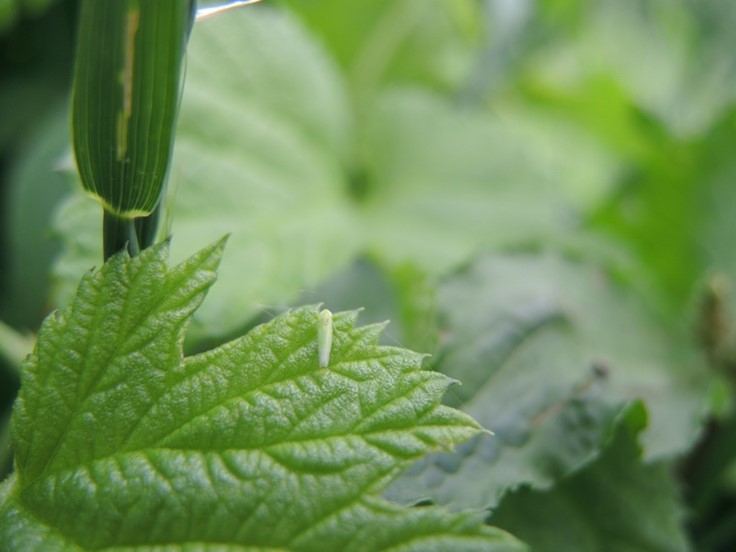 European corn borer remains a concern this year, particularly on sites with infestations in 2019-20. European corn borer has been a minor pest of hop in Michigan over the last decade. Other Midwestern states have experienced more substantial damage from this introduced moth. Unfortunately, damaging levels of European corn borer larvae were present in some Michigan hopyards for the last two years. The Enviroweather corn borer model is predicting that first generation flight began as early as May 24, so scout for adults, eggs and larvae now. For more information on European corn borer, refer to the MSU Extension article, "Be on the lookout for European corn borer in hops."
Fertility
Growers that fertigate have begun to spoon feed nutrients. As a reminder, please reference the Nutrient Management section (pages 22-26) of the Michigan Hop Management Guide for fertility recommendations. MSU recommends submitting soil samples each spring around the same time (now would be a good time if you have yet to do so). Please refer to lab sampling and submission instructions prior to sending in samples.
Soil testing labs
Comprehensive soil health testing labs
Stay connected
For more information on hop production, visit the MSU Extension Hops website. Also, Michigan State University Extension is hosting a series of interactive Hop Chat Zoom meetings this 2021 season to allow easy communication between producers and MSU faculty. These informal weekly sessions run every Wednesday at noon from May 4 through Sept. 7 and include crop and pest updates from MSU Extension's Rob Sirrine and Erin Lizotte. In addition, MSU faculty will drop in to address timely issues and provide research project updates. Bring your field notes, too! We want to hear what's going on in your hopyard. Registration is free but required. Sessions will not be recorded. Register here!
This material is based upon work supported by the National Institute of Food and Agriculture, U.S. Department of Agriculture, under Agreement No. 2017-70006-27175. Any opinions, findings, conclusions, or recommendations expressed in this publication are those of the author(s) and do not necessarily reflect the view of the U.S. Department of Agriculture.