Michigan potato late blight forecast – July 1, 2021
No late blight reported. Weather-based risk high in the central and western Lower Peninsula of Michigan.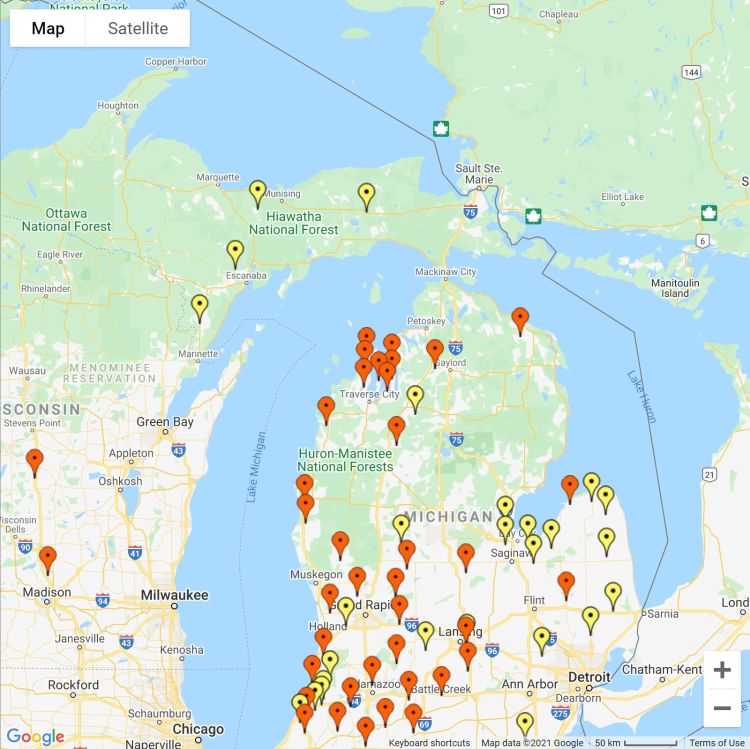 The Michigan late blight forecast tool is currently calculating 2021 risk predictions. No potato late blight has been reported yet this season in Michigan or in the United States. However, recent rain events and cooler temperatures have increased the risk to high in areas of the western Lower Peninsula (Figure 1). Preventative fungicide applications for foliar disease management and intensive scouting are recommended for potato crops with closed canopies. Areas of high risk should consider using full fungicide rates and reducing the application interval to five days depending on individual field conditions.
Information and locations for positive detections of potato and tomato late blight can be found at USAblight.org and on the USA Blight Outbreak Map. Fungicide sensitivity varies with Phytophthora infestans genotype so suspect samples should be submitted to help advise management practices. Please refer to the MSU Plant & Pest Diagnostics website for more information on their services and instructions for proper sample submission.
Late blight is caused by Phytophthora infestans, which favors 60-80 degree Fahrenheit temperatures, high humidity and frequent rainfall. The Michigan late blight forecast tool calculates disease severity values (DSVs) based on the duration of temperature and relative humidity conditions that are favorable for disease development. Accumulated DSVs are used to determine the local late blight risk level, indicated by the color of the map marker pins:
Low risk
(Green)
Medium risk
(Yellow)
High risk
(Orange)
Late blight detected within 2-5 miles
(Purple/Pink)
Late blight detected within 1 mile
(Red)
This tool was developed by Baker et al. 2002 and weather data used in this model is provided by Michigan State University's Enviroweather. A customizable tool for early or late emergence scenarios is also available.
Please visit the MSU Potato and Sugar Beet Pathology website for more information. Answers to frequently asked questions about this forecast tool are also available.