Michigan State University to host inaugural roundtable discussion on food access
Food access will be the topic of discussion as Michigan State University hosts its first "Our Table" event on Nov. 16, the Thursday before Thanksgiving.
November 2, 2017 - Author: Holly Whetstone, whets11@msu.edu, 517-884-3864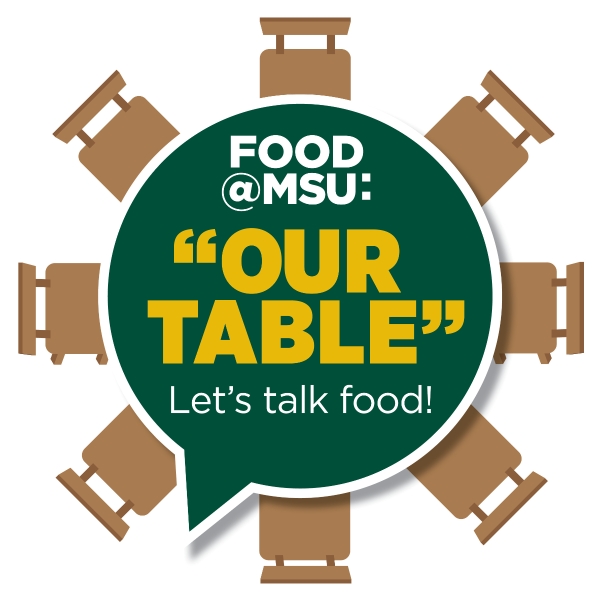 LANSING, Mich. – Food access will be the topic of discussion as Michigan State University (MSU) hosts its first "Our Table" event on Nov. 16, the Thursday before Thanksgiving.
"Our Table" is a series of public roundtable discussions in which MSU brings together food experts, agricultural producers, health professionals and community members to listen to each other and foster dialogue. It is part of Food@MSU, a new campus-wide initiative led by the colleges of Agriculture and Natural Resources (CANR), Arts and Letters, and Communication Arts and Sciences that aims to help consumers make more informed decisions about food, and its impacts on health and the planet.
"We know that there is a lot of misinformation about food because many people rely on things like their smart phones and social media networks for answers, but they are not always getting smart information," said Ron Hendrick, CANR dean. "Through these 'Our Table' conversations, we are striving to become better listeners and more engaged community partners to help bridge the fairly significant gap between consumers and agriculture."
The public is invited to attend the free event that will take place from 4 p.m. to 6 p.m. at Cristo Rey Community Center, 1717 N. High St. in Lansing. Light refreshments will be served, and there will be an opportunity for questions at the end. Attendees are also encouraged to donate to their local food pantry or to Cristo Rey.
Joseph Garcia, executive director of Cristo Rey Community Center, said access to healthy, affordable food is something most take for granted, but it's a real concern for many.
"Food is a big part of what we do here (at Cristo Rey)," said Garcia. "We need to make connections between better eating and improved health to lessen the likelihood of people getting sick. I hope this event will be the start of MSU and Cristo Rey Community Center working more closely together to make important impacts like these."
"Our Table" panelists will be from both the local community and MSU. Garcia will be one of the panelists at the Cristo Rey event. Other panelists will include:
They will sit at a wooden table made from fallen MSU campus trees crafted for this initiative. It was created by artist Nathan Shaver who works with MSU Shadows, part of the Department of Forestry. The table seats up to eight and features an inlay of the MSU Spartan helmet logo in the middle.
Sheril Kirshenbaum, a science communicator and author of "Unscientific America: How Scientific Illiteracy Threatens Our Future," will moderate the "Our Table" conversations. Kirshenbaum is passionate about food and works at the intersection of science and people.
"There are so many important food topics that we plan to explore, but we chose food access for this first event because it seems extremely appropriate for the Thursday prior to Thanksgiving as we start the holiday season," Kirshenbaum said.
Kirshenbaum was also instrumental in launching the MSU Food Literacy and Engagement Poll in July 2017. This nationally representative poll found that nearly one quarter of Americans could not access fresh fruit and vegetables daily where they live. It also showed that academic scientists are more trusted than scientists from government and industry sectors.
"Through this initiative and the 'Our Table' discussions, I hope that we inspire people to cast aside their phones and engage in meaningful conversations not only in communities, but in homes and around dinner tables," Kirshenbaum said.
To learn more about Food@MSU and the "Our Table" events, visit food.msu.edu.