Michigan vegetable crop report - April 28, 2022
This is the first statewide vegetable crop report for the 2022 season.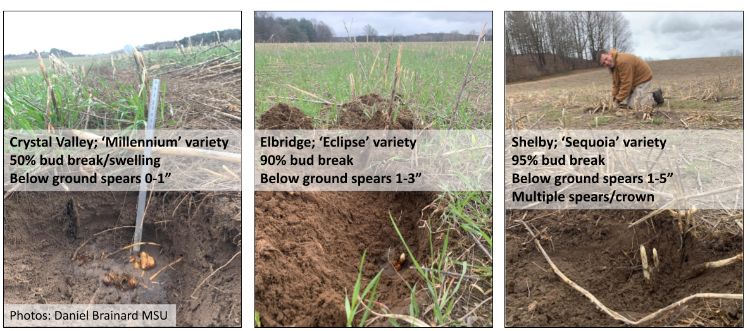 Weather
Watch Jeff Andresen's weather update.
It has not been a good spring for early field work, courtesy of a record-breaking cold air mass and active storm track parked over the Great Lakes. As a result, the last 30 days have seen mean temperatures 2-6 degrees Fahrenheit below-normal and precipitation totals 125-200% above-normal. Soil moisture in the top 3 feet is in the 90th percentile, especially in northern MIchigan.
The forecast calls for:
Frost/freezing temperatures likely again Thursday morning.

Cool and mostly dry weather Thursday and Friday with a gradual moderation in temperatures.

Rain possible again Saturday and Sunday.

Temperatures gradually warming from highs in the 30s north to 40s south Wednesday to the 50s-60s by Friday into the weekend.

Lows warming from the 20s to low 30s Thursday to the 30s north and 40s south this weekend.

Medium range guidance suggests a continuation of cooler than normal temperatures into early May with normal to above-normal precipitation.
For the next week, welcome dry weather is coming. Precipitation totals of 0.25-0.5 inches are forecast through May 4 with most falling late Saturday into Sunday.
The outlook for May calls for below-normal temperatures but provides no guidance on precipitation.
The long lead outlook for May-July provides no guidance on temperatures, with a slight inclination to above-normal precipitation.
General
Fungicide use in the greenhouse for vegetable and herb seedlings can be a bit tricky and requires a thorough understanding of the fungicide label. First, it's important to recognize that pesticides to be used for food undergo an extensive and rigorous evaluation testing process that results in the establishment of a tolerance. For instance, a fungicide that is commonly used to protect petunias from Botrytis gray mold cannot also be sprayed on the nearby tomato plants unless tomato is listed on that label. There are also instances where a fungicide is registered for use on tomato plants in the field but the use of that same fungicide is prohibited in the greenhouse.
If the use of a pesticide in the greenhouse is not expressly prohibited, then the product can be used as long as the target plant and pathogen are listed. Increasingly, the intended use of the plant to be treated must be identified. For example, there are several fungicides available for use on both vegetables and herbs if the final use of these plants is for sale to the consumer who will establish the plants in their home gardens. If the final use of the transplants is for establishment of commercial production fields, the fungicide registrants are unlikely to allow the use of a fungicide on the greenhouse transplants and then have that same fungicide also be used in the field as the target pathogen could develop resistance. If a vegetable or herb is being grown in the greenhouse for harvest, it is likely that there will be relatively few fungicide choices available to limit disease.
Keep in mind that cultural practices can go a long way in preventing some commonly occurring diseases on greenhouse vegetable and herb transplants. For instance, Michigan's recent weather conditions have included extended periods of overcast and cool temperatures. Overwatering in the greenhouse is common during such times and can result in a humid and saturated environment which favors both root rot and foliar pathogens. Keeping the soil and environment on the dry side can keep diseases limited and reduce the need for fungicides.
Each year, growing basil presents management challenges. Downy mildew is a yearly issue and available fungicides should be used early in the plant's growing cycle and applied as frequently as the allowed by the label. Downy mildew produces a dark mold on the undersides of infected leaves. Infected leaves may appear yellow or light green. Bacterial disease is also a common problem and causes a dark fringing of the leaf's margin and dark/black splotches on the plant's leaves. Unfortunately, most coppers are not registered for use on basil, except for Camelot-O, which has a relatively low percentage of copper and a long application interval.
Nutrient management when fertilizer prices are high
This year, we've seen historic increases in the price of fertilizer. With vegetables, fertilizer may not be the biggest cost in your production budget, but it will certainly be more expensive this year than last and cut further into profit margins.
The last time we saw fertilizer prices (almost) this high was in 2008. Michigan State University Extension published guidance on smart use of your soil nutrient bank that holds just as true today. A year like this is a good time to revisit MSU nutrient recommendation resources to make sure you aren't wasting money on excess nutrients in fields where a response may be unlikely.
In brief, a recent soil test should be your guide for potash (K2O) and phosphate (P2O5) applications. It is very common for Michigan agricultural soils to be above the critical level for phosphorus (P) for most vegetables, meaning there's already enough P in the soil to support an excellent crop near maximum yield. Potassium (K) is more likely to be limiting, but with buildup from repeated potash applications levels can still be high. Critical levels vary with soil texture, but in general, mineral soils with soil test K values above 110 – 150 ppm (sandy to clayey soils, respectively) are unlikely to benefit from additional potash fertilizer.
Nitrogen (N) is likely your most limiting nutrient, and recommendations are based on crop-specific requirements to maximize economical yields independent of levels in the soil. If your N fertilizer rates are significantly higher than MSU recommendations, this may be the perfect year to consider reducing your rates.
With a soil test report in hand, you can plug values into the online MSU Fertilizer Recommendation Program to check MSU lime and nutrient recommendations for your fields specific to any major crop grown in Michigan. You can also consult MSU Extension bulletin E-2934, "Nutrient Recommendations for Vegetable Crops in Michigan," for crop and nutrient specific management recommendations.
Other MSU Extension tools and information you may find helpful are listed below:
Get your new indemnified Dual Magnum label
The special local needs (24c) label for use of Dual Magnum was just renewed by Syngenta. It includes a wide variety of crops not on the main label including asparagus, and some root crops, cole crops and cucurbits, among others. You only need it if your crop is not covered by the main label. Please visit Syngenta's Indemnified Labels website to download the indemnified label, which is good through 2026. There needs to be a record of download associated with each farm.
Crop updates
Asparagus
Cold weather has slowed below-ground bud break and spear elongation. Nonetheless, this Tuesday, most crowns in Oceana and Mason counties had at least one bud that was broken with spear length below ground ranging between 0-5 inches, depending on location and variety.
MSU Extension is working to develop a model to predict asparagus emergence based on soil temps. What does this work-in-progress model suggest for this year? Based on this spring's soil temps, we are expecting the first commercial harvests in the Oceana County area around May 15. Of course, a lot could change before then. Our current model predicts emergence (defined as when 25% of the crowns have at least one spear taller than 1 inch) based on growing degree days at 8 inches (for bud break) and 4 inches (for emergence after budbreak). Degree days at 4-inch depth are several weeks behind last year, but following a pattern similar to the 2018 and 2019 seasons. Consider spraying preemergence herbicides with pre-harvest intervals (PHIs) of 14 or more days as soon as possible.
Dual Magnum has the longest PHI of our pre-herbicides at 16 days. Metribuzin, Spartan (sulfentrazone), Solicam (norflurazon) and Prowl H2O (pendimethalin) have 14-day PHIs. Sinbar (terbacil) has a five-day PHI, and diuron labels only state it should be applied no later than the early harvest period.
The special local needs (24c) label for use of Dual Magnum in asparagus was just renewed by Syngenta. Please visit Syngenta's Indemnified Labels website to download the indemnified label, which is good through 2026. There needs to be a record of download associated with each farm.
There is an uncomfortable feeling this spring as herbicides go down without chlorpyrifos. Permethrin (one-day PHI) is as effective as chlorpyrifos for cutworm control. Should you apply permethrin with your weed spray, or wait and see if damage occurs? In the past, there have been some growers who did not use chlorpyrifos annually. Their experience suggested that cutworm damage was not an every year/every field thing, and that reactive sprays of permethrin are effective. This means keeping an eye on fields for cutworm damage. Check out the pictures in "A tale of two cutworms: Cutworm control in asparagus" to learn about scouting for cutworms. Please let us know if you observe cutworm damage. This year will be a learning experience for us all. One piece of good (or OK?) news: Cutworm damage is worst during cold weather, which is an easier time to fit in harvest-season applications.
Growers were planting new asparagus fields in Oceana County this week. Some farms were targeting the second half of this week for herbicide application. You can read this 2018 article on terminating rye in cool weather. Consider that graminicides (e.g., Select, Fusilade, Poast) have a one-day PHI and can be used to clean up rye escapes.
Beets
Red beets were seeded under plastic and tunnels in Tuscola County.
Carrots and celery
Carrot seeding began in Imlay City on April 16. Growers have started sowing dicing varieties in west central Michigan with progress slowed due to wet conditions.
Cole crops
Broccoli and cauliflower were transplanted under tunnels last week and slated for this week in Tuscola County.
Cabbage maggot flies are likely still "under ground" and not emerged in the northern half of the state, based on degree days at the Grant, Lapeer, Hudsonville, Fennville and Allegan Enviroweather stations. Emergence is not forecast to occur in the next seven days at these locations, but could happen over the next 1.5 to three weeks, depending on weather.
Cabbage maggot activity is forecast to start over the next week at the more southerly Dowagiac and Blissfield Enviroweather stations.
Cabbage growers can use tray drenches of Verimark – applied within 72 hours of transplanting – for cabbage maggot. This application can also provide early caterpillar and flea beetle control. If this is not possible, repeated applications of Mustang Maxx can also reduce damage. A new 2(ee) label describes this use.
Root crop growers can consider applying Verimark as an in-furrow application. This can be followed up by weekly applications of a pyrethroid, initiated once flies emerge; the active ingredient zeta-cypermethrin consistently reduced damage in Michigan State University trials. This active ingredient is in the products Mustang Maxx (one-day PHI) and Hero (21-day PHI). A follow up drench of Radiant or Exirel could be considered during the period of peak fly activity. Read more about this in "Controlling cabbage maggot in turnips with the Lorsban ban" from MSU Extension.
Greens
Lettuce transplanting in Imlay City began April 12.
Onions, garlic
Onion seeding began in Imlay City April 12.
Transplanted sweet onions on plastic were going in last week in Bay and Tuscola counties.
Garlic is up, and mulch remains.
Sweet corn
Sh2 varieties are less tolerant of cool soils than other varieties, due to their low starch content. Fungicide seed treatments are a good idea for planting in the next few weeks when soils are cool and moist. However, treated corn seed for sale at a market should be handled carefully. It looks like candy, and should be kept out of reach of children.
Tomatoes, peppers, eggplants
Transplants are well underway across the state for peppers, and tomatoes are just starting in many places. Grafted and ungrafted heated hoophouse tomatoes are setting fruit, with the largest around 2-inch diameter.
Downward curling leaves and tight internodes between leaves and leaflets are a sign of ethylene injury or herbicide injury. Herbicides can usually be ruled out pretty quickly. It is a common sight this time of year when heaters are running, and tomatoes get over it eventually.
Another common sight in hoophouse tomatoes this year is blossom drop. There are always a lot of concerns about this that evaporate when the season warms up and heaters are turned off for good. Blossom drop this time of year is almost always a latent sign of a temperature control issue. That bright sunny day when you entrusted someone else to open the vents, or that night when a vent was left open when in a hurry.
Less common altogether are grafted plants. However, some folks are having success with them in high tunnels in their fourth through first decade of continuous tomato production. Below are pictures of a failed graft union that likely began as a technical error during the grafting process. The rootstock and scion may have been misaligned, or be too different in diameter, and the vascular tissue did not connect fully. The disconnected parts scarred up and caused a bulbous appearance in the stem. There was enough connection to support a young plant, but not a larger plant with fruit coming on. You can see that the scion was beginning to develop its own roots to work around the graft.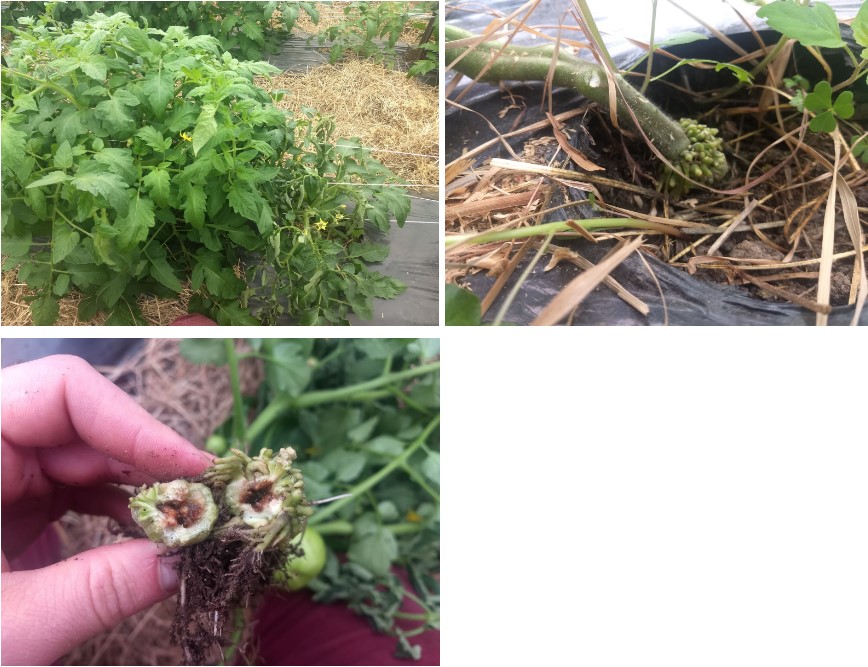 Events
---
This work is supported by the Crop Protection and Pest Management Program [grant no 2021-70006-35450] from the USDA National Institute of Food and Agriculture.