Michigan vegetable crop report – Aug. 11, 2021
Heat and humidity characterized this last week, and late comers to preventive fungicide management are playing catch up. Insects featured this week include beetles and caterpillars.
Weather
Watch the weather update here.
Dewpoints have been at the top end of normal the past few days and will continue the next few days. Overnight temperatures have also been high. For the past week, most of the state was a few degrees above normal. Most areas of the state picked up 0.5-2 inches of precipitation. Degree day totals are still several calendar days ahead of normal.
Soil moisture varies from below normal, especially in the Thumb and western Upper Michigan, to much above normal.
There was an outbreak of severe weather overnight last night in northern and central parts of the state, with high winds, some trees down and power outages. Precipitation is expected to total up to 0.5 inches for the week ending next Wednesday, with some spotty heavier rain.
General farm stand management
Since many stands are up and running right now, here are some observations to keep your stand looking like a shop instead of a charity.
Self-service stands suffer most from inattention in these hot summer days, and choosing a good location for the stand is important for top-quality product. Afternoon shade from trees or buildings is good, but a stand that has permanent awnings can ensure shade most of the day.
Too much sun dullens the sheen on tomatoes, peppers and summer squash/zucchini. "New" potatoes turn green when exposed to sunlight and become bitter.
Heat will shrivel produce as well, and the industry calls this "shrink". A grass or dirt location will stay cooler than asphalt. When asphalt cannot be avoided, such as at pop-up markets, keeping most of the produce in a trailer or in coolers can help maintain quality. Consider swapping out or refreshing display produce after a while.
Tops are commonly left on root crops for bunching, and these tops will be taking moisture from the root after harvest just like they normally would. The roots are no longer in the ground mining for water. For something like red beets or turnips the tops are a product themselves, so it is sort of like a two-fer, and the globe-shape of the root is not as immediately impacted. For long and skinny carrots, the tops are not commonly eaten and the main product can suffer more from floppiness as moisture is drawn out of the root and into the leaves.
Bugs are unattractive to most customers. You can reduce the amount of flies by keeping the stand away from farm animal pens.
Group your produce by size or color. Mixing wiffle-ball bat zucchini with 6-inch zucchini confuses customers.
Consolidate stand offerings to eliminate gaps and holes in the visual appearance across the stand and achieve a sense of plenty and fullness.
Put prices near each produce, or label each produce well, and use the same label on a central price board.
Crop updates
Asparagus
Disease severity values really ticked in from Aug. 4-10, with 12-15 DSVs accumulating at six MSU Oceana County sensors. This means fungicide covers are likely due today at these sites, even if a cover had been applied early last week. Purple spot symptoms are likely going to accelerate over the next few week. Both chlorothalonil and mancozeb help prevent new infections, with chlorothalonil having a longer residual.
Both asparagus beetle and Japanese beetle seem worse on some farms this year. Michigan State University Extension vegetable entomologist Zsofia Szendrei visited growers this week and had some thoughts, keeping in mind that reducing populations this year could help next year. First, manage asparagus beetle through the end of August to reduce the number of beetles overwintering for next spring. Some growers may desire an insecticide that might have longer residual activity than the usual suspects. Consider that the insecticides spinetoram (Radiant) and chlorantraniliprole (Coragen) have shown longer residual activity than pyrethroids in other crops. Using a penetrating surfactant may help them enter the waxy cuticle of asparagus to provide a little longevity.
Also, consider that asparagus beetles are worse along edges. If possible, expensive insecticides could be used to just treat problem edges.
Last, consider aggressive residue management this fall for problem fields, especially along edges. Szendrei's lab found most beetles are overwintering within fields in old asparagus stalks. If stalks could be busted up and shattered in fall, it could leave beetles without shelter. At least one farm has tried this, mowing fern in three, slow-driving chops on dry days in November, so at the end the fern has been chopped down just like it would be before harvest and shattered into bits.
Carrots and celery
Foliar disease was beginning to develop this week in some Oceana County carrot fields. With the recent weather, now would be a critical time to use a highly effective fungicide such as Merivon or one of the Luna products.
Cole crops
Cucurbits and pickles
A number of foliar issues in pumpkins have been reported, some of which are pathogens other than powdery mildew. Other foliar fungal pathogens that can infect pumpkins and squash include Alternaria, Colletotrichum, Plectosporium, and the bacterial pathogens Pseudomonas, and Xanthomonas. Oftentimes a routine powdery mildew spray program that includes protectants picks up these various diseases. Last week's report listed several options. Success comes from taking three of those products and rotating them on a two-week schedule with protectants like chlorothalonil, mancozeb or copper every time.
Downy mildew pressure continues to be high for clade 2 on cucumbers and melons. Management options are discussed in the July 28 report. The clade 1 downy mildew that can infect pumpkins, squash and watermelons has not been confirmed in the state.
Phytophthora can be found rotting fruit at this point in the season. Many of the same products that can be used for the crown and root-rot phase can be used to protect fruit, and include Elumin, Forum, Gavel, Orondis Gold, Orondis Ultra, Presidio, Ranman and Zampro. The primary challenge is in coverage of the fruits themselves when vines fill in the row middles. Spray techniques include slowing travel speed and increasing pressure. When faced with a choice to spray before a forecasted rain or after, always go before.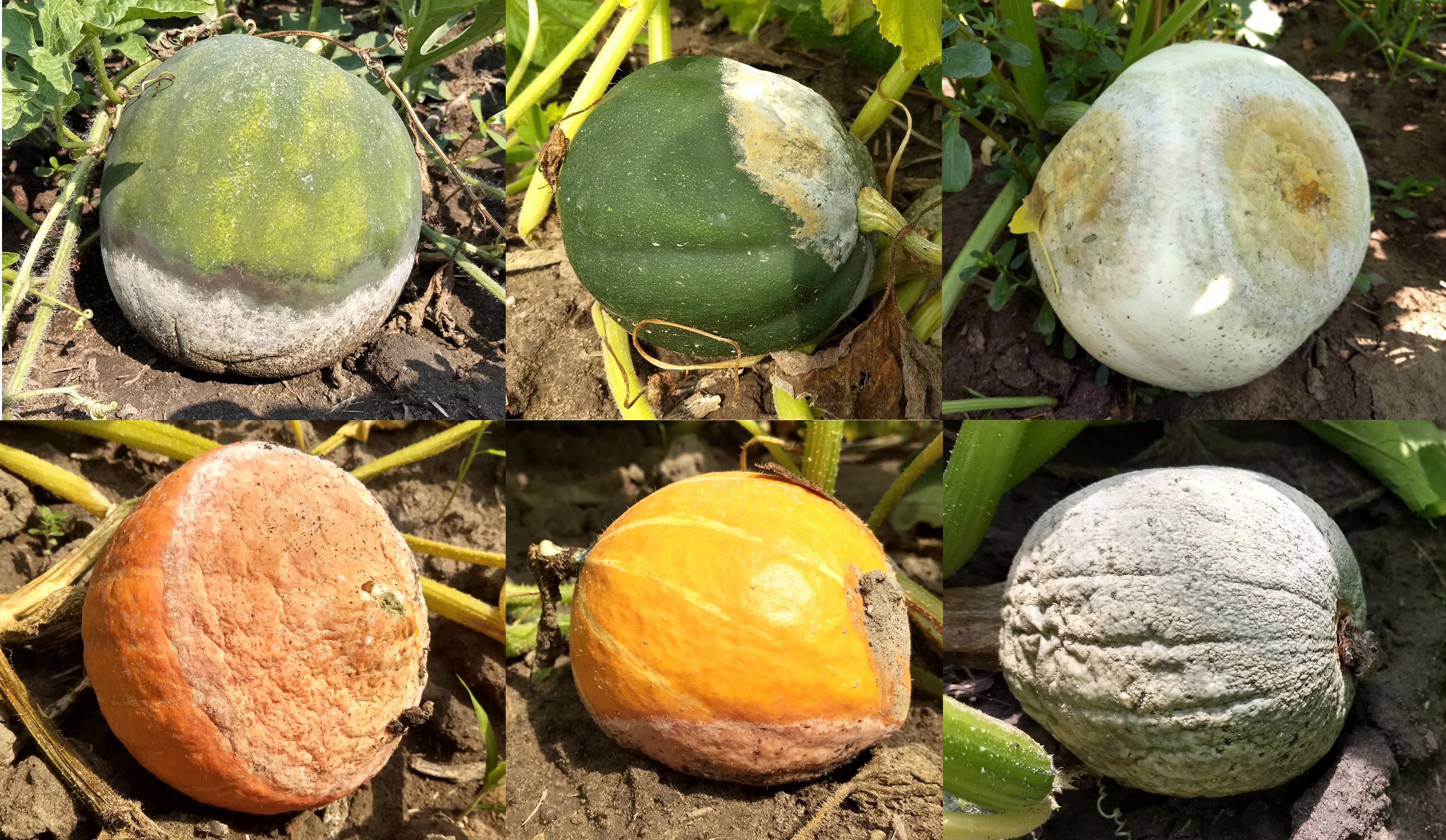 Sweet corn
Modest numbers of earworm moths (less than one per night) were alive and kicking in Lapeer, Ottawa and Oceana County traps early this week, suggesting there was a recent flight arriving with the southwest to northeast airflow we've seen. While numbers were modest, this was the highest catch since early July at these two locations. Given field corn is done pollinating, it makes sense to protect silking corn with regular insecticide applications from this point on. Remember that coverage and timing are key for this pest. Silks need to be covered and intervals need to be frequent enough to kill hatching caterpillars before they enter the ear.
Tomatoes, peppers and eggplants
Several calls came in this week regarding leaf spots and fruit spots. Some diseases rarely affect leaves and mostly only affect fruit, like anthracnose from Colletotrichum, while other diseases rarely affect fruit and usually only affect leaves, like Alternaria and Septoria. Others show up on both leaves and fruit, like bacterial speck and spot from Pseudomonas and Xanthomonas, respectively. Viruses can also create leaf and fruit symptoms. Fruit symptoms of viruses often include characteristic malformations that make the skin look and feel like a topographic globe.
The TOM-CAST model from the Network for Environment and Weather Application (NEWA) for early blight, Septoria leaf spot and anthracnose has held somewhat steady with an accumulation between 74 to 96 DSVs since May 15 in our region. That is 4-12 more DSVs since last week. The effective DSV threshold between fungicide applications averages 18, depending on the products used. If accumulations exceed two weeks without crossing the DSV threshold, and rain is in the forecast, it is worth applying a fungicide. For growers fighting bacterial diseases, the TOM-CAST model should not dictate your spray program.
Events
Food safety
Need your water tested for the Food Safety Modernization Act (FSMA)? Check out the Michigan Ag Water Lab Map.
On-Farm Readiness Reviews are designed to help fresh produce growers feel prepared and ready for a full implementation of the Food Safety Modernization Act (FSMA). They allow growers to walk through their operation with a small team of food-safety experts and discuss how to meet the new FSMA Produce Safety Rule requirements. Go here to sign up for one.
Farm Supervisor Produce Safety Courses are being hosted through the MSU Online Learning Portal - D2L. They are self-paced and free. It will be available for farm supervisors starting July 19. Register here.