Michigan vegetable crop report – July 14, 2021
The first significant harvests of sweet corn and snap beans started this week. Disease and nutrient-related symptoms are showing up following prolonged wet period.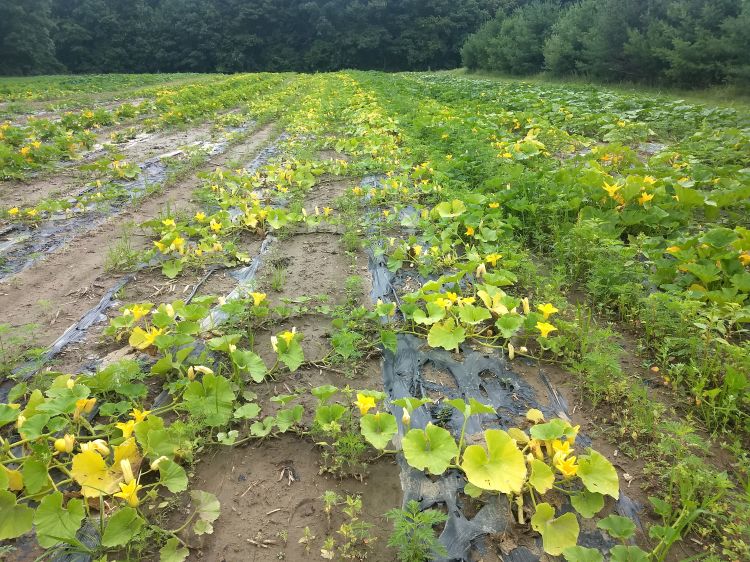 Weather
Temperatures over the last week were 1-4 degrees Fahrenheit below normal, with most of the state seeing a wet week with the slight exception of the southwestern lower.
Growing degree day (GDD) totals are several days to a week ahead of normal.
Soil moisture has seen a dramatic swing, with moisture in the top 3 feet slightly wetter than normal for much of the lower peninsula.
Precipitation is predicted to total 0.75-1 inch over the next seven days, with most expected to fall in the next 48 hours.
Watch Jeff Andresen's forecast here. The forecast calls for:
Mostly dry and warmer weather during the day Wednesday. Isolated showers possible.
Showers and thunderstorms developing northwest this evening and overnight Wednesday into early Thursday, spreading east. Thunderstorms likely again Thursday afternoon and evening central and south. Some severe storms possible.
Scattered showers possible Friday and Saturday to the south. Fair and dry to the north.
Maximum temperatures in the 80s Wednesday, falling back to the 70s Thursday and Friday. Minimum temperatures in the 50s/60s. Temperatures returning to above normal levels in the 80s/60s again by Sunday into early next week.
Medium range guidance suggests a return of warmer and drier than normal weather for late July.
MSU's network of over 100 weather stations can be accessed at Michigan State University Enviroweather
There are several pest prediction models based on temperature accumulations at the new Enviroweather website: seed corn maggot, cabbage maggot, asparagus miner, European corn borer and squash vine borer. Click on any of those pests to be taken to the model. Once there, change the Station to the one nearest you and click submit.
General crop management
Nutrient issues after rain
Following heavy and frequent rain events across the state, nutritional issues are showing up in many crops. Most common are yellowing plants attributed mainly to nitrogen (N) deficiency. Substantial losses of nitrate-N can occur due to leaching below the root zone (particularly on sandy soils) and due to denitrification losses to the atmosphere when soils remain too wet or saturated for extended periods (a bigger issue on heavier soils).
When soils are too wet, decisions about corrective N fertilizer applications can be more complicated; here are some options to consider. A foliar application of 1-10 pounds N per acre can be effective for immediate relief, especially if soil remains wet enough to inhibit root uptake. Keep in mind some foliar injury is possible at higher rates depending on crop and N source—consult labels, and if unsure, don't exceed 6 pounds N per acre per spray. Broadcast or sidedress applications of granular or liquid N fertilizers without incorporation can also be effective for supplying larger amounts of N; consider including an N stabilizer (urease and/or nitrification inhibitor) for any urea-containing fertilizers to reduce potential for volatilization and denitrification losses, respectively. Finally, if the forecast will allow the soil to dry out a bit, fertigation of N using reduced water volume may still be reasonable if you're set up to do this.
Cover crop options for late July and August
Several cover crops can be successfully planted following harvest of wheat or early harvested vegetables in the next few weeks. The best choice depends mostly on your planting date, management goals, and next year's crop. Here are a few options and things to keep in mind:
Warm season annuals. If you can get the field prepped and planted by late July or early August, warm season cover crops like sorghum sudangrass, Japanese millet or buckwheat can be an excellent choice for smothering weeds and protecting soil without causing pest problems for future vegetable crops. These cover crops are relatively low risk in vegetable rotations because they are in different botanical families than most vegetables. They also reliably winter kill, so won't interfere too much with field preparation next spring. However, these species slow down when temperatures drop, so they may not suppress winter weeds like chickweed or marestail which can get a foothold after these covers die.
Sorghum sudangrass is usually not worth planting by early-August. Buckwheat is a little faster and more cold tolerant so can be OK through mid-August as long as September doesn't get too cold quickly. Note that buckwheat can produce viable seed shortly after flowering (about 40 days after planting), so expect to see some volunteers unless you mow it at that time. To get a good stand establishment for suppressing weeds it is best to sow at relatively high seed rates (50 lbs/a), provide a little nitrogen (30 lbs N/a) and use a grain drill.
Cool season annuals. Once August is well under way, more cold tolerant cover crops like oats or various mustard family species (e.g., radishes, yellow mustard) are often a good choice. These cool season species will usually grow well into the fall and then winter kill providing effective ground cover and suppression of winter weeds without requiring much management in spring. Note that yellow mustard reliably winter kills in Michigan, radishes and oats usually winter kill, but Dwarf Essex rape survives. So don't plant Dwarf Essex rape unless you have a plan for killing it in the spring. Note also that mustard family cover crops can host various insect and disease pests so should be approached with more caution than oats. They should be avoided in any field that might have mustard family vegetables in it in the near future.
Some mustard family cover crops can also host diseases or nematodes of vegetables, while others can help suppress them. For example, recent greenhouse studies conducted by Marisol Quintanilla at MSU demonstrate that several radish cultivars including 'Control' and 'Concorde' are poor hosts of root lesion nematodes and therefore may be a good choice for growers wishing to plant cover crops before carrots and other susceptible vegetables. Previous studies at MSU have also demonstrated benefits of various mustard family cover crops in improving crop yields or quality when planted before a carrot crop. In one study, carrot yields were improved and the number of unmarketable carrots reduced following mustard family cover crops (see the figure below).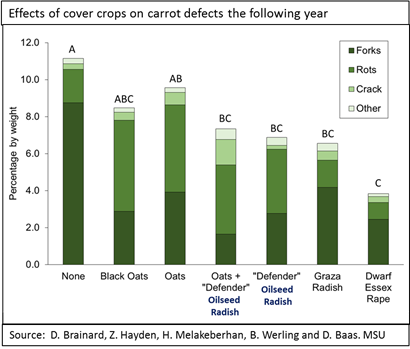 Mixing in legumes. Legumes provide a source of nitrogen and can add useful diversity to cover crop mixes, but they are often poor at suppressing weeds when grown alone, and the seeds can be very expensive. Therefore, it is often best to choose among non-legumes based on notes above and then consider adding a legume as part of a mix. For late July plantings, cowpeas, soybeans or sunhemp may be added to mixes with sorghum sudangrass or Japanese millet. For later plantings, peas, crimson clover or hairy vetch may be added to oats or mustard family cover crop mixes. Keep in mind that peas will usually winter kill, while crimson clover and hairy vetch will typically overwinter.
Also note that many legumes are excellent hosts of plant parasitic nematodes (e.g., hairy vetch hosts root-knot nematodes), so best to avoid these in rotation with sensitive crops. Many seed companies now sell two to three species mixes of these various cover crops. If mixing yourself, a good starting point is to divide the monoculture seed rate of each species by the number of species in your mix, and then reduce the rate of non-legume species by 10-20%. Otherwise, the legume may be suppressed by the more aggressive non-legume.
Crop updates
Asparagus
Cooperating consultants have been collecting TomCast data in asparagus, and MSU sensors are out, with data collection starting next week. Over the past week, consultant's sensors placed at five Oceana County locations accumulated 5-8 DSVs for the period July 6-12. Based on this data, a spray would have been indicated this Monday, if no cover had been applied since June 26-29. Of course, your own fields' sensor data is most reliable!
A species of leafroller is out and about in asparagus. This caterpillar ties together branches and/or leaves into a tiny silken home, moving out to munch on asparagus fern. It's around every year, but to date MSU Extension has never seen significant damage from it. In 2020, Ben Werling observed that larger caterpillars (e.g., about an inch), pretty quickly pupated into moths (which don't feed on fern). Permethrin is commonly included in fern sprays and will likely kill it.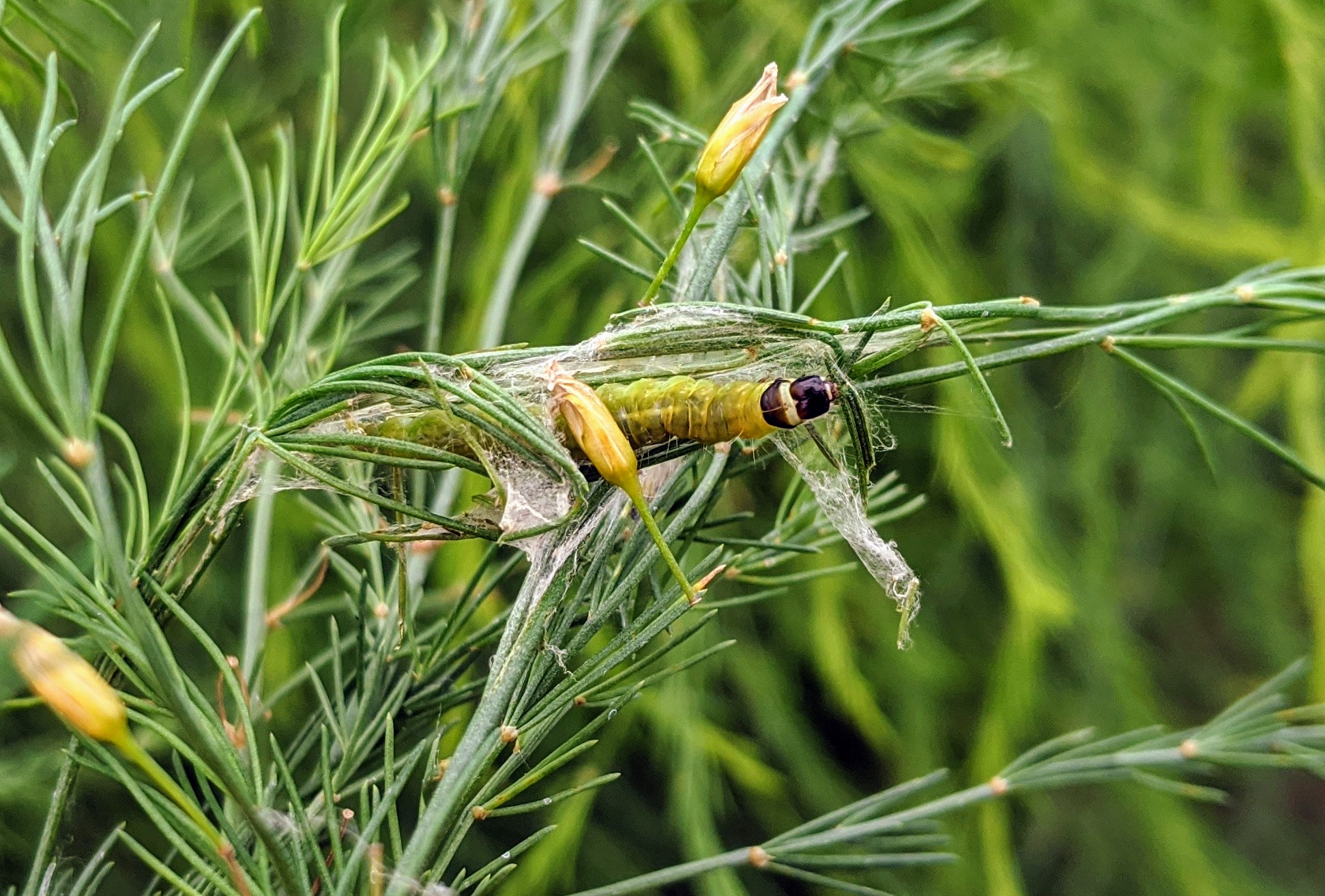 Insect pests were present in some asparagus fields this week, including the defoliators common asparagus beetle and Japanese beetle. Tarnished plant bug is another pest that growers target; it can cause tip dieback (but so can other things!). Check field edges to see if beetles are present, remembering to walk in a distance to see how far the problem extends.
The traditional insecticide combination to cover these pests includes carbaryl (carbamate) and permethrin (pyrethroid). Using a full rate of the Sevin XLR plus formulation may help provide residual control of Japanese beetle, which can quickly reinfest problem fields.
Is there anything else to consider? Acetamiprid is a neonicotinoid, and is labeled for all three pests. Dimethoate and chlorpyrifos are organophosphates, and carry asparagus beetle on the label. Lannate is a carbamate like carbaryl and carries asparagus beetle on its label. Entrust and Radiant are spinosyns, and have asparagus beetle activity but are costly; Entrust is OMRI approved.
Beans
First harvests of bush beans were underway this week. Snap beans for processing were flowering this week in West Central Michigan. Fields are wildly variable with low growth in some areas due to the droughty period, and beans curved and resting on the ground, which are now covered in mud from the rains. Some beans are rotting from constant contact with wet soils.
Carrots and celery
For carrots, if sowing sorghum sudangrass after wheat, consider that a higher sowing rate of 50 pounds per acre has been shown in research to suppress pigweed species. If economic, this could be considered as one piece of a strategy to reduce the amount of pigweed seed shed this summer.
For celery, scouts have reported we are at the beginning of the time to check for aphids. Aphid colonies are present in west central Michigan in at least two fields. Leaftier moths have been present the last few weeks at low levels, with caterpillars spotted at one location halfway down the petiole but not quite in the heart. Normally caterpillars stay up in the top leaves, but when weather gets very hot they can move down towards the hearts. Scouts spotted a variegated cutworm egg mass in one location. The best way to find egg masses is to look five to 10 rows ahead of you as you walk a field, looking for egg masses on the back of the leaves. They are easiest to spot in celery that's 12-18 inches tall. Moths have also been captured in traps in southwest Michigan.
Cole crops
Cabbage, cauliflower, broccoli, and kohlrabi were hitting markets this week. Watch for symptoms of both downy mildew and black rot (Xanthomonas) while walking these fields. In the initial stages of disease, the symptoms caused by these diseases can appear similar.
Cucurbits and pickles
Pickling cucumber harvest is set to begin for many growers this week. Interestingly, the earliest plantings are still behind later plantings due to frost damage on May 29 and May 30. Several earlier plantings were essentially "reset" all at the same time, and could result in cramped harvest windows.
Fruit set in acorn squash was easy to see this week in Sanilac County, but butternuts were still not producing many female flowers. Early pumpkins are setting fruit and runnering as well. Side dressing pumpkins should take place while the row-middles are still tillable if you plan to use a rotary tool. Dragged cultivators can do less damage to vines than rototillers, but plants will recover from this sort of driving damage. Reducing the number of drivelanes you need, and always using the same drive lanes is just a part of raising vine crops.
This is the time to implement a powdery mildew fungicide program to have the best chance of good control, read down for a report from recent trials. Fungicides can wait only if there is active, rigorous field scouting. Knowing when the pathogen first comes into a production field is important so that a management strategy can be put into place before the problem is out of control. Regardless of the type of product that fits into your specific operation, managing the disease early will be more successful than waiting until a crisis and then trying to protect the crop.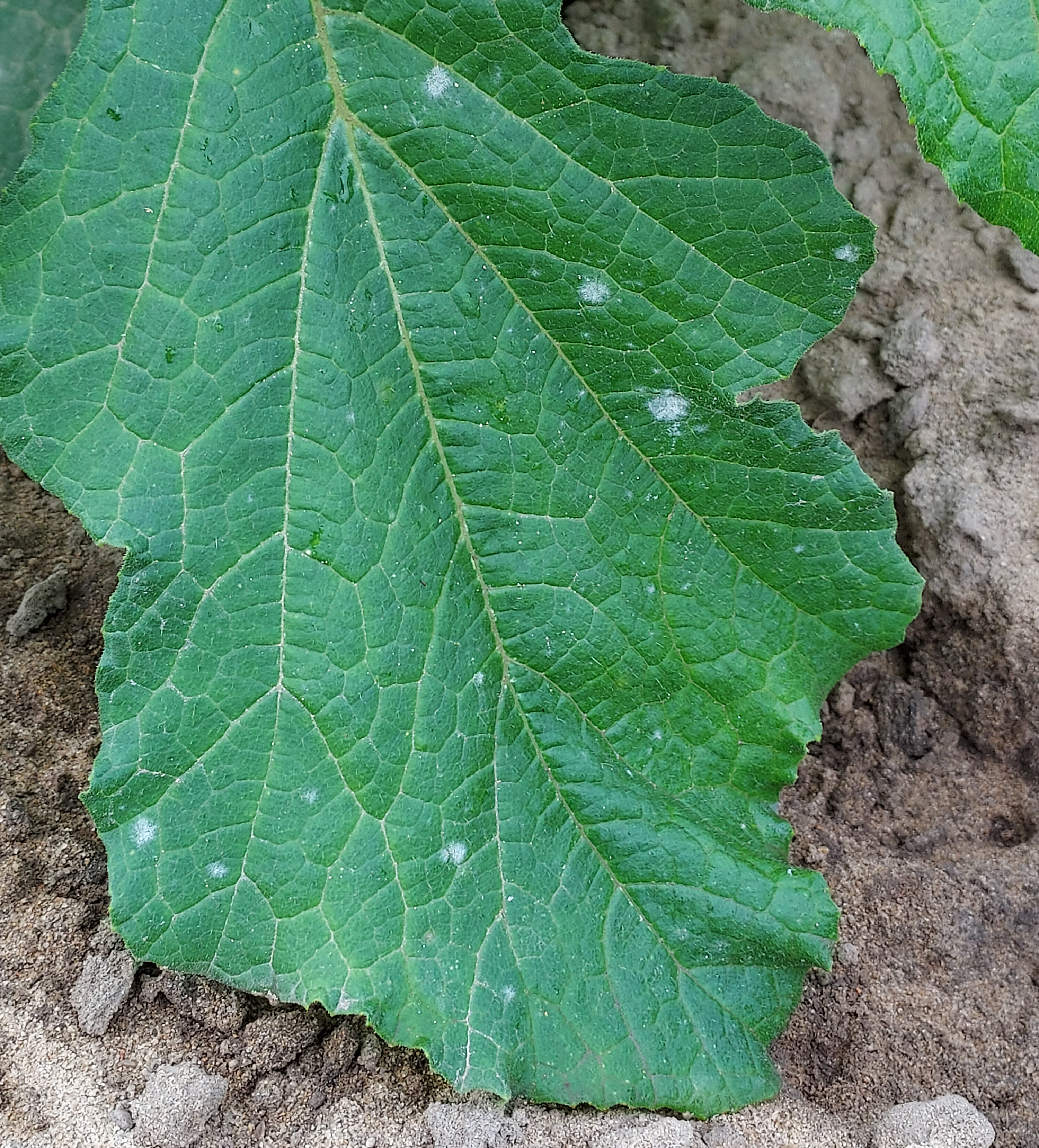 This major foliar disease of cucurbits is easy to identify because of the whitish, talcum-like, powdery growth. It may develop first on close-set plants on the shaded lower leaves and can infect leaf surfaces, petioles, and stems. Infected leaves usually wither and die. Premature loss of foliage often reduces the size or number of fruit. The fungus can multiply and spread quickly under favorable conditions. A large number of spores that can infect healthy tissue can be produced in a relatively short time and be moved by air currents.
Market quality of the fruit can be reduced because of sunburn and premature or incomplete ripening, resulting in poor flavor or rind color (pumpkin). In addition, powdery mildew infection predisposes plants to other diseases that may impact the pumpkin handle making it weak and brittle. Resistant cultivars represent an important step forward in managing powdery mildew and are commercially available for some pumpkins varieties.
Currently, fungicides combined with resistant cultivars are the primary control tools for this disease. Registered products vary widely in their ability to limit the powdery mildew pathogen. Some fungicides are newer to the market and offer a helpful level of control while others may not be effective due to resistance of the pathogen.
When choosing fungicides, it is especially important to alternate among products that attack the pathogen in different ways.The FRAC code can be used as a guide to know whether the products act similarly (FRAC numbers are the same) or differently (FRAC numbers are different). There are no "magic bullet" products that can halt a well-established problem or a powdery mildew epidemic but implementing a strategy that uses well-timed fungicide sprays can protect your crop quality and yield.
Fungicides for powdery mildew control can be tank-mixed with Bravo and alternated with other products in a strategy to keep the crop foliage healthy to protect the yield. Below are examples of potential programs that were included in a field study on pumpkins and butternut squash; this program reduced powdery mildew compared to the untreated control plot which didn't receive any fungicide applications.
Prolivo (FRAC 50) is a newer fungicide which was effective in our trial when tested alone. But, it could fit well in one of these rotations replacing one of the repeated fungicide treatments of Torino or Quintec, or replacing Vivando as another FRAC 50 fungicide. Other fungicides that could be considered in an overall program include Tebuzol 3.6F or Rally (both FRAC 3). While these are older products and there may be pathogen resistance, when tank-mixed with Bravo they performed okay in field trials across a couple of years.
Example program 1 tested well on butternut squash at 10-day intervals:
App 1: Torino SC (FRAC U6) 3.4 fl oz + Bravo Weather Stik SC 2 pt
App 2: Quintec SC (FRAC 13) 6 fl oz + Bravo Weather Stik SC 2 pt
App 3: Aprovia Top SL (FRAC 3 + FRAC 7) 13.5 fl oz + Bravo Weather Stik SC 2 pt
App 4: Torino SC (FRAC U6) 3.4 fl oz + Bravo Weather Stik SC 2 pt
Example program 2 tested well on pumpkins at 10-day intervals:
App 1: Quintec SC (FRAC 13) 6 fl oz + Bravo WeatherStik SC 2 pt
App 2: Torino SC (FRAC U6) 3.4 fl oz + Bravo WeatherStik SC 2 pt
App 3: Vivando SC (FRAC 50) 15.4 fl oz + Bravo WeatherStik SC 2 pt
App 4: Quintec SC (FRAC 13) 6 fl oz + Bravo WeatherStik SC 2 pt
Example "budget" program 3 slotting less expensive older chemistries with the same modes of action, between newer chemistries with different modes of action at 10-day intervals:
App 1: Torino SC (FRAC U6) 3.4 fl oz + Bravo Weather Stik SC 2 pt
App 2: Rally WP (FRAC 3) 5 fl oz + Bravo WeatherStik SC 2 pt
App 3: Quintec SC (FRAC 13) 6 fl oz + Bravo Weather Stik SC 2 pt
App 4: Tebuzol 3.6F (FRAC 3) 6 fl oz + Bravo WeatherStik SC 2 pt
Cucurbit downy mildew has been reported in Ohio in recent days, and was confirmed on one leaf in a Saginaw County pickling cucumber field today (July 14). The recent weather is especially favorable for downy mildew and cucumber growers would be well served to apply fungicides immediately to ensure crop protection.
It is very important that cucumber growers use a proven downy mildew program with fungicides shown to have good activity in our yearly Michigan research plots including:
Ranman + chlorothalonil or mancozeb
Orondis Opti (chlorothalonil is part of the premix)
Zampro + chlorothalonil or mancozeb
We have been monitoring the spore traps and detected downy mildew spores in the air samples from cucumber production regions. Our spore trap webpage is updated with the latest results. Click here for spore trap results and current downy mildew news.
Symptoms of angular leaf spot, a bacterial disease, are showing up on cucurbit foliage now, and are easily confused with downy mildew. This disease is readily spread to nearby foliage by splashing water, so disease may become more prevalent throughout infected fields. Weekly copper applications can be used to reduce spread of this disease when conditions are favorable (rainy). Making applications at longer intervals is less effective.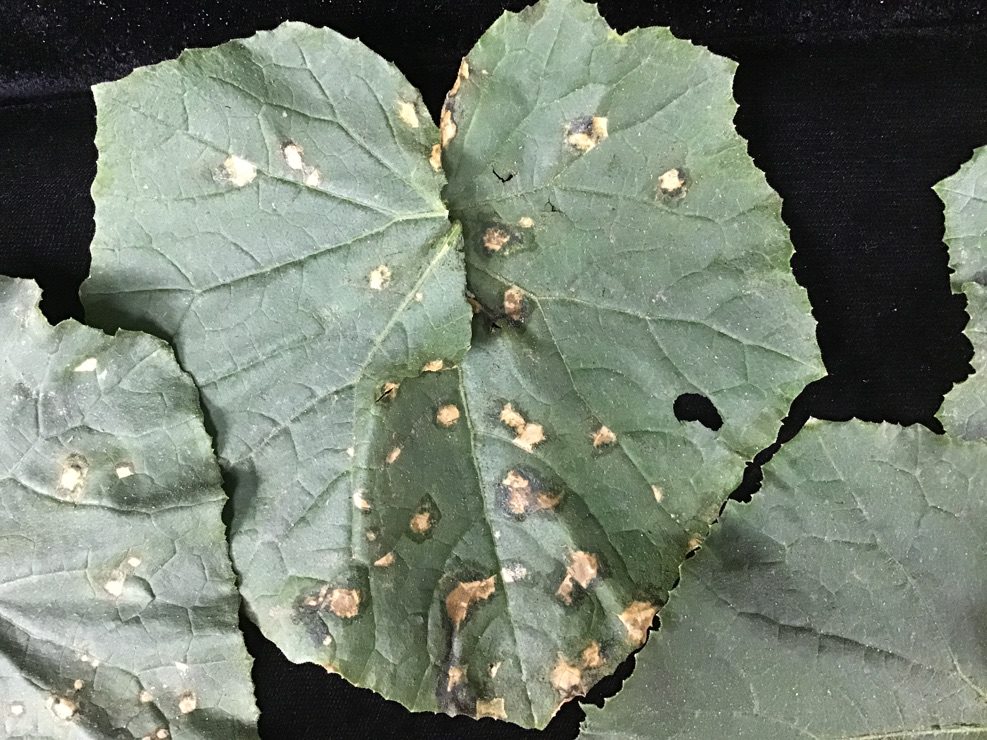 We urge growers, scouts, consultants, and extension educators to monitor cucumber fields for early symptoms of downy mildew. Suspect samples should be submitted for a diagnosis. Click here for instructions on how to submit samples.
Onions and garlic
Garlic and sweet onion harvests are starting to pick up steam. Growers are concerned about size being smaller than they would normally expect for this time of year, possibly owing to drought conditions earlier in the season, but the density of stand and foliar health of plants has been outstanding.
Keep in mind that FRAC 7 fungicides (Luna Tranqulity, Miravis Prime) are top choices for inclusion in a Stemphylium program, with the FRAC 3 group (e.g., Tilt, some premixes) a second choice. Some onion production areas saw rainy weather in the past few days, or may soon. Using a FRAC 7 or 3 material during this period could be helpful if you can stay within label allowances. Tilt can be tank-mixed with chlorothalonil.
Thrips populations have been higher in some spots, and lower in others, pointing to the value of scouting. If thrips populations are high, it is getting to the time of year when you can use Radiant with less hesitation (especially for early varieties), as we are now in mid-July. Ideally, the same mode of action should be applied in back to back applications, in subsequent weeks, to avoid selecting multiple generations for resistance. You can "choose your own" thrips adventure using the flow chart in Cornell's thrips guidelines
Potatoes
The Late Blight Forecast is at high risk in several areas in southern lower peninsula Michigan. Areas of high risk may consider using full fungicide rates and reducing the application interval to five days depending on individual field conditions. At this time, no late blight has been reported anywhere in the U.S. For more information, please visit our MSU Potato and Sugar Beet Pathology website. The Michigan Potato Late Blight Forecast is based on accumulation of disease severity values (DSVs) since early May emergence. Green pins indicate low risk areas, yellow pins indicate medium risk, and orange pins indicate high risk.
In Montcalm County, significant numbers of volunteer potatoes were observed in lodged wheat fields following heavy rains. Management is a concern because of potential herbicide pre-harvest intervals in wheat and wet field conditions delaying wheat harvest. Keep a close eye on volunteers like this. Unmanaged, volunteers can serve as possible inoculum sources, especially for late blight.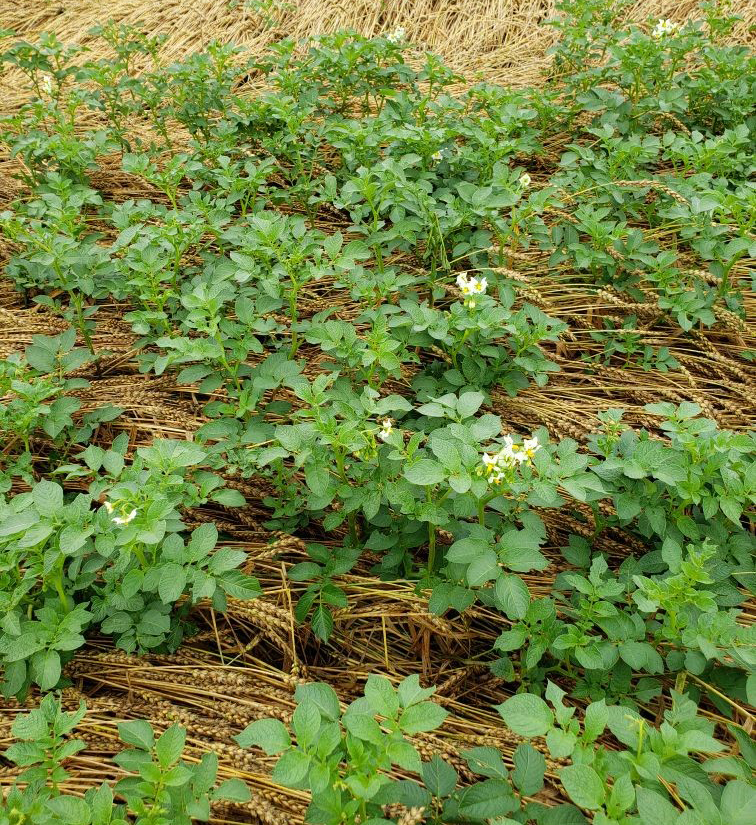 Root crops
Red beets and carrots for bunching with tops were going to market this week. Cercospora leaf spot has been detected in several commercial sugar beet fields in the Bay and Thumb areas this week. Severity levels are low but incidence is increasing steadily with continued favorable weather. Please visit the Michigan BEETcast maps for more risk information.
Strawberries
Late Malwina berries were at market this week. Renovation was underway on other farms.
Sweet corn
The first of Michigan's sweet corn was going to market last week. Smut has been reported in early planted Kickoff and Catalyst varieties that were transplanted and/or seeded into plastic with low tunnel protection, and there is some speculation as to what damage could have been dealt to allow entry of this pathogen. At this point, given the plantings that were affected, and the weather patterns on the farms that reported issues, we are thinking that the late frost damage May 29 and May 30 could have provided an opening for this pathogen.
There is little you can do about smut except prevent physical injury to the plant. The pathogen can live in soil for many years, and flare ups occur in stressed and damaged plants. Things like close cultivation that nips the roots, wind lodging, wind sandblasting, fast-changing weather, and low-spot/high-spot syndromes that stress the plant nutritionally. Conditions that cause tasseling to be much earlier or much later than silking can also allow a longer window of time for silks to become infected.
Corn earworm trap counts in Saginaw, Oceana and Lapeer counties were one moth per night or less this week, while 2 moths per night were captured in an Ottawa County trap. Western Bean Cutworm moths were captured in Ottawa and Saginaw County traps this week. This moth prefers to lay eggs in corn that is just about to have tassels pop. Growers who start corn earworm sprays promptly when silking begins should clean up any caterpillars, but it can catch growers off guard if they are not targeting earworm.
Tomatoes, peppers and eggplants
The second flight of European corn borer is typically most damaging to peppers, because moths are laying eggs when peppers start fruiting. Based on degree days, it is expected to be starting, or start soon, at some locations (check out the model to see how things are progressing at your location, see the weather section above).
How can you control European corn borer without exacerbating thrips damage to fruit? Some growers have struggled with thrips after applying frequent applications of pyrethroids or carbamates, which kill the predatory minute pirate bugs that help keep thrips in check. Here's one possible gameplan using selective insecticides; it assumes weekly sprays are started once European corn borer activity starts. As corn borer activity begins, but before it peaks, conventional growers could kick off the spray program with a narrow spectrum product such as Avaunt, Radiant, or Intrepid, remembering Radiant is the best material for thrips.
Following this, Coragen could be used in two applications in the "heart" of the corn borer season, it is highly effective. Once major fruit sets are past-and injury from thrips is of less concern-broad spectrum products such as Orthene, Lannate or the pyrethroids can be used. Organic growers can use Bt products for corn borer, but note that frequent (e.g., twice weekly) applications are needed.
Field tomato harvest is just starting, with cherries going to market this week.
After the frequent and sometimes hard and driving rains over the last couple weeks, disease symptoms are starting to become prevalent in field tomatoes and peppers, including bacterial canker, Alternaria leaf blight, and Septoria leaf spot. Severe symptoms of bacterial diseases are also being seen in greenhouse tomato crops. Good sanitation to minimize further spread is especially important in this situation.
Please refer to the June 16 report for a great rundown of disease management tools for these crops and diseases, and the Midwest Vegetable Guide fungicide efficacy table for considering a more tailored approach to specific problem diseases on your farm.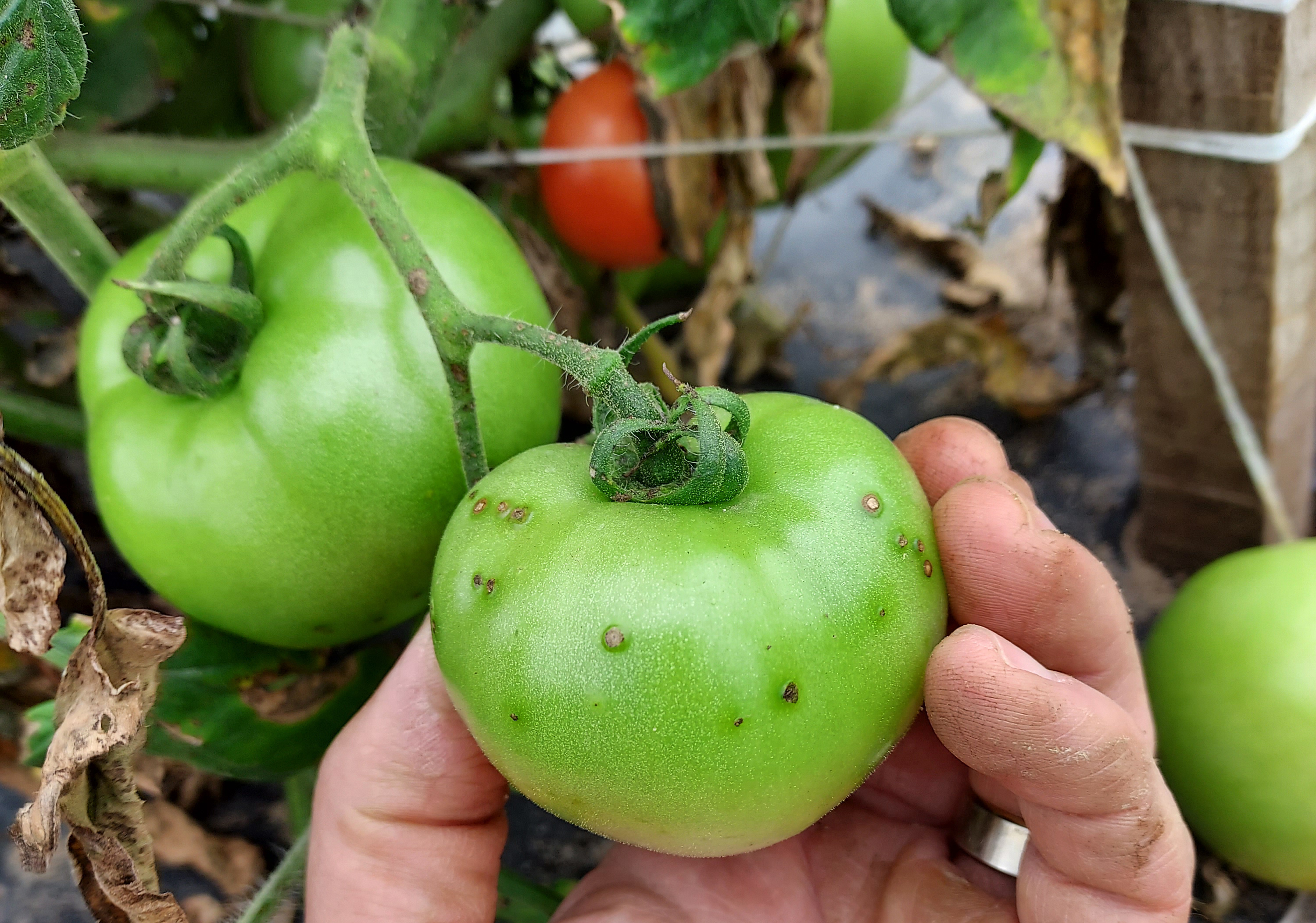 Colorado potato beetle large larvae were feeding on eggplant at one site this week. Neonicotinoids (e.g., Actara, Admire), spinosyns (e.g., Radiant, Entrust) or diamides (e.g., Coragen) can provide control. This beetle also enjoys snacking on horsenettle, which can provide a reservoir of beetles nearby that enter the crop on the sly. This is a good example of how managing weeds is part of an overall IPM strategy to limit insect and disease pests.
Events
Food safety
Need your water tested for the Food Safety Modernization Act (FSMA)? Check out the Michigan Ag Water Lab Map.
On-Farm Readiness Reviews are designed to help fresh produce growers feel prepared and ready for a full implementation of the Food Safety Modernization Act (FSMA). They allow growers to walk through their operation with a small team of food-safety experts and discuss how to meet the new FSMA Produce Safety Rule requirements. Go here to sign up for one.
Farm Supervisor Produce Safety Courses are being hosted through the MSU Online Learning Portal - D2L. They are self-paced and free. It will be available for farm supervisors starting July 19. Register here.