Michigan vegetable crop report – July 21, 2021
We are waiting on melons and watermelons to complete the full assortment of Michigan summer vegetables at market. Disease pressure is high.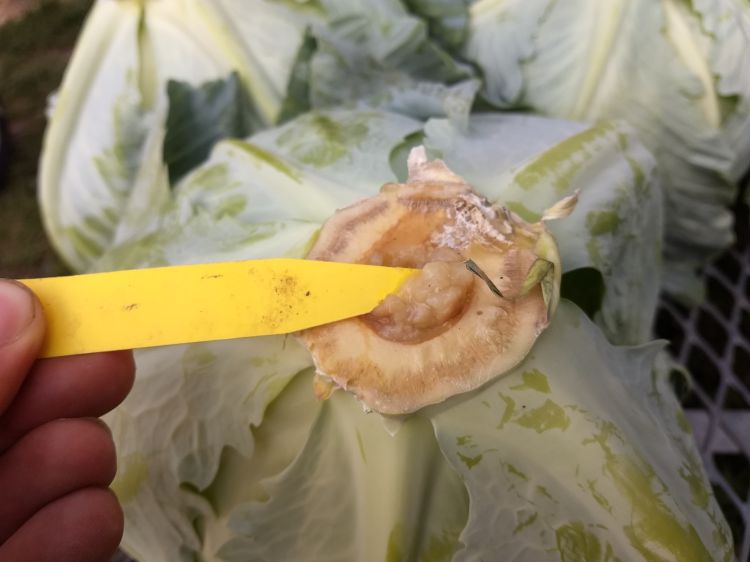 Weather
For the past week, temperatures were near normal, with portions of northwest and southeast Michigan seeing very heavy rain. Other spots had less but were still wetter than normal. Smoke from western fires has been visible with hazy conditions at times.
Looking back 30 days, precipitation totals were up to 7-8 inches above-normal for the month of June.
Growing degree day (GDD) totals are a few to several days ahead of normal.
Watch Jeff Andresen's forecast here. The forecast calls for:
Mostly sunny, dry and cool weather statewide on Wednesday.
Increasing clouds Thursday. Scattered showers and thunderstorms developing west Upper Peninsula late Thursday, spreading southeast overnight into Friday morning.
Scattered showers and thunderstorms statewide Friday and Saturday.
The forecast calls for 0.5-1 inch of rainfall to accumulate over the next week.
Maximum temperatures from the mid-upper 70s Wednesday and Thursday warming back into the 80s by Friday and continuing this weekend. Minimum temperatures in the 50s Thursday warming to the 60s by Saturday through early next week.
Medium range guidance suggests warmer and drier than normal weather during the next one to two weeks.
New long lead outlooks continue to call for warmer than normal mean temperatures for the remainder of the summer into the early fall.
MSU's network of over 100 weather stations can be accessed at MSU Enviroweather
There are several pest prediction models based on temperature accumulations at the new Enviroweather website: seed corn maggot, cabbage maggot, asparagus miner, European corn borer and squash vine borer. Click on any of those pests to be taken to the model. Once there, change the Station to the one nearest you and click submit.
Crop updates
Asparagus
Between 12-13 disease severity values (DSVs) accumulated between July 12 and 20 at three Michigan State University TomCast sensors in Oceana County. Five consultant sensors accumulated 8-9 DSVs for the period July 14-19.
Carrots and celery
For carrots, 11 DSVs accumulated between July 12-20 at one MSU sensor in Oceana County. MSU's Mary Hausbeck recommends incorporating effective fungicides-including Merivon or a Luna product-into your program early. Getting in front of foliar disease is more effective and good for resistance management. Also, watch TomCast data: An especially good time to use these highly effective products is when there are multiple days in a week with DSV values of 3 or 4.
For celery, scouts have also reported the presence of mites in typical problem spots. Agri-Mek (seven-day preharvest interval, or PHI) is often used for mites; Oberon is also available via a Michigan 24c (seven-day PHI). Continue to keep an eye out for aphids. Movento (three-day PHI) can be applied with a penetrating surfactant; Actara (active ingredient Thiamethoxam, seven-day PHI) also reduces populations but is not as effective.
Scouts have continued to find celery leaftier caterpillars at some locations, but thankfully to date they have mostly been up in the tops of celery. In very hot weather, they sometimes move to the heart, where they are of more concern. Pyrethroids should be an effective control for leaf tiers. Voliam Flexi (seven-day PHI) is a pre-mix that would have activity against both caterpillars and aphids; it contains the caterpillar material chlorantraniliprole plus thiamethoxam. Some variegated cutworm moths were being captured in West Central traps yesterday.
Cole crops
Head rots from an unidentified cause were visible in the field in some west Michigan locations, which had seen heavy rains. Bacterial soft rots at the stem end have also been reported in cabbages soon after harvest. Postharvest sanitizers will not eliminate infection from already affected plants, but these infections can be spread from harvest knives from one plant that is cut, and so working on knife sanitation can help.
For example, a tub on the harvest wagon with a solution of Sanidate 5.0 mixed at 1.6 fluid ounces per 5 gallons of potable water can be used to hold knives that get switched out at the end of rows or if they are dropped, or some other interval. Post-harvest cold storage conditions that limit bacterial growth can also slow the rot and conserve integrity. However, if you decide to cut the stem shorter to try to conserve the heads for sale, follow similar sanitary procedures listed above with the knives.
Cucurbits and pickles
Melons are close to harvest. Pumpkins have softball sized fruit on some farms, and basketball size on others.
Phytophthora and Pythium rots are showing up in zucchini, hard squash, and pumpkins. Get the scoop on effective products in fact sheets linked here. Meg McGrath of Cornell University describes the visible growth of Pythium as mostly mycelium (the "roots" of the pathogen) and resembles cotton or shaving cream whereas with Phytophthora the visible growth is mostly sporangia (spores) and resembles a yeast. Of the two pathogens, Pythium is the weaker one, with less impact on yield in most years.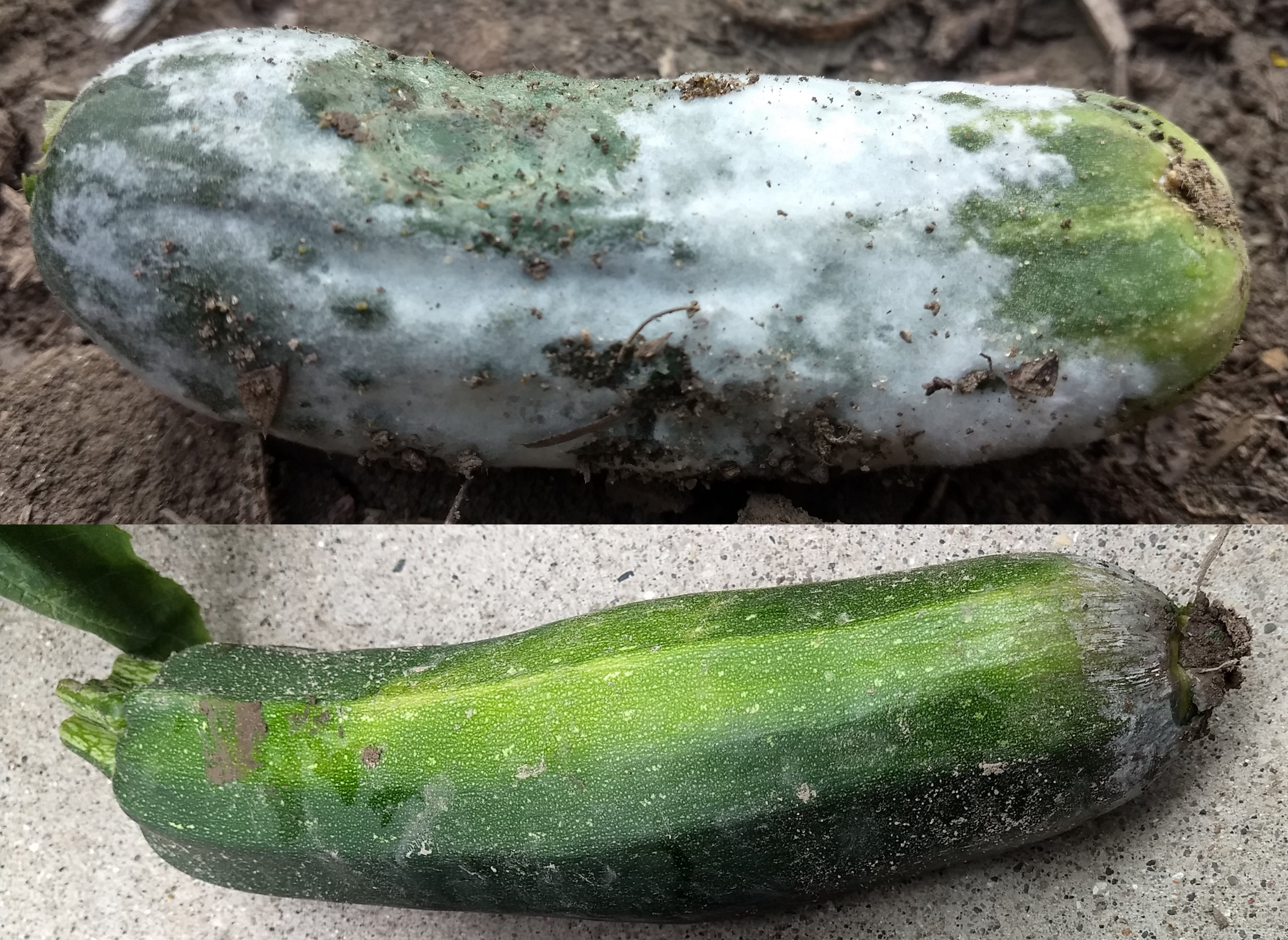 The last pickling cucumber plantings have been completed, and harvests have begun. Downy mildew pressure in the Saginaw Valley, Bay and Thumb areas has exploded seemingly overnight, with intense pressure attacking cotyledon stage cucumbers.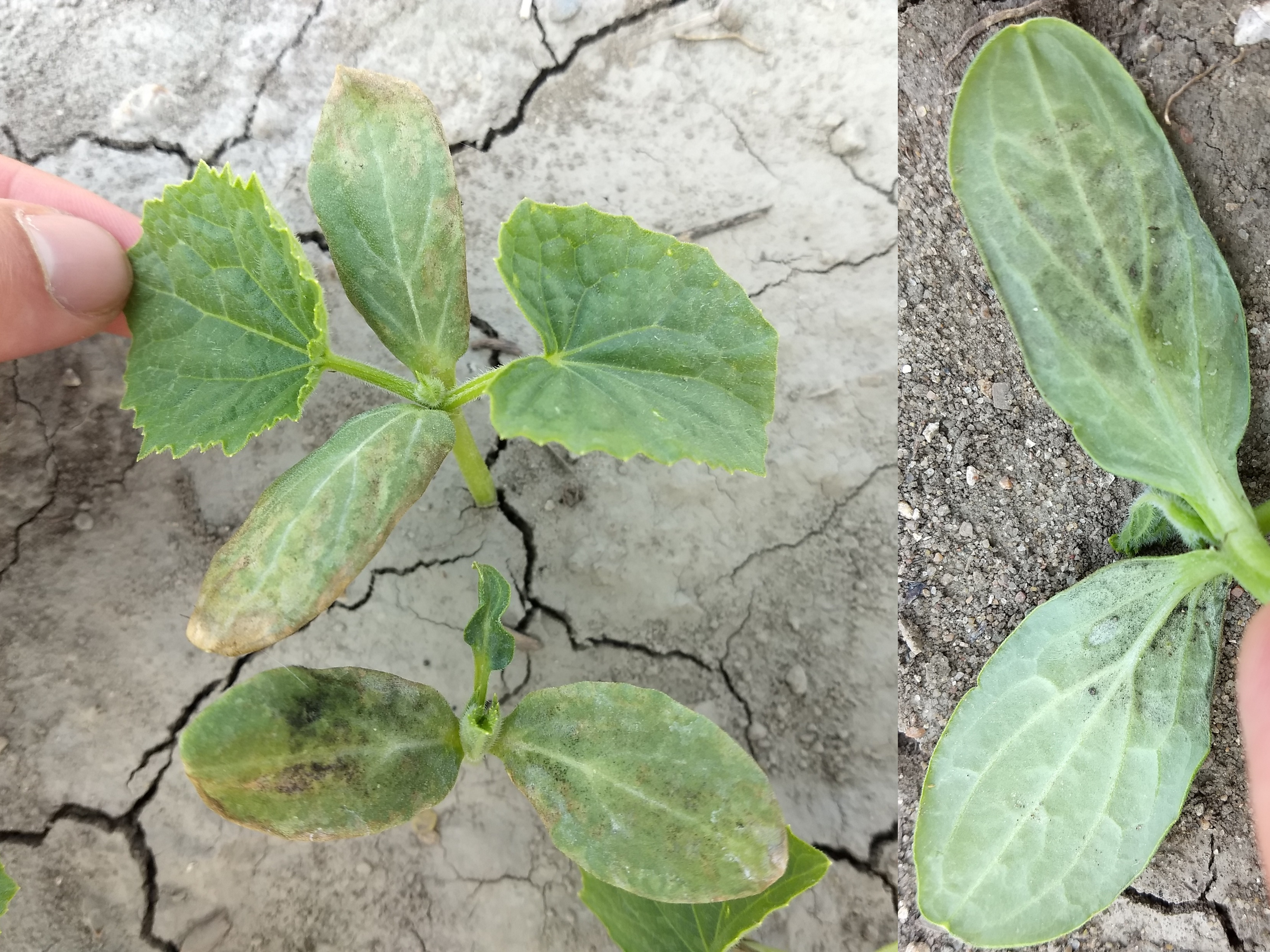 Growers, scouts, consultants and extension educators are urged to monitor cucumber and melon field plantings. Suspect samples should be submitted for a diagnosis. See instructions on how to submit samples.
It is very important that cucumber growers use a proven downy mildew program with fungicides shown to have the most consistent and reliable activity in our yearly Michigan research plots including:
Ranman + chlorothalonil or mancozeb
Orondis Opti (chlorothalonil is part of the premix)
Zampro + chlorothalonil or mancozeb
Orbus 4F + chlorothalonil or mancozeb (Note: Orbus 4F has the active ingredient -fluazinam-as Omega)
Leaf spots caused by Xanthomonas, a bacterial pathogen, are showing up in pumpkin fields. This disease infects both foliage and fruit. Fruit lesions are dry scabby spots that can become entry points for other pathogens and general decay organisms later in the season.
Greens and herbs
Basil downy mildew has caused severe disease in some locations.
Onions and garlic
Tip over has occurred on some early sweet onions.
Potatoes
The Late Blight Forecast is at high risk for most of Michigan through July 26. Areas of high risk may consider using full fungicide rates and reducing the application interval to five days depending on individual field conditions.
Black dot (Colletotrichum coccodes) is a disease that affects potato tubers, roots, and stems. Occasionally it causes small necrotic lesions on foliage. The pathogen is somewhat opportunistic, rainy weather and less vigorous foliage create an opportunity for symptoms on foliage.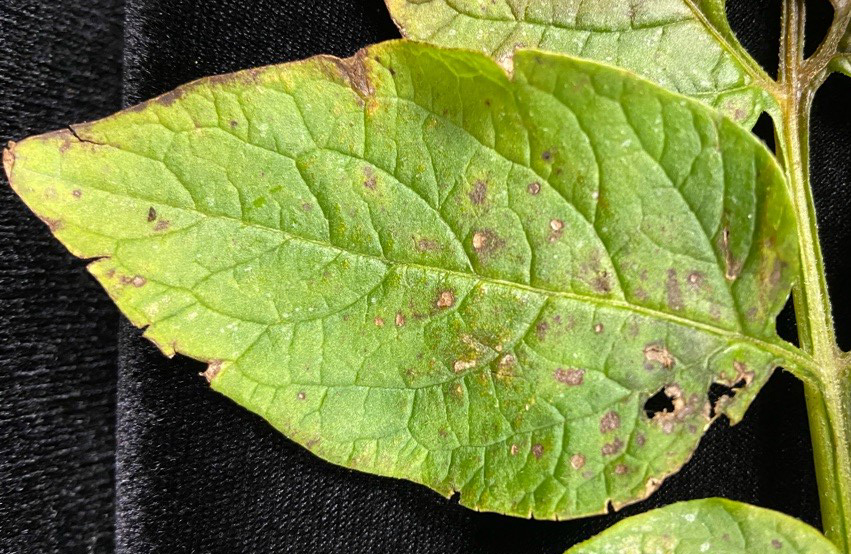 Sweet corn
Corn earworm trap counts in Saginaw and Lapeer counties were one moth per night or less this week. Corn earworm damage has been noted by scouts in west Michigan, this is likely from flights that occurred earlier this summer. Note, if field corn is silking in the neighborhood of your sweet corn, this can reduce the impact of local earworm populations as it is attractive to earworms.
Western bean cutworm moth populations are rapidly growing, with 234 moths caught at the Saginaw Valley Research and Extension Center over the last week. Females prefer to lay eggs in sweet corn that is just about to tassel. Insecticides applied promptly at silking can help with this pest. View a nice fact sheet on scouting in field corn, also applicable to sweet corn: Managing western bean cutworm in field corn.
Tomatoes, peppers and eggplants
Phytophthora blights have been taking out pepper plants on some farms. Tomato fruit rots can also be caused by the same Phytophthora pathogen that causes crown and root rots in peppers and squash. This is a different species of Phytophthora than the one that causes late blight. Get the scoop on effective products in fact sheets linked here.
For smaller growers Phytophthora is a difficult pathogen to fight with fungicides because of their expense. Unfortunately, the effective ingredients for these oomycete pathogens (including downy mildew) are not readily available among the shelves of various Bonide and Hi-Yield types of product lines. On small farms and organic farms, the best course of action is preventive. Several actions include hilling rows to drain root zones more quickly, prompt removal or destruction of infected plants, sanitary field work and equipment cleaning, cull piles from any bought-in produce located away from the main fields and avoiding surface water as an irrigation or spray tank source.
Events
Food safety
Need your water tested for the Food Safety Modernization Act (FSMA)? Check out the Michigan Ag Water Lab Map.
On-Farm Readiness Reviews are designed to help fresh produce growers feel prepared and ready for a full implementation of the Food Safety Modernization Act (FSMA). They allow growers to walk through their operation with a small team of food-safety experts and discuss how to meet the new FSMA Produce Safety Rule requirements. Go here to sign up for one.
Farm Supervisor Produce Safety Courses are being hosted through the MSU Online Learning Portal - D2L. They are self-paced and free. It will be available for farm supervisors starting July 19. Register here.
---
This work is supported by the Crop Protection and Pest Management Program [grant no 2021-70006-35450] from the USDA National Institute of Food and Agriculture.