Michigan vegetable crop report – July 7, 2021
Vegetable report for the holiday week.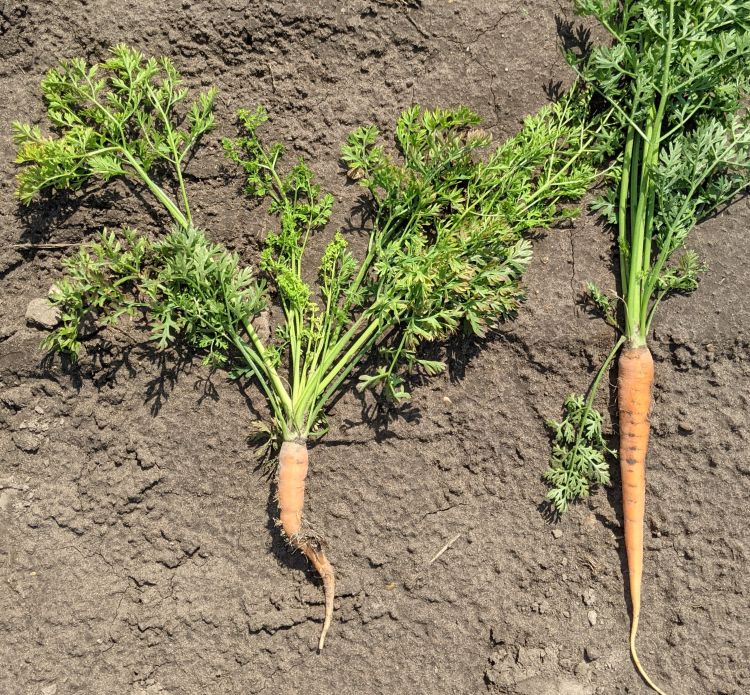 Weather
This past weekend saw a strange phenomenon: A warm Canadian air mass moved northwest to southeast into the Upper Midwest, bringing remnants of the Western heatwave. This included a hazy smoke layer at 3-5,000 feet from forest fires in British Columbia.
Over the past week, temperatures were 2-5 degrees above-normal with significant precipitation in the northern lower, a dry spot in the middle, and some precipitation to the south.
Degree-day totals are several days to a week ahead of normal.
Only 5% of Michigan is in a severe drought—an improvement—with the northwestern lower and Saginaw Valley drier than the rest of the state.
Watch Jeff Andresen's forecast here. The forecast calls for:
Showers and thunderstorms likely central, south, Wednesday through Thursday, with 0.25-0.5 inches totals but high totals possible especially in southeast Michigan. Dry and cooler to the north.
Mostly dry and cooler statewide Friday.
Scattered showers and thunderstorms possible once again this weekend, southern half. Fair and dry to the north.
Showers and thunderstorms possible again statewide by Monday and Tuesday.
Maximum temperatures from the 60s north to the 80s south Wednesday falling to the 60s to mid-70s Thursday and Friday. Minimum temperatures in the 40s to low 60s Thursday, cooling to the upper 40s/mid-50s by Friday. Seasonable temperatures likely this weekend into early next week with highs in the 70s to low 80s and lows in the 50s/60s.
Precipitation is expected to total 0.5-1 inch through next Wednesday, with highest totals to the south.
Medium range guidance suggests warmer and wetter than normal weather during Mid-July.
MSU's network of over 100 weather stations can be accessed at MSU Enviroweather
There are several pest prediction models based on temperature accumulations at the new Enviroweather website: seed corn maggot, cabbage maggot, asparagus miner, European corn borer and squash vine borer. Click on any of those pests to be taken to the model. Once there, change the Station to the one nearest you and click submit.
Crop updates
Asparagus
Fern had completely or almost completely expanded in most fields as of Tuesday, July 6. If using the TOMCAST forecasting system, an initial spray should be made once the fern has developed to 50% of its full expansion. After this initial spray, the disease severity value (DSV) can then be summed with subsequent sprays applied when the total reaches 15. Either chlorothalonil or mancozeb can protect against purple spot. However, past work showed chlorothalonil may have longer residual activity. Tebuconazole is helpful for rust.
Growers report that pigweeds escaped lay-by burn down applications this year in some locations. In 2020, Michigan State University Extension collected Powell amaranth and redroot pigweed seed from two Oceana County and one Mason County asparagus fields. MSU Plant & Pest Diagnostics grew plants from this seed in the greenhouse and treated them with glyphosate and 2,4-D, our main burndown herbicides. These three populations were still susceptible (i.e., killed by) both products (as well as by the PPO inhibitor Chateau).
The size of weeds and environmental conditions can contribute to control issues. If pigweeds grew large enough by the end of harvest, for example, they would be harder to kill at lay-by. Along with environmental conditions (temperature and rainfall) weed control efficacy will also depend on the type of herbicide application, the rate applied, and the physiological status of the target weed. The ideal temperature for applying most post-emergent herbicides is between 65 and 85 degrees Fahrenheit. If weeds are damaged or under stress before the herbicide application, then control will be reduced due to decreased herbicide absorption into the plant. Read more about the impact of hot and dry and rainy weather on herbicide efficacy.
Carrots, celery and lettuce
Late season carrots were being planted this week.
Carrot growers have been busy applying fungicides and insecticides in west central Michigan over the past week. MSU plant pathologist Mary Hausbeck recommends using highly effective fungicides, including Luna or Merivon, early in spray programs.
Aster yellows symptoms were visible in one Mason County carrot field this week, including bushy new growth, hairy roots and bronzed foliage.
Please contact MSU entomologist Zsofia Szendrei at szendrei@msu.edu if you would like to receive real-time text alerts. If you would like to be removed from the text blast, you can text STOP. The latest information is also below.
Aster leafhopper infectivity and treatment thresholds for the latest samples processed by the MSU Vegetable Entomology lab.

County

Date

Infectivity

Treatment threshold (leafhoppers per 100 sweeps)

Celery

Carrots

Muskegon

7/1

0.0%

-

-

Newaygo

7/1

2.1%

16

24
Cole crops
Caterpillar pest pressure has increased, and the cross-striped cabbageworm appears to be a larger player this year in eastern Michigan. It has slowly been showing up more and more each year. This bulletin from Massachusetts describes them as a southern pest moving northward, which mirrors what is happening at least in some parts of the Lower Peninsula of Michigan. Their coloration is very different compared to imported cabbageworm, diamondback moth and cabbage looper. They are not green, but instead are white with a dense black striping pattern and yellow lines on their sides.
They are different in one other notable way as well: moths lay their eggs in patches of three to 25. The others just lay single eggs here and there. So, when cross-striped cabbageworms hatch, an army of caterpillars explode like a cluster bomb on the crop, causing a lot of localized damage.
Luckily, they can be managed much like the other caterpillars, and with regular sprays you may not see them as much of a threat. Here are recommendations from the Midwest Vegetable Guide.
Cucurbits
Pumpkins are at tip-over and starting flower. Cucumbers and zucchini are being regularly harvested.
Squash vine borers were laying eggs last week at the base of plants. This tends to be more of a problem on small farms for some reason, and their damage can be frustratingly heavy. They lay several eggs on the crowns and stems of plants, and once they hatch the caterpillars bore into the plant and feed inside the stem. This causes the entire plant to wilt and collapse just about the time they tip-over to runner and flower.
Physical removal of the eggs and caterpillars is not economical, and instead, a well-timed spray to kill the adult moths is used to prevent the problem. This squash vine borer Enviroweather model to plan for their emergence and egglaying periods is helpful for that. They only have one generation to worry about. After they infest stems, one method some growers have used to save the crop is to shovel dirt over the vines at leaf nodes to encourage rooting from the vines.
Is it worth spraying for striped cucumber beetles once zucchini or winter squash start flowering? This is always a conundrum as growers want to conserve bees. Last week on the Vegetable Beet, our guest Celeste Welty shared that it may not always be necessary to treat for cucumber beetles in zucchini and summer squash as they are flowering, as they often seem quite happy to feed on pollen and flowers. In addition, once plants are large, they gain tolerance to defoliation and bacterial wilt.
Zucchini and summer squash fruit are harvested quickly, likely before cucumber beetles have a chance to do any rind feeding. In winter squash, it may also be possible to reduce sprays, keeping in mind it's important to make sure populations don't get so high that they feed on the squash rind. In either case, the critical period to protect plants is when they are young! This is also an easier time to use broad-spectrum insecticides, as pollinators are not present.
Pumpkins were being sidedressed and late plantings of zucchini were up Tuesday in Oceana County. Fungicide applications had started, or were to start soon, in both Oceana and Ottawa counties.
Onions and garlic
What can be used besides Luna Tranquility or Miravis Prime for Stemphylium? Consider tagging in Tilt (FRAC 3, active ingredient propiconazole) tank-mixed with chlorothalonil for your rotation. The FRAC 3 fungicides have activity against Stemphylium, and tank-mixing them with chlorothalonil helps cover the foliar disease bases and reduce risk of resistance development. Remember that mancozeb does not have activity against Stemphylium (chlorothalonil does).
What can be used besides Luna Tranquility or Miravis Prime for Stemphylium? Consider tagging in Tilt (FRAC 3, active ingredient propiconazole) tank-mixed with chlorothalonil for your rotation. The FRAC 3 fungicides have activity against Stemphylium, and tank-mixing them with chlorothalonil helps cover the foliar disease bases and reduce risk of resistance development. Remember that mancozeb does not have activity against Stemphylium (chlorothalonil does).
Onion thrips continued to be present last week in two fields MSU Extension scouted. Minecto Pro was performing well in one field that had been treated, with thrips in the treated area low enough to skip a subsequent application. This product is a pre-mix of the actives in Agri-Mek and Exirel, and has a 30-day preharvest interval. A different field was ready for a second application of Agri-Mek last week. View Cornell's thrips guidelines
Potatoes
Some new potatoes were being harvested this week, and more were being planted.
The Late Blight Forecast is at medium risk throughout Michigan. This follows a period of elevated high risk in the western and central areas of the Lower Peninsula last week, documented in our recent Michigan potato late blight forecast. Areas of high risk may consider using full fungicide rates and reducing the application interval to five days depending on individual field conditions.
At this time, no late blight has been reported anywhere in the U.S. For more information, please visit our MSU Potato and Sugar Beet Pathology website.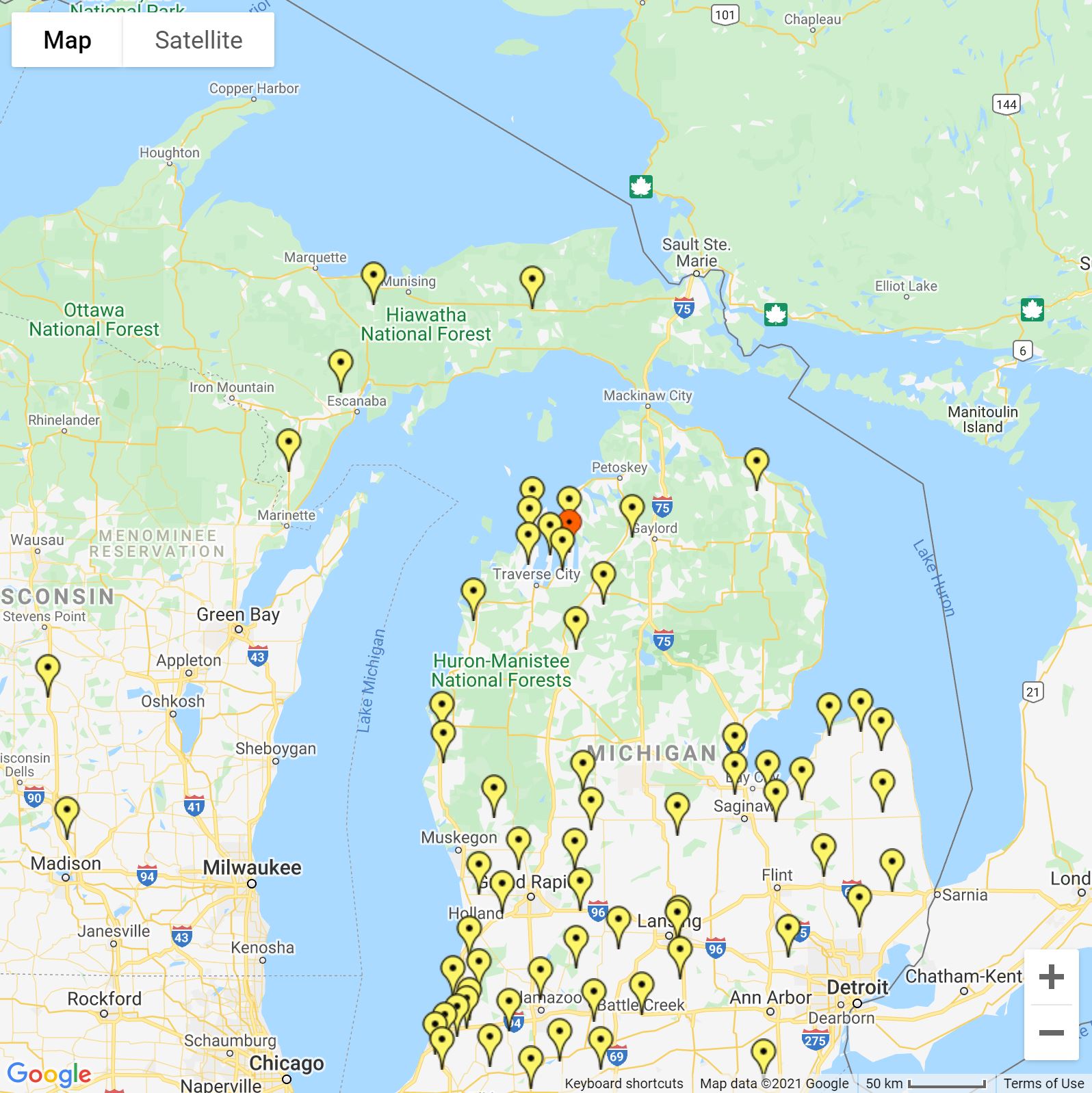 Other diseases of note include bacterial vine rot, early blight and botrytis blight and white mold, which may also cause vine collapse and wilting. Areas experiencing frequent heavy rain events may be prone to development of these foliar and vine diseases. Preventative foliar programs can help to reduce onset and severity of leaf blights. Copper pesticides may be helpful to limit the spread of bacterial pathogens, which move through free water in the soil or via rain splash.
Irrigated potato fields with a history of white mold and at full-bloom may consider applying white mold targeted applications to protect flowers from infection by white mold fungal spores. These spores originate from apothecia (small, shallow cup-shaped mushrooms), which form at the soil surface under fully developed canopies after periods of cool, wet weather.
Sweet corn
Sweet corn was tasseling and/or silking in Oceana County this week, and traps in Saginaw County caught between two and eight moths per night over the last week. The Midwest Vegetable Production Guide suggests that, "If no field corn in the area is silking, moths will lay eggs primarily on silking sweet corn. In this situation, use a threshold of one to three moths per trap per night." Given this, at this trap catch it is worth protecting silking corn. What can be used to protect silking corn from earworm? When earworm populations are low, a pyrethroid can provide affordable control. When populations are higher, it is time to switch to a more effective product such as chlorantraniliprole (in Besiege and Coragen).
What about spray intervals? The Midwest Vegetable Production Guide notes that, "If fewer than five moths are being caught per night in a wire Hartstack trap, a five-day spray interval should be adequate. As moth catches approach 50 to 100 per night, a two- to three-day spray interval would be more appropriate. Stop treating for corn earworms when 90% of the silks are brown."
Consider getting a trap! It helps guide you on product choice, as well as spray intervals.
Tar spot symptoms are being detected in field corn, this disease can also affect sweet corn. Growers should become familiar with the symptoms of tar spot; initial stages of the disease can be easily mistaken for insect frass.
Tomatoes, peppers and eggplants
Septoria leaf spot is showing up on some farms, along with Alternaria early blight. The transition from hoophouse supply to field supply is coming soon.
Events
Food safety
Need your water tested for the Food Safety Modernization Act (FSMA)? Check out the Michigan Ag Water Lab Map.
On-Farm Readiness Reviews are designed to help fresh produce growers feel prepared and ready for a full implementation of the Food Safety Modernization Act (FSMA). They allow growers to walk through their operation with a small team of food-safety experts and discuss how to meet the new FSMA Produce Safety Rule requirements. Go here to sign up for one.
Farm Supervisor Produce Safety Courses are being hosted through the MSU Online Learning Portal - D2L. They are self-paced and free. It will be available for farm supervisors starting July 19. Register here.