Michigan vegetable crop report – June 16, 2021
Check out this "mega-report" including the lowdown on tomato disease management, growing annualized June-bearing strawberries and more.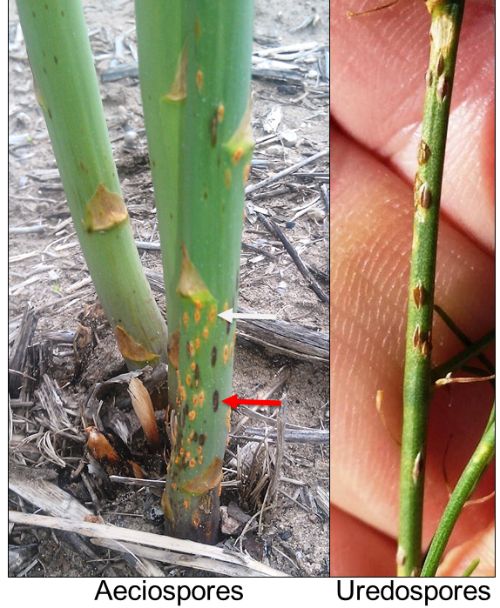 Weather
Watch Jeff Andresen's weekly agricultural weather forecast.
Mean temperatures were 6-10 degrees Fahrenheit above-normal over the past week. Some parts of the lower peninsula caught 2 inches of rain, but coverage was very spotty with many getting far less.
Hot temperatures last week mean degree day totals are now one to 1.5 weeks ahead of normal.
Up to 29% of the state by area is now in a moderate to severe drought; the area falling in this drought class has expanded to include Manistee and Benzie counties and a band across the central southern lower.
Rainfall is forecast to total 0.75-1.5 inches through June 23, the best chance for rain in a long time. The forecast calls for:
Fair and warmer weather today. Showers and thunderstorms spreading west to east across the state late today and Friday.
Fair, dry and cooler weather this weekend. Rain is possible again late Sunday and Monday.
Maximum temperatures warming into the 80s by Thursday and Friday. Minimum temperatures in the 40s Thursday warming into the 50s by Friday.
Medium range guidance suggests a more active weather pattern across the region with cooler than normal temperatures and normal to above normal rainfall totals through late June.
Even with cooler temperatures, evapotranspiration over the next week will be high due to long days and low relative humidity.
The medium range guidance reflects formation of a trough in the jet stream, which will bring cooler than normal weather most of next week. There could also be another chance for precipitation late next week. This pattern could persist through June, but above-normal temperatures could return in late June and early July.
MSU's network of over 100 weather stations can be accessed at MSU Enviroweather
There are several pest prediction models based on temperature accumulations at the new Enviroweather website: seed corn maggot, cabbage maggot, European corn borer and Squash vine borer. Click on any of those pests to be taken to the model. Once there, change the Station to the one nearest you.
A note on sorghum sudangrass sowing rates
Sorghum sudangrass is a go-to, summer cover crop for "holding" ground. Make sure to sow at least 50 pounds per are of seed if weed control is an objective. Experience suggests that lighter rates allow for weed emergence.
Crop Updates
Asparagus
This week marks the beginning of widespread field shutdown in west central, with some fields expected to be harvested into next week. Read more about herbicide choices for lay-by here.
Lay-by is a good time to chip away at problematic perennials and biennials. Got Canada thistle? Shutdown is a good time to apply clopyralid, the active in Spur, which also has good marestail activity. Got field bindweed? Quinstar (quinclorac) has bindweed as well as some thistle activity. Got Quackgrass? Experience suggests a high rate of glyphosate + AMS can be helpful, as can the graminicide Fusilade.
Rust aeciospore lesions have been spotted on harvest stubble. Scout young, ferned out fields and harvest stubble for rust. Primary infections in spring produce aeciospores. These lesions are fairly large and easy to spot. They can occur on harvest stubble and at the base of stems as fern develops. These give rise to the repeating-or uredospore-stage-which produces smaller lesions that occur on main and secondary stems.
If you see aeciospore lesions in your field, it's a good sign to be on top of tebuconazole applications once asparagus ferns out. Three applications of tebuconazole at 4-6 fluid ounces per acre of the 3.6F formulation are allowed per year.
Carrots and celery
Scouts report that aster leafhoppers continue to be present in celery. Tarnished plant bug has also been captured, but so far it is not as abundant as last year's bumper crop. Keep an eye on your scouting reports as experience suggests this mobile pest can move quite quickly into celery from other vegetation. Mustang Maxx carries both aster leafhopper and tarnished plant bugs on its label.
Aster leafhoppers continue to be present in west Michigan. Please contact Michigan State University Extension vegetable entomologist Zsofia Szendrei at szendrei@msu.edu if you would like to receive real-time text alerts. If you would like to be removed from the text blast, you can text STOP. The latest information is also below.
Aster leafhopper infectivity and treatment thresholds for the latest samples processed by the MSU Vegetable Entomology lab.

County

Date

Infectivity

Treatment threshold (leafhoppers per 100 sweeps)

Celery

Carrots

Ottawa

6/15

7.4%

5

7

Oceana

6/14

3.8%

9

13

Oceana

6/14

4.5%

7

11

Newaygo

6/10

2.8%

12

18

Muskegon

6/10

0.0%

-

-
Cole crops
Imported cabbage worm eggs were more abundant this week in one west central field. Some west central growers have been switching to narrow-spectrum insecticides like Bt early in the season to conserve beneficials, which can help with diamondback moth and aphids.
Keep an eye out for swede midge damage in Brassicas. Some suspicious photos were sent in this week that look a lot like the damage they create. You will almost never see the bug itself. The adults lay eggs at the center of the plant between the newest leaves while they are still tightly curled over each other. The maggot hatches in this protected space and begins feeding. This maggot feeding causes the damage. Then they jump from the plant and pupate in the soil to start it all over. Here is a short list of symptoms loosely arranged from least to most severe.
Brown scarring and cracking on the top of leaf ribs and stems. In kohlrabi this same symptom can become quite exaggerated as the stems swell.
Leaves that are cupped, twisted or constricted.
Bushy growth with more sideshoots than usual, multi-headed crops or multi-branched stalks forming on Brussels sprouts.
"Blindness" with no main head formation at all on something like broccoli or cauliflower.
Control options are limited to conventional insecticides, and clean-break crop rotations with good weed control between Brassica plantings. The latter two methods are most effective at crashing the population for both conventional and organic growers. You can read more about the midge in the MSU Extension article, "Swede midge biology and management," and also a newly researched rotation plan from Cornell University, "NEW Crop Rotation Recommendations for Swede Midge."
Cucurbits
The herbicides Command (clomazone) and Strategy (clomazone + ethalfluralin) can bleach the leaf edges of cucurbit crops. The active ingredient, clomazone, is a color inhibitor on new tissue. You may see this bleaching on the first few leaves the first few weeks after emergence, but the plants often grow out of it.
Cucumber beetle populations are high in some areas. Several products are effective against them, including conventional contact insecticides like Brigade, Mustang Max, carbaryl and Warrior. Row covers are an effective organic option until vine out and bloom time. Conventional systemic insecticides, such as Admire and Platinum, are also effective as at-plant, foliar and chemigation treatments but should not be used during bloom.
Onions and garlic
Stemphylium has been present in west Michigan onions, and growers are kicking things off with a highly effective fungicide such as Luna Tranquility or Miravis Prime. MSU plant pathologist Mary Hausbeck's observations at their on-farm trial suggest it could be important to follow this with a second application of one of these products this year, as disease may have a head start. Why is this? Onion growth is ahead of last year in her trial. Stemphylium spores were already detected at the trial site in prior weeks, and disease has been confirmed from at least two fields in different counties. Research results have also shown it's not possible to play "catch-up" once this pathogen has become established.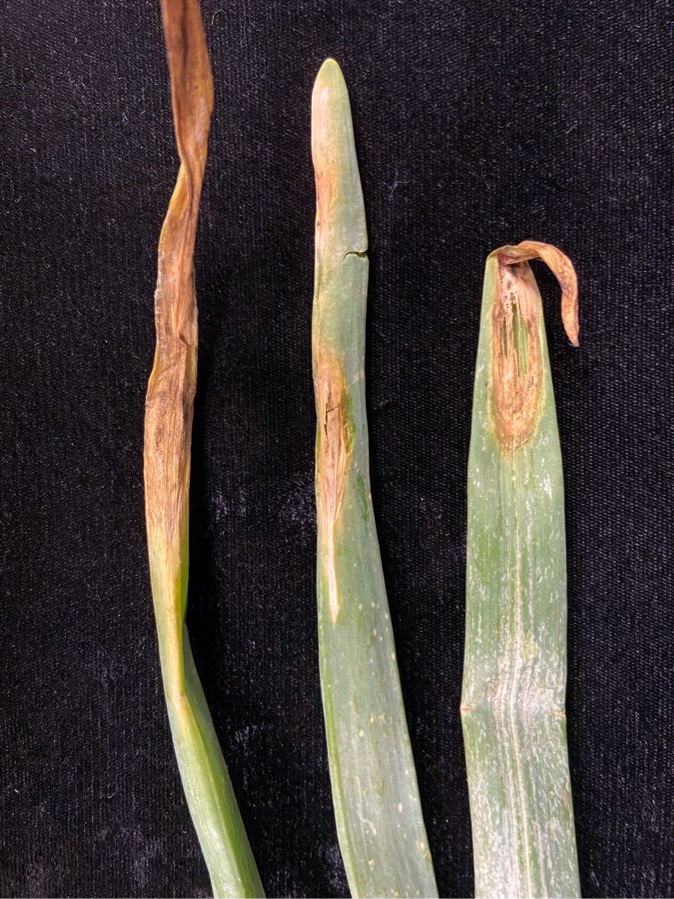 It remains to be seen just how far the "momentum of Movento" will take us this year! Growers had made one, two or no applications of Movento this week at some west central locations. Onion thrips numbers were variable across three sites MSU scouted, suggesting there may not be a one-size-fits all solution to 2021. It is highly recommended to take a look at Cornell University's 2021 guidelines for onion thrips management.
So what's on tap? Movento can be applied in two back-to-back applications seven to 14 days apart. The interval can be stretched towards 14 days if thrips are below the threshold of 0.6 to one per leaf, but experience suggests two applications are needed to get the full benefit.
What to do after Movento? If populations remain very high at three per leaf or more, Radiant can be used. Some of our transplanted and set onions may be in this situation. If thrips are intermediate at one to two per leaf, Minecto Pro (30-day PHI) can be used. If thrips are lower in abundance but present at 0.8 to one per leaf, Agri-Mek can be used. If numbers are below 0.8 per leaf after Movento applications, you can ride the momentum of Movento.
Do you wish you had baseball-sized onions right now for fresh-market sale? Becky Sideman from the University of New Hampshire has done some trialing on fall-planted onions for spring sale. For full-season CSA growers, this can essentially result in bulb onions for almost the entire year, with cured storage onions going from October through March, and then overwintered plants bulbing from May through July, and spring-planted onions bulbing June through September.
Her results show that cultivar choice is the most important decision, followed by decisions about winter protection with mulches, low tunnels or row covers. The cultivars with the best overwintering capacity that bulb and don't bolt too much include Bridger, Forum, Electric, Desert Sunrise, Keepsake, Gatekeeper, HiKeeper, Toughball, T440 and T448. Forum is unique in that it is available as a set, which is much easier to plant.
Potatoes
Colorado potato beetle populations are taking off. A neonicotinoid such as Admire Pro can be applied as a foliar spray, as long as the total amount of product applied per acre-via seed piece treatment and foliar applications-does not exceed the allowable limit. Please read the pollinator restrictions if potatoes are flowering. Other effective actives include spinetoram (Radiant), chlorantraniliprole (Coragen, also in Beseige), and the OMRI-approved option spinosad.
Root crops
Some reports have come in about poor germination of carrots, beets and turnips. Each one of those crops is from a different botanical family, with very different seed types, behaviors and potential pests, so it is hard to pinpoint exactly what might be the cause. But one thing they all have in common is a relatively shallow seeding depth of less than 1 inch, and a lack of soil moisture at that shallow depth in most areas of the state this spring. They are being seeded into dry soil, or have become trapped under crusted dry soil. On one farm visit, overhead irrigation appeared to be overutilized to the point of causing damping off symptoms of rot right at the soil line. So, it is a delicate balance this spring.
Strawberries
Harvests have been compressed with multiple varieties ready at once. Quality is good at fields visited in the Bay area this week.
Plasticulture strawberries have been a topic of discussion over the last couple years here in Michigan. In a recent Vegetable Beet podcast episode, we discussed it for about an hour, and here is a synopsis of that interview with Courntey Weber, small fruit breeder at Cornell University, and Annie Klodd, fruit specialist at the University of Minnesota.
Some growers have chosen to plant bare root, June-bearing strawberries in the spring like in a matted-row system, but on plastic instead. Unfortunately, this results in an entire season's worth of runner control that is difficult with plastic mulch, plants seem to die out faster, and the earliness that sometimes comes with plasticulture is hampered by spring freezes. So, what do you do?
For runner control, a better way to do plasticulture strawberries is to plant later in the summer so that there are fewer long-days left in the season to trigger runnering. At our latitude, the best planting time for this is in mid-July to mid-August. The "Nourse system" uses refrigerated bare-root plants that are planted into plastic in June and July. These are dug in the early spring; if they are refrigerated to keep them dormant beyond June/July, quality is reduced. The Southern system uses plug plants that are rooted from the tips of runnering plants, but the Southern system plugs are usually not available until the end of August or early September at the earliest. Planting those would be too late to generate much crown branching or flower bud growth for next year's crop.
A hybrid system has been used by some growers in the north that involves pruning the roots of dormant bare-root strawberries and placing the remaining crown into 2-inch 50-cell transplant trays. This ensures better control over final planting date, a better selection of northern-adapted varieties, and a more efficient system for controlling the first sets of flowers and runners because all of the plants are concentrated in one area in trays (which could also potentially be at a more comfortable working height on tables). This system has not been commercialized by tip and crown producers. At this point, a grower would need to do this on their own or collaborate with a local greenhouse to receive the bare-root plants and raise them.
Can you realistically expect a perennial system out of plasticulture strawberries? Experience suggests you should only expect one additional carryover winter after the first winter. Each year, more crowns are made by the mother plant, which loosely align with the number of trifoliate leaves the plant makes. In a matted-row system the mother plant branches their crowns and makes daughter plants on runners that root nearby. Those daughters make the biggest fruit and bear the bulk of the production for the next year.
However, in a plasticulture system where you are just keeping mothers and pruning off the daughters, they are left to just branching their crowns. So, a reduction in fruit size occurs if they are left to branch their crowns up to eight to 11 trifoliates, and the branched crowns also start to get higher out of the ground resulting in more winter kill. Thinning out crowns with a shovel has not proven very practical, and their height above ground is still an issue. That is why you would not expect more than two years of production on plastic.
One method used in Ohio for just one additional carryover season is to mow off plants at renovation time and then only irrigate and fertilize enough to keep them barely alive, essentially a summer dormancy. Mow them again in July, and then turn on the irrigation again in August to grow out the plants into the fall. At this point, you may only need to do one pass for manual runner control by hand or with paraquat as they elongate over the edge of the plastic.
So, why not do strawberries annually, like most other vegetables? It is basically like growing garlic, where you would plant in one year and harvest in the next. Cost is one factor. It is about twice as much money per plant, and the planting density would probably be tighter because you won't be leaving space for daughter plants. But with plug plants you could also use a mechanical transplanter more effectively, and the summer planting seems to be better on the plants, as long as they are irrigated. You could expect a higher yield per plant by pushing them hard in the fall of the first year so that they branch to form four to five trifoliates, with a full expectation to use them just once instead of carrying them over. This might entail using row cover or low tunnels, depending on your timing or interest in earliness in the spring. Then double, triple, or quadruple-crop the plastic with other vegetables.
One organic Ohio grower we spoke to plants two rows of strawberries per plastic bed in August, and also a third middle row of fall-harvested lettuce and then in the spring puts garlic cloves in those lettuce holes as early as possible for a "spring garlic" harvest before strawberries take off. Then, after strawberries are done, they yank and flip the strawberries from their holes so that they are uprooted but serve as a mulch and plant a competitive sprawling plant like cucumbers in the middle holes. Talk about value per square foot over time.
Other Ohio growers spray off old strawberry plants and seed or transplant pumpkins into the rows. Here in Michigan, our drop-dead planting dates for pumpkins is July 4 for seed and July 11 for transplants. You could even potentially precede a late-July strawberry planting with a garlic crop or overwintered onions (see above) that was planted in the September/October of the previous year.
Why is this in the veg report this week? Because now is the time to make decisions to actualize this. Now is the time to clip and pot up dormant plants for a late July or early August transplanting. If you want to buy plugs from a tip-producer, it's too late to get them by early-August. But now is also the time you would need to arrange that with a plug producer so that they can plan to start clipping tips earlier than they would normally for next year's late-summer planting. Remember, this is an emerging system this far north, and their tip-producer's main market for plugs is from basically south of I-80, where later plantings are OK. But dormant plants can still be purchased from Nourse for starting your own with this hybrid system discussed above. However, at this time of year, the cultivar selection is dwindling, and the dormant plants will wake up a lot faster and shouldn't be held for more than a week in refrigeration after shipment. The take home story here is to plan ahead.
Sweet corn
The first generation of European corn borer moths have been active, and larvae could be present in the whorls of sweet corn. Typically, this first generation is not too damaging, as most corn is not silking. They just do a bit of whorl feeding. But if you had early planted corn under cover, it might be worth checking. A single application of a pyrethroid at row tassel can help control this pest before it moves down the plant and bores into the ears.
Checking early corn for first-generation corn borer can also be a helpful scouting tool. If you see evidence of whorl feeding early on, you know there is a local population. These first generation caterpillars will pupate into moths in July/August, laying eggs when main season corn is silking. So, seeing them now is a cue that you may want to target them in your main season corn. Look for characteristic "shothole" damage as leaves that were fed on in the whorls unfold later.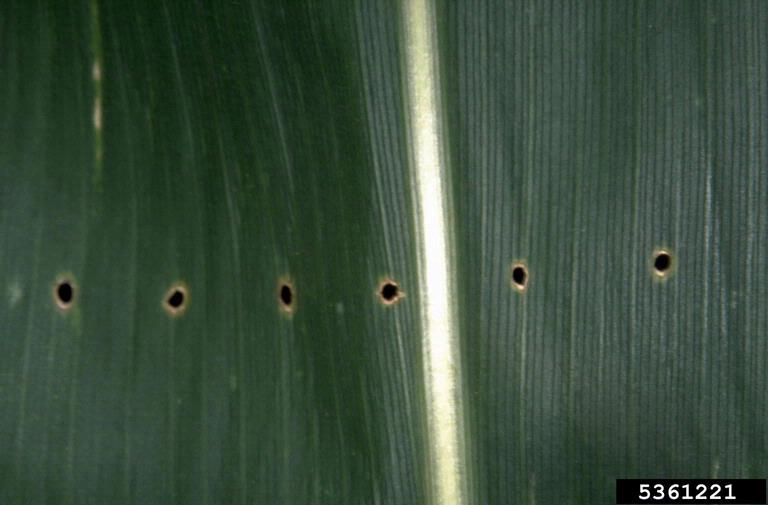 Tomatoes, peppers and eggplants
Tomato picking is strong in hoophouse, with fruit setting in field tomatoes now too. Peppers are setting buds and flowering in field plantings.
Colorado potato beetle was spotted feeding on tomatoes at one west central location and laying eggs in nearby eggplant. In tomato, research in the Mid-Atlantic suggested feeding may reduce yield when there are more than 10 larvae per plant, so if populations are high it may be worth controlling them.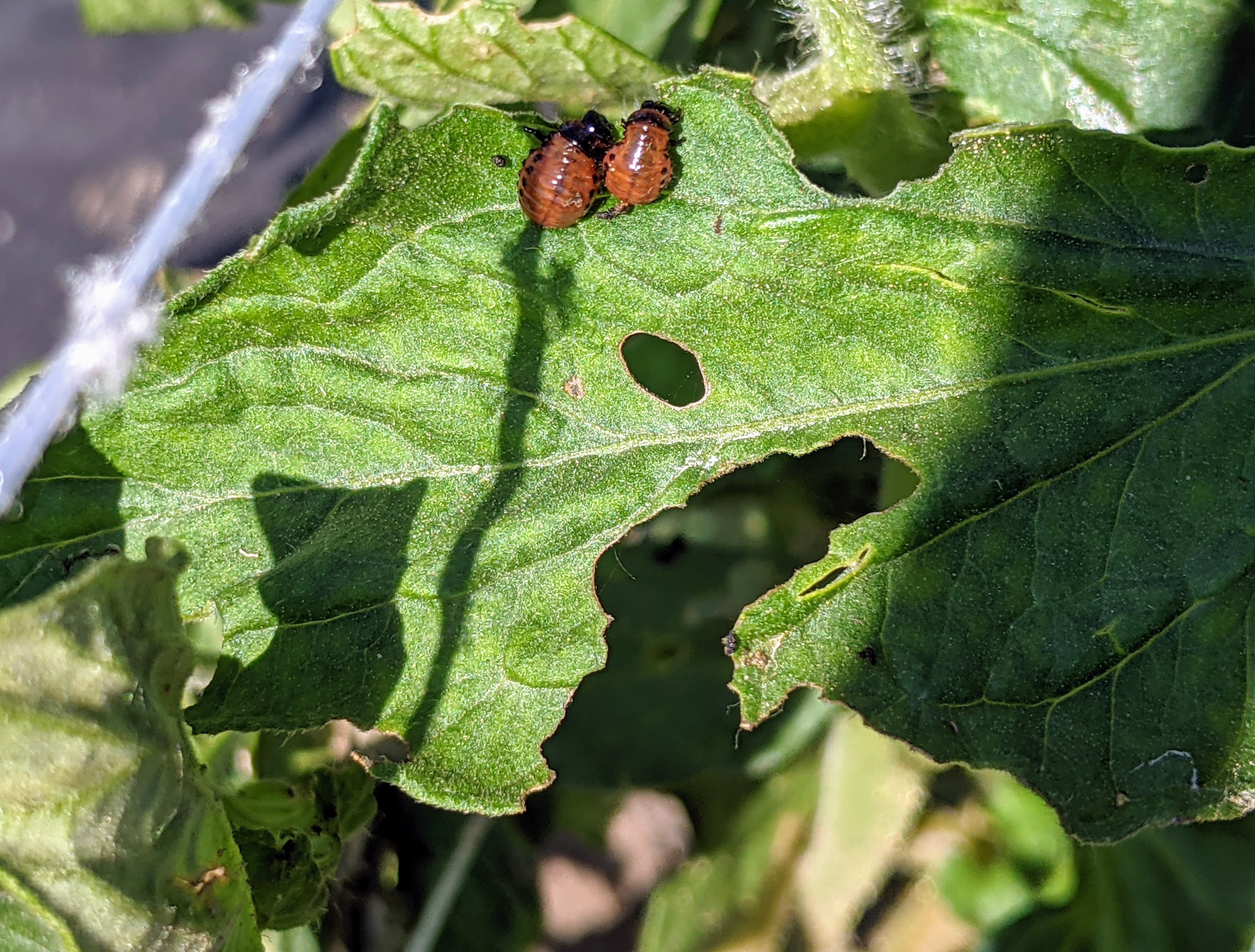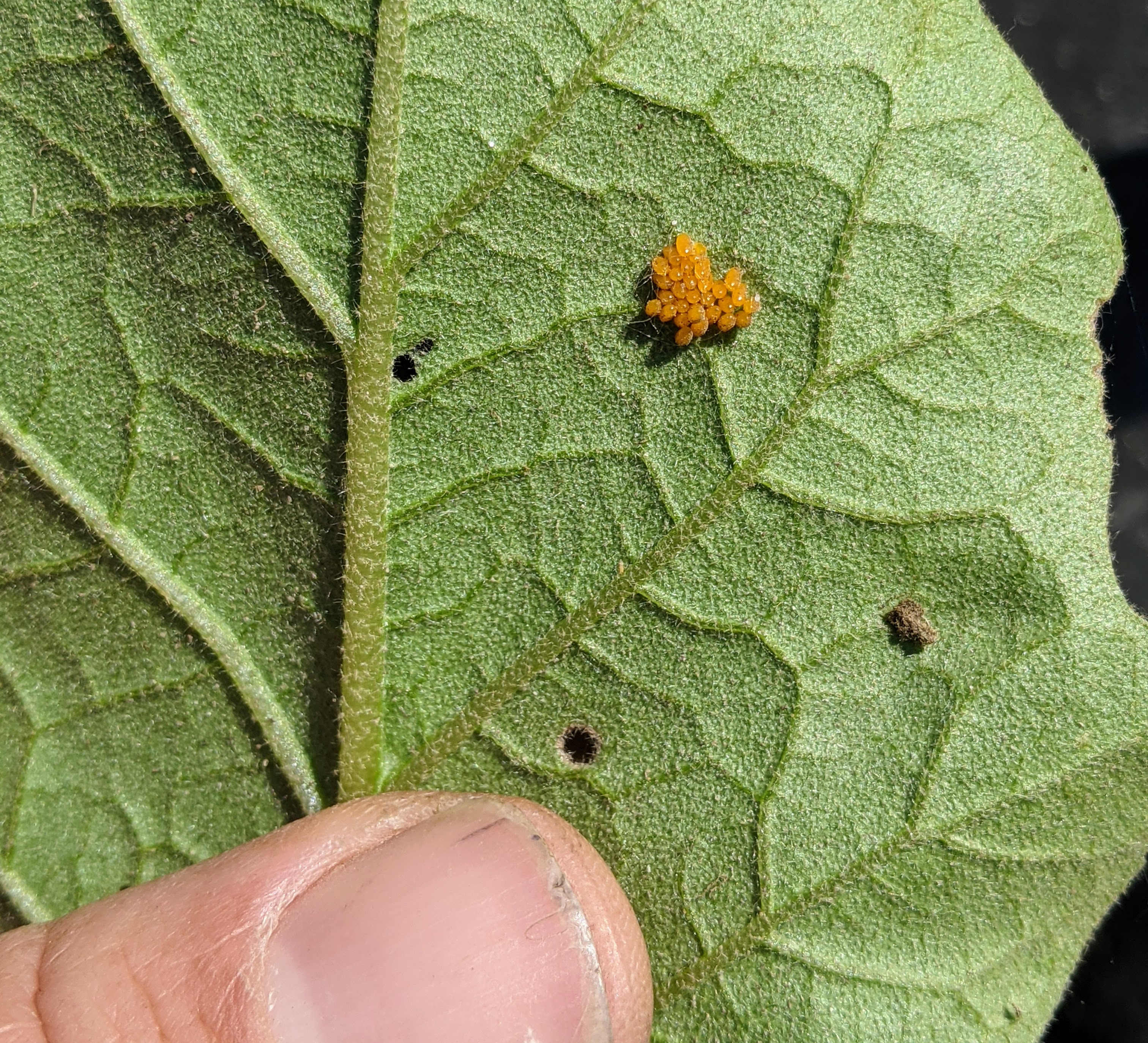 Early blight and Septoria leaf spot are the two most common fungal leaf blights facing Michigan growers each year. Given the warm night temperatures of recent days and sporadic showers that wet the foliage, it is possible that these leaf blights may occur earlier in the season than normal.
Fungal field recommendations: Chlorothalonil-based fungicides (Bravo WeatherStik is an example) and mancozeb are broad spectrum fungicides that can be used as a foundation to a successful disease management strategy. These products work best when applied every seven days. Since they are broad-spectrum in their activity there have not been reports of pathogen resistance. These products, especially the chorothalonil-based fungicides also protect the developing fruit from anthracnose fruit rot, a major problem for growers of fresh and processing tomatoes. Other fungicides that are registered to protect tomatoes from foliar fungal diseases include the strobilurins (Quadris and Cabrio are examples). Due to the potential for pathogen resistance development, it is a good strategy to include either chlorothalonil or mancozeb as a tank mix with the strobilurin fungicide. Severe leaf spot outbreaks may require the use of newer fungicides that are premixes of two locally systemic products.
Symptoms of bacterial canker on tomato include browning of the leaflets on one half, while the other leaflets may appear healthy. There can also be browning of the leaves, especially around the margins; this is commonly referred to as the "firing stage" of the disease. When the stem of an infected plant is cut open, a slight browning or discoloration of the internal tissue may be seen once the disease has progressed. Infected fruit show a "birds-eye" spotting which begins as small, white dots. As the spots get larger, the centers die and turn dark, giving a "birds-eye" effect. Plants infected with bacterial canker do not always show these fruit lesions. While it may be difficult to diagnose bacterial canker based on any one symptom (except for birds-eye lesions on the fruit), when two or more of these symptoms appear in a plant, they are likely the result of bacterial canker infection. The MSU Plant & Pest Diagnostics clinic can assist in making the final diagnosis.
Bacterial spot causes spots or blotches on the leaves and stems. The spots may have tan centers and are a maximum of 0.25 inches in diameter. However, some years these spots/lesions may be dark in color. Michigan growers can experience significant yield losses and devastating fruit spotting due to bacterial spot. In the field, the most diagnostic symptoms occur on fruit and include black spots or scabs that may be slightly raised and rough to the touch.
Bacterial speck develops as small dark-brown spots occurring on the leaves and each spot may be surrounded by a yellow "halo." Although bacterial speck may not produce the panic that the other bacterial diseases do, speck can result in significant yield losses if the blossoms become infected. Typically, this disease occurs less frequently in Michigan fields compared to bacterial spot or canker.
Bacterial field recommendations: Copper-based fungicides have been an important tool in limiting damage by bacterial pathogens. It is recommended that copper be used at the beginning of the season and continue until early July at which time the field can be assessed for disease symptoms and a decision can be made as to whether a copper program should be continued.
Copper resistance may be more common among bacterial spot isolates in Michigan than previously thought. Given the results of testing tomato bacterial leaf spot pathogen isolates for copper sensitivity and two field studies, it is time to reconsider control strategies. A diseased field should be rotated out of tomatoes for at least three years. At one time it was believed that a rotation of at least five years was necessary; however, it is now known that the level of bacteria in a contaminated field drops dramatically after the first year of rotation. Any equipment used in the problem field should be washed and disinfected prior to entering a clean field. Equipment and workers should begin work in the cleanest field and finish with the contaminated field.
Copper sprays every five to seven days may help reduce the spread of bacterial canker. However, if the environment is favorable for bacterial canker (75 to 90 F with rain), coppers may be limited because the bacteria have a decided advantage in a wet environment. While there are anecdotal reports that mixing mancozeb with copper is helpful, this concept has not been sufficiently proven. However, since mancozeb provides some protection against Alternaria leaf blight, it is okay to add it to the copper. Choose a copper product that has a relatively high level of metallic copper. Keep in mind that the copper products with a high percentage of this active ingredient will likely also require a longer reentry interval but this can be addressed by using personal protective equipment as described by the label.
Avoid working in a diseased field when it is wet to avoid spreading the disease. Bacteria may enter the plant through natural openings, or wounds created by wind, pesticide spraying or insects. A film of water on the leaf surface allows the bacteria to remain viable and move. If workers are moving within a wet field and creating new wounds on the plants, new infections are likely. If plants have been staked, all stakes should be soaked in a disinfectant such as bleach (10%) or GreenShield for a minimum of an hour and preferably overnight before reusing.
Bacterial spot can also be a problem on peppers. This disease has occurred sporadically in the state in previous years. Leaves with bacterial lesions will drop from the plant resulting in sunscald of the fruit as the canopy becomes compromised. As for tomato, copper-based fungicides are relied upon to limit losses but may be limited in their effectiveness due to copper-resistant bacterial spot strains.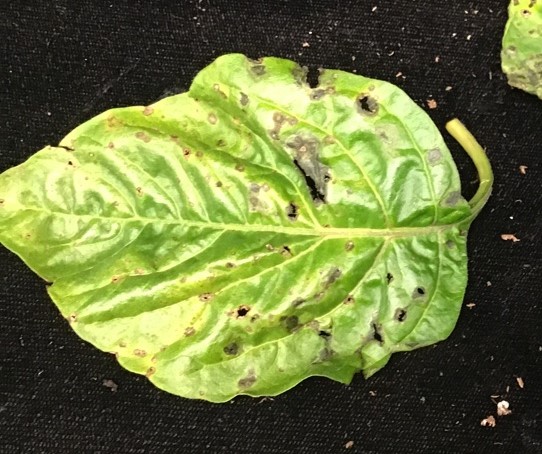 Beginning farmer mentorship
Get paid $15/hour for the time you spend charting a path to your farm's success with insights from one of seven amazing Michigan farmer mentors! You will be paired with a farmer whose farm experience matches your farm goals as closely as possible. The mentors include urban and rural growers and small and large-scale farmers raising pastured livestock, and sustainably-grown vegetables, cut flowers and fruit. Beginning farmers will focus on understanding and improving financial viability, environmental sustainability, work-life balance and community connections. Aspiring farmers will focus on how to find land, credit and skills to get started.
Sign up ASAP for the first June 17 and June 24 Mentee-Mentor Meet & Greet dates. Space is limited to 14 mentorship participants at this time. Visit the website or email brandtk7@msu.edu for more information.
Events
Food safety
Need your water tested for the Food Safety Modernization Act (FSMA)? Check out the Michigan Ag Water Lab Map.
On-Farm Readiness Reviews are designed to help fresh produce growers feel prepared and ready for a full implementation of the Food Safety Modernization Act (FSMA). They allow growers to walk through their operation with a small team of food-safety experts and discuss how to meet the new FSMA Produce Safety Rule requirements. Go here to sign up for one.
Farm Supervisor Produce Safety Courses are being hosted through the MSU Online Learning Portal - D2L. They are self-paced and free. It will be available for farm supervisors starting July 19. Register here.