Michigan vegetable crop report – June 2, 2021
Hot weather pests and a first detection of cucurbit downy mildew spores.
Weather
Watch Michigan State University state climatologist Jeff Andresen's weather forecast. The forecast calls for:
Fair, dry and much warmer weather Thursday through the weekend.
Maximum temperatures increasing from the mid-70s Wednesday into the 80s and low 90s Friday.
Minimum temperatures warming from the 40s north to low 50s south Wednesday into the upper 50s and 60s by Saturday.
Elevated evapotranspiration and water demand through the upcoming weekend.
Warmer-than-normal weather through the first one to two weeks of June.
Young plants and transplants will likely show water stress over the weekend, making irrigation important.
Overall soils are still very dry for this time of year dry despite recent rains, and barring some unforeseen weather it is unlikely we'll make significant gains on water deficits.
MSU's network of over 100 weather stations can be accessed at MSU Enviroweather.
There are several pest prediction models based on temperature accumulations at the new Enviroweather website: seed corn maggot, cabbage maggot, and European corn borer. Click on any of those pests to be taken to the model. Once there, change the Station to the one nearest you.
General crop management notes
With the hot, dry weather, consider reading up on pests such as thrips and spider mites.
Hot, dry weather can impact herbicide efficacy and crop safety. Soil moisture from irrigation or rainfall is needed to activate pre-emergence herbicides. For post herbicides, consider applying them in the morning on very hot days to lessen chances of crop injury.
Crop Updates
Asparagus
Common asparagus beetle activity could ramp up again in problem fields as temperatures warm. Keep an eye out and apply carbaryl or acetamiprid (one-day PHI) when problems occur.
Rust aeciospore lesions were present on stubble in one Oceana County field last week. This time of year, you can look for aeciospore lesions on stubble and/or the base of newly developing fern in young fields. Aeciospores give rise to the repeating stage of rust later on the uredospore stage, which is what causes epidemics.
Consider covering newly ferned out, young fields with chlorothalonil or mancozeb (covers purple spot) and tebuconazole (rust). This will help make sure disease doesn't get a head start, keeping fern healthy so it can help build the plant's root systems.
MSU horticulturist Dan Brainard's research and grower experience has shown improvements in tip quality when irrigation is applied during hot (greater than 80 degrees Fahrenheit) weather when soils are dry.
Carrots and celery
Aster leafhoppers continue to be present in west Michigan. Please contact MSU vegetable entomologist Zsofia Szendrei at szendrei@msu.edu if you would like to receive real-time text alerts. The latest information is also below.
Aster leafhopper infectivity and treatment thresholds for the latest samples processed by the MSU Vegetable Entomology lab.

County

Date

Infectivity

Treatment threshold (leafhoppers per 100 sweeps)

Celery

Carrots

Ottawa

May 26

2%

15

22

Van Buren

May 31

0%

-

-

Allegan

May 31

4%

8

12
Cole crops
Imported cabbage worm and diamondback moth larvae were present in some west Michigan locations this week. "Window-pane" damage from diamondback moth was visible, this happens when caterpillars scrape off the surface of the leaf, leaving a thin window pane behind. Keep a special eye out for these pests in early broccoli plantings, where diamondback moth can contaminate the heads. Bt based products can provide control while conserving beneficials. View a nice factsheet on how to use Bt from the University of Kentucky Extension.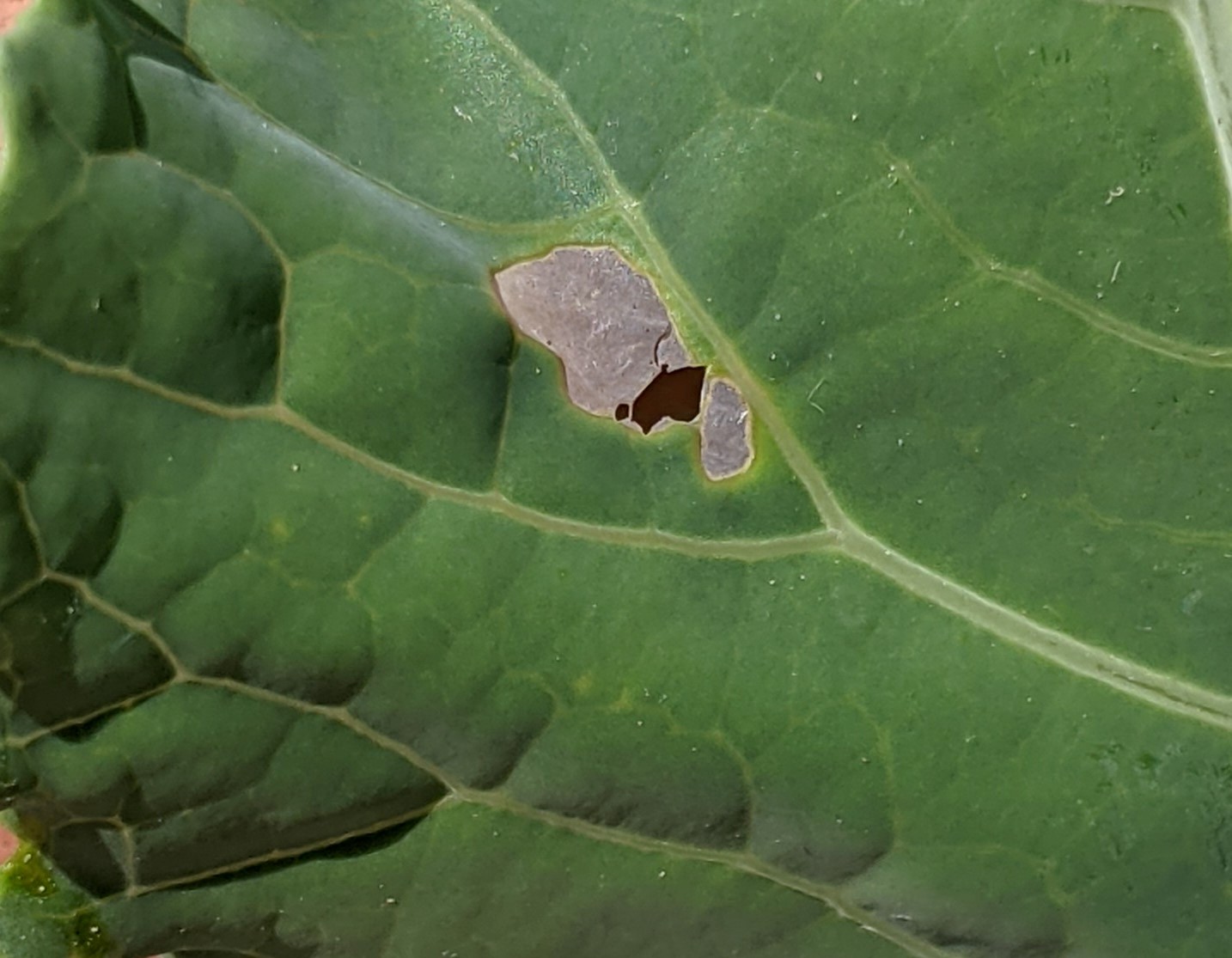 Cucurbits
The cucurbit downy mildew spore trapping network has been established in major pickling cucumber growing regions of the state. The counties with a spore trap include Monroe, Berrien, Bay, Saginaw, Muskegon and Allegan. Recently, cucurbit downy mildew spores were verified in air samples using a Burkard volumetric spore trap in Allegan County, Michigan. A cucurbit downy mildew disease outbreak has not been reported in Michigan at this time. While it is concerning that there was an air sample that tested positive, the downy mildew sporangia must land on a suitable plant such as a cucumber or melon and then the weather conditions must allow the spore to germinate and infect.
Consider keeping a close eye on cucumber and melon plantings that may have been established under low or high tunnels. The positive air sample from Allegan County is the first confirmation of airborne downy mildew sporangia for the state this year. The cucurbit downy mildew sporangia detected in the air from Allegan County may be from local/regional cucumber production greenhouses or from early field plantings of cucumbers and melons being grown in low/high tunnels. Cucurbit downy mildew outbreaks have been detected on cucumber in Florida, Georgia, and South Carolina.
The results from the spore traps can be found on a webpage that is updated with the latest results. Visit MSU Downy Mildew News for spore trap results and current downy mildew news. The results from the spore traps are a few days behind due to processing of the spore tapes. We are able to distinguish between cucumber and hop downy mildew spores using molecular tools and both are reported. Keeping an eye on the spore trap results across the state will be helpful in knowing when the downy mildew pathogen has been detected in the air samples from a particular production region. The cucurbit downy mildew pathogen does not overwinter in northern growing regions; the spores move from overwintering sites such as production greenhouses or the southern U.S. production regions via air currents.
Onions and garlic
Young fresh green garlic is being harvested, and scapes are developing this week on hardneck varieties.
MSU plant pathologist Mary Hausbeck's lab is going to start Stemphylium sprays soon in their trial. They are looking at initiating fungicides for Stemphylium based on plant growth stage, rather than calendar date. Her lab will be making a first application at the three- to four-leaf stage of onions.
Some growers were considering making their first application of Movento in transplanted onions this week. Thrips have been present in transplanted onions, and the upcoming warm, dry weather will be conducive to population growth. A threshold of 0.6-1 thrips per leaf can be used to make treatment decisions, which amounts to about four to six thrips on a six-leaf transplant (or two to three thrips on a three-leaf plant). Remember to apply Movento with a penetrating surfactant, and avoid tank mixes with fungicides that have a spreader-sticker. View the latest onion thrips recommendations from Cornell University.
Keep in mind that plants can tolerate low-level thrips populations. If thrips populations are below threshold or not present, it can be advantageous to wait to apply Movento, especially in direct sown onions that will be harvested for storage and have a longer control season.
Potatoes
Colorado potato beetle and potato leafhopper are expected to show up soon. Recent southwesterly air flow may have transported potato leafhoppers into our neck of the woods last week, and hot weather that will advance the life cycle of Colorado potato beetle. Read "Colorado potato beetle insecticide resistance management during warmer than normal temperatures" about how hot weather affects potato beetle management.
Sweet corn
Sweet corn was damaged by cold temperatures this past weekend in some locations. Read an article from the University of Minnesota Extension on frost/freeze damage in field corn. It suggests waiting three days after the damage to see if new leaves are growing. If they are, the growing point should be OK. New leaves were developing in the whorl of one damaged field that was visited, suggesting the corn will recover with time. The growing point is underground in young corn (about V5 or less), and so is buffered from freezing air temperatures.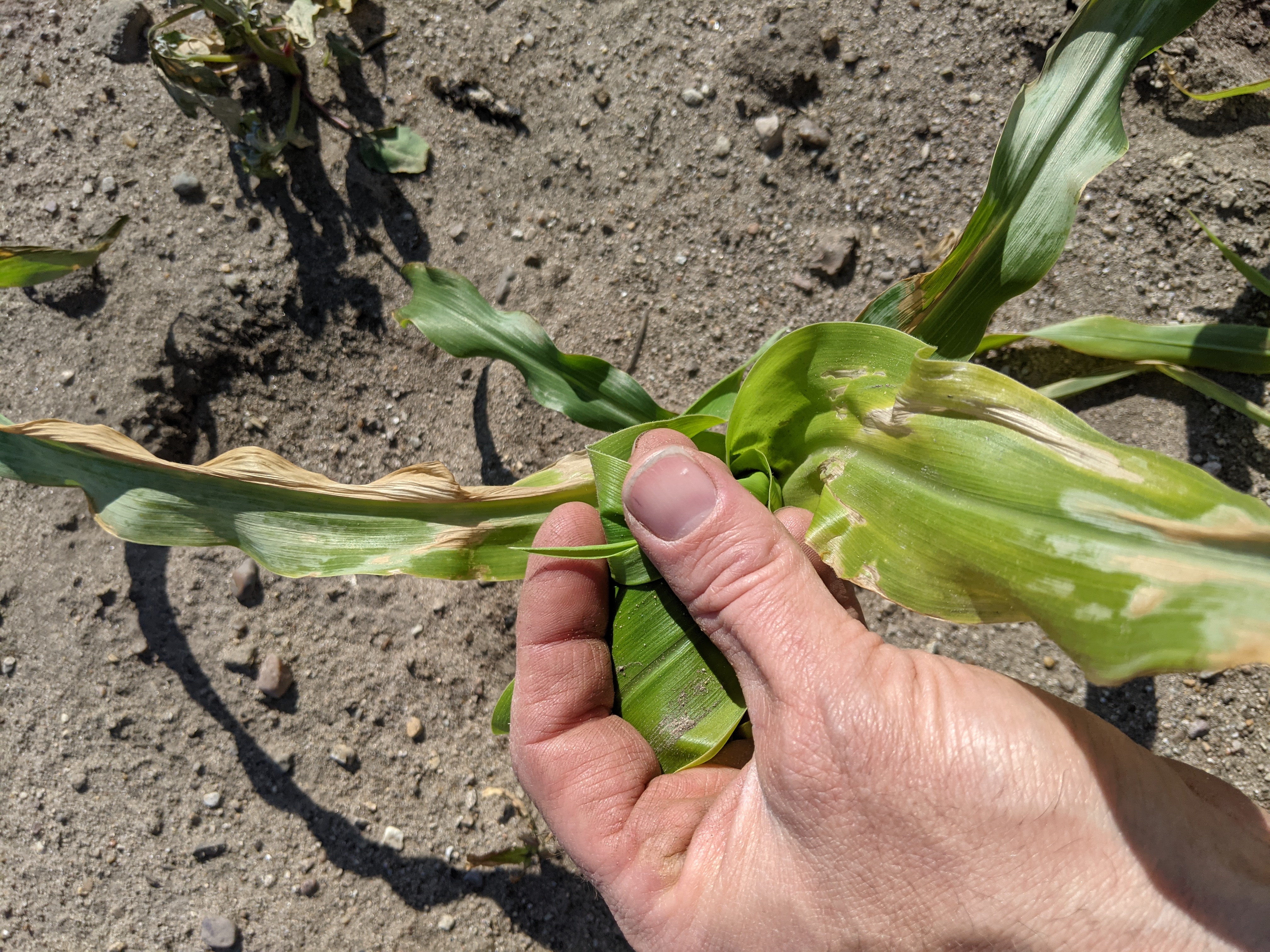 Tomatoes and peppers
Bare soil fresh market tomato and pepper transplants were going in this week. Greenhouse harvest continues.
Beginning farmer mentorship
Get paid $15/hour for the time you spend charting a path to your farm's success with insights from one of seven amazing Michigan farmer mentors! You will be paired with a farmer whose farm experience matches your farm goals as closely as possible. The mentors include urban and rural growers and small and large-scale farmers raising pastured livestock, and sustainably-grown vegetables, cut flowers and fruit. Beginning farmers will focus on understanding and improving financial viability, environmental sustainability, work-life balance and community connections. Aspiring farmers will focus on how to find land, credit and skills to get started.
Sign up as soon as possible for the first June 17 and June 24 Mentee-Mentor Meet & Greet dates. Space is limited to 14 mentorship participants at this time. Visit the MSU Student Organic Farm website or email brandtk7@msu.edu for more information.
The Vegetable Beet
Listen in June 9 at 12:30 EDT/11:30 CDT to our weekly live webcast and podcast; next week's topic will be strawberries on the vegetable farm.
Events
Food Safety
Need your water tested for the Food Safety Modernization Act (FSMA)? Check out the Michigan Ag Water Lab Map.
On-Farm Readiness Reviews are designed to help fresh produce growers feel prepared and ready for a full implementation of the Food Safety Modernization Act (FSMA). They allow growers to walk through their operation with a small team of food-safety experts and discuss how to meet the new FSMA Produce Safety Rule requirements. Go here to sign up for one.
Farm Supervisor Produce Safety Courses are being hosted through the MSU Online Learning Portal - D2L. They are self-paced and free. It will be available for farm supervisors starting July 19. Register here.