Michigan vegetable crop report – June 30, 2021
From Sahara to slugs, Michigan growers are dealing with our big weather swing.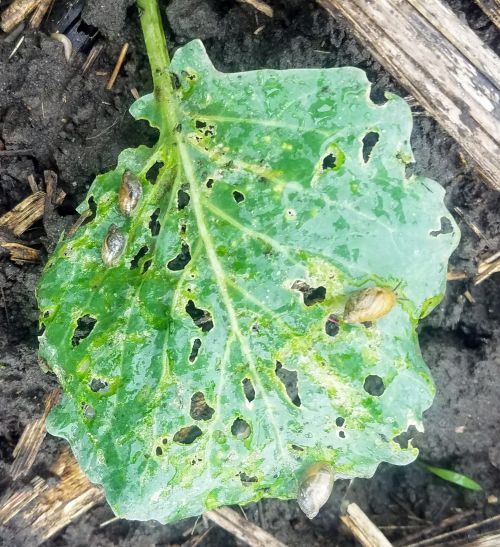 Weather
Since last week's report, we've had heavy rain (more than 8 inches in some places), six tornadoes touch down, and almost 60 consecutive hours of leaf wetness without a drying period.
Watch Jeff Andresen's forecast here. The forecast calls for:
Scattered showers and thunderstorms possible Wednesday and Thursday, especially in southeast Michigan.
A mostly dry and cooler Friday and Saturday.
A warmer Sunday and early next week. Scattered showers are possible again by late Monday or Tuesday.
Maximum temperatures in the low 80s Wednesday falling to the low-mid 70s by Friday and Saturday, warming to the mid-80s to near 90 by Sunday. Minimum temperatures in the 50s/60s Thursday, cooling to the upper 40s/mid-50s by Saturday and warming to the 60s again by Monday.
Medium range guidance suggests a return of above normal temperatures and precipitation totals during early July.
MSU's network of over 100 weather stations can be accessed at MSU Enviroweather
There are several pest prediction models based on temperature accumulations at the new Enviroweather website: seed corn maggot, cabbage maggot, asparagus miner, European corn borer and squash vine borer. Click on any of those pests to be taken to the model. Once there, change the Station to the one nearest you and click submit.
Just a heads up: Enviroweather has switched the National Weather Service forecast data used in all of our websites. We've transitioned from older station-based forecasts (GFS MOS) to use more detailed and precise gridded data from the National Digital Forecast Database (NDFD). Most users will not notice any differences, except that rainfall forecasts are now estimates of the amount of rainfall expected, whereas formerly rainfall forecasts were given as percent chance of precipitation. As always, please contact us if you have questions: Keith Mason, Enviroweather coordinator, eweather@msu.edu, 517-432-6520).
General crop management notes
Slugs
Slugs and snails are a spotty but troublesome problem, especially in crops like celery, lettuce and leafy brassicas. Celery and cabbage growers can tell you where their problem ditches are, as these molluscs venture into crops when soils are wet or there is debris that keeps the ground moist. What can be done? For conventional growers, metaldehyde based baits (e.g., Deadline) can be spread in problem spots to provide control. For organic growers, iron phosphate products (e.g., Sluggo) can be used. Please read the labels as they contains specific instructions about how, when and where to apply these.
Aerial applications
Aerial applications of pesticides offer some advantages when fields are too wet and soft for ground application rigs. However, they offer less coverage in gallons per acre than ground rigs. So, an argument can be made that spraying an expensive and effective chemistry with a plane might not actually make economic sense because it won't reach its maximum potential coverage this way. Perhaps a cheaper, and slightly less effective chemistry would be a more economic option? But, then a less effective product applied less effectively doesn't seem quite right either, does it? Maybe the best course of action is to wait for fields to dry.
Trenching
Many farms installed new trenches this week to divert water where they could. Sometimes these trenches lead to ditches. Other times, pits were dug to catch the diverted water. Sometimes going across rows is the best course of action to work with the terrain. Reference farm records to avoid tile lines and utilities. This latter point is especially important on urban farms.
Crop updates
Asparagus
Purple spot and rust are of primary concern for newly-established fields that were not harvested and shutdown fields now developing fern. These pathogens can infect the main stems, secondary stems and the cladophylls (needles). Under favorable conditions (wet and warm) each of these pathogens will enter a repeating phase whereby spores are produced in rapid succession resulting in a quick escalation of disease symptoms. Given the high relative humidity, frequent rains, and warm night temperatures, fungicides will be needed earlier this year than what might seem normal. If using the TOMCAST forecasting system, an initial spray should be made once the fern has developed to 50% of its full expansion. After this initial spray, the DSVs can then be summed with subsequent sprays applied when the total reaches 15. Either chlorothalonil or mancozeb can protect against purple spot. However, past work showed chlorothalonil may have longer residual activity. Tebuconazole is helpful for rust.
Beans and peas
Early planted snap beans are in full bloom, and some beans are forming. Pea harvest on market farms continues and plants are getting tired. Some growers are going to have a gap between pea harvest finishing and snap beans beginning.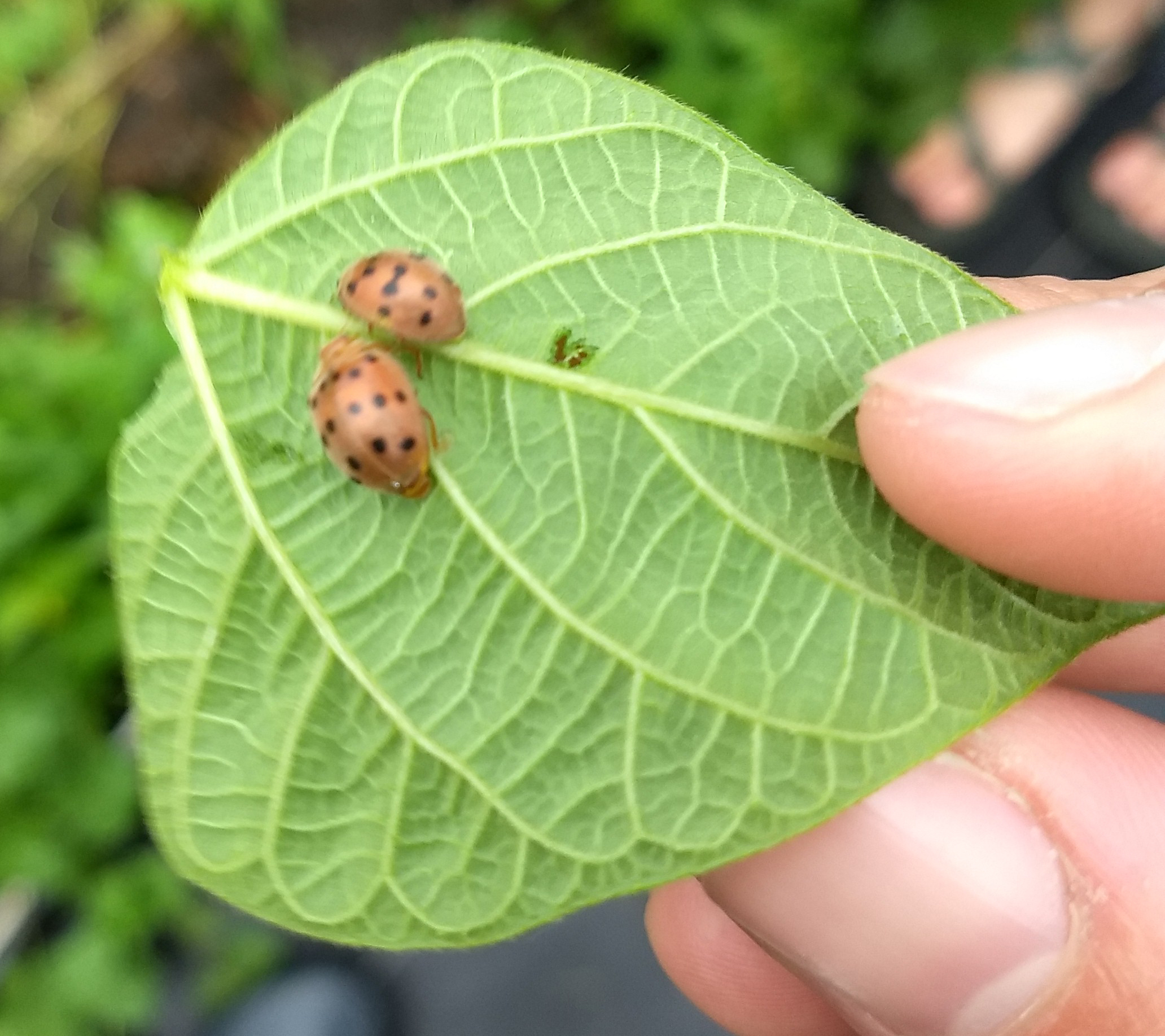 Carrots, celery and lettuce
Foliar blights are expected to develop as a result of the recent weather pattern that has been unusually favorable. The wet field conditions may also hamper the ability to apply preventive fungicide sprays in a timely manner. Once the field can be accessed, it would be prudent to apply a locally systemic fungicide tank-mixed with a protectant fungicide to maximize control. Waiting until disease symptoms develop to begin an aggressive fungicide puts the plant pathogens in control. It cannot be overemphasized how favorable the recent weather pattern has been for disease development. Using the best fungicides early is a better strategy than holding onto them until there is a crisis.
We are still finding high numbers of leafhoppers this week in both celery and carrot fields across the state which may be due to the recent weather fronts bringing more insects from the south. Reports of Aster Yellows on lettuce came in this week as well. We don't currently have leafhopper monitoring sites in lettuce, but they are more sensitive to this disease than carrots or celery.
Aster leafhoppers were present Monday at three locations MSU Extension swept, with 14 and 27 leafhoppers captured per 100 sweeps in two Oceana County fields. What will happen to infected carrots? It is likely that carrots infected early in the season with aster yellows are going to die before reaching harvest. If carrots get infected later in the season, they may reach harvest.
Please contact Zsofia Szendrei at szendrei@msu.edu if you would like to receive real-time text alerts. If you would like to be removed from the text blast, you can text STOP. The latest information is also below.
Aster leafhopper infectivity and treatment thresholds for the latest samples processed by the MSU Vegetable Entomology lab.

County

Date

Infectivity

Treatment threshold (leafhoppers per 100 sweeps)

Celery

Carrots

Muskegon

6/24

0.0%

-

-

Allegan

6/24

8.3%

4

6

Kent

6/23

16.7%

2

3
Cole crops
Cabbage harvest was starting this week in west central as the rain came down. Growers were tying cauliflower in Eastern Michigan during a break in the rain on Monday.
Downy mildew is present in some cabbage fields in southeast Michigan. Downy mildew can be a problem on several brassica crops including kale, broccoli, and cabbage. Lesions often begin as chlorotic patches with dark speckling. The sporulation on the undersides of the leaves isn't always readily visible, which makes this disease a little trickier to identify in the field.
Cucurbits
With the field report of downy mildew in Ontario, it is fully expected that the pathogen's sporangia will be dispersed to Michigan's growing regions. Our spore trap network has picked up three instances of downy mildew in air samples. This indicates that the downy mildew sporangia have arrived in the state. This is important because this pathogen does not overwinter outside in northern regions but arrives to our production regions via the pathogen's sporangia that move via air currents. The recent overcast, humid, and wet conditions ensure that the sporangia will survive being transported via air currents from a diseased field to healthy cucumbers. Under sunny and dry conditions, the lifespan of the sporangia is greatly reduced due to their degradation and desiccation. Scouts and growers are urged to be vigilant and carefully walk their fields to ensure that the first field infection can be found and fungicide sprays adjusted accordingly.
Given the recent pattern of weather conditions conducive to downy mildew, preventive fungicide applications are warranted. A good option could include Zampro + Bravo WeatherStik. Aerial applications may be needed in some areas of the state due to heavy and water-logged soils.
Some bacterial-looking symptoms were reported in Tuscola County. Squash vine borers and squash bugs have been reported laying eggs.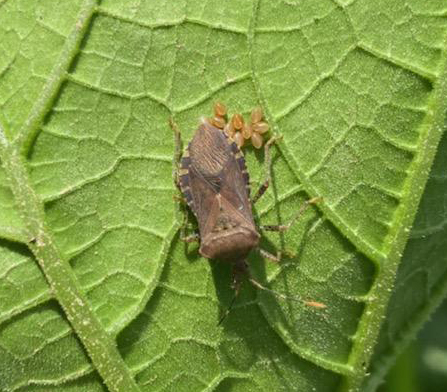 Earlier this growing season when field conditions were dry, Phytophthora capsici crown rot was not expected. This situation has now taken a dramatic turn as the recent heavy rains, saturated soils, and high relative humidity have literally created a perfect storm for Phytophthora development and crop destruction. In an ideal situation, effective Phytophthora fungicides would've been applied prior to the heavy rains. However, disease management rarely goes according to plan, so what can be done now to reduce losses? The first course of action should be to remove the excess/standing water from fields if possible. Fungicide application is important but needs to be applied to the soil adjacent to the crown. This is best achieved using drip irrigation. For processing crops that are not drip irrigated, a ground rig that is able to direct sprays to the crown and achieve good coverage using extra water could also be effective.
The factsheets noted below can guide the fungicide choices. The question of whether Ridomil-based fungicides can be used effectively comes up frequently. The answer is variable and is highly dependent on the history of prior use of the Ridomil active ingredient. For instance, MSU has recently analyzed a few commercial sites to determine whether Ridomil could be re-introduced along with other effective fungicides in an overall control program. These studies determine where the pathogen population iies in the continuum ranging from sensitive to resistant in regards to the Ridomil active ingredient.
Overall, unless there is a strong history of Ridomil usage, the results have indicated that this fungicide can be used as part of an overall fungicide program that includes other active fungicides. Conservatively, one application of a Ridomil-containing fungicide per season can be recommended and could ensure that this product can be included in control programs in the future. Ridomil-based fungicides are highly effective against Phytophthora capsici as long as the pathogen has not become resistant to it as a result of overuse.
Plants may first die in the portions of the field where water accumulates or along the swath of drainage. It has become an industry practice to disk under the dead and dying plants including those that are adjacent to the affected plants even if they appear healthy. These healthy-appearing plants are likely already infected but not yet showing symptoms. Thus, if you see plants dying in an infested field, "disk the mess and protect the rest". Also, remember to limit movement of infested soil by working problem fields last and powerwashing equipment to remove soil particles that may contain survival spores of the Phytophthora pathogen.
View factsheets including effective fungicides for the different cucurbits.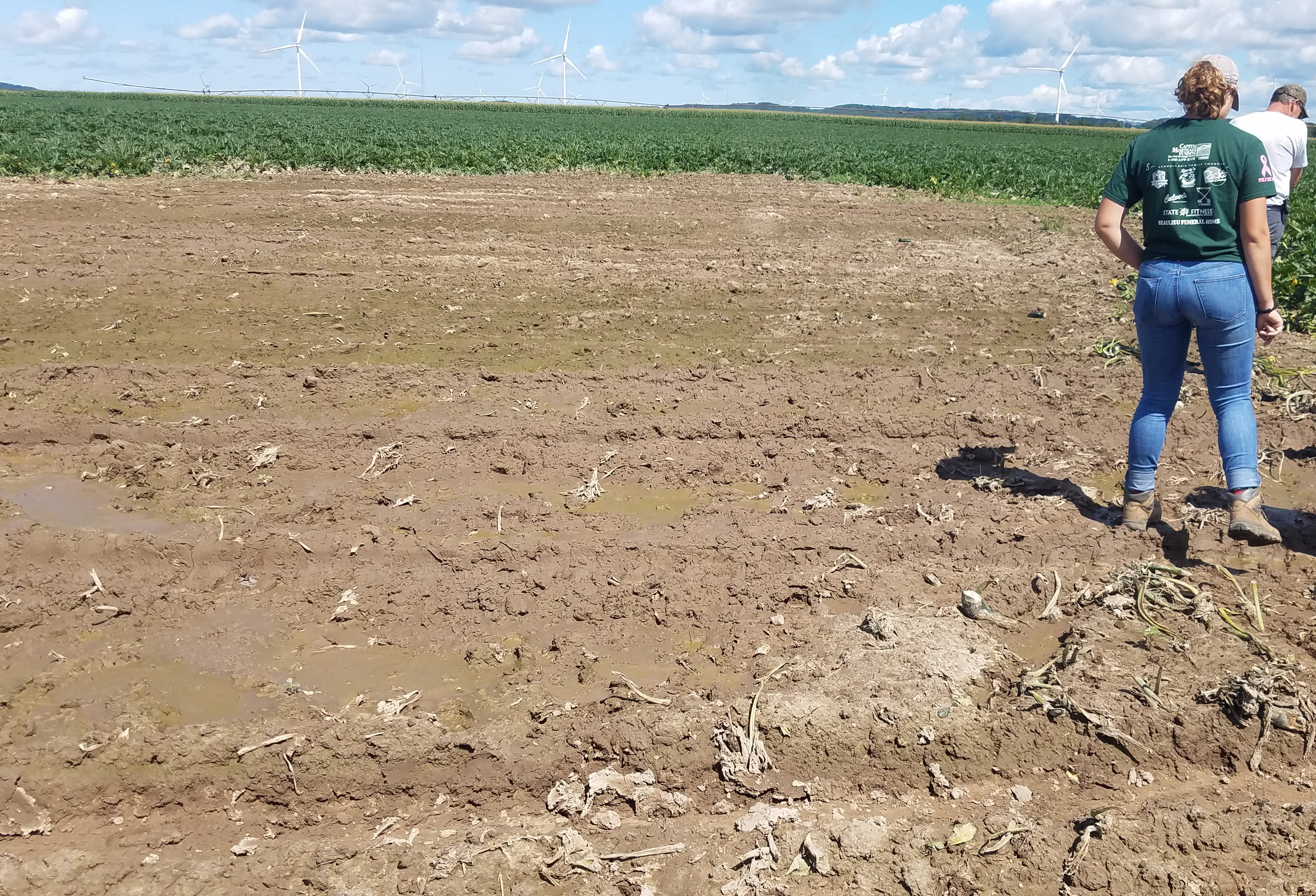 Onions and garlic
Sweet onions on plastic are baseball sized and going to market. Bare soil sweet onions are further behind. Garlic tips are dying back, but full-size bulbs have not been harvested yet.
Stemphylium is expected to develop rapidly in onion fields following the extended period of highly favorable weather conditions. MSU research has clearly shown that the highly effective fungicides should be used early in the season as that provides the best level of protection. To delay the development of pathogen resistance to the newest and most effective fungicides they should be used at the beginning of the spray program prior to the development of significant disease. Keep in mind that some of the fungicides have the same mode of action even though they have different names and active ingredients.
The FRAC code can be found on each label and is your guide to knowing whether a fungicide's way of protecting the crop is similar or different from another fungicide. Overusing fungicides that have the same FRAC code must be avoided to keep the effective products as tools for the future. Another important point is that some of the fungicides are labeled for use at a range of rates. In some cases, the labeled rates are tied to the total number of applications that are allowed in order to stay within the maximum amount of product allowed for a season. Using a higher labeled rate of a product is considered important when the weather conditions are likely to prompt a disease outbreak even if that means fewer applications of that particular fungicide can be applied.
Onion thrips continued to be present despite heavy rainfall at one location MSU Extension visited this week. What comes after Movento? Agri-Mek can be applied if populations are at 0.8 to one per leaf. Minecto Pro can be applied if populations are a bit higher at one to two per leaf. Radiant can be used if populations are very high at greater than three per leaf.
Why do the Cornell recommendations suggest applying the same product in two, back to back applications if needed, and not spaced out? It's all about resistance management. In hot weather, a single onion thrips generation can occur in two weeks. If you apply the same product spaced out at longer intervals, multiple generations will be exposed to the product, which over time increases the risk of resistance development. This is important for all products, but especially for Radiant. Part of good resistance management is weekly scouting and knowing your thrips numbers, therefore getting in a weekly visual survey of your plants is important, especially when temperatures are high. If you are wondering how to do onion scouting, check out this video on onion thrips scouting. Learn more about onion thrips and their management.
Potatoes
Potatoes are in full bloom in the Saginaw Bay area.
Isolated cases of bacterial soft rot are being seen in potatoes. Heavy rains can provide conditions for further localized spread of these pathogens in the potato canopy. Look for dark, water-soaked areas on the lower stems of plants with foliar dieback symptoms.
Root crops
Red beets are bolting on some farms. Radishes are splitting on some farms from the excess rain.
Strawberries
With strawberries finishing up, renovation comes next. Here is a short review of renovation procedures and herbicide options for perennial matted-row strawberries. For plasticulture berries, this process does not include narrowing the rows and moving runners into the main row with tillage passes. Instead, they are mowed back and given the bare minimum water and fertilizer to grow slowly in the summer and make fewer runners. Then later in August, the fertigation is brought back online into the fall, and runners are controlled manually, in conjunction with an Apogee growth regulator, or with a contact herbicide like Gramoxone or Scythe.
Sweet corn
A hard and fast storm on Tuesday lodged sweet corn in Genesee County.
The first main season planting of sweet corn is silking this week. We put up some corn earworm traps in Frankenmuth, and will be getting more out soon. Corn earworm has been captured in Purdue's sweet corn trapping network to our south. Insectforecast.com suggests it will be important to monitor earworm in the southern part of the Great Lakes, as some flights may have occurred in the past week. Flight risk is low for the upcoming 5 days. Learn how to monitor for this pest here.
Tomatoes, peppers and eggplants
Bacterial-looking symptoms in field peppers, and early blight in hoophouse tomatoes were reported in Tuscola County.
Symptoms of tomato spotted wilt virus on both peppers and tomatoes continue to be found on plants in the field. Symptoms include general stunting, distortion of the new leaves, and in some cases ringspot symptoms on the older, larger leaves. Unfortunately, there are no treatment options for infected plants, more information can be found the Michigan vegetable crop report – April 28, 2021.
The yellow marbled look of magnesium (Mg) deficiency is easy to see in hoophouse tomatoes right now on their oldest leaves. Sometimes, high potassium (K) and high calcium (Ca) levels can prevent proper Mg uptake in tomatoes, and it becomes especially obvious at fruitset in hoophouses. This E-Gro bulletin recommends a quick fix of Epsom salts at 2 lbs per 100 gallons of water through the drip at a 10% rate, and 1 lb per 100 gallons monthly could be beneficial.
Events
Food safety
Need your water tested for the Food Safety Modernization Act (FSMA)? Check out the Michigan Ag Water Lab Map.
On-Farm Readiness Reviews are designed to help fresh produce growers feel prepared and ready for a full implementation of the Food Safety Modernization Act (FSMA). They allow growers to walk through their operation with a small team of food-safety experts and discuss how to meet the new FSMA Produce Safety Rule requirements. Go here to sign up for one.
Farm Supervisor Produce Safety Courses are being hosted through the MSU Online Learning Portal - D2L. They are self-paced and free. It will be available for farm supervisors starting July 19. Register here.