Michigan vegetable crop report – June 9, 2021
Early producers are harvesting quick crops, like radish and leafy greens, and other main season crops, like pumpkins, are still going in. Insect pressure is high with the dry heat.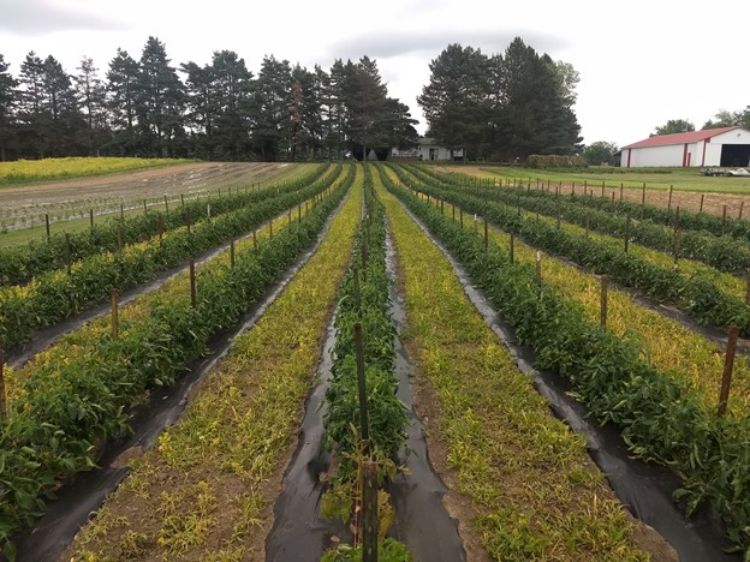 Weather
Watch Jeff Andresen's weekly agricultural weather forecast.
We all know it's dry, but is this just a normal Michigan mood swing? Looking back, 2021 is in the top 10 driest years to date for the period 1893-2021.
Hot weather will persist through the end of this week as we remain under a ridge in the jet stream, which has brought us this "tropical" weather. As we move into early next week a trough in the jet stream will bring us cool, dry Canadian origin air, lowering humidity and temperatures. This week's forecast predicts:
Scattered showers and thunderstorms developing Wednesday afternoon and evening. Rainfall coverage highly variable, greatest chances and totals will be in southern Michigan.
Isolated showers possible Thursday through Saturday.
Fair, drier and slightly cooler by early next week.
Maximum temperatures mostly low to upper 80s through Saturday, falling back to the low 80s by Monday. Minimum temperatures generally in the mid- to upper 60s decreasing to the 50s by early next week.
Medium range guidance suggests drier than normal weather through much of next week.
MSU's network of over 100 weather stations can be accessed at MSU Enviroweather
There are several pest prediction models based on temperature accumulations at the new Enviroweather website: seed corn maggot, cabbage maggot, and European corn borer. Click on any of those pests to be taken to the model. Once there, change the Station to the one nearest you.
General crop management notes
This spring has been remarkable for its extremes, which have made planting decisions difficult, and irrigation a must.
At this point in time, transplanted crops on hot black plastic can be found dying due to stem girdling, nutsedge can be seen poking through plastic, and aphids can be discovered on almost any crop and weed. Postemergence herbicides are being applied and post-plant cultivations are becoming routine. New seedings are going in at deeper depths to find moisture, or are being irrigated regularly.
Crop updates
Asparagus
Growers have been shifting to pick more for processed markets in west central Michigan. Hot, dry weather means the end of season is in sight, unless rainfall becomes more widespread this week.
If you have the luxury, it could be an excellent year to use irrigation to incorporate preemergent herbicides and fertilizer after shutdown. For herbicides, the general rule of thumb is that at least a 0.5-inch of rainfall within five to seven days of application is needed. Read more on how dry soils affect preemergent herbicide applications.
Read more about herbicide choices for lay-by. As we head towards field shutdown, remember young, ferned out fields can be at risk from lay-by herbicide applications to nearby mature fields. Jason Deveau shared some tips at our 2020 Great Lakes Expo. Remember that a little bit of wind is actually good when applying herbicides. Calm conditions, often beginning a few hours before sunset and continuing through early morning, favor inversions (as fruit growers know very well). During an inversion, drift can occur over long distances. The hormonal herbicides can also volatilize; risk is highest when temperatures are high and relative humidity is low. Other ways to minimize drift include:
Slower travel speed
Lower boom height
Nozzles producing at least coarse droplets
Use of an air induction nozzle
For foliar diseases, remember that epidemics can still happen in dry weather when dewpoints are high. It would be good to protect young, ferned out fields with chlorothalonil or mancozeb plus tebuconazole if you have not already, especially given the recent tropical weather.
Carrots and celery
Aster leafhoppers continue to be present in west Michigan. Please contact MSU entomologist Zsofia Szendrei at szendrei@msu.edu if you would like to receive real-time text alerts. If you would like to be removed from the text blast, you can text STOP. The latest information is also below.
Aster leafhopper infectivity and treatment thresholds for the latest samples processed by the MSU Vegetable Entomology lab.

County

Date

Infectivity

Treatment threshold (leafhoppers per 100 sweeps)

Celery

Carrots

Oceana

6/7

13%

3

4

Oceana

6/7

10%

3

5

Allegan

6/1

0%

-

-

Ottawa

6/1

0%

-

-

Allegan

5/31

4%

8

12
Cole crops
Onion thrips may be an important pest to target this year for cabbage growers. Read more about onion thrips control programs.
Diamondback moth caterpillars were active this week at some west central locations, with leaf damage becoming more visible. Make sure to check your broccoli as early plantings reach harvestable size, as these caterpillars can contaminate heads. Growers may use Bt products to conserve beneficials and provide control of diamondback moth and imported cabbage worm. Research at Ohio State University suggests that for Bt: (1) making frequent applications (e.g., at least weekly) is more important than using a high rate and (2) daytime applications can be as effective as evening ones. If you are already on an intensive thrips control program, note that most products (except Movento) also provide good caterpillar control.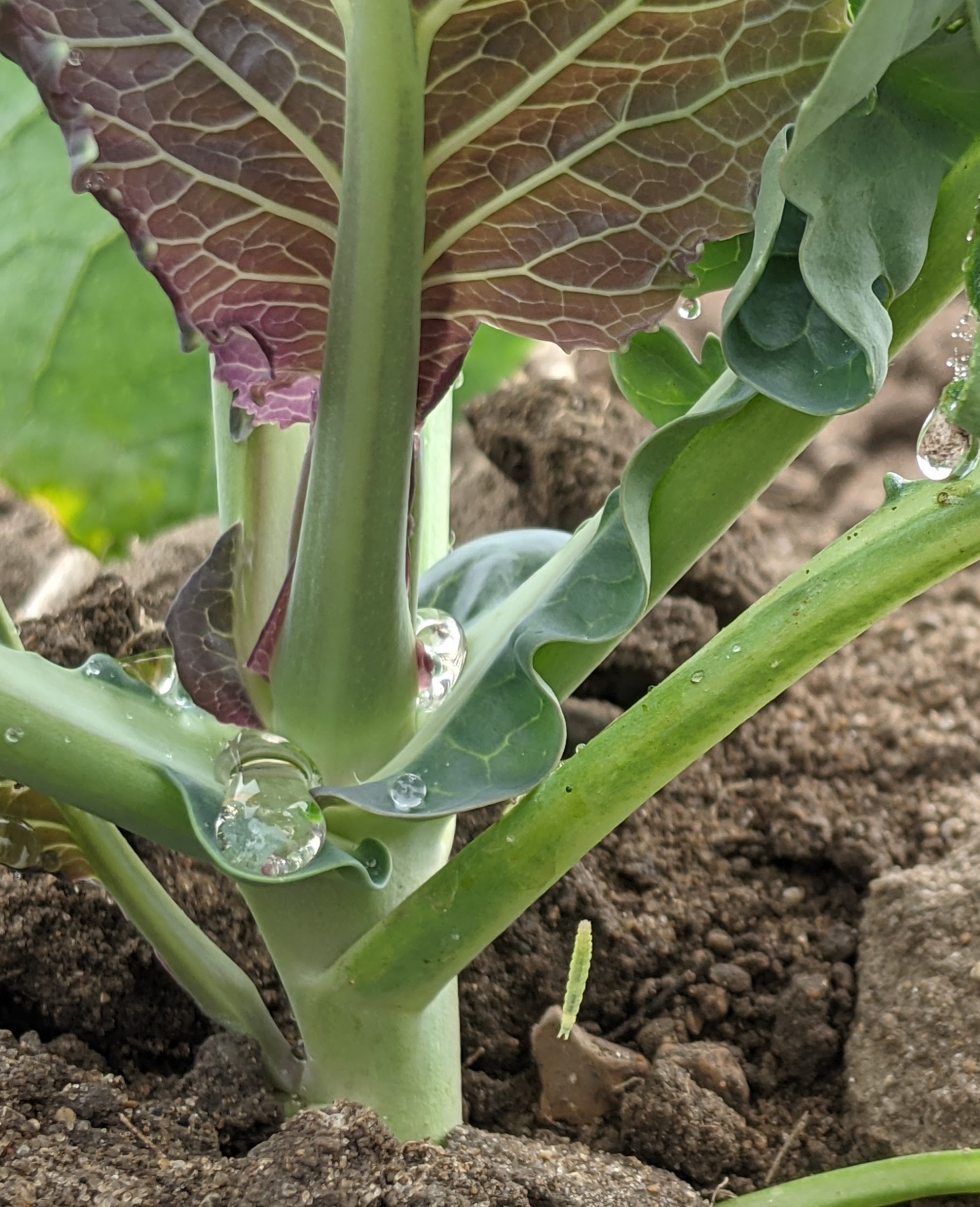 Flea beetles were active, though not as strongly as in other years despite a mild winter.
Broccoli and kohlrabi ready in some farms. Harvests must be completed in a timely fashion in this hot and dry spring to avoid bolting.
Cucurbits
Pumpkin plantings are underway, and many questions are coming in about fertilizing and herbicides. Here are some tips.
Nitrogen will likely be your most limiting nutrient. Apply 80-100 pounds nitrogen total for the season – 40 pounds nitrogen preplant incorporated (or may be reduced to 20-30 pounds nitrogen through the 2x2), then the remainder sidedressed when the vines begin to run. Avoid overapplying nitrogen, which can lead to excessive vine growth and reduced fruit set. Your phosphorus and potassium applications should be based on soil test results, applied preplant incorporated or with starter depending on amounts required.
Micronutrients are the icing on the cake, not always necessary and a soil test will help guide you. Keeping your pH at least between 6 and 7 is your first line of defense. Some things to watch out for: Manganese deficiency is not uncommon and mainly a problem with high soil pH. Magnesium limitations are more common with low pH, particularly on sandy soils. Boron (0.5-1 pounds per are) may be beneficial under these conditions as well.
For more information, check out the Nutrient Recommendations for Vegetable Crops in Michigan bulletin, and if you've got your soil test on hand, the MSU Fertilizer Recommendation Program.
Herbicides that work well are Strategy, Dual Magnum, Reflex, and Sandea, and all of them can be applied after seeding and before emergence. If transplanting, these should be applied between rows only.
Greens and derbs
Lots of greens are going in and multiple cuttings have been taken on arugula, mizuna and other salad and cooking greens. Cilantro and dill are nearing the bunching stage on some farms.
Mint-family herbs, such as basil, oregano, mint and lemon balm are a frequent target for the four-lined plant bug. Some farms operate a perennial herb patch for taking bunch cuttings and may be seeing more of this insect this year.
Leafminers in spinach and chard are showing up in high numbers. This can make a crop look scorched, perhaps from heat. But, upon closer inspection, the scorched areas are actually a layer of leaf tissue that has been peeled from the rest of the leaf, like a blister. Inside that hollowed out area is a maggot. They hatched from small white eggs laid side-by-side like logs by a small adult fly, and immediately burrowed into the leaf and tunneled a gallery for itself. This makes timing applications of contact insecticides hard; residual needs to be on the leaf surface before maggots enter the plant. However, effective products include pyrethroids like Brigade and Perm-Up.
Organic options only last about 24 hours on the leaf surface and include Pyganic, Entrust, and Neemix. These would need to be applied daily for a few consecutive days to catch larvae as they crawl from their eggs into the leaf. Systemic insecticides, like Scorpion, Belay and Platinum, can be used preventatively as soil applications with long preharvest interval (PHI) times (seven-day, 21-day, and 30-day, respectively).
Other non-chemical options immediate crop-destruction when a patch is being retired. This will help limit the number of flies moving from old to new plantings. Tillage, mowing, burning are different ways to destroy the crop, but tillage offers the most utility.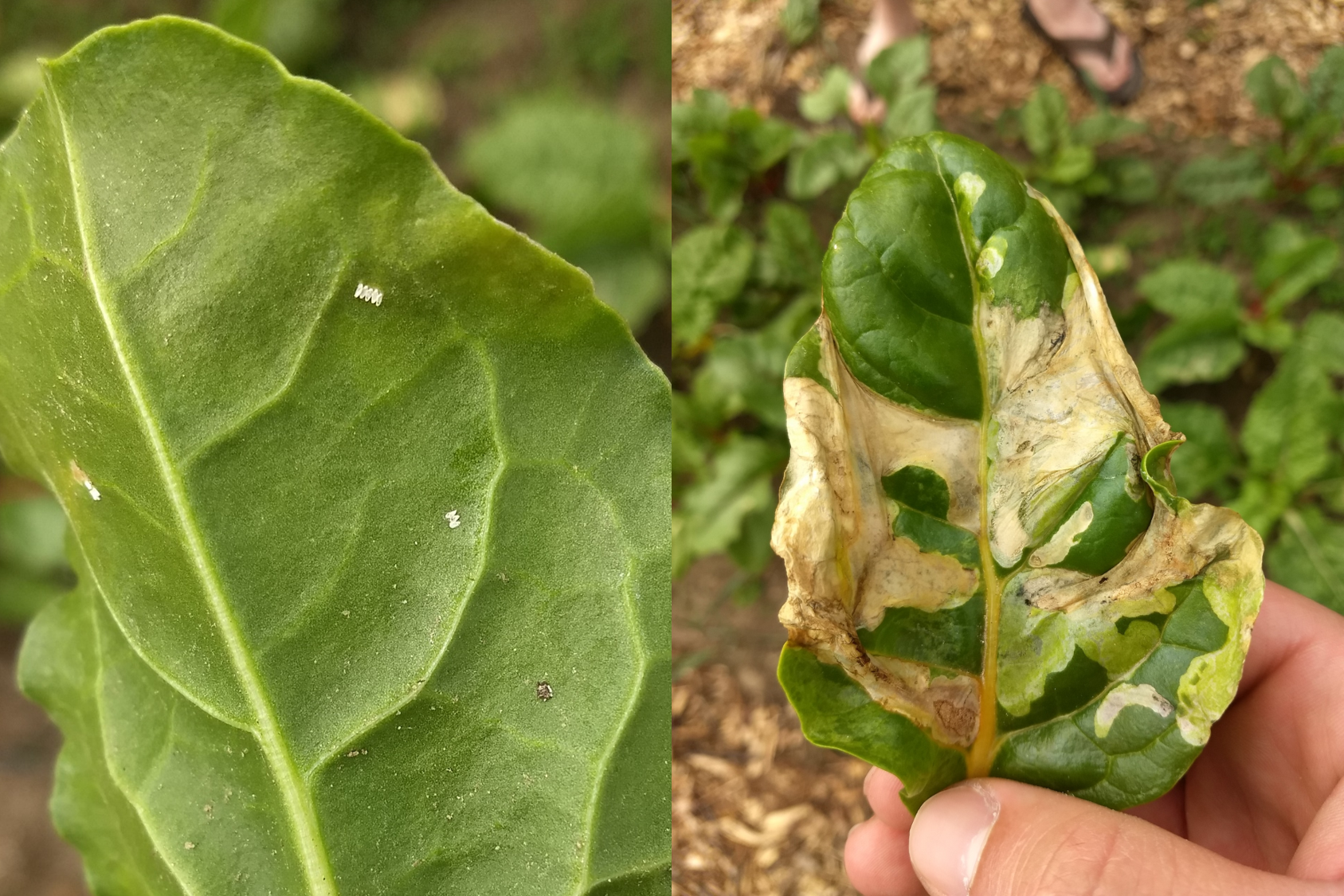 Onions and garlic
Stemphylium leaf spot has been confirmed on onions.
Field research from Michigan State University has shown that the Stemphylium leaf blight pathogen is resistant to fungicides classified as strobilurins such as azoxystrobin, picoxystrobin, pyraclostrobin, and trifloxystrobin. On the other hand, Omega SC, Luna Tranquility SC, Miravis Prime SC, Tilt SL, and Luna Experience SC effectively limit Stemphylium leaf blight. Producers have asked how best to use these fungicides to maximize their effectiveness and provide the best return.
To answer this question, we conducted a replicated field study with a grower cooperator to evaluate the early and late timing of Miravis Prime SC applications in a rotation program with Bravo WeatherStick SC. We also included a fungicide rotation program that included several different fungicides throughout the growing season. We used the pungent yellow 'Bradley' onion grown in muck soil. Fungicide treatments (see the table below) were applied as a foliar spray to 20-foot long plots using a CO2 backpack sprayer. Nine fungicide applications were applied at seven-day intervals. The percentage of green tissue in the plot was estimated frequently throughout the season. Onions were harvested by hand, cured, topped, graded, and weighed.
All plots treated with fungicide had more green tissue at the end of the growing season and yielded substantially more than the plots that were not treated with fungicide (see the figure below). The fungicide treatment that included applications of Miravis Prime SC (11.4 fluid ounces per acre) at the start of the fungicide program alternated with Bravo WeatherStik SC (24 fluid ounces per acre), resulted in a significantly higher percentage of green tissue and an increase in total yield than when Bravo WeatherStik SC was applied early and Mirvais Prime SC applied later. The fungicide program that included a number of different fungicides (fungicide program #3) was also effective and protected the foliage and yield.
Fungicide programs

1

2

3

4

5

No Fungicide

Bravo WS,

-alt- Miravis Prime,

-alt- Bravo WS,

-alt- Miravis Prime,

-alt- Bravo WS,

-alt- Miravis Prime,

-alt- Bravo WS,

-alt- Bravo WS,

-alt- Bravo WS.

Luna Tranquility

-alt- Tilt + Bravo WS,

-alt- Omega,

-alt- Luna Tranquility,

-alt- Tilt + Bravo WS,

-alt- Miravis Prime,

-alt- Omega,

-alt- Aprovia Top,

-alt-. Miravis Prime.

Bravo WS,

-alt- Bravo WS,

-alt- Bravo WS,

-alt- Bravo WS,

-alt- Luna Tranquility,

-alt- Bravo WS,

-alt- Luna Tranquility,

-alt- Bravo WS,

-alt- Luna Tranquility.

Bravo WS,

-alt- Bravo WS,

-alt- Bravo WS,

-alt- Bravo WS,

-alt- Miravis Prime,

-alt- Bravo WS,

-alt- Miravis Prime,

-alt- Bravo WS,

-alt- Miravis Prime.
The especially warm weather this year will require diligence with crop protection. Fungicide programs to protect the onion's foliage from Stemphylium leaf blight should include highly effective products at the front end of the season (see treatment program 2 and 3 as examples) to prevent the pathogen from becoming too well established when the plants are young. Protecting the onion leaves early in the season helps to ensure that the plants achieve their full yield potential. When the protectant fungicide Bravo was applied early in the season with the more effective products added in later (see treatment programs 4 and 5 as examples) the leaves were not protected as well and the yield suffered as a result.
Based on these results, it appears that producers should not "save the good stuff" but should consider using the most effective fungicides right at the beginning of the season to ensure the best return.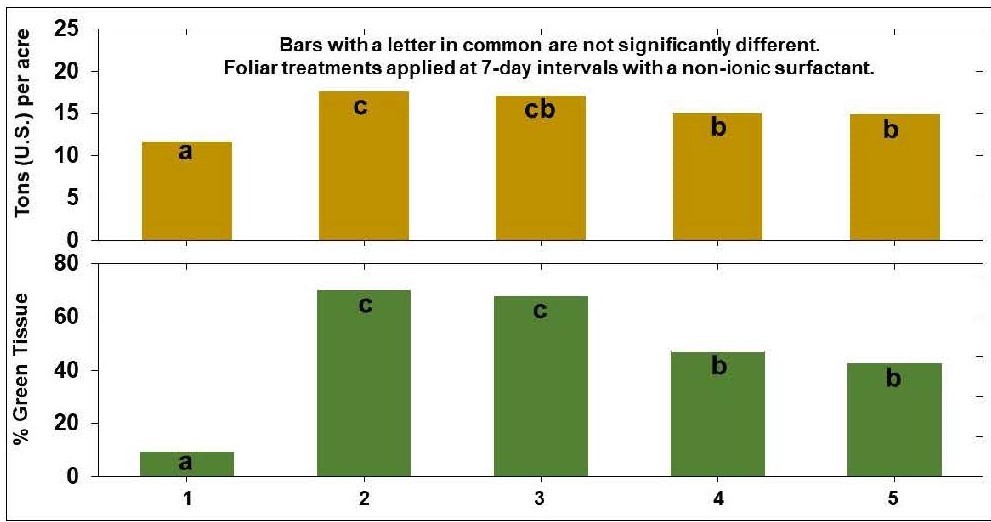 Onion thrips have been abundant in onions planted from sets and transplants, and present in direct-sown onions. Movento application has already started in sets and transplants. Keep in mind Movento should be applied prior to initiation of bulbing (about the 7-8 leaf stage). With the heat, direct-sown fields may be approaching/surpassing the threshold of 0.6-1 thrips per leaf. So stay tuned to your fields!
What is Senstar? It is pre-mix of spirotetramat (active in Movento) and pyriproxyfen (active in Esteem). Senstar (10 ounces ) provided control equivalent to-but no better than-Movento (5 ounces per acre) in Cornell University trials.
Peas
Early peas are being harvested.
Potatoes
Colorado potato beetle larvae were hatched and munching this week, and some of the overwintered adults could be found laying eggs. The thresholds for treatment are 10% defoliation, two to five beetles per plant, four small larvae per plant or one big larvae per plant, with numbers based on scouting 20-50 plants. The larvae we saw were at one two small larvae per plant. Read about how hot weather affects potato beetle management.
Coragen, Radiant and spinosad products can provide control if you used a neonicotinoid seed or in-furrow treatment at planting. A neonicotinoid such as Admire Pro can be used if it was not used at planting time.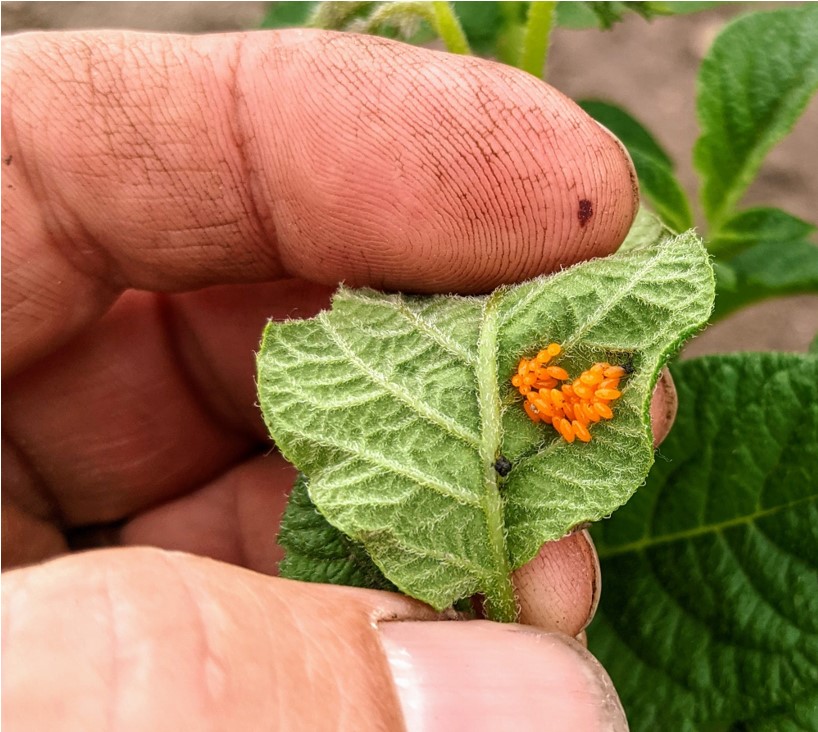 There are reports of elevated incidence of volunteer potatoes in certain fields. Volunteers originating from late blight infected plants the prior year could serve as potential inoculum sources and should be eliminated. In 2018 and 2019, MSU potato weed scientist Erin Burns and MSU Extension potato specialist Chris Long tested several herbicides and herbicide combinations for efficacy against potato volunteers. Two important findings of this study were: 1) the addition of atrazine to herbicide treatments improved control, and 2) as the size of volunteer potatoes increased (greater than 6 inches in height), control decreased. Please refer to the full article for more detail: Options for controlling volunteer potatoes.
Root crops
Radishes are being harvested. Beets and parsley root are close to harvest.
Leafminers can be a problem in beets too, as they are the same species as chard. But, depending on your market, it may not be worth managing. If you sell bunched beets with tops, then consider doing something about it (see above).
Strawberries
Strawberry harvest has begun.
Sweet corn
Sweet corn is at V6 on many farms, and at least one farm has some early frost-protected crop in tassel. Consider putting out corn earworm traps a bit early this year, it seems like anything can happen this year!
Tomatoes, peppers and eggplants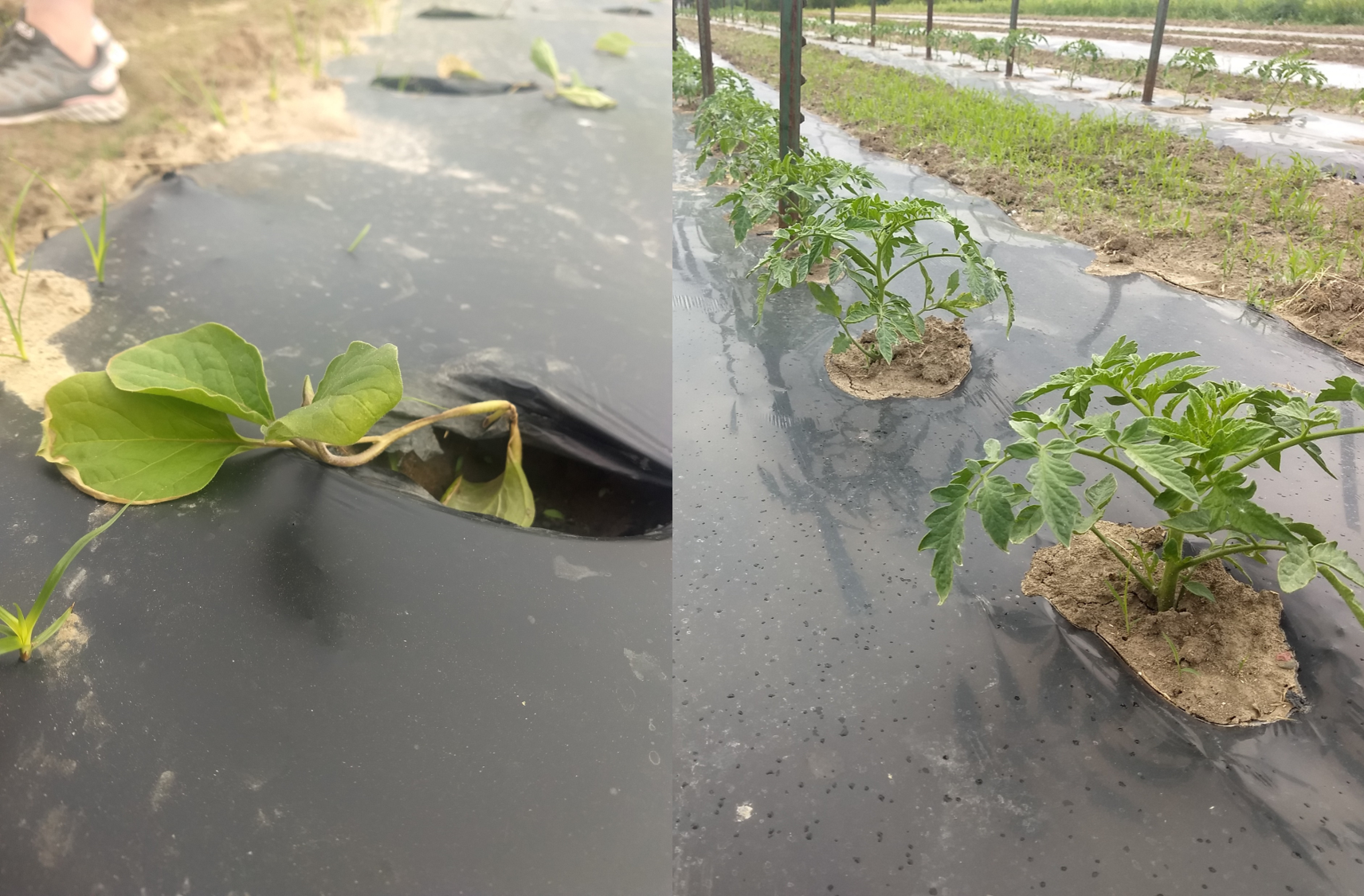 Flea beetles were flocking to young eggplant transplants this week. Some damage was also seen on tomatoes. Some unconfirmed reports came in about tunneling damage in hoophouse fruit. This is possible evidence of an early corn earworm migration, but without some confirmation of the caterpillar the most plausible explanation is slugs. They are nocturnal, and this may explain why the culprit could not be found.
Blossom end rot has reared its head in a number of tomato tunnels. Remember that while Ca deficiency in the fruit may be behind the symptoms, the problem usually stems from the plant not being able to move Ca from the root zone to the fruit fast enough during development. Supplying adequate and timely irrigation and avoiding excessive greenhouse temperature highs are your first line of defense. Ca foliar sprays may help in some emergency circumstances, but ideally need to contact immature fruit before symptom development (Ca is not readily mobilized from leaves to fruit). Maintaining adequate Ca and moisture in the root zone is the best strategy. Keep in mind that excessive K fertilizer (as well as other cations like Mg and ammonium N) and high salt levels can also increase risk of blossom end rot by competing with Ca uptake. For more info on this disorder and prevention, check out this recent article from Purdue Extension.
Beginning farmer mentorship
Get paid $15/hour for the time you spend charting a path to your farm's success with insights from one of seven amazing Michigan farmer mentors! You will be paired with a farmer whose farm experience matches your farm goals as closely as possible. The mentors include urban and rural growers and small and large-scale farmers raising pastured livestock, and sustainably-grown vegetables, cut flowers and fruit. Beginning farmers will focus on understanding and improving financial viability, environmental sustainability, work-life balance and community connections. Aspiring farmers will focus on how to find land, credit and skills to get started.
Sign up ASAP for the first June 17 and June 24 Mentee-Mentor Meet & Greet dates. Space is limited to 14 mentorship participants at this time. Visit the website or email brandtk7@msu.edu for more info.
Events
Food safety
Need your water tested for the Food Safety Modernization Act (FSMA)? Check out the Michigan Ag Water Lab Map.
On-Farm Readiness Reviews are designed to help fresh produce growers feel prepared and ready for a full implementation of the Food Safety Modernization Act (FSMA). They allow growers to walk through their operation with a small team of food-safety experts and discuss how to meet the new FSMA Produce Safety Rule requirements. Go here to sign up for one.
Farm Supervisor Produce Safety Courses are being hosted through the MSU Online Learning Portal - D2L. They are self-paced and free. It will be available for farm supervisors starting July 19. Register here.