Michigan vegetable crop report – May 12, 2021
Transplanting of warm-season vegetables is set to ramp up at the end of this week in some areas, and direct-seeding continues.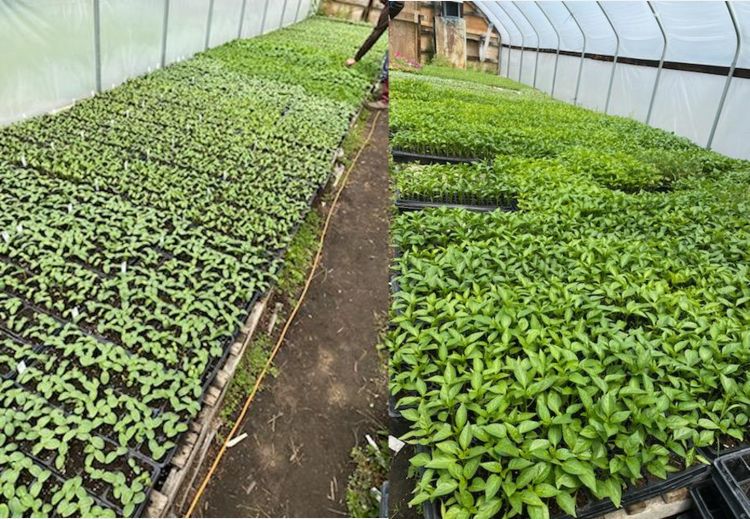 Weather
Watch Jeff Andresen's forecast here, or see highlights below.
Unusually cool conditions have been observed across most of the eastern United States in the past week. We had five consecutive mornings of frost threats here in Michigan, and eight out of the last 11 days in some parts.
Precipitation has still been short, with less than 0.5 inch in most places, though a narrow band of heavy rain came through the southern border counties. Plant available moisture in soils is low, and Michigan is in a moderate drought. Basically, we're starting with a half-full tank, which could lead to plant stress as temperatures warm up.
The next chance for rain is forecasted for late Sunday, May 16, or Monday.
We'll see an additional chance of freezing conditions tonight going into Thursday morning, May 13.
More typical spring temperatures are in the forecast for the remainder of the week, warming from the 50s to the low 60s Wednesday to the 60s on Friday and into the low 70s by Sunday. Forecasts suggest a gradual return of warmer than normal weather by late next week and the following week.
Michigan State University's network of over 100 weather stations can be accessed at MSU Enviroweather.
There are several pest prediction models based on temperature accumulations, including seedcorn maggot, cabbage maggot, European corn borer and squash vine borer. Click on any of those pests to be taken to the model. Once there, change the region and station to the one nearest you.
Be sure to check out the new versions of these models on the new Enviroweather website: seed corn maggot, cabbage maggot and European corn borer.
General crop management notes
Many growers are well ahead of their planting schedule and are holding transplants until conditions moderate. A lot of fields are prepped and ready for plastic, others have plastic laid and are waiting for planting later this week. Pepper, tomato and cole crop transplants were looking a little yellow and purple this week as growers have lowered temps and withheld fertilizer to keep them from getting too large for transplant machines.
Starter fertilizer considerations
Starter fertilizer (fertilizer placed near the seed at planting, for example with a 2x2) can help get plants off to a good start, but keep a few things in mind to avoid injury. Nitrogen (N) and phosphorus (P) are the most likely nutrients to be beneficial in a starter, while the potential for benefits from potassium (K) in starter will be more dependent on soil test levels. As a general rule of thumb for vegetables, don't let the sum of N and K included in the starter exceed 40 pounds per acre N+K2O when applied in a 2x2 band to avoid salt injury. This rule may be on the conservative side for some larger-seeded and less sensitive vegetables like sweet corn and winter squash, but it provides some buffer against unknowns.
Many factors influence the risk for seedling injury for a given rate of starter, including proximity to the seed (higher risk the closer the band is to the seed), soil type (higher risk on low-CEC soils), soil moisture (higher risk when soils are dry), and crop sensitivity (often higher risk for smaller-seeded vegetables). Row spacing is another consideration: remember that 40 pounds per acre applied as a band on 60-inch spaced rows would be equivalent to 80 pounds per acre on 30-inch rows. In other words, the concentration near the seed of a given per acre rate of starter fertilizer will be higher when a crop is planted on wider row spacings.
For more general information on starter fertilizer considerations (albeit with a field crops focus), check out Kurt Steinke's recent Field Crops Virtual Breakfast presentation, "Start Right to Finish Well."
Spring "raw" manure applications
Keep in mind that many pelletized poultry litter fertilizers may still qualify as raw manure under National Organic Program (NOP) and Food Safety Modernization Act (FSMA) guidance, and are therefore subject to the rules requiring application either 120 or 90 days preharvest (where the harvested portion of the crop will or will not be in contact with the soil, respectively). Make sure to look at the calendar if still considering using these products or other manures/litters prior to a crop this season, and adjust your fertility plan as needed.
Crop updates
Asparagus
West central Michigan growers made early pickings before cool weather and multiple freeze events made for a tough start to spring. Widespread harvest could resume next week as temperatures warm.
For young fields that will not be harvested or harvested for just a couple of pickings, preventive fungicide applications should be considered once the fern develops. This young, developing fern is susceptible to both purple spot and rust. This is the time of year when volunteers in the ditches and along production fields may host the development of aeciospores of the rust fungus on the stems and branches of the asparagus fern. This stage of the rust fungus can be seen as a raised green to bright orange cushion-like growth. Fungicides, including the active ingredient of either mancozeb or chlorothalonil, would be appropriate to protect any young fern from both purple spot and rust disease.

Asparagus beetles will likely become active once temperatures warm. This pest overwinters as an adult beetle in old asparagus stems and bordering habitat. Once it warms up, it is ready to go. The beetles lay eggs on spears, which are a hard-to-wash off contaminant. Feeding damage can occur, but typically only occurs with very high populations. Growers mostly rely on applications of carbaryl (one-day preharvest interval, PHI) for control during harvest, while some have more recently tried Assail (also a one-day PHI).
Cole crops
In Michigan only (MI 24c exp. 12/31/25) another application of GoalTender is allowed at 4-8 fluid ounces per acre to well-established transplants at least two weeks in the field, or to direct-seeded plants with at least four true leaves. Do not exceed 16 fluid ounces pre and postemergence. Use the lower rate on coarse-textured soils. Do not add adjuvant.
Cool weather can increase the potential for Goaltender injury. Cool temperatures slow plant metabolism, reducing degradation of herbicide and increasing the risk of crop injury. This cool and dry weather is also not favorable for weed growth. Therefore, waiting a few days for warmer weather and safer application conditions will not change the weed control situation much.
Cabbage maggots are out and laying eggs. Peak activity of the spring flight is likely one to two weeks away based on growing degree days (GDD) at the Hudsonville and Grant Enviroweather stations, and could begin within the next week based on degree days at Blissfield and Lapeer. It is a good time to protect transplanted brassicas with chlorpyrifos, or with a tray drench of a product like Verimark. Postplant applications of Mustang Maxx can compliment at-plant chlorpyrifos applications to help reduce damage in direct-sown, rooting brassicas such as turnips and radishes.
Cucurbits
Cucumber, melon and squash transplants were between cotyledon and four true leaves in 50- and 72-cell transplant trays this week in Bay County. Transplanting is slated to begin later this week.
Lettuce
Seeding has begun in Lapeer and Bay counties with the last of the transplants finishing up.
Onions and garlic
Several bare soil transplanted sweet onion growers in Bay County reported that their southern bare root plants have rooted well, and the stand is in good shape this year.
Peas
Peas in some areas are 5 inches tall and showing some freeze injury. They will recover.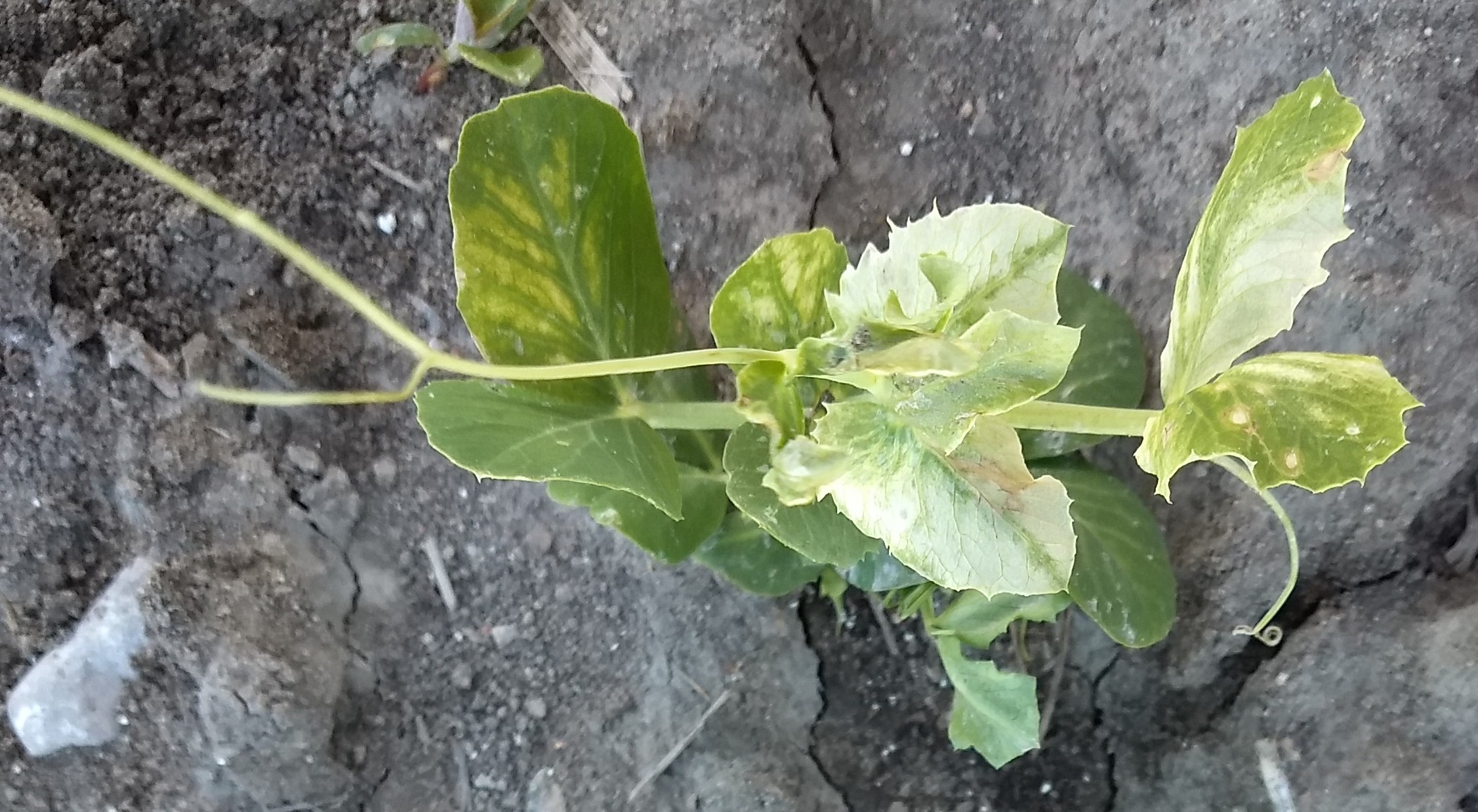 Other root crops
Radishes are on their fifth or sixth planting in some areas. Some severe freeze damage was seen on older plantings, which could make bunching difficult. The oldest radishes are 0.75 inches in diameter. Red beets in Bay County have come through the freeze events of the past few weeks without a scratch.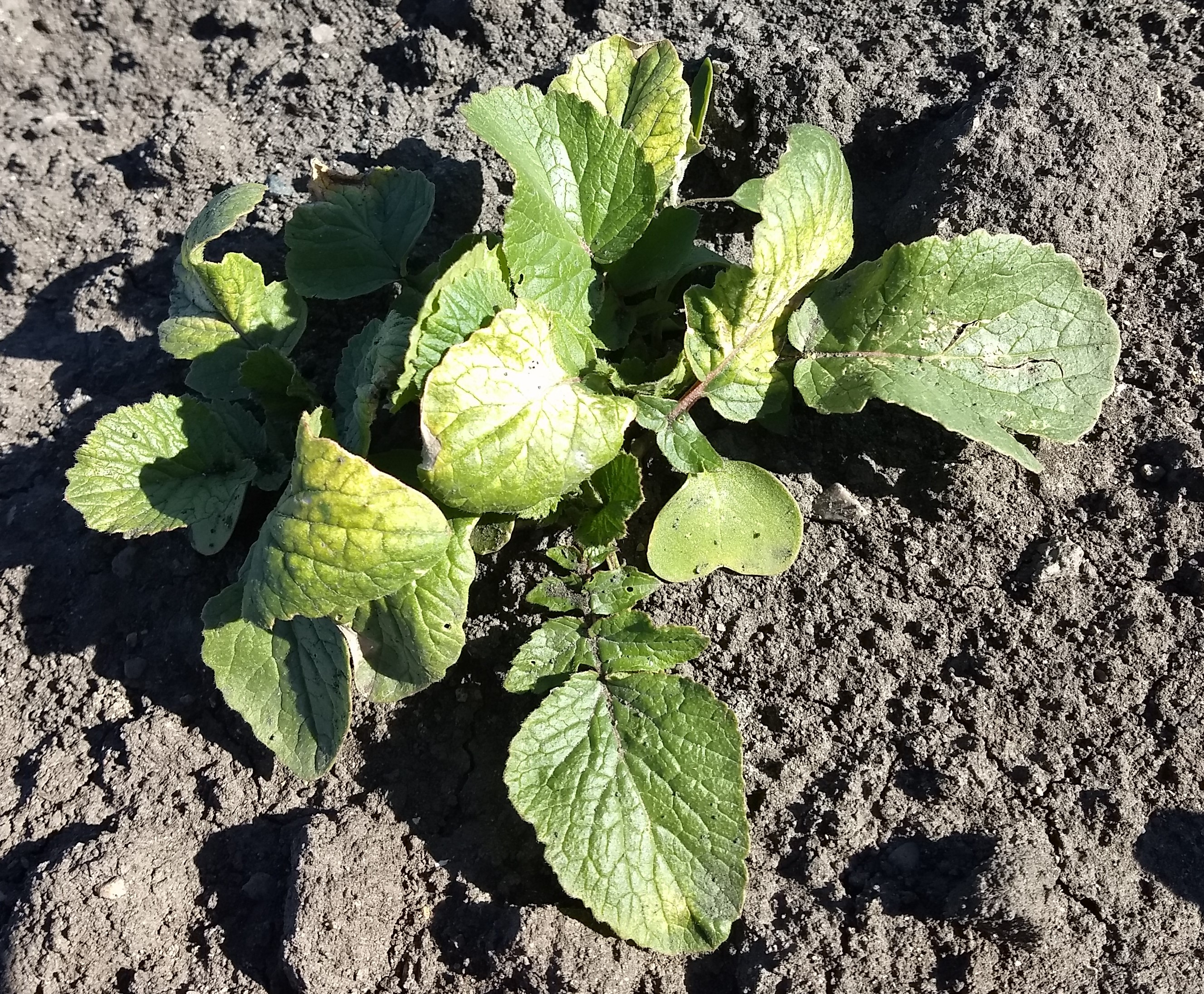 Strawberries
Bloom has started in the Bay area. Some darkened centers of opened flowers indicated freeze damage that could result in poor early fruit set. Bloom is continuing in the southwest. The last week saw a number of mornings with frost threats. Several growers irrigated multiple nights in a row for frost protection.
In these conditions, disease management can be difficult. For leaf spot, early sprays of a systemic fungicide (FRAC 3) will provide some protection before the next evening. Coppers are the only effective treatment labeled for angular leaf spot. These will be washed off every evening during irrigation.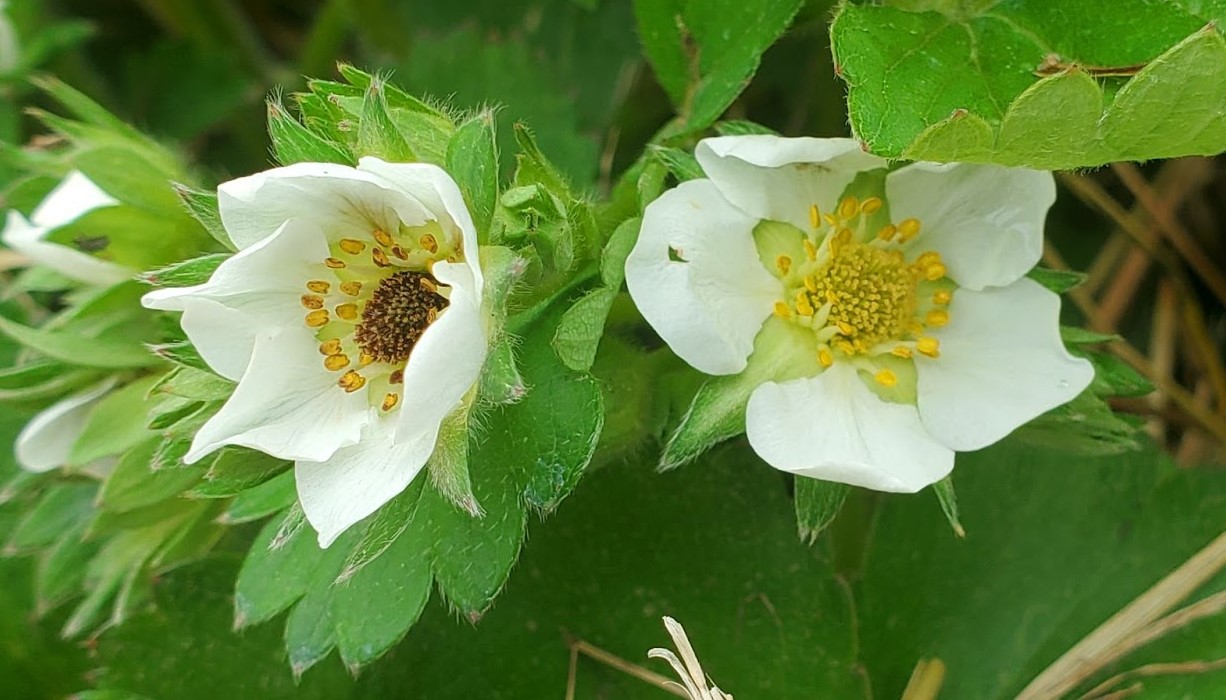 Sweet corn
Young cutworms (less than 0.5 inches long) were active in Bay County sweet corn this week at low levels (one per 100 plants). Open field plants were 3 inches tall, with plants under plastic up to 6 inches. Plastic will probably be coming off in the next week.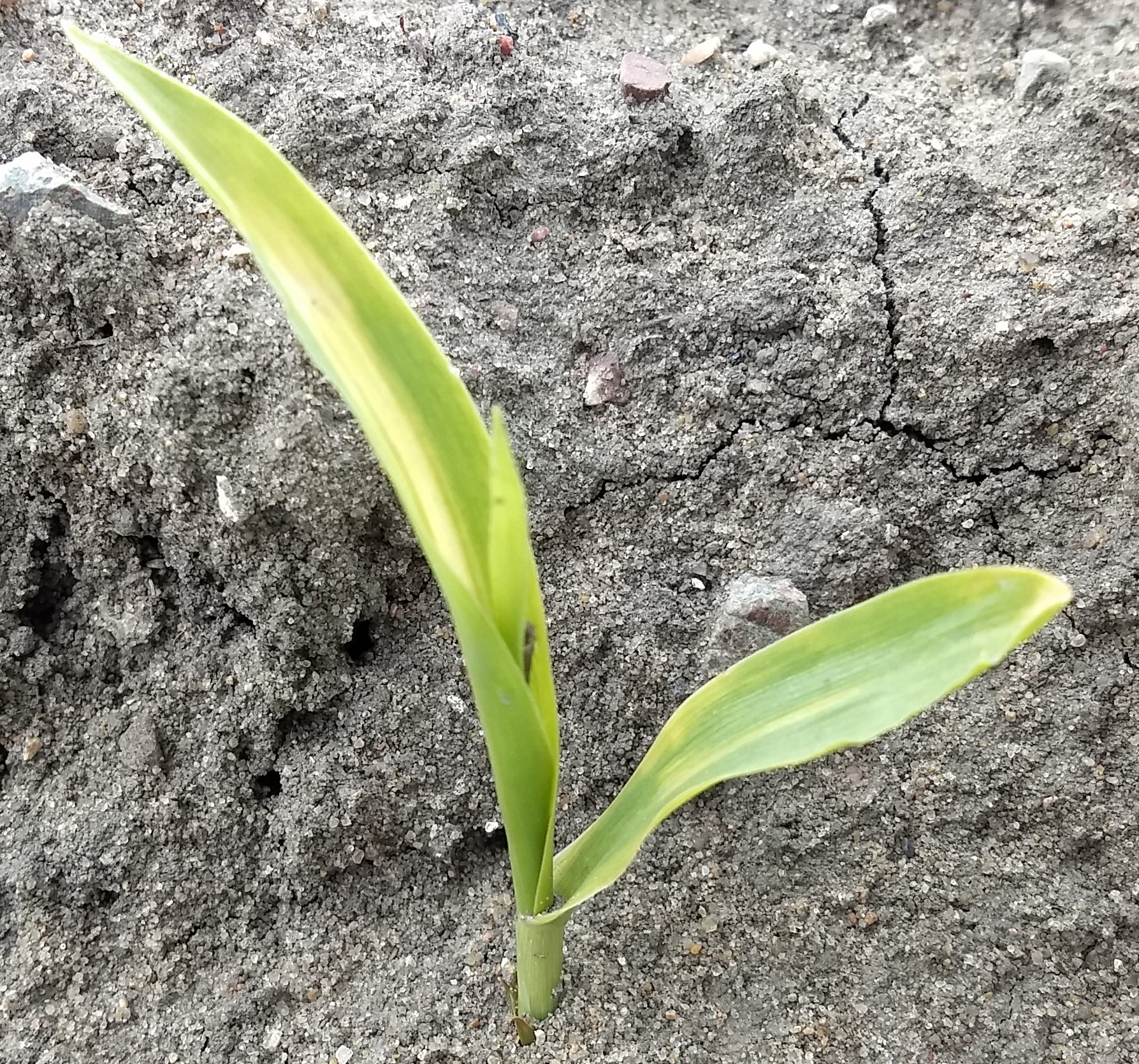 Tomatoes and peppers
One Bay County farm with tomatoes under row covers experienced some freeze damage that varied by cultivar and field placement.
Events
Food safety
Need your water tested for the Food Safety Modernization Act (FSMA)? Check out the Michigan Ag Water Lab Map.
On-Farm Readiness Reviews are designed to help fresh produce growers feel prepared and ready for a full implementation of the FSMA. They allow growers to walk through their operation with a small team of food-safety experts and discuss how to meet the new FSMA Produce Safety Rule requirements. Sign up for an on-farm readiness review.
Farm Supervisor Produce Safety Courses are being hosted through the MSU Online Learning Portal - D2L. They are self-paced and free. It will be available for farm supervisors starting July 19. Register here.