Michigan vegetable crop report – May 19, 2021
Cool-season crops, like lettuce, and warm-season crops, like squash, are now in the ground to different degrees on different farms.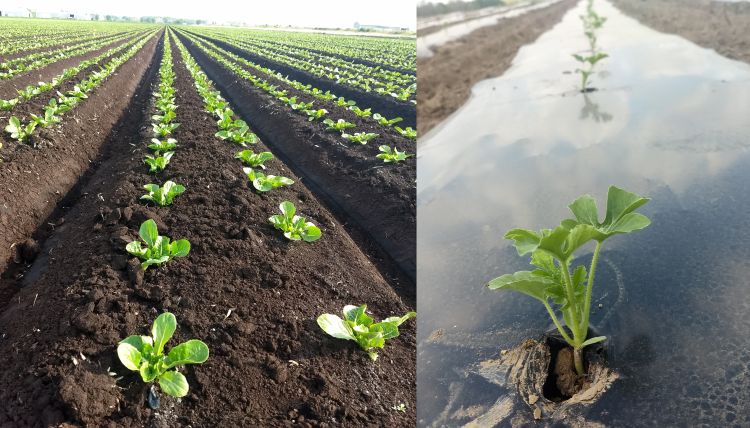 Weather
Watch Michigan State University state climatologist Jeff Andresen's weather forecast, or see highlights below.
Our dry weather was caused by a trough in the jet stream that parked cool air over us and kept Gulf moisture at bay. As a result, soil moisture in the top yard of soil is as low as 25% of normal in most of lower Michigan, a water deficit that will take above-normal precipitation to overcome. What other springs have started this dry? Looking back, this spring's precipitation has been most similar to 1983, 1984 and 1986.
Vegetables will need irrigation this week to avoid water stress. To date we have had dry soils but cool weather, which means water demand on the plant side has been lower. This will change as evapotranspiration rates climb along with temperatures this week, increasing a water demand that can't be met by the low moisture in our soils. See more on irrigation below.
We will see a big change this week as a ridge in the jet stream builds over the Midwest, bringing temperatures that are 15-20 degrees Fahrenheit above-normal. Highs will be in the mid to upper 80s for most of the state with lows in the 60s as we move into the weekend through Monday.
Precipitation is forecast to total 0.5-0.25 inches or less for most of the state over the coming week, with the exception of the Western Upper Peninsula. The next significant chance of widespread rain will come late Sunday into Monday.
Precipitation requires two ingredients: water vapor in the atmosphere, and a way of making it condense and fall. For many weeks now we've had low water vapor in the atmosphere. The change in the jet stream will bring us a return to southwesterly flow (= higher water vapor), but the Gulf moisture this brings will likely stay to our west in the near-term.
The medium range forecast reflects ridging in the jet stream, with near- to above-normal temperatures and above-normal precipitation forecast for May 24 through June 1. However, there is low confidence in the forecast for precipitation.
MSU's network of over 100 weather stations can be accessed at MSU Enviroweather.
There are several pest prediction models based on temperature accumulations at the new Enviroweather website: seed corn maggot, cabbage maggot, and European corn borer. Click on any of those pests to be taken to the model. Once there, change the Station to the one nearest you.
General crop management notes
Irrigation
Many farms have plastic and drip tape laid, but the tape is not yet hooked up to mains or submains and the ultimate water source. In a more typical spring, there is enough soil moisture beneath the plastic to get plants through for a while before getting the plumbing done. Unfortunately, not this year.
Black plastic mulches increase soil temperatures, and plant evapotranspiration goes up then too. Also, mulches of any color act as a physical barrier to rainfall once laid, and even if we get a lucky shower the plants will only receive a fraction of it through the transplanter holes. Fresh transplants going into plastic at this time are going to be ready to rock with summer-like temperatures above and below ground, and could become moisture stressed without the drip lines hooked up.
One way to temporarily reduce this effect with black plastic mulch is to spray the plastic with kaolin clay, like Surround. This will make the plastic appear white on top until the rain washes it off, which reflects more sunlight and does not warm the soil as much.
Bare soil producers could be in a similar situation with young seedlings chasing water, especially on coarse soils. In these situations, it can be beneficial to limit tillage prior to planting to keep soil moisture sealed under the topmost layer prior to planting.
If you were hoping to put off some irrigation decisions for later, and find that you are now overwhelmed, you might benefit from these resources:
Weeds
In dry conditions like we are currently experiencing, weeds do not grow that much either, but for growers who like to prepare stale seedbeds this is not necessarily desirable. We are not likely to see a weed flush with this dry weather, and when we do, many weeds will come up among the crops. If irrigation is already set up, and it makes sense for your time and money, you may choose to pre-irrigate before crop seeding or transplanting specifically to flush weeds for flaming or shallowly cultivating.
Also, many preemergence herbicides require some overhead watering from rain or irrigation to activate the chemical and we are not likely to see the conditions that promote this without running an irrigation rig.
Crop updates
Asparagus
Irrigation can help to cool spears and retain tip quality when (1) temperatures are high and (2) soils are dry. Irrigation water is cool, and water from moist soils cools the air as it evaporates. Dan Brainard's lab showed that irrigating with 0.25 inches can reduce air temperatures at 2 inches and 6 inches above the soil surface between 5-15 F. In a hot and dry period in 2016, they found this cooling effect lingered for 5-11 hour after irrigation at 6 inches above the soil, and 7-44 hours at 2-inch height . They observed up to a 50% reduction in spread tips when irrigation was applied during hot and dry harvest periods.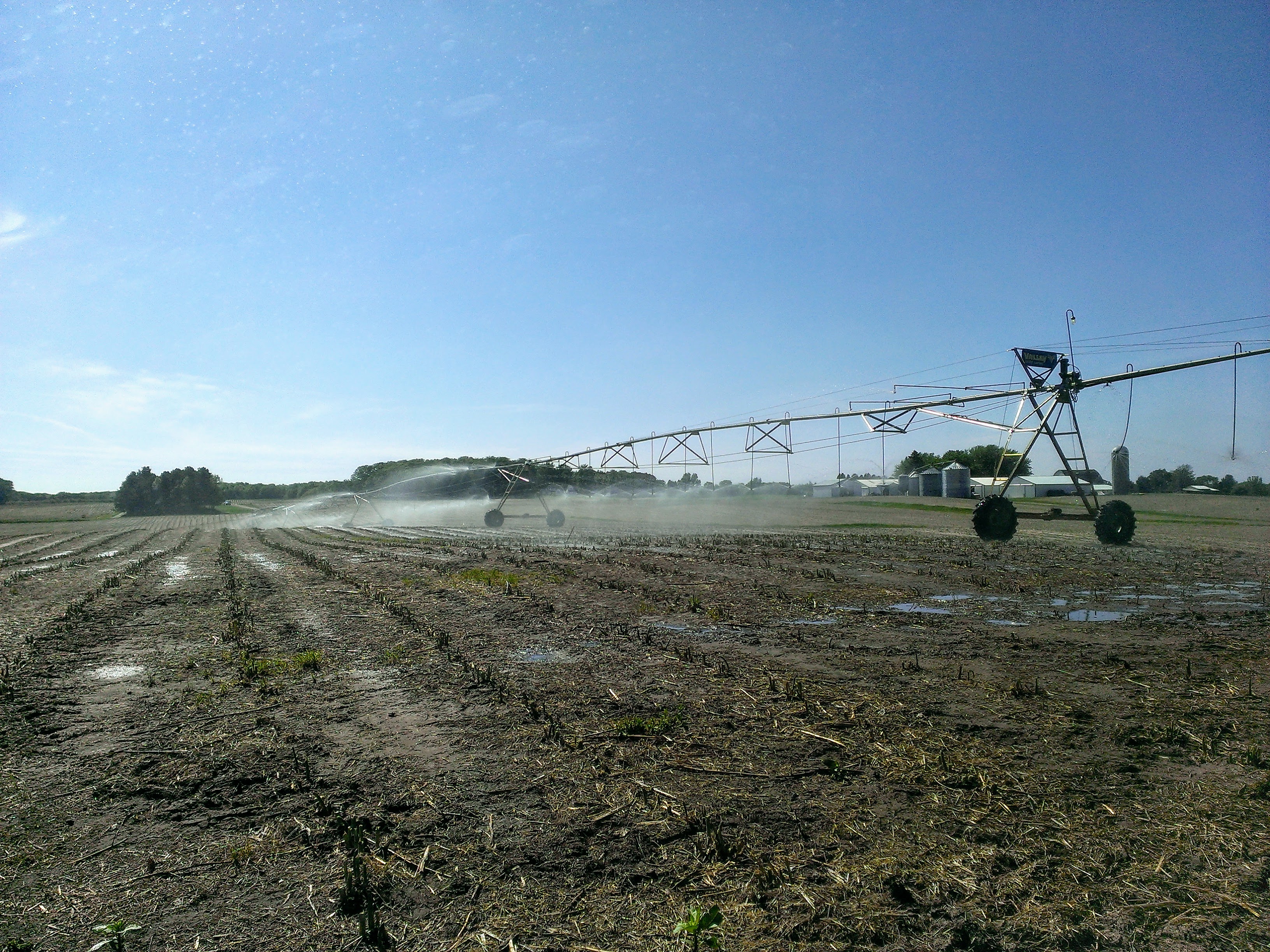 Common asparagus beetle was up and active as of May 17 in west central Michigan. Make sure to check fields for eggs and beetles. Some control options include carbaryl (one-day PHI) and Assail (one -day PHI). Azadirachtin (zero-day PHI) and pyrethrins (zero-day PHI) are labelled for organic producers, but their efficacy is less certain.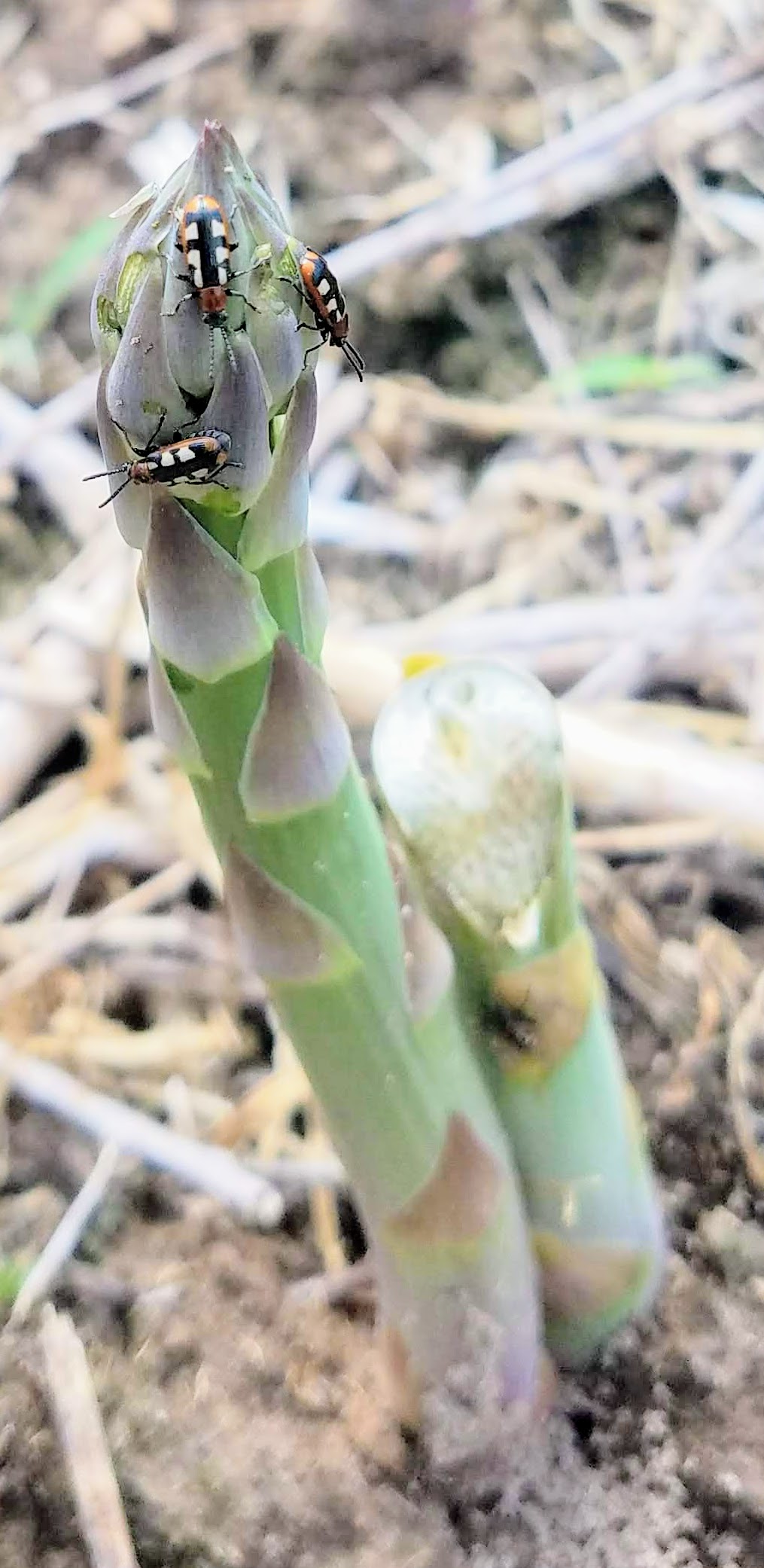 Things were relatively quiet on Monday, May 17, as asparagus growers were finishing working through freeze-injured asparagus. With the warm weather, growers are getting into good yields this week as new asparagus rapidly grows.
Something very strange has happened this year: early harvests at times had spreading tips, despite cool weather. One explanation could be that multiple freezes in a row stressed the plants.
One-year old fields that were unharvested had knee-high shoots at one location I visited. Some shoots had tips that were injured from the freeze. When this happens, new shoots develop below the injured tip, resulting in short asparagus with branching. Once these young plantings fern out, consider applying a cover spray of chlorothalonil or mancozeb to protect against foliar disease. Both rust and purple spot can develop early in young, unharvested fields.
Carrots
Cole crops
Egglaying by the spring flight of cabbage maggot should be peaking now, based on degree days at the Hudsonville, Grant, Allegan, Blissfield and Lapeer EnviroWeather stations. Floating row covers can provide good protection for organic growers. A tray drench of Verimark can be used as an alternative to chlorpyrifos for growers of transplanted brassicas. It is to be applied within 72 hours of transplanting, and has a 4 hour REI. It also provides early caterpillar and flea beetle control. Mustang Maxx can be applied weekly to direct sown, brassica root crops to reduce damage. Learn more here. Damage from maggots should become readily apparent in the coming one to two weeks.
Cucurbits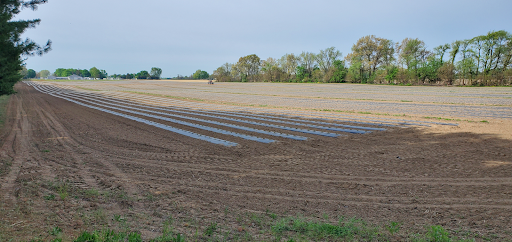 Transplanting has been underway across the state. Some early melons under vented plastic tunnels were exhibiting some interesting symptoms that are unfortunately hard to diagnose. Producing crops at the fringes of the season means that they experience things that they normally wouldn't. What I see in these plants is freeze damage, but other freeze-sensitive crops in nearby tunnels were not affected. So, heat stress is a potential factor here as well. Even with vent holes, it could get too hot for young transplants, especially if they were already stressed by something like low moisture, high sun, or damage in the transplant process.
Finally, these seemed to be worse on one end of the row, and so one other possibility is fertilizer burn from leaving the waterwheel spigot running while the transplanter unit was stationary or moving slow. Of course, it could be all three too! In any case, there will probably be some replants once the covers come off.
As cucurbit sowing starts, growers may wonder what seedcorn maggot risk is. One good indicator of risk is soil temperatures. Research at Purdue University has shown that once soil temperatures at 4" depth consistently (i.e., day after day) max out at 70 F or higher, the risk of damage from this stand reducer significantly declines. Management history also can affect risk, because female flies of this pest are attracted to decaying organic matter, such as newly incorporated cover crops (e.g., those incorporated three weeks or less before planting). Conventional growers of direct-sown cucurbits can obtain good protection with seed coated with the FarMore FI400 seed treatment package, which also helps with striped cucumber beetles.
Speaking of cucumber beetles, not all varieties of seed come with the FarMore FI400 package. If your seed is not treated with FarMore FI400, you can apply a neonicotinoid such as Admire Pro or Platinum to shoot for the same early, systemic protection. They can be applied through trickle irrigation, at planting with seeded cucurbits, and as a transplant water drench.
Lettuce
Both seeded and transplanted crops are in, and overhead irrigation is running routinely.
Onions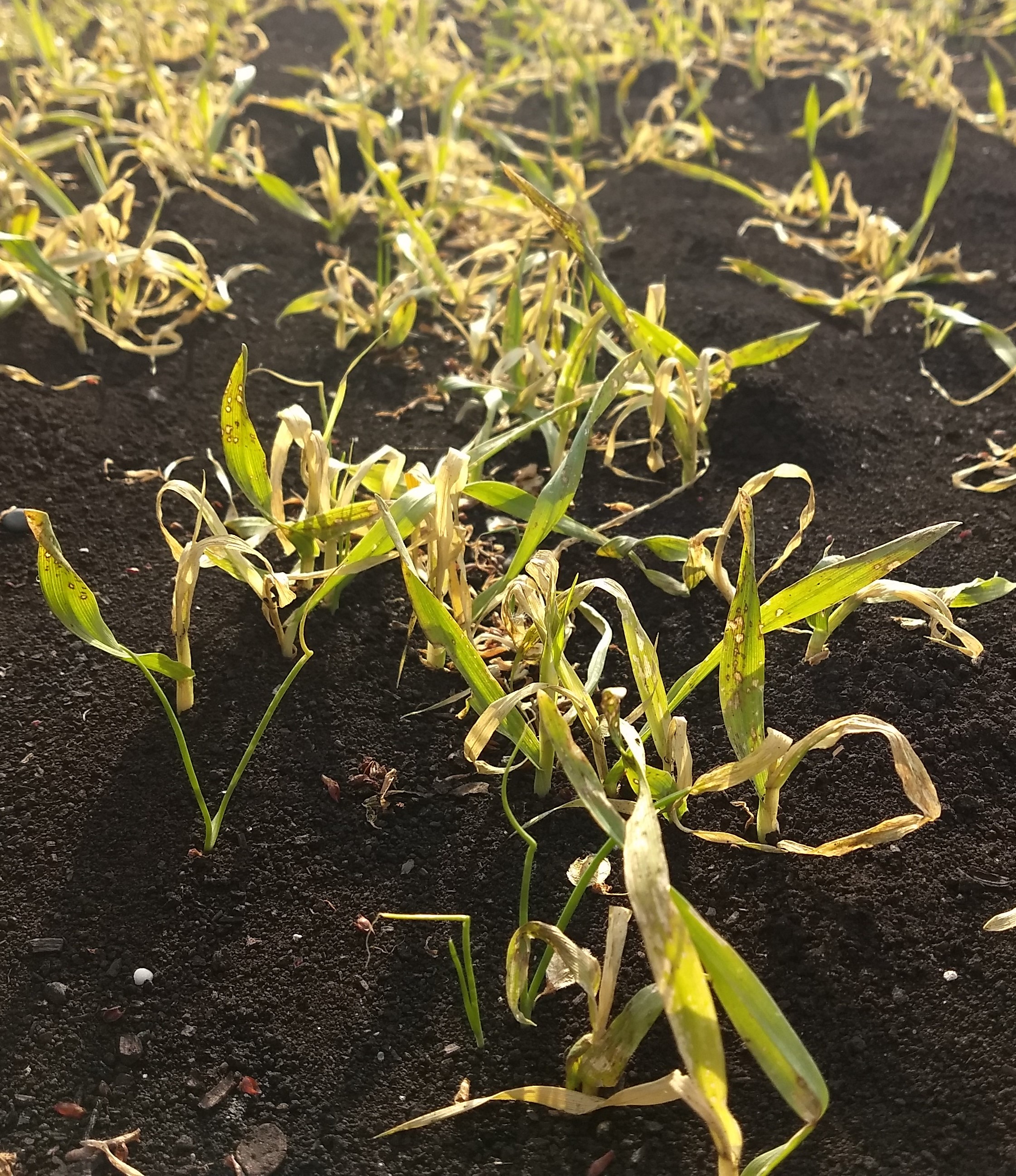 Potatoes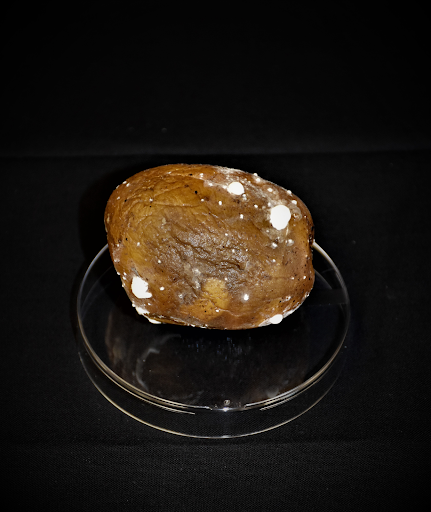 Cutting and planting is still underway. A small number of diseased seed samples have been sent to the lab. Potato rubbery rot (caused by Geotrichum candidum) was detected in one sample. This disease was recently reported for the first time on potatoes in Idaho. Signs and symptoms of this disease include white, "wart-like" fungal growth on the potato surface, rubbery tuber texture, and a "sour" or apple cider vinegar-like smell. Seed potatoes with rubbery rot symptoms may exhibit other secondary rots and poor germination. In wet or waterlogged soil conditions, infected potatoes may also serve as an inoculum source, enabling the fungus to reach other healthy tubers. Infected seed should not be planted.
Strawberries
There were multiple frost/freeze events this past week in southern Michigan. Many growers used overhead irrigation to protect open bloom multiple nights in a row. In these conditions, it can be difficult to keep fungicides on the plants for protection. If sprays are needed, use systemic options, and treat early in the morning for the most time for the plant to absorb the fungicide before the next watering. With bloom and bee activity, do not use insecticides. Cool wet conditions can favor angular leaf spot, a bacterial disease. The only effective bacterial controls are copper formulations. If flower buds are not open, growers should consider sprays to protect against strawberry clipper and tarnished plant bug.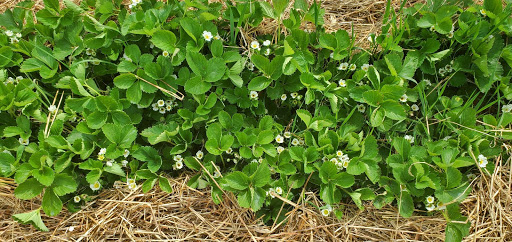 Sweet corn
Transplanted sweet corn under plastic high tunnels are at V4.
Tomatoes and peppers
Tomato transplanting was underway across the state this week.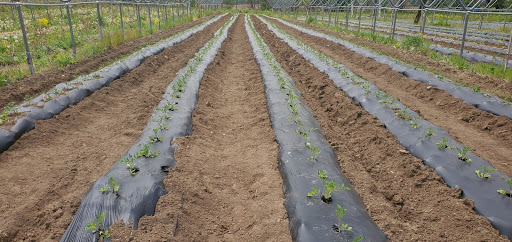 Beginning farmer mentorship
Get paid $15/hour for the time you spend charting a path to your farm's success with insights from one of seven amazing Michigan farmer mentors! You will be paired with a farmer whose farm experience matches your farm goals as closely as possible. The mentors include urban and rural growers and small and large-scale farmers raising pastured livestock, and sustainably-grown vegetables, cut flowers and fruit. Beginning farmers will focus on understanding and improving financial viability, environmental sustainability, work-life balance and community connections. Aspiring farmers will focus on how to find land, credit and skills to get started.
Sign up ASAP for the first June 17 and June 24 Mentee-Mentor Meet & Greet dates. Space is limited to 14 mentorship participants at this time. Visit the Michigan Sustainable Farm Mentors website or email brandtk7@msu.edu for more info.
Events
Food safety
Need your water tested for the Food Safety Modernization Act (FSMA)? Check out the Michigan Ag Water Lab Map.
On-Farm Readiness Reviews are designed to help fresh produce growers feel prepared and ready for a full implementation of the FSMA. They allow growers to walk through their operation with a small team of food-safety experts and discuss how to meet the new FSMA Produce Safety Rule requirements. Sign up for an on-farm readiness review.
Farm Supervisor Produce Safety Courses are being hosted through the MSU Online Learning Portal - D2L. They are self-paced and free. It will be available for farm supervisors starting July 19. Register here.