Michigan vegetable crop report - May 4, 2022
Early season innovations, frustrations and warmer weather ahead.

Weather
Watch Jeff Andresen's weather update.
Mean temperatures were 3-8 degrees Fahrenheit below normal over the past week with wet weather, though northwest and southeast Michigan were drier. Degree day totals are several days to two weeks behind normal moving from southern Michigan to the Upper Peninsula. Soil moisture is in the 80-90th percentile.
Above-normal temperatures are coming once we get into next week. This includes warmer overnight temperatures , which will drive soil drying and insect development. The forecast calls for:
A fair, cool and dry Wednesday and Thursday. Scattered light frost possible Thursday morning.

Rain developing southwest Thursday evening and spreading across the south Friday. Continued fair and dry north through the weekend.

Rain possible again statewide Monday and Tuesday.

Precipitation totals of 0.25-1 inch are forecast for the next week with higher totals to the south.

Temperatures gradually warming from highs in the 40s north, 50s south Wednesday to the 50s-60s by Friday into the weekend. Lows warming from the 30s Thursday to the 40s this weekend.

Medium range guidance suggests a very strong chance of warmer than normal temperatures much of next week.

How long will this warm up last? RIght now, best guess is about a week.
Field preparation
Tarps were coming off, plastic was being laid and rye windbreaks were being established last week across the state. It is interesting to see how this is done differently due to soil textures. In clay loams of Bay County, rye strips are measured out and planted in the fall with ground worked between them for winter mellowing. In the sands of southwest Michigan, entire fields are planted to rye and the middles are sprayed off or disked to create strips in spring.
Greenhouse management
Michigan State University's Dave Smitely and Mary Hausbeck have updated their greenhouse insect and disease management recommendations for the 2022 greenhouse season. Pay special attention to individual labels as they relate to vegetables and herbs. The crop's end-use influences labeling.
Wildlife management
Turkey season is now, but many wish that deer were still the targets. In southwest Michigan, several growers installed fences in the last two years and have remarked that it should have been done sooner. Currently, supply chain issues are preventing further installations. Not budgets.
Temporary, electrified, three stranded "3-D" fences are one quicker-to-deploy solution that may be helpful. West central growers have used these when and where permanent installations are not feasible. Check out a nice video here: Electric Fence Designs for Deterring White-tailed Deer. It's important to erect these before deer find out there is tasty food inside. They are not foolproof. Listen to a podcast about wildlife.
Maggots - what's the Delia?
Three different maggots - seedcorn maggot, onion maggot and cabbage maggot - cause early season issues. While they all look the same, they have very different biologies. Seedcorn maggot bears special mention as it is active now. Flies lay eggs into soil with freshly decaying organic matter-read newly incorporated cover crops or organic amendments. Maggots hatch and feed on organic matter and, unfortunately, on innocent seeds. Key management strategies include (1) incorporating cover crops 2.5 to three weeks ahead of planting, (2) using an effective seed treatment and (3) planting once soil temps consistently reach 70 F at a 4-inch depth. Learn more about seedcorn maggot.
Crop updates
Asparagus
Growers were busy spraying rye cover crops late last week and early this week. This Monday, some farms were mowing off the dead rye and applying preemerge herbicides, while others were targeting later this week. Consider that graminicides like Select, Poast and Fusilade have a one-day preharvest interval (PHI) and can be used to clean up rye escapes.
Reactive sprays of permethrin are highly effective for cutworm control. How can you scout to nip issues in the bud? Speaking of nipping the bud, white cutworm is the first species to look for. It overwinters as a partially grown larva, and is ready to go in spring even at cool temperatures. The risk of damage is highest when spears emerge and "sit there" during cool weather. Risk is lower when they rocket out of the ground. To scout, look for spear tips that were nipped by this climbing cutworm. Like many cutworms, it feeds at night, so you won't see it during the day. To "confirm the worm" dig around in the top few inches of soil around the affected spears.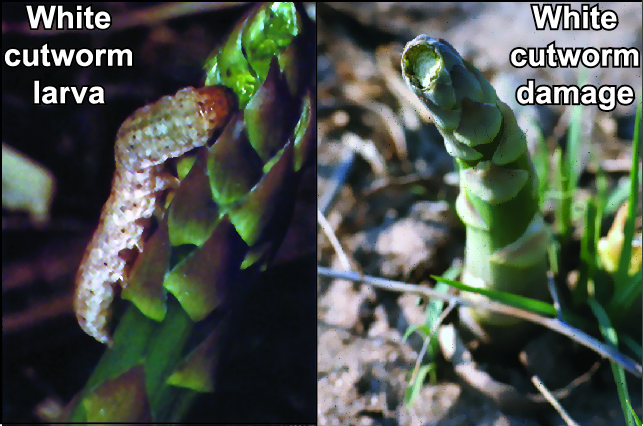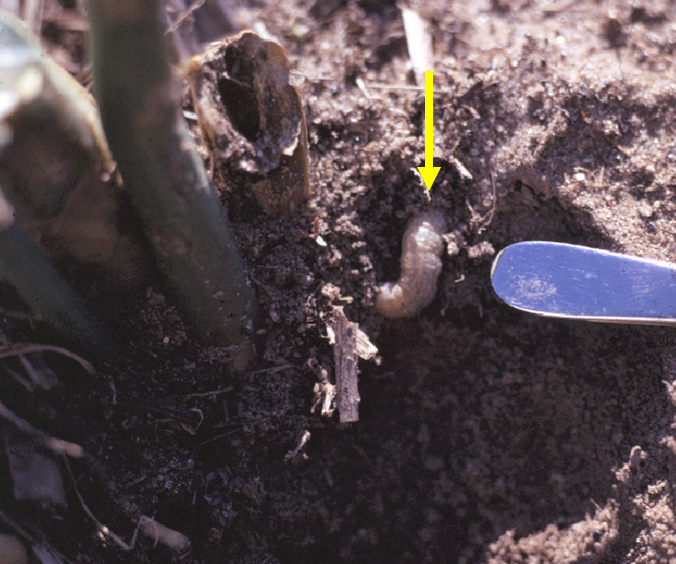 A few quick notes about cutworm products. First, past work showed that another labeled material - Lannate (active ingredient methomyl) - is not as effective as permethrin. Also, if you use up one of your permethrin applications for cutworm, consider that Assail (active ingredient acetamiprid) can be used during the fern season and carries tarnished plant bug, Japanese beetle and asparagus beetle on its label.
As of Monday, May 2, west central growers were expecting some harvest to start around Mother's Day. This is roughly consistent with our forecast based on soil temperature data. For Millennium in the Hart, Michigan, area, our model predicts emergence around May 11, with commercial harvest beginning shortly after that. Spear emergence could occur earlier in Oceana County in fields with south facing slopes, shallow plantings or earlier varieties like Eclipse or Sequoia.
Carrots and celery
Carrot sowing continued in west central with a pause due to rain. Planting of these dicing varieties will hopefully race to the finish line in coming days.
Early celery was out when and where it was dry enough to plant, while wet weather slogged things down and backed up greenhouses. Got smartweed? Applying a good preemergence herbicide around transplanting can help suppress new germination. Most of preemergence herbicides can suppress this weed, though Zidua may have more activity than others. Post transplant burndowns will be most effective when smartweed seedlings have about two leaves or less, once they are larger they are difficult to kill. Typically, weeds are in this sweet spot within three to four weeks of transplanting. After this they may be tough to kill.
Cole crops
More cole crop transplants were going in this week, and large-scale early plantings of turnips and radishes are up and waiting for warm weather to take off.
Cabbage maggot flies are expected to emerge over the next seven days at the Grant, Hudsonville, Fennville, Allegan and Lapeer Enviroweather stations. Cabbage maggot activity was expected to begin this week at the southerly Dowagiac and Blissfield Enviroweather stations.
What does emergence mean? Emergence happens when flies exit pupae (fly versions of a cocoon) that are underground in last year's brassica fields. Female flies then seek out host plants where they lay their tiny eggs. Early risers may be getting up now, but as temperatures warm, more and more flies will emerge in the coming weeks, with activity and egglaying building to a peak, which typically occurs in late May in west central Michigan. We can predict the start and peak of this first "hill" of maggot pressure using weather data. Check out the cabbage maggot Enviroweather model.
Eggs laid by these spring-emerging flies hatch to rise to first generation maggots. The peak of this first generation is most problematic; as it passes and we get into June, crops like cabbage seem less bothered by cabbage maggot. Unfortunately, turnips and rutabagas can be bothered all year.
So what to do? Small-scale growers can use floating row cover to get plants past this problematic first peak. Larger-scale cabbage growers can use tray drenches of Verimark – applied within 72 hours of transplanting – for cabbage maggot. This application can also provide early caterpillar and flea beetle control. If this is not possible, repeated applications of Mustang Maxx can also reduce damage, and could be initiated once plants have about two to three leaves. A new 2(ee) label describes this use.
Root crop growers can consider applying Verimark as an in-furrow application. This can be followed up by regular (at least weekly) applications of a pyrethroid, initiated once flies emerge; the active ingredient zeta-cypermethrin consistently reduced damage in Michigan State University trials. This active ingredient is in the products Mustang Maxx (one-day PHI) and Hero (21-day PHI). A follow up drench of Radiant or Exirel could be considered during the period of peak fly activity. Read more about this in "Controlling cabbage maggot in turnips with the Lorsban ban" from Michigan State University Extension.
Greens
Lettuce field-transplanting continues. Hoophouse leafy green harvests are continuing from fall and late winter plantings. However, this is the time when temperature and daylight tend to move spinach and other greens, like mizuna and arugula, into a reproductive phase. So, new seedings are being established for spring harvest.
Onions, garlic
Pause-plant-dig ditches-pause-plant-shiver. West central growers had finished onion sowing, or were hoping to do so over the upcoming week, with wet cold weather delaying planting and keeping early sown onions from progressing much. If you've got a "mud" day, take a break and read this 2019 article on weed control in direct-sown onions from MSU Extension.
Growers in Bay County reported issues getting sweet onion transplants out of Texas again this year and had to scramble to source plants elsewhere. Plant quality was poor from a delayed delivery, but plants are rooting and looking better.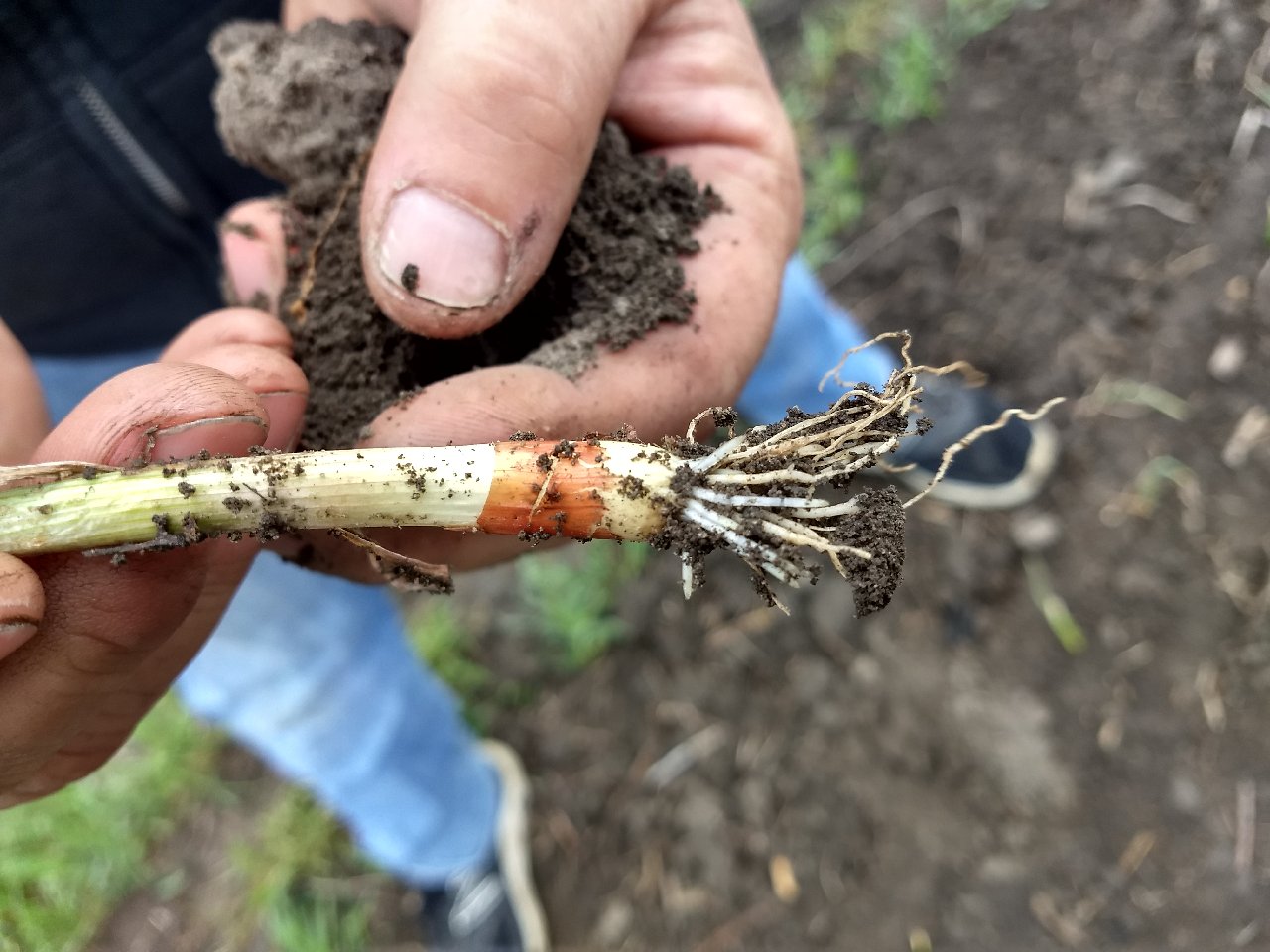 Sweet corn
First sweet corn plantings were seeded this week in Genesee and Lapeer counties, as well as on some west central farms.
Strawberries
Mulch is off and herbicides have been sprayed, but flower buds in Bay County matted-row strawberries are still tucked away.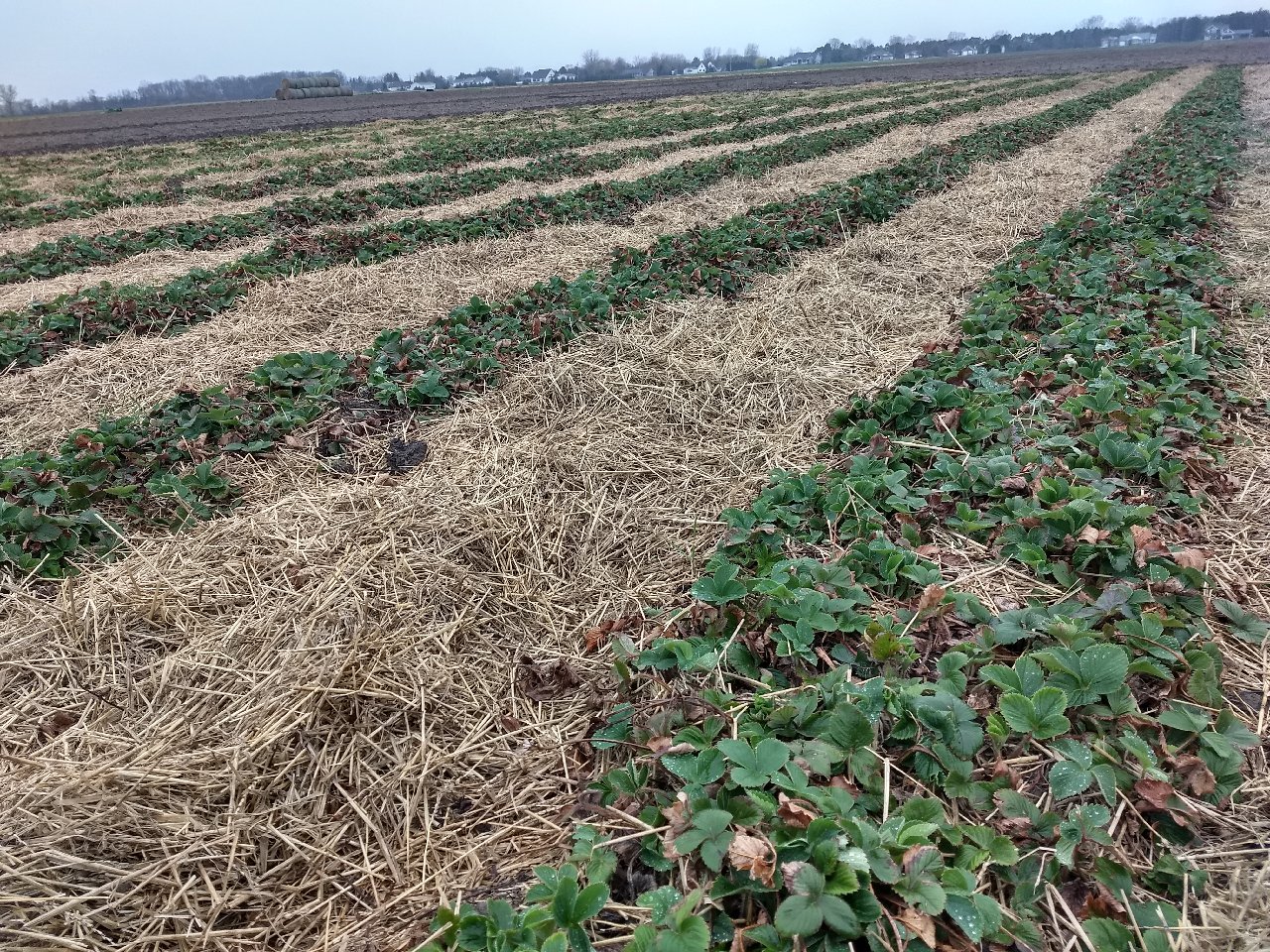 Fruiting vegetables
Mulch is being laid in southwest Michigan in preparation for warm season crops like tomatoes, peppers, squash, cucumbers and melons. Some growers feel behind in this process.
One hoophouse grower was happy with some new T-post and chain link trellis stakes they designed this winter. They are tall because they were tired of adding extenders to their standard stakes as plants outgrew them, and are cross-braced with line to each extra-tall hip board. They have hooks on them because they were tired of reaching over increasingly taller plants to wrap string around the plants and stakes, and instead will be wrapping string around the hooks on each side of the plants.
Now is the time to minimize risk of field-season canker issues. Greenhouse transplants may appear to be healthy yet harbor high populations of the bacterium Clavibacter michiganensis subsp. michiganensis, the causal agent of bacterial canker. Tomato transplants that are diseased coming from the greenhouse can develop severe disease symptoms in the field. Infection by C. michiganensis subsp. michiganensis can result in plant wilting, stunting, reduced yields, and plant death. Less severe disease symptoms include marginal leaf browning that may be bordered by yellow tissue, and fruit lesions of superficial white spots (3-6 millimeters) that develop a brown center.

The bacterial canker population must be suppressed during the time that the transplants are in the greenhouse. Research at Michigan State University has clearly shown that transplants with bacterial canker produce yields reduced by at least 50%. Applications should begin in the greenhouse rather than in the field. Sprays of copper bactericides can be used alone or be combined with streptomycin (available as Agri-Mycin 50) and sprayed to glisten on tomato transplants in the greenhouse. These sprays can limit the bacterial population size and spread and decrease yield loss. The sprays should begin early, as soon as the first true leaves develop, and then reapplied frequently (every five to seven days) during the time that the transplants remain in the greenhouse. There are few strategies to manage bacterial canker after symptoms appear in the field, but growers can apply copper bactericides. Agrimycin cannot be used in the field.
Events
---
This work is supported by the Crop Protection and Pest Management Program [grant no 2021-70006-35450] from the USDA National Institute of Food and Agriculture.