Michigan 4-H education teaches youth important life-skills
Youth are gaining valuable life-skills through their Michigan 4-H science projects.
Education is the gift that keeps on giving.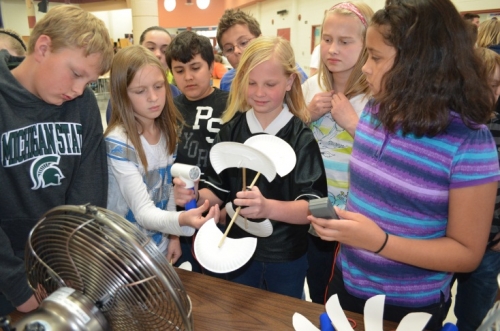 There is a snowball effect that occurs once the "education ball" gets rolling and gathering momentum. A great example of this is "4-H Science Blasts" in the class. Michigan State University (MSU) Extension works with local schools, teachers, administrative staff and community partners to train seventy student leaders this past spring in Cheboygan County. The idea was to teach teen leaders, and in turn, these teen leaders would teach their peers more about 4-H hands-on, inquiry based science.
In the end, the seventy teens taught more than seven hundred of their peers, leveraging MSU's investment in 4-H youth science education ten-fold. In this instance, youth learned more about alternative energy by helping to lead the 2012 4-H National Youth Science Experiment, "Wired for Wind."
Evaluation from the adult volunteers and students who participated in these youth led 4-H Science Blasts were impressive:
100 percent of adult participants agreed that youth learned something new during the event
95 percent of adult participants agreed that youth appeared to gain interest in science because of the event
73 percent of adult participants agreed that youth were interested in the activities conducted, and as a result, they will look for more opportunities for them to be in 4-H science projects or clubs
90 percent of adult participants agreed that they have a greater understanding of science resources and learning opportunities provided by MSUE 4-H
90 percent of adult participants agreed that in future, they plan to use 4-H as a resource for science education
92 percent of youth participants agreed that they learned something new
97 percent of youth participants agreed that the science activities that they participated in were fun and interesting
77 percent of youth participants agreed that they would like to get more involved in 4-H Science
Some may say, "So what? Why does this matter in my community?"
Clearly the answer lies in the value we place on community, and the capable youth who not only set the pace today, but will shape the future. Simply put, what society invests in our youth, is what we will get back.
In Cheboygan County, MSU Extension staff have seen an increase in life-skills (critical thinking, decision making, problem solving), increased interest in technical careers, Green School designations that may lead to increased funding for sustainability projects, increased youth leadership/entrepreneurship, increased interest in science related careers, increased awareness regarding where food comes from, healthy food, nutrition and physical activity, and increased partnerships and volunteers offering assistance in mentoring youth.
Additional information regarding Michigan 4-H Science can be accessed online.
For more information on getting involved as a youth or volunteer, contact your county MSU Extension office or Melanie Chiodini,MSU Extension educator, at 231-627-8815.
Photo: Students test their wind turbine designs. Using inquiry based learning, student designs were original – no two teams came up with the same idea.