Michigan 4-H Animal and Veterinary Science Camp enlightens participants about careers
2017 camp participants expressed their enthusiasm on their potential future careers.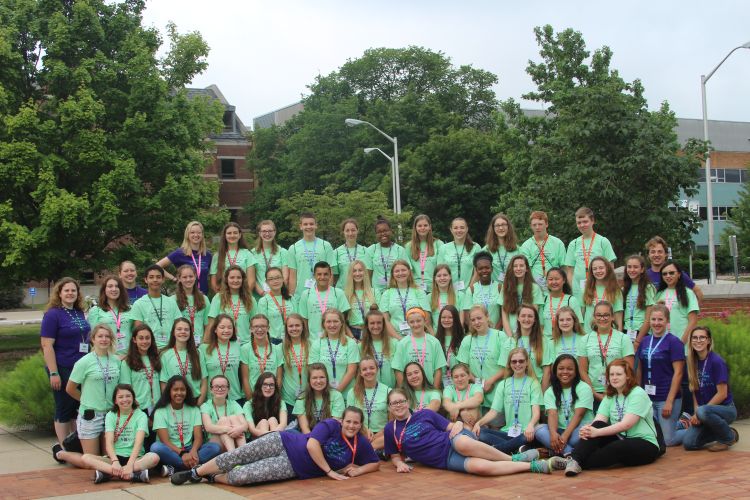 The fourth annual Michigan 4-H Animal and Veterinary Science Camp was held June 26 through June 30 at Michigan State University (MSU). Fifty youth, ages 13 to 16, were selected out of the 186 applicants to attend the camp. Campers stayed on campus in MSU's residential housing and attended classes in campus buildings. This campus experience provided a glimpse of college life with animal and veterinary science based content.
Throughout the camp, participants were able to learn about how many career options were available for their futures. Numerous questions were asked of the speakers and staff in assisting participants in their search of a career in agriculture. Various speakers including CANR recruiting, Honors College advising and College of Veterinary Medicine advising gave advice to campers on steps to take in high school and in college to reach their goals. Several participants are very interested in going through the process to become a veterinarian while others are considering their futures in other areas of agriculture.
The campers are best at describing the impact of the week-long camp, as is demonstrated by their responses to interview questions at the end of the event.
1. What impact has attending this pre-college program had on your future?
"It has shown me many different career options that I can do with animals and opened me more into the vet world. It helped me decide whether being a vet is what I want to do."
"I am thinking about becoming a vet tech because I realized they really do a lot."
"This pre-college program informed me of a variety of career paths and options I had previously never considered, such as a military veterinarian. The opportunities within this program also expanded my horizons by allowing me to stay on a large campus, see the facilities in which I could work and being able to ask questions of people involved currently or previously within the program."
"This program has really helped me get a good understanding on what being a vet really means. It revealed so many more ways to be involved with animals besides being a veterinarian. I can say for sure that I gained the confidence in what I want to do when I'm older. It just further secured my liking to the career I want to pursue."
2. How was this camp beneficial to your understanding the field Animal Science and related careers?
"It's beneficial to my understanding of animal and science because I didn't know that you could major in animal science if you wanted to be a vet. I thought you only had limited options. I wasn't aware that there were so many career choices."
"This camp really opened my eyes as to how many career choices there are that deal and work with animals. This camp extended my interests into animal science careers by discussing many different options."
"I was able to explore career options that I never thought I would find interesting, but I loved them."
3. Overall, what was the most interesting piece of information you learned during camp?
"The thing I most enjoyed learning about was the cows. Reaching into the cannulated cow was a fascinating experience. It was really life changing!"
"The most interesting thing I learned was when talking to the zookeeper. I never realized how intimate you can get with your exotic animals. I also found out they don't get paid a lot."
"I learned a lot on ways to help plan for the future and what I should or shouldn't do."
"The most interesting thing to learn about was about how horses are 10 times better athletes than humans."
4. What skills do you feel you learned during camp?
"During camp, I feel I learned how to be more social. I am normally very awkward and shy, but I opened up, and I was able to make three new friends."
"I feel like I learned to be a better group worker, especially with people that I don't really know very well."
"I learned leadership, team work, friendship, communication and note taking skills. Many skills were also built upon that I had before."
5. How has this camp impacted you?
"This camp has impacted me a great deal. I know of so many more careers in the agricultural industry. I can share so much more information with people that I learned at this camp."
"This camp opened my eyes into the world of vets and showed me things I did not know, and I have met a lot of new things about animals and vets."
"This camp has impacted me in many ways but mostly that when I have points in my life that I feel I am not cut out for it, that it is okay. Everyone has points where they feel that way."
"It taught me how to be more independent. It showed me I can make choices, and the choices I make will not always be bad."
"It made me think more about college and what I want to do in the future. This camp has impacted my knowledge about animal science fields and the paths to take to get there."
"This camp has really helped me understand what I want to do in the future. With that understanding, I will strive to get into veterinary medicine at MSU. With my career and what I know now, I plan to benefit the world by preventing and treating disease."
"This camp may not have changed me, career-wise, but it has changed me mentally and emotionally. I have made friends and been more outgoing than I have ever been. I made some great friendships and relations with other people that I have never met before."
"This camp has really opened me up to career opportunities, and to feel better about having and making a back-up plan. I also made a ton of friends."
"It has taught me that there are more options to work with animals than a vet.
The five-day Spartan Pre-College program is in partnership with MSU Extension, MI 4-H Youth Development, MSU Department of Animal Science and MSU College of Veterinary Medicine. Numerous faculty, staff, students and governmental workers volunteered to assist with the camp. Thank you to the event sponsors, MSU College of Veterinary Medicine, MSU Department of Animal Science, and Michigan Milk Producers Association for making the event possible.
For more information about the camp, visit http://msue.anr.msu.edu/program/info/4_h_animal_veterinary_science_camp or contact Julie Thelen Conover, MSU Extension Educator in Livestock and Veterinary Science, at thelenju@anr.msu.edu. Applications for the 2018 camp will be available this fall.
Michigan State University Extension and the Michigan 4-H Youth Development program helps to create a community excited about STEM (Science, Technology, Engineering, and Mathematics). 4-H STEM programming seeks to increase science literacy, introducing youth to the experiential learning process that helps them to build problem-solving, critical-thinking and decision-making skills. Youth who participate in 4-H STEM are better equipped with critical life skills necessary for future success. To learn more about the positive impact of Michigan 4-H youth in STEM literacy programs read our 2016 Impact Report: "Building Science Literacy and Future STEM Professionals."