Michigan 4-H members compete in the National 4-H Dairy Cattle Judging Contest
Four youth prepare for their final contest as 4-H members during World Dairy Expo on Oct. 3, 2016.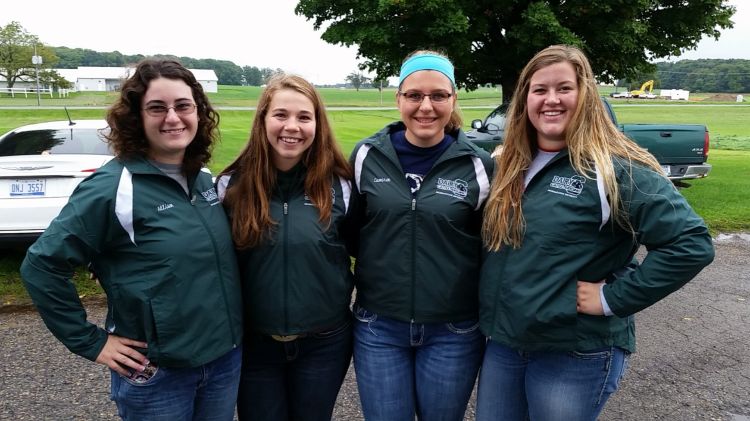 For hundreds of Michigan youth over the past 20 years, every Saturday from August through October has been spent on a dairy farm somewhere in the state evaluating cattle. This is how late summer and fall goes for youth who competed at the Michigan 4-H State Dairy Judging Contest. This contest, along with three other educational events, is held during 4-H Youth Dairy Days every July. Youth who placed in the top 25 individuals in the senior division earn the opportunity to attend additional judging practices and potentially represent Michigan on a four-person team competing at a national contest. The three contests Michigan 4-H members may travel to are the All-American Dairy Show in Harrisburg, Pennsylvania; World Dairy Expo in Madison, Wisconsin; or the North American International Livestock Exposition in Louisville, Kentucky.
All three of these judging contests present numerous opportunities for youth to grow. Youth involved in dairy cattle judging increase animal science knowledge by learning about ideal cow conformation and physiology, as well practicing life skills such as decision-making, public speaking and building confidence. The National 4-H Dairy Judging Contest is one of the 4-H educational events that takes place during World Dairy Expo each year. As the contest celebrates its 95th anniversary, four Michigan youth who have spent years practicing and learning are ready to set foot on the colored shavings for their time in the contest.
Cameron Cook (Pewamo, Michigan), Lauren Heberling (Carsonville, Michigan), Madeline Meyer (Ionia, Michigan) and Allison Schafer (Westphalia, Michigan) are the youth representing Michigan in the 2016 National 4-H Dairy Judging Contest. Each team member has competed in at least one other national judging contest and is excited for the chance to compete on the national stage once again. For these youth, this will be the final contest of their 4-H dairy judging careers.
Cook, who has been judging for eight years, reflects on her experiences leading up to Madison. "I have been looking forward to judging in Madison since I started. This has been a goal and dream of mine for a very long time and for it to finally be here makes me ecstatic. Judging has taught me how to come out of my shell and be a very confident person," Cook said. "Other people should do dairy judging because it not only helps you build your confidence, but it helps with public speaking and decision-making skills. I think the biggest reason to start judging would be the opportunities it presents. I have had the opportunity to meet so many great people in the industry and build friendships that will last a lifetime! Judging also opens many doors for traveling. I have traveled all around Michigan judging at different farms and around the U.S. to different contests."
"I started judging because I wanted to try something new and little did I know that judging would quickly become a part of who I am," Schafer said. "Judging has taught me how to be better public speaker and how to back up my decisions. Judging has also increased my confidence level and helped me feel comfortable trying new things. Because of this, many more opportunities have opened up for me. That is why I would encourage others to start judging. There are so many opportunities that will open up and don't be afraid to take them! Looking ahead to Madison, I can't wait to walk on those colored shavings knowing I have a great team at my side and that we have worked hard to get there."
Heberling is relatively new to dairy judging, having only been competing for two years. Heberling recalled, "I started dairy judging through FFA, but I also filled out 4-H cards since I am a 4-H member. I placed 11th in the 4-H contest and was invited to more workouts, and have been involved in dairy judging ever since."
When thinking about what judging has taught her, Heberling continued, "I think the thing I love most about judging is the friends I've made and networking opportunities. I've made so many close friends, met so many people, and made connections with professionals in the dairy industry that I never would have if it were not for judging. Judging has taught me you can do anything you put your mind to, but it is absolutely not possible alone. There is no way I would have come as far as I have if not for the friends I have pushing me and coaches that challenged me to be better. I recommend people try dairy judging because it teaches you so many things from public speaking skills, observation and critical thinking skills, and introduces you to a wide range of people and experiences within the dairy industry. I'm so excited to go to Madison!"
"I absolutely love dairy judging, nothing else has taught me so much or taken me so far," Meyer said. "I've met my best friends through judging, and I call them family. Because of judging, I can stand up and defend my decisions, and it's taught me to love learning new things I wouldn't have been open to otherwise. I'm really pumped to be going to Madison because it's something our team has been working towards for a really long time. Now is our chance to make Michigan proud. I am extremely blessed to have all of the opportunities through dairy judging, and I hope that other 4-Hers try it too so they can have as much fun as I have had."
Coach Joe Domecq, academic specialist in the Michigan State University Department of Animal Science and coordinator of the Institute of Agricultural Technology Dairy Management Program, said, "Competing at the National 4-H Dairy Judging Contest is a tremendous honor. All of these young people have worked very hard to earn a place on this team. More importantly, they have all grown so much because of the experiences they have had leading up to the contest."
Michigan has had great success at this contest, with the 4-H team winning the contest in 2014, 2012, 1980, 1952, 1948 and 1940. The winning 2012 and 2014 teams were invited to compete at an international contest in England, allowing for a once-in-a-lifetime experience to increase life skills and global competencies.
Dairy judging is a great way for youth to increase science skills. MSU Extension and the Michigan 4-H Youth Development program help to create a community excited about STEM (Science, Technology, Engineering, and Mathematics). 4-H STEM programming seeks to increase science literacy, introducing youth to the experiential learning process that helps them to build problem-solving, critical-thinking and decision-making skills. Youth who participate in 4-H STEM content are better equipped with critical life skills necessary for future success. To learn more about the positive impact of Michigan 4-H youth in STEM literacy programs, read our 2015 Impact Report: "Building Science Literacy and Future STEM Professionals."