Michigan 4-H members share youth voice in Washington, D.C.
Michigan 4-H State Youth Leadership Council members shared insights with federal government officials during 2017 National 4-H Conference.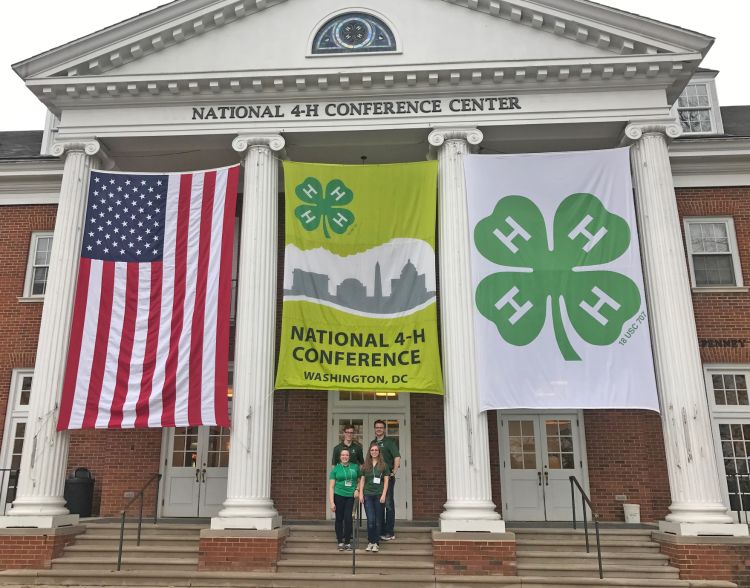 Each spring, Michigan 4-H Youth Development sends a small delegation of some of its most prestigious youth leaders to the National 4-H Conference Center in Chevy Chase, Maryland, to attend the National 4-H Conference at the nation's capital. Four members of Michigan 4-H's State Youth Leadership Council joined over 300 youth from 43 states representing 46 land grant institutions at this event in 2017.
During this intensive five-day event, youth from across the United States gather in one of 16 roundtable groups, each assigned to work with a federal agency and answer a question posed by the agency. Youth work with their peers to prepare a presentation for federal agencies to provide authentic youth voice on projects with which the agency is currently working. This year, youth-driven roundtables tackled topics ranging from social equity to wind energy to youth careers in agriculture. They presented social media campaigns, logos and proposed programs to the agencies.
In addition to working in roundtables, youth attend competency building workshops on communication and conflict and power, influence and authority. While very much considered a working conference, youth have a limited amount of time to tour monuments and spend a full day on Capitol Hill meeting with their congressmen and staff.
Piper Pantalone, 4-H member from Oakland County, reflected on her experiences. "The most meaningful part was being able to share our thoughts with our representatives—they were so willing to listen to the youth in their area and they made sure we knew we were being heard," said Pantalone. "I [gained] some insights on future career opportunities. Being in D.C and looking at the life there, it is making me rethink what I want to do and it has thrown another option in the bowl."
Tom Purves, 4-H member from Oakland County, stated, "Because of [National 4-H Conference] I learned that I can make my voice heard on the national level of government. I have realized just how of an open place [Washington, D.C.] really is. Not only did this experience help me establish a firmer footing on a career path, but it also provided me with a strong group of lifelong friends!"
Only members of the Michigan 4-H State Youth Leadership Council are eligible to attend this event. More information about this council is available in previous articles found at Michigan State University Extension's State Youth Leadership Council page. Applications will be open for the 2018 Michigan 4-H State Youth Leadership Council in September 2017. Contact 4-hleadership@anr.msu.edu for more information.