Michigan 4-H robotics workshop a success
Adult and teen 4-H leaders gained knowledge in "4-H Science: Asking questions and defining problems" at recent 4-H robotics workshop.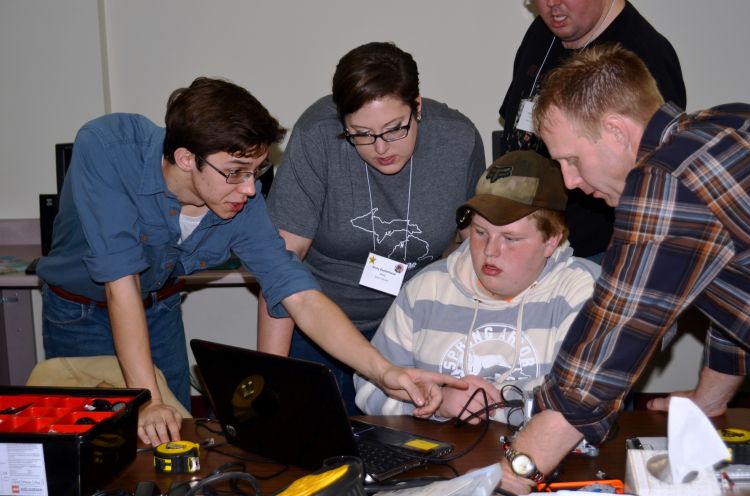 The first ever Michigan 4-H Robotics Workshop held at the Kettunen Center in Tustin, Michigan, March 12-13, 2016, was a success! Participants had an interest in robotics and registered for a specific track: LEGO Mindstorms EV3, VEX Robotics, Underwater ROVs (Remotely Operated Vehicles) or Junk Drawer Robotics.
The LEGO Mindstorms EV3 track was held in the facility computer lab so participants could program their robots. The participants explored programming and building with LEGO Mindstorms EV3 robots. In this hands-on session, individuals gained knowledge about the components of an EV3 robot, how to build and modify EV3 robots for challenges and how to program the robot and its tools, including sensors. Participants also gained knowledge about how to start a robotic club using the EV3s, different competitions available with the EV3s and ideas for advanced challenges and scientific uses to try in their 4-H club.
The Underwater ROVs track was held inside and outside. In the courtyard, a 9-foot diameter swimming pool was the test site for the vehicles as the lake was still frozen over. Participants in the Underwater ROV track had the opportunity to design, build and test drive an underwater ROV. The session began with a brief presentation outlining the basics of ROV construction, what they are used for and careers in marine technology. Everyone then worked in teams to build a M.A.T.E Anglefish ROV and pilot the vehicle through underwater mission tasks. Knowledge was gained as participants learned basic soldering, circuits, buoyancy and tether management as well as piloting. ROVs were proudly brought back to the participating counties where participants will share their acquired knowledge, skills and resources to effectively mentor youth in designing and building an ROV with the hope that youth will participate in competitions such as the Great Lakes Regional MATE ROV competition.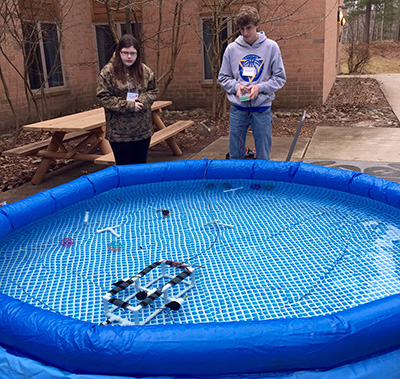 The VEX track was held and led by a knowledgeable 4-H teen volunteer who has mastered the project area. VEX Robotics offered the participants a rich, exciting platform to immerse themselves in STEM (science, technology, engineering and mathematics) through the fun of building creative robots. The versatility of VEX allowed everyone the opportunity to build and drive whatever they imagined. During the two-day workshop, the VEX robotics session explored a variety of activities to engage youth in an exploration of robotics.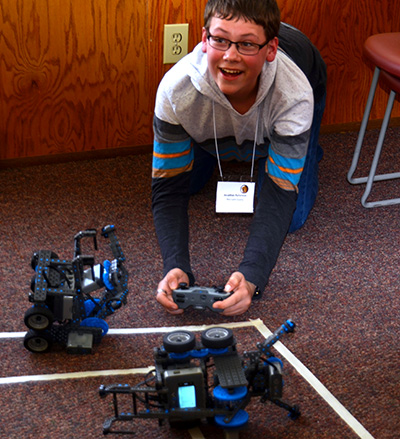 The Junk Drawer Robotics was a popular track and the participants could not stop creating as they explored engineering with everyday household items. Using the engineering design process, participants designed and built a variety of articles from a catapult and clip-mobile to a robotic arm and more using materials straight out of the "trunk of junk." Knowledge was gained in how to engage youth in science and engineering in a fun way. Participants found that the activities from this track can easily be done with any type of youth group and will be shared back in their counties. Participants discovered the science and engineering and had fun getting creative with "junk."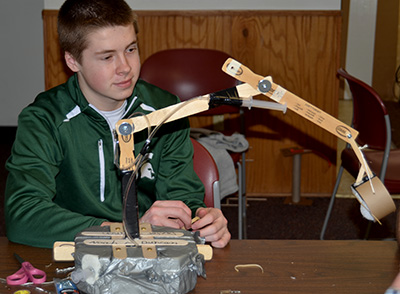 As the evaluations are being summarized, many positive comments and observations were made by the participants. They gained knowledge in "4-H Science: Asking questions and defining problems" in robotics. They even created a "Mr. Roboto," or Scientific Stanley, covering him with yellow sticky notes full of questions then attaching colorful sticky notes with discoveries made during the workshop.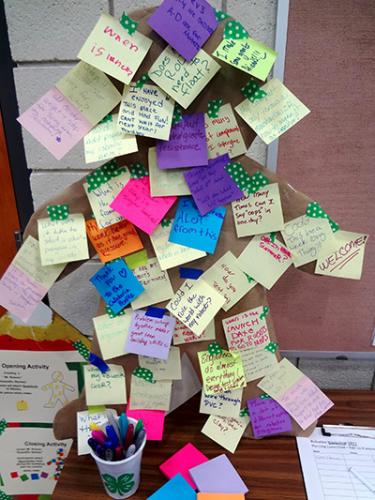 Participants had the eight Science and Engineering Practices hung around the room as a reference. The Science and Engineering Practices are outcomes that go across project areas. They are also part of Next Generation Science Standards (NGSS) and include:
Asking questions (for science) and defining problems (for engineering).
Developing and using models.
Planning and carrying out investigation.
Analyzing and interpreting data.
Using mathematics and computational thinking.
Constructing explanations (for science) and designing solutions (for engineering).
Engaging in argument from evidence.
Obtaining, evaluating and communicating information.
Due to the success of this first time robotics workshop, we are planning a 2017 workshop. Look for future promotional information in 2017 on the Michigan State University Extension 4-H Science and Technology website. Gain knowledge in science, technology, engineering, art/design and mathematics!
MSU Extension's 4-H science and technology youth development programming offers many educational science opportunities. These science activities provide children with life skill lessons in problem-solving, critical thinking and decision making. The hands-on experiential learning is fun and educational.
For more information about 4-H learning opportunities and other 4-H programs, contact your local MSU Extension county office.