Michigan 4-H pilots art exchange with Turkmenistan
The Turkmenistan youth have sent artwork to Michigan's Branch County as a start to the exchange initiated in 2018.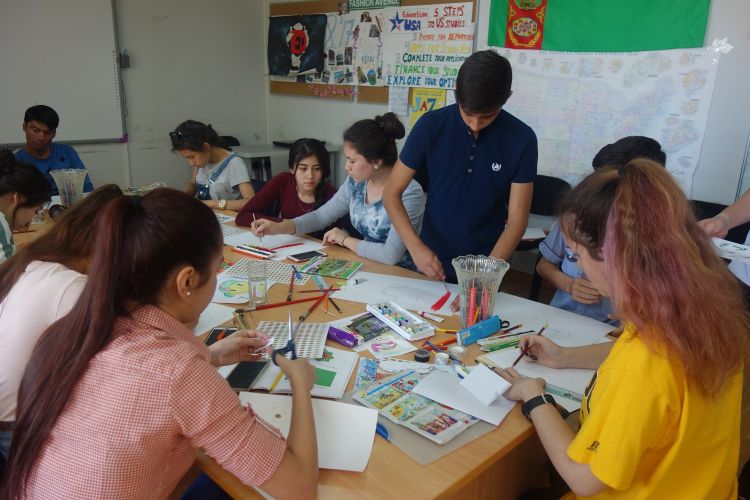 The Michigan 4-H Children's Art Exchange with China has had a positive impact on youth for more than 25 years. This year, Michigan's Branch County 4-H is excited to be part of an art exchange with Turkmenistan.
How did this pilot project get started? During the 2016-2017 Michigan States' 4-H International Exchange Programs' Academic Year Program, the spark was ignited. The exchange delegate Enayy Kurbanova, from Turkmenistan, was hosted by a family in Branch County with Michigan State University Extension's Connie Lange serving as her local coordinator.
Throughout the exchange, relationships were formed with her host family, MSU Extension 4-H staff and the community. After reading about the 4-H Children's' art exchange with Michigan, Kurbanova made the connections to see if it was possible to do the same type of exchange with her country. Everyone was instantly excited and the proposal was formed to complete a pilot program in 2018.
As part of the proposal, the following brief summary was written:
"A youth art exchange between Turkmenistan and Michigan, USA will create a cultural understanding and appreciation of the similarities and differences in the way of life between the two countries. The art exchange will be patterned after the established China Art Exchange. In 2018 – 2019 program year, the program will be piloted in Branch County at Quincy Schools with hopes of being expanded to other Michigan schools in future years."
In addition, the following goals were created. As part of the project, students will:
Learn of the many similarities between their lives and the lives of their peers halfway around the world.
Gain a sense of being part of one world, whether they live in Michigan or in Turkmenistan.
Have a significant learning experience that includes language, social studies, natural science and the arts.
Develop awareness, understanding and appreciation of other cultures that will last a lifetime.
Share their country's culture through their artwork and a description of the "visual letters" created.
Learn about art and how to critique and share.
Kurbanova stated, "I am super exited to do art exchange with you. We have already started our drawings with our visitors in the American Corner of Turkmenabat."
If this has encouraged you to possibly host or travel or you would like to more about international exchange, visit the Michigan 4-H International Exchange Programs website.
MSU Extension and the Michigan 4-H Youth Development program helps to prepare youth as positive and engaged leaders and global citizens by providing educational experiences and resources for youth interested in developing knowledge and skills in these areas.
To learn about the positive impact of Michigan 4-H youth leadership, citizenship and service and global and cultural education programs read our 2017 Impact Report: "Developing Civically Engaged Leaders." Additional impact reports, highlighting even more ways Michigan State University Extension and Michigan 4-H have positively impacted individuals and communities in 2016 can be downloaded from the MSU Extension website.
Other global educational opportunities including the Michigan 4-H China Art Project can be found on the MSU Extension global and cultural education website. For more information about 4-H learning opportunities and other 4-H programs, contact your local MSU Extension county office.