Michigan 4-H youth reflects on leadership experiences
State Youth Leadership Council member Erin Kramer shares views on collaborative leadership.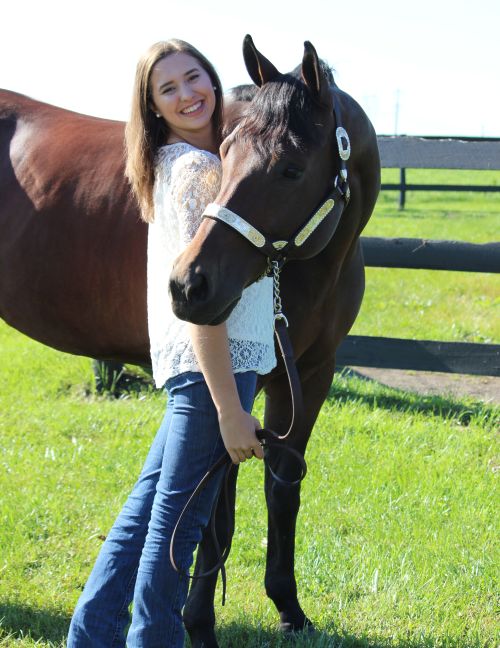 Michigan 4-H Youth Development programs emphasize leadership skill-building across many programs and project areas. Established in 2015, the Michigan 4-H State Youth Leadership Council provides high-school aged 4-H members from across the state with an opportunity to come together and build on their leadership experiences. In 2017, a youth advisor role was created in order to provide expanded opportunities for leadership for alumni of the group.
Erin Kramer, 18, resides in Granger, Indiana, and is a participant in Michigan's Cass County 4-H where she takes part in equine and historical projects. Kramer has been a member of State Youth Leadership Council since 2015 and is currently serving as the first youth advisor for the group.
I was able to talk with Kramer about her experiences with participating in State Youth Leadership Council.
Jackie (J): Tell me about State Youth Leadership Council.
Erin (E): State Youth Leadership Council is a group of Michigan 4-H's most vibrant and promising leaders that is intended to bring teen leaders together to serve as a statewide 4-H advisory group along with an authentic youth voice in the Michigan 4-H program. State Youth Leadership Council creates an environment of innovation and collaboration that allows for a venue for a multitude of professionals to receive feedback on promotional efforts, new programs and ways to further engage youth in 4-H opportunities. State Youth Leadership Council creates the opportunity for teens to share with perspective clientele and stakeholders the impact 4-H has on its participants.
J: What impact did participating in State Youth Leadership Council have on your life?
E: State Youth Leadership Council has provided me with a plethora of opportunities to grow as an individual and personally develop as a leader. Through State Youth Leadership Council, I have taught workshops and sessions along with interacting with a variety of individuals that have allowed me to be in touch with my own leadership style. I have gained new connections with people that continue to positively influence my life.
J: Tell me about your role as the youth advisor for the group.
E: The youth advisor role was developed this year, so I am paving the way for the responsibilities of the holder of that role for the future. The youth advisor assists in facilitating the meetings and works directly with the youth on the Council to develop meeting agendas and organizing events and activities. The role is exciting as I have the opportunity to work with our adult advisors and the council to act as a bridge between the two groups.
J: How do you think 4-H and State Youth Leadership Council helped prepare you for this role?
E: My involvement showed me what leadership is and provided me the platform to put my leadership skills into practice. To me, leadership is a process of encouragement and of valuing. Simply, a leader's role is to uncover the light in their followers, value that light and discover a way to utilize the light within others.
The term "collaborative leadership" is associated with the leadership style I attempt to maintain. Initiating discussion, pinpointing problems and maintaining the overall vision as opposed to controlling is my approach to discussion. For me, the best decisions are made through discussion and collaboration, when a majority is reached and an explanation of the majority ruling is shared, placing everyone on the same page and ensuring the best interest for the group is what is done. A team with trust is one that accomplishes
4-H has shown me that innovation occurs at the intersection of multiple fields and through the collaboration of multiple backgrounds, where youth join together, share their opinions and work together to succeed.
J: What has been your biggest takeaway from this experience?
E: State Youth Leadership Council has provided me with so much positive growth, in how I view myself and how I am now able to interact with others in the collaborative process to achieve something greater than ourselves. In short, State Youth Leadership Council has given me the confidence to accomplish anything I put my mind to for positive change.
J: If you were to give an aspiring youth leader some advice, what would that advice be?
E: The goal should not be "be a good leader," rather to be a good and genuine person. What I aspire to be is a beam of light in others' lives. You rise by lifting others, and a team achieves more, so I work to be a positive influence in the lives around me.
To learn about the positive impact of Michigan State University Extension and Michigan 4-H youth programs, read our 2016 Impact Report: "Developing Civically Engaged Leaders."
For more information on the State Youth Leadership Council or how to apply for the 2018 Council, contact Jackie Martin at marti623@msu.edu.