Michigan 4-Hers explored the 'E' in STEM at Exploration Days: Part 2
Youth made a splash exploring engineering at the 2016 4-H Exploration Days.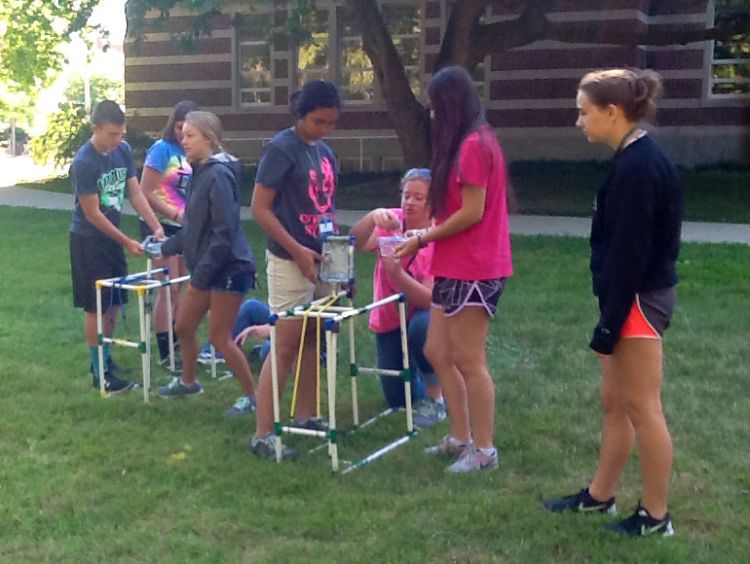 More than 2,500 youth, ages 11-19, from across Michigan came together to meet new people, share new experiences and explore the Michigan State University campus at the 2016 4-H Exploration Days. Youth and their chaperons stayed in dorms, ate in the cafeteria and caught a bus or hiked across campus for classes. Youth that participated in "Exploring Science with MSU" engaged in a series of three engineering activities that incorporated an engineering design process. (Read "Michigan 4-Hers explored the 'E' in STEM at Exploration days: Part 1" to learn more about the engineering design process and Exploration Days.)
During the main activity, youth engaged in the building of a water ball catapult from PVC. Youth were provided a couple pictures of a PVC catapult in action, a list of available supplies and graph paper. Participants were then directed to design a PVC catapult to launch water balls. Youth had access to a variety of PVC joints, PVC cutters and had up to 25 feet of PVC pipe to build their catapult. The catapults had to be placed on the floor for launching, although the youth could help brace it by standing on the base of their frame.
After spending time drawing, calculating and redrawing their design plans, youth began cutting and building their catapults. As the group tested their first design, an MSU Extension educator asked how they could maximize the distance their catapult would launch the dry water ball. Youth responded they thought the greater the distance they could pull back their launching arm or the tighter they could stretch the bungie cord, the greater the launching force would be and the farther the water ball would travel. All youth teams successfully built a catapult that launched a water ball over 10 feet down a hall. After successful dry tests, the group took their catapults outdoors to have a wet water ball trial where youth attempted to remain dry.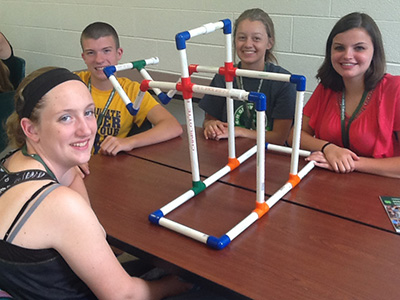 During the session wrap-up, youth evaluated the engineering challenges and the design process, considering whether they had used each part and how often. All of the participants agreed that even though they had not intentionally used the design process, they had engaged in all aspects of it while meeting the engineering challenges. They also felt the way the challenges were presented made them youth-driven, encouraging the development of teamwork, critical thinking and problem-solving skills
MSU Extension and the Michigan 4-H Youth Development program helps create a workforce excited about STEM (Science, Technology, Engineering, and Mathematics) careers. 4-H STEM programming seeks to increase science literacy, introducing youth to the experiential learning process that helps them build problem-solving, critical thinking and decision-making skills. Youth who participate in 4-H STEM are better equipped with critical life skills necessary for future success. To learn more about the positive impact of Michigan 4-H youth in STEM literacy programs, read our 2015 Impact Report: "Building Science Literacy and Future STEM Professionals."
For more ways to share science with youth in your life, please explore MSU Extension's Science and Engineering website. For more information about 4-H learning opportunities and other 4-H programs, contact your local MSU Extension office. To learn more about 4-H and Extension opportunities in Alcona County, stop by our Harrisville office at 320 S. US-23 or visit our Alcona County MSU Extension Facebook page.
Other articles in this series: