Michigan 4-H: Helping Michigan achieve higher college enrollment rates
Youth involved in 4-H programs enroll in college at a higher rate than their same-age peers.
Today – more than ever before – teens need access to programs that expand their horizons, allow personal growth and provide career exploration to get them on the right track for post-secondary education. This is part 3 in a series by Michigan State University Extension about how pre-college programs build developmental assets, increase college aspiration, and improve college readiness. Part 1 focused on pre-college programming in general terms, part 2 focused on pre-college programs offered by Michigan State University and part 3 will focus on statistics that prove Michigan 4-H improves college interest and readiness.
Youth involved in the MSU Extension youth development program, Michigan 4-H have access to programs that expand their horizons, allow personal growth and provide career exploration to get them on the right track for their post-secondary education goals. Michigan 4-H offers six MSU pre-college program opportunities: 4-H Exploration Days, 4-H Great Lakes & Natural Resources Camp, 4-H Capitol Experience, 4-H Renewable Energy Camp, 4-H Animal and Veterinary Science Camp and the Michigan 4-H Youth Conservation Council. Two research-based tenets, youth development and experiential education, provide the foundation for each of these programs. Michigan 4-H Guiding Principles reflect how national research and practical knowledge define positive youth development. Experiential education research is applied through learning and making meaning from direct experience. Middle school and high school aged youth participants develop critical life skills, gain new content knowledge and see themselves in a bigger context than their local community. They learn and develop in new and diverse settings and strengthen their connection to Michigan State University.
Since 2009, Michigan 4-H has annually obtained college enrollment data for 4-H alumni through the National Student Clearinghouse. The National Student Clearinghouse is a national enrollment verification system that can be used by pre-college programs to determine college enrollment and graduation rates for program participants. National Student Clearinghouse StudentTracker report data for Michigan 4-H alumni from 2009 to 2013 shows that Michigan 4-H participants are 2.3 times more likely to enroll in college than the same-age Michigan population.
The bar graph below shows college enrollment rates of 4-H high school seniors enrolled in county 4-H programs as well as participants in the four-of-six 4-H pre-college programs compared to the college attendance rate of same-age Michigan peers.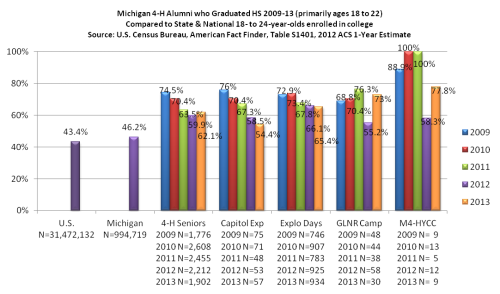 Beginning with the high school class of 2012, Michigan 4-H is able to track the college enrollment rate of 4-H youth at the county and district level compared to all the youth from these areas. As we look behind and beyond these numbers, we see that strategic and systematic efforts are especially needed in counties and regions with the lowest retention and graduation rates. This is achieveable since MSU Extension programs support 4-H Youth Development across Michigan with staff members who are based in 80 counties and on the MSU campus.
For more information and to get involved, visit the Michigan 4-H website or contact your closest MSU Extension office.
Other articles in this series by MSU Extension:
Did you find this article useful?
---
You Might Also Be Interested In