Michigan barley – Something new in something old
W.K. Kellogg Biological Station to host field day on barley considerations for Michigan farmers.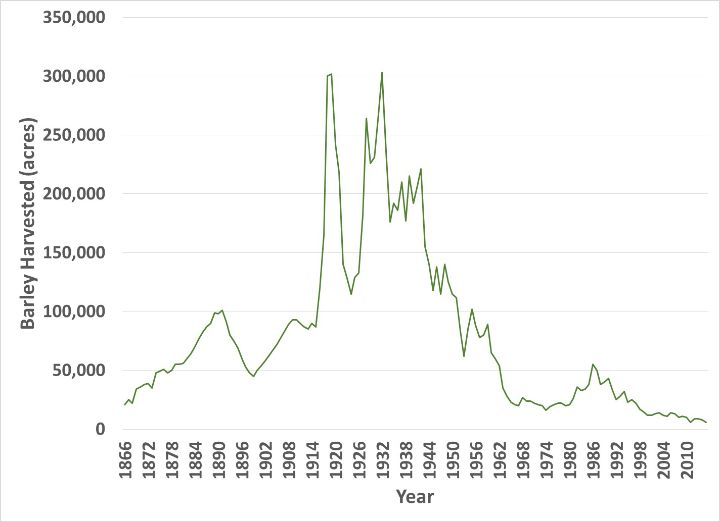 Barley is part of Michigan's agricultural history. The National Agricultural Statistics Service has been tracking barley production in Michigan since 1866. Barley production peaked at just over 300,000 acres harvest in 1919 and again in 1932. Since 1932, it has declined to 6,000 acres harvested in 2015. As with other cereal grains, barley is suited to Michigan's climate. In response to the growing demand for locally sourced ingredients for the craft beer market, farmers are exploring this re-emerging crop.
While barley is not new to Michigan, advances in varieties and their adaptability to our region is. Michigan State University Extension malting barley research program projects at the MSU W.K. Kellogg Biological Station (KBS) are expanding the understanding of variety performance throughout the state. At KBS, 25 spring and 33 winter varieties are being trialed, along with various management strategies, including fertility. The research is funded through grants from the Brewers Association, MSU Project GREEEN and the American Malting Barley Association, which provide support for the statewide research.
The spring and winter variety trials will be featured at a field day event on Wednesday, June 28. The event will start with registration and refreshments from 8 – 8:30 a.m. followed by research updates, a malting barley production panel, a malting industry panel, a brewing and distilling panel and a tour of the winter and spring variety trial plots. After lunch, participants are invited to go on an optional tour of the management trial plots. A detail agenda with speakers is available online at Malting Barley Field Day.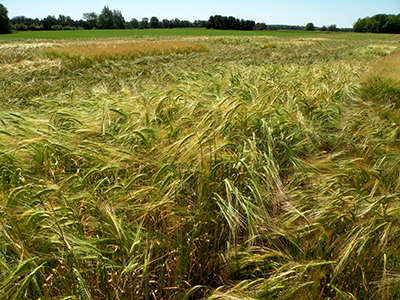 The Field Day is located at the research fields, therefore we do not have a street address. The field entrance can be found by GPS coordinates at Latitude: 42.419747 Longitude: -85.372152.
From the North: 1.5 miles south of Hickory Corners, Michigan on Kellogg School Road then 0.2 mile east on Baseline Rd.
From the South: 3.25 miles north of M-89 on 40th Street then 0.2 mile east on Baseline Rd.
We encourage you to register for this free event at Malting Barley Information and Demonstration Field Day. For questions about the event, or for sponsorship opportunities, contact Sarah Hanks at lovettsa@anr.msu.edu.
If you are interested in malting barley or malt production in Michigan, contact Ashley McFarland at 906-439-5176 or ashleymc@anr.msu.edu. McFarland is the Coordinator of the MSU Upper Peninsula Research and Extension Center in Chatham, Michigan.
Did you find this article useful?
---