Michigan barns offer tourism opportunities
Barns tell stories of their use and the history of agriculture across the state, representing both an economic driver for communities and an attractive destination for visitors.
Adapted through time to serve the needs of the farmer and today's businesses, barns are prominent iconic structures located across much of Michigan's landscape. Barns come in all shapes, sizes and conditions.
Traditional barns, which were built during the first decade of the 20th century, are composed of timber or composite-frame construction. Their footprint is likely rectangular, 'T' or 'H' -shaped, round or multi-sided. The roof design can be gable, gambrel or rounded.
Today traditional barns continue to be adapted for small and organic farm needs. Likewise enterprising entrepreneurs are utilizing historical barns to house new businesses, such as nurseries, antique malls, massage or health centers and business incubators.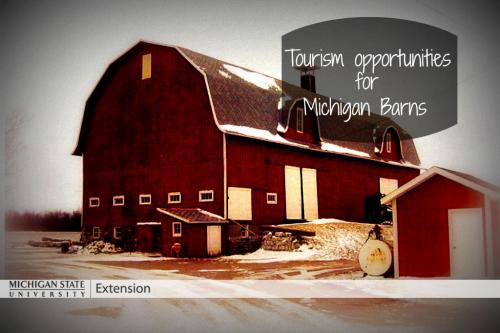 Photo: Hecht family barn in Vassar, Mich.
The Michigan Barn Preservation Network (MBPN) is a non-profit organization that is dedicated to preserving traditional barns, farmsteads and rural communities. Their goal is to share information and raise awareness of rehabilitation and adaptation of bans for traditional and contemporary uses.
Increasingly, people are seeking barns to dismantle and move to their own property. MBPN provides networking opportunities between barn owners, entrepreneurs, architects, contractors and builders to assist with rehabilitating, adapting and fully preserving traditional barns for personal and business use.
Julie Avery, Michigan State University Extension specialist for Cultural and Economic Development and a MBPN board member noted that barns have a growing role in tourism in Michigan. "Large-scale, small and organic farms sell products from their sites and traditional barnyard venues aid in sales and providing a public contact. Farm Bed & Breakfast experiences are also on the rise – including some venues that enable tourists to gain farm experience with animals and crops."
Another use of barns that has helped to promote tourism is the establishment of quilt barn trails. Colorful 8' X 8' quilt squares adorn barns and draw visitors to 'drive the trail' and experience the Michigan countryside, regional food and communities along the way. These trails have resulted in maintenance and rehabilitation of barns and ties to community events, shops and other local points of interest. Many of the trails state their purpose is two-fold: to increase awareness of agricultural and quilting heritage and bring economic benefit to communities. Michigan barn quilt trails started in Alcona County, and have expanded to Osceola, Oscoda, Keweenaw, Kalamazoo counties and the Old Mission Peninsula. They are also being developed in Isabella County and the Thumb region.
The Michigan Barn Preservation Network is holding their 18th annual conference and barn tour on March 7th & 8th, 2014 at the Kellogg Center in East Lansing, Mich. The two-day conference hosts a Friday barn tour to the Ellis Barn at Springfield Oaks County Park and the Rochester Hills Museum at Van Hoosen Farm, Oakland County cultural and recreational sites. Saturday's workshops and presentations focus on individual and organizational barn rehabilitation efforts. Further information on the conference and the MBPN organization can be found at www.mibarn.net/events.