Michigan Celebrates National Food Day across the state
From large to small scale events, Michigan residents are gearing up to celebrate National Food Day on October 24.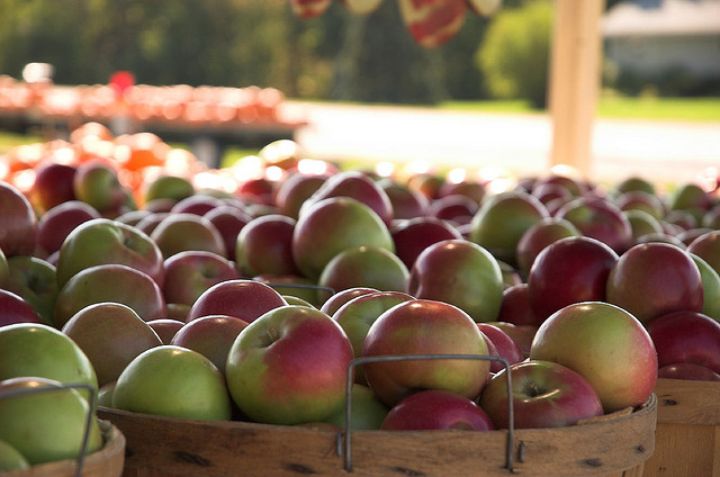 October is the perfect month to celebrate the National Food Day in Michigan. The season is winding down, but harvest festivals and fresh Michigan products abound. This month marks the celebration of many food related events, including National Food Day. In the U.S., Food Day is celebrated on October 24. This food holiday is honored across the country in an array of imaginative events. The ultimate intention is to raise awareness about our food and where it comes from. According to the National Food Day website, this day "is a nationwide celebration and a movement for healthy, affordable, and sustainable food."
On a state level, there are many Food Day events being organized throughout Michigan. One of the largest is Michigan's Apple Crunch, organized by Cherry Capital Foods, a local foods distributor. The goal of this event is to celebrate Michigan's long history of apple production, by purchasing Michigan-grown apples and taking a big bite! This event is taking root in schools and other institutions across the state as educators tie Michigan's agricultural heritage with their curriculum. This provide a fun and healthy activity for their students.
There are smaller events across the state as well. In Macomb County, Mt. Clemens' school district is celebrating Food Day by offering Michigan apples, apple cider and fresh hand-made donuts to students. Just down the street, representatives from food related agencies, organizations and businesses are hosting a Food Day Fair at the Friday Mt. Clemens farmer's market. They will be offering food related activities and information to highlight the local food system. The Macomb Food Collaborative, a local food system non-profit organization, will be hosting a "Celebrate the Harvest" gathering at Westview Orchards. This orchard is a family-owned you-pick operation that sells apples, pumpkins, freshly baked products, cider and fruit wine.
All of these examples go to show that there is no shortage of ways that you can celebrate National Food Day. If you are interested in attending a Food Day event, you can look at the national event directory to find one close to you. You can also contact your local Michigan State University Extension office for more information and how to get involved.
Did you find this article useful?
---
You Might Also Be Interested In