Michigan Conservation Stewards Program helps ready the next squad of citizen scientist superheroes
Volunteer leader training program inspires Michigan residents to engage in local conservation efforts.
The Michigan Conservation Stewards Program (CSP) is a great opportunity to learn about conservation and natural science in a community context and prepare for leadership roles in land stewardship by volunteering time, knowledge and skills as a Conservation Steward.
Michigan State University Extension will again offer the long-standing Conservation Stewards Program, a volunteer training program designed for those interested in gaining experience in the principles of ecology involved in ecosystem management and sharing this knowledge with others. Participants learn about the history of conservation activities in Michigan, basic ecological principles and regionally specific natural communities such as forests, prairies, rivers, streams, vernal pools, etc. In addition, participants discuss current conservation issues, decision-making involved in the management of natural resources, how to contribute to citizen science efforts, and gain critical experience to ready them for leadership roles in local conservation efforts. Through participation in this program, concerned individuals can learn essential strategies to improve the health of Michigan's natural communities.
Becoming a Conservation Steward involves:
The completion of classroom and field-based training, self-paced online learning modules which participants will complete on their own
40 hours volunteer service (including the completion of an in-class volunteer Capstone project related to an area of interest that begins during the course and continues after course work is completed, as well as additional community-based volunteer service related to restoring and conserving Michigan's ecosystems).
One important aspect of the program is to expose and engage Conservation Stewards in citizen science. The Oxford English Dictionary defines citizen science as "scientific work undertaken by members of the general public, often in collaboration with or under the direction of professional scientists and scientific institutions." This is often done to answer real-world scientific questions. Another critical aspect of citizen science is that not only does it allow the general public to contribute data scientific research, but it also provides the public a way to access data which they can use in conducting conservation efforts in their communities.
Involvement in citizen science brings multiple benefits, including:
Sharpening observational skills, the cornerstone of scientific inquiry
Combining data collection with technology
Engaging participants of all ages
Introducing participants intimately with their local natural resources while forming a life time bond with nature
Engaging participants who don't have a formal science background in conservation activities
Satisfaction of knowing they have contributed to solutions to complicated environmental problems that scientists might not otherwise have the time to answer themselves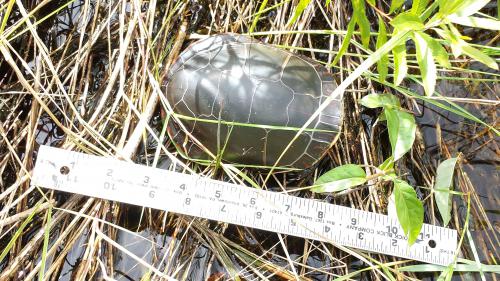 Since the first Conservation Stewards programs were offered in 2006, many Conservation Steward volunteers have been involved in a diversity of citizen science projects. Here are a few stories about the work they have done, and the experiences they have gained as a result of their participation:
In 2016, seven volunteers chose to focus their capstone project around assessing the distribution, status, and ecology of Michigan vernal pools located at several Oakland County Parks. They conducted vernal pool field inventories using assessment and monitoring techniques developed by Michigan Natural Features Inventory (MNFI). Volunteers used ArcGIS Online (AGO) to collect data used for planning and submitted that data to the statewide database. Said a mother-daughter volunteer duo involved in this project: "CSP prepared us for our citizen science experience. We learned about vernal pools, indicator species, tree/invasive species & environmental assessment methods that helped in the vernal pool survey." Yu Man Lee, MNFI Conservation Scientist/Zoologist who was involved in developing this program including the training component, stated, "Participating in citizen science efforts can help CSP participants develop a better understanding of how science and data can help inform and guide stewardship efforts."
A Conservation Steward in West Michigan first learned about the Michigan Herp Atlas, which documents distribution and changes in Michigan amphibian and reptile (also referred to as "herps") populations statewide, when researching project ideas for which to focus her Capstone project. Once she was engaged in searching for herps as part of this project, she is now hooked and continues to engage in this project. This experience served as a stepping stone to an opportunity to serve as a Volunteer Steward for one of Michigan Nature Association's many West Michigan sanctuaries. She explained that the class changed how she looks at every part of the natural world, and her relationship to it.
A husband and wife team who graduated from the 2007 program offered in Oakland County transformed their conservation activities into a family affair by engaging the whole family in Friends of the Rouge (FOTR) volunteer service. They have supported the Bug Hunt which helps assess water quality of the Rouge River, and this year their 19 year old son completed training to become a team leader so he can lead his own team of volunteers at a site this fall. The husband has also been working with the FOTR Fish Survey team to catalogue all the fish species in the Rouge River. The husband summarized how participating in the program highly informed the activities to which they engaged after graduating, as well as how this impacted their son: "We learned so much and made so many connections. We translated the experience into leading teams on conservation projects, board positions for conservancies, and many hours on the ground studying, protecting and restoring valuable ecosystems." They also connected the impact of exposing their son to these conservation activities over the last ten years to the selection of environmental engineering as his college major at Michigan State University, where he is currently in his Junior year.
Another Conservation Steward became heavily involved with the Clinton River Watershed Council's volunteer opportunities. For many years, he was involved in gathering data on streamside habitats, physical characteristics and benthic macroinvertebrate (also known as bottom-dwelling "bugs" that lack backbones which inhabit aquatic habitats such as streams) populations as part of the "Adopt a Stream" program. Because he found the biology and life cycle of macroinvertebrates extremely fascinating, he was compelled to attend training to become a "Stream Leader" where he helps raise awareness in local youth about the importance of water quality monitoring at the local level.
After graduating from the Conservation Stewards Program, one volunteer took what he learned to an even deeper level through his continued participation in Project Monarch Health, a citizen science project which helps sample wild monarch butterflies to help track the spread of a protozoan (a specific type of single-celled microorganism) parasite across North America. He was involved in another project sponsored by the University of Minnesota Department of Fish, Wildlife and Conservation Biology which involved sampling for other monarch butterfly parasites such as parasitic wasps. Brad summarized his citizen science experience with this quote: "Educate others everyday about conservation, just changing one mind will help to change the world."
Local conservation partners help plan, coordinate, and serve as resources for programs in several Michigan counties because they have seen first-hand how the program pitches a bigger tent through its community-capacity building approach to address local conservation needs. Read more.
Individuals interested in volunteer conservation are encouraged to enroll in theMSU Extension's Michigan Conservation Stewards Program (CSP). Programs will be offered in Jackson and Washtenaw counties.
Registration is now open for the Jackson and Washtenaw programs:
For complete details about the program, including additional upcoming program offerings, visit the CSP page.