Michigan horse judging teams find success at Arabian Nationals
Michigan State University's and Michigan 4-H's horse judging teams took home big wins at the 2017 U.S. Arabian National's Horse Judging Contest.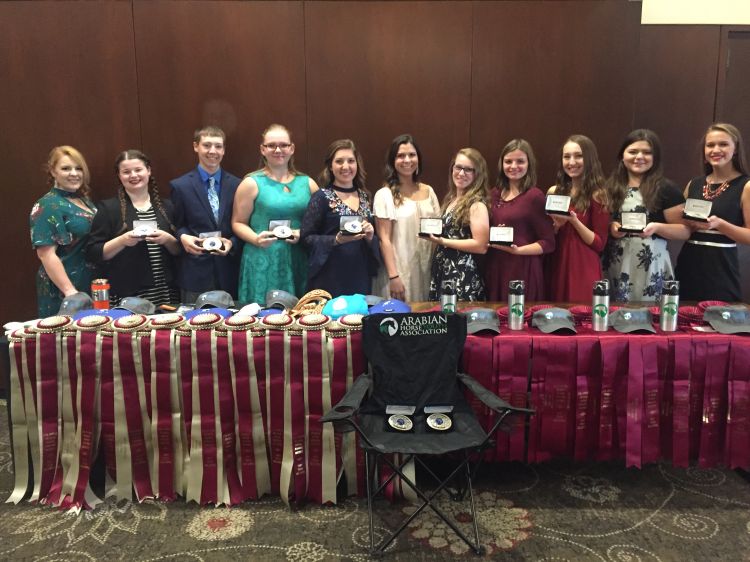 The results are in for the 47th annual Arabian Horse Youth Judging Contest sponsored by Awards Recognition Concepts and hosted at the 2017 U.S. National Arabian and Half-Arabian Championship Horse Show in Tulsa, Oklahoma. Twenty-seven teams and over 83 individuals from all over the country competed on Oct. 27, 2017, for their chance at a national title.
The youth were asked to judge six performance classes, four halter classes, including half-Arabians and purebreds, and present four sets of oral reasons. The classes judged included Ranch Riding, Reining, Western Pleasure, Hunter Pleasure, Hunter Seat Equitation, Country English Pleasure, Purebred Geldings In-Hand, Half-Arabian Stock Hunter Geldings In-Hand, Half-Arabian Stock Hunter Mares In-Hand and Purebred Mares In-Hand.
Representing Michigan 4-H was the team from Cass County 4-H coached by Robin Brennamen. Team members were Allison Ives, Emily Prugh, Amy Wyse and Caitlyn Cass. The team's performance was a resounding success with them taking home Reserve 4-H/FFA Team Overall, third place in Team Halter, third place (tied with second) in Team Performances, and fourth in Team Reasons. Individual honors went to Emily Prugh who was second in Halter, sixth in Performance and tenth in Reasons.
Not to be outdone, the Michigan State University Horse Judging Team went home with top honors in the senior division. The team members, coached by Taylor Fabus, consisted of Kacie Gillis, Brady Littlefield, Jordan Pike, Claire Daugherty, Chelsea Southard, Lisa Skylis, Olivia Child and Carolena Becks. The team took home Reserve Senior Team Overall, second in Team Halter, third in Team Performance and second in Team Reasons.
Individuals taking home awards were Olivia Child with first in Performance, tied for second in Reasons and sixth Overall; Claire Daugherty with eight in Halter; Lisa Skylis with tenth in Halter; Chelsea Southard with fifth in Performance, fifth in Reasons and ninth Overall; and Kacie Gillis with tenth in Performance and eighth Overall.
In each of these divisions, the rankings were separated by very few points and many were separated using tiebreakers. All of the contestants represented their states with pride. Michigan certainly had a lot to be proud of and many successes to celebrate!
Interested in starting a 4-H horse judging team? Check out this great Michigan State University Extension article, "How to start a 4-H horse judging team," to start the process.