Michigan Natural Shoreline Partnership offers comprehensive inland lake shorelines information
Resources are available to help protect and restore Michigan's more than 23,500 miles of inland lake shoreline.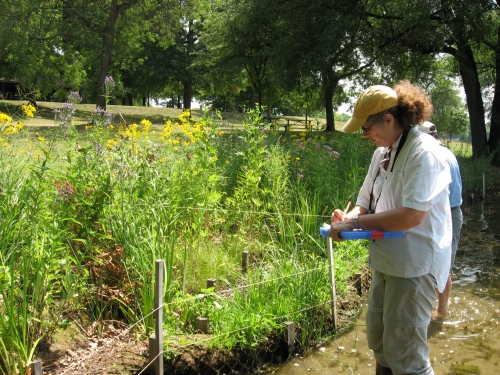 The Michigan Natural Shoreline Partnership (MNSP) is a diverse group of state agencies, organizations and green-industry businesses across Michigan trying to accomplish four important objectives:
Train contractors and landscape professionals about shoreline technologies and bioengineered erosion control.
Educate property owners about natural shorelines and technologies that benefit lake ecosystems.
Research, demonstrate and develop natural shoreline technologies that benefit lake ecosystems.
Encourage local and state policies that promote natural shoreline management.
The MNSP website is a great source of information on practically everything related to natural shorelines on inland lakes, whether you live on a lake or are a landscape professional who works at the water's edge. Some other important information you can find at the MNSP website includes:
Educational offerings
MNSP professional conference, informational workshops for homeowners, and educator trainings for those who would like to educate others about the benefits of natural shorelines.
Resources
Find an extensive native shoreline plant list, before- and after-shoreline photos, educational brochures, videos, quarterly MNSP newsletter, natural shoreline demonstration sites, inland lake facts, the latest shoreline news and research/grant funding ideas.
Certified Natural Shoreline Professionals
Gain access to a list of contractor who have been certified by MNSP to work on shorelines.
The MNSP is holding two upcoming workshops for individuals interested in becoming part of the MNSP "Shoreline Educator Network" (SEN). The SEN was established in 2011 and is for natural resource professionals interested in bringing the message of shoreline protection to their community.
The goal of these events is to provide participants with the information and resources they will need to hold workshops in their neighborhoods and towns. If you are a member of a waterfront property owners' association, local government official, natural resource organization representative or are a watershed resident interested in motivating your community to learn – and do – more to protect local water quality, then this workshop is perfect for you. Become a part of a growing statewide network of professionals working to protect and restore our inland lakes one shoreline at a time!

During these workshops staff from Huron Pines or Michigan State University (MSU) Extension and Michigan Department of Environmental Quality (DEQ) staff will be on hand to go through presentation materials and answer questions about both the technical aspects of shoreline protection as well as the best way to organize and successfully give local workshops.
Workshop content includes healthy lake ecosystems, designing natural landscapes on lake shorelines, problems with high impact landscape methods, use of native plants in shoreline landscaping and State of Michigan rules and regulations. Participants will receive a Shoreline Educator Network Homeowner Tool Kit containing everything needed to coordinate workshops for those living on inland lakes, including a homeowner shoreline manual, educational brochures, workshop presentations and promotional materials, and the opportunity to network with other shoreline educators across the state.
The first training will take place from 8:30 a.m. to 4 p.m. on Thursday October 25 at the Oakland County Executive Office Building Conference Center, and will be hosted by MSU Extension of Oakland County.
A second workshop will be held from 8:30 a.m. to 4 p.m. on Thursday November 8 at the Ralph A. MacMullan Center on Higgins Lake, and will be hosted by Huron Pines.
For complete workshop details, visit the Huron Pines website.
Two natural shoreline resources are "Natural Shoreline Landscapes on Michigan's Inland Lakes: Guidebook for Property Owners" (E3145) and "Natural Shoreline Landscaping" (E3158). Copies can be obtained from the MSU Extension Bookstore.
MSUE Extension Educator Jane Herbert evaluates native plants at a natural shoreline demonstration site in Oakland County.