Obtaining and maintaining your Michigan pesticide applicator certification – Part 1 of 2
In Michigan, it is illegal to sell, purchase or apply restricted use pesticides without holding a valid pesticide applicator's certification or working on your own farm under the direct supervision of someone who does. What is that and how do you get one?
According to the Environmental Protection Agency (EPA), a restricted use pesticide (RUP) has "the potential to cause unreasonable adverse effects to the environment and injury to applicators or bystanders without added restrictions....[the] classification restricts a product, or its uses, to use by a certified applicator or someone under the certified applicator's direct supervision." How do you know if a pesticide is a RUP or a general use one? Check the label—there will be a box toward the top of the label stating that it is a RUP and why (Photo 1). In Michigan, the Michigan Department of Agriculture and Rural Development (MDARD) oversees certification of pesticide applicators.
Applications for pesticide applicators are available online at Pesticide Applicator Certification/Registration Application. In Michigan, once you pass the initial exams with a score of at least 70, your credential (Photo 2) is valid for three calendar years, so if you take the exam in April 2017, it will be valid through Dec. 31, 2020. A few months ahead of the expiration, MDARD will mail you a renewal packet—make sure to keep your address up to date with them. There are two ways to recertify:
Retake the exams and pass with a score of at least 70 and pay the renewal fee.
Earn a sufficient number of recertification (continuing education) credits before the certificate expires and pay the renewal fee.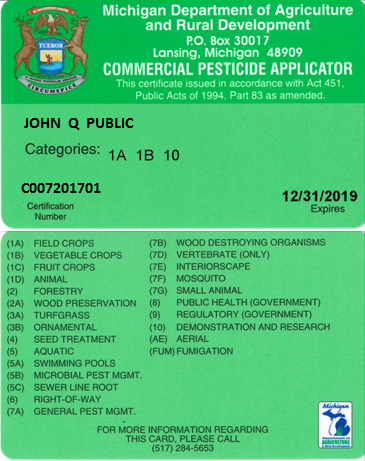 Exam option
OK, so you don't want the hassle of keeping track of recertification credits and you enjoy taking tests. You can recertify the same way you earned your certification initially—by passing one or more exams. There is no fee to take the paper version of the exam in addition to the application/renewal fee, although you must register online with MDARD or by phone (1-800-292-3939). Enter as a "guest" and check the "Pesticide Exam Schedule" link on the website for times and locations. Michigan State University Extension often conducts training sessions for those taking the exam—contact your local MSU Extension office or visit the MSU Extension website for more information.
When taking the exam, you need to bring a photo ID, #2 pencils and a check or money order for the appropriate amount for the application fee: commercial applicator, $75; private applicator, $50; or registered technician, $45. A fee waiver from the State of Michigan is offered to honorably discharged veterans seeking private pesticide applicator certification. You must provide a copy of your veteran's federal form DD-214 that indicates honorable discharge status along with your application.
A commercial applicators certification is required if you are applying RUPs or any pesticide for hire. To obtain commercial certification, you must pass the commercial Core exam—75 questions covering a wide spectrum of topics important to all applicators. In addition, you must pass at least one category (see the bottom of Photo 2). Private certification is for those applying on their own property or for their own farming operation. Only the private Core exam is required for private applicators. A registered applicator can only apply pesticides (not RUPs) under direct supervision of a commercial applicator—this category is fairly rare in Michigan.
Another option is to take a computerized version of the exam at a proctored testing facility—MDARD is currently working with Metro Institute for proctoring. The computer-based option gives you more flexibility for exam timing, although locations are still somewhat limited. A $55 fee is charged in addition to the renewal/application fee to take the computer version. You must first register to test with Metro Institute and then wait to hear back from them before you can sign up to test. Contact MDARD or visit the Metro Institute website to find out more about this option.
As an applicator, you cannot renew your certificate before the renewal window opens—the first week of October in the year of expiration. The renewal window remains open for one year after the expiration date. However, you cannot purchase or apply RUPs after your current certificate expires until you pass all required exams and receive a temporary credential from the exam site.
You should allow ample time—at least six to eight weeks—for MDARD to process your application and send your formal renewal letter. After the one-year renewal period has ended, you will need to fill out a new application, take and pass the exams and pay the application fee to receive a new certification number.
The second option to recertify is to obtain the required number of recertification credits by attending continuing education programs. For more information on that option, see Part 2 of this article.
Other articles in series