Michigan plum website: A great new way to find out about Michigan plums and where to buy them
A new plum industry website will help plum lovers find locally grown, fresh market plums, as well as how to grow them.
Gourmet plum varieties are one of the stars of the local food movement, but customers need help to find where this crop is grown and sold in Michigan. The new Michigan Plum industry website, michiganplum.com, was created to provide this service.

Michigan Plum industry website, michiganplum.com.
The site is compatible with smart phones and other handheld web browsing devices, and will be handy for visitors to Michigan looking for plums. Visitors to the site can obtain a listing of Michigan plum growers and retailers, including a map showing business locations. This website will help farm marketers and brokers find wholesale sources of Michigan plums.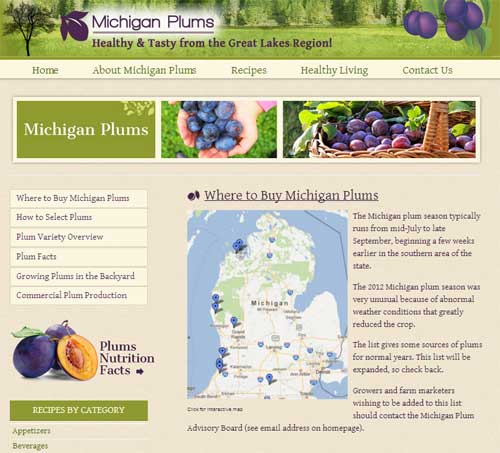 Michigan Plum web site helps buyers find Michigan plums. This list
will expand as other growers and retailers add their names.
Plums are a specialty item in Michigan and harder to find than apples, cherries, blueberries or peaches. Commercial and backyard growers will find information on the website about growing plums, including planting, pruning, disease and insect management. The site will be popular with consumers wishing to know more about Michigan plums.
Fresh plums are attractive to growers because they are relatively easy to harvest and handle, and fit into a broad harvest window gap between tart cherries and apples. High quality, flavorful, locally grown, new plum varieties are a welcome addition to farmer markets, roadside stands, and local markets looking for an alternative to often less flavorful plums shipped from out of state. New plum varieties being grown by Michigan growers have improved shelf life and excellent flavor.

Consumers can find information about traditional and new plum
varieties on the Michigan Plum website.
The new website also gives information on the characteristics of plum varieties, including how plums fit the profile of a healthy food rich in minerals, vitamins and with excellent antioxidant properties. A recipe section contains new and traditional offerings, including long-time family favorites from Michigan plum growers.

Great plum recipes can be found at the Michigan Plum website.
If you have one or more favorite plum recipes, consider submitting them as suggested additions to the website. It is a great way to share a family favorite. If you grow or sell Michigan plums or products made from Michigan plums, it is easy to have your business listed on the Michigan Plum website – just see the contact information below:
Michigan Plum Advisory Board
12800 Escanaba Drive Suite A
Dewitt, MI 48820-8680
Phone: 517-669-4250
Fax: 517-669-4251
Email: mpab@michiganplum.org
www.michiganplum.com
The Michigan Plums website is a collaboration between the Michigan Plum Advisory Board and Michigan State University Extension, and was funded by a USDA Specialty Block Grant.