Michigan produces a bumper chestnut crop
Chestnut harvest in Michigan is estimated to have doubled in 2016.
Michigan's chestnut producers harvested a bumper crop this season. With commercial cultivars coming into bearing and the weather cooperating, chestnut harvest in Michigan is estimated to have doubled in 2016.
Chestnut species are found naturally in the landscape, in green spaces as ornamentals and are also planted in orchards for nut production. "Chestnut" is a general word that people use to describe two types of completely unrelated trees in the genera Castanea and Aesculus. The true Castanea are the edible chestnuts and include the American chestnut, Chinese chestnut, Japanese chestnut and European chestnut. It also contains a small bush type chestnut called the chinquapin. They are usually found as orchard trees, but do exist as ornamentals. The kernels are enclosed in sharp, spine-covered burs that can be delicious when handled properly.
On-the-other-hand, Aesculus is the name of a group of trees that produce inedible nuts, generally termed horse chestnuts or buckeyes, depending on the species. Horse chestnuts and buckeyes are toxic and have a bad taste if eaten. Castanea species planted for commercial nut production are often referred to as sweet edible chestnuts and include Chinese, Korean and European cultivars as well as European/Japanese hybrids.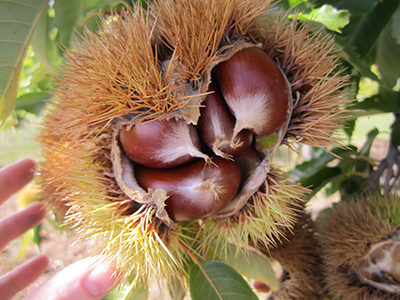 Chestnut is one of the world's most popular nut-bearing trees and offers a number of unique qualities. Fresh chestnuts are much lower in fat than other nuts with a carbohydrate content comparable to wheat and rice, and also contain vitamin C. Chestnut acreage in the U.S. has increased substantially over the past 30 years with the largest acreages in Michigan and production forecast to continue to increase. Despite substantial growth of the industry, U.S. production still accounts for a very small portion of the market (less than 1 percent of total world production according to the USDA Foreign Agricultural Service).
The value of the chestnut is related to its size and nuts are primarily sold fresh in the shell. Michigan residents once again can benefit from our region's agricultural diversity and may find chestnuts at local markets, particularly near the Lake Michigan shoreline where conditions for production are ideal.
Remember, chestnuts aren't just for roasting. Chefs around the world recognize their unique characteristics and produce delicious soups, pastas and spreads using this unique nut. Search online or in cookbooks to see how you can use this local food in your recipes!
If you are interested in producing chestnuts, please visit Michigan State University Extension's Chestnuts website and consider joining us for an introductory chestnut session and informal luncheon at the Great Lakes Fruit, Vegetable and Farm Market Expo, Dec. 6-8, 2016, in Grand Rapids, Michigan.