Michigan Sea Grant Extension welcomes new educator to Saginaw Bay region
Meaghan Gass excited to help build capacity, collaboration among groups in area.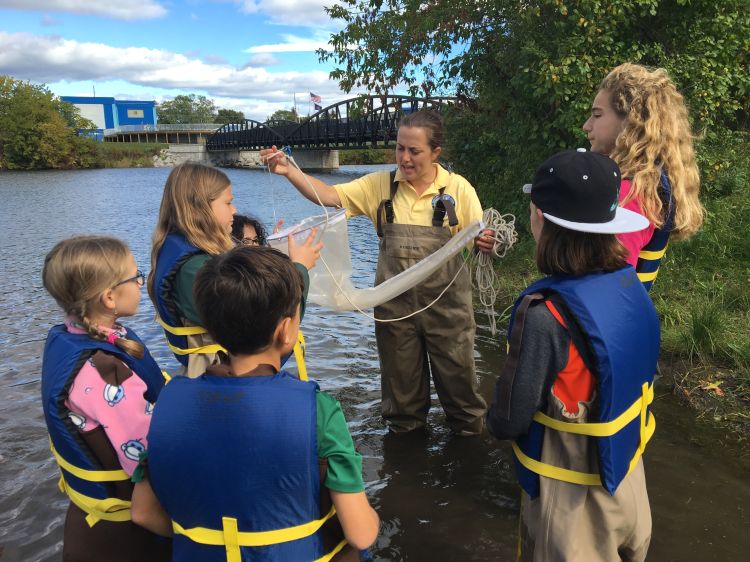 Meaghan Gass will join MSU Extension and Michigan Sea Grant as an educator located in the Saginaw Bay region. She is no stranger to Michigan, having spent the last three years with the Northeast Michigan Great Lakes Stewardship Initiative (NEMIGLSI), first as a Huron Pines AmeriCorps member and then on staff as the network coordinator based in Alpena. Through her position there she often worked closely with both Michigan State University Extension and Michigan Sea Grant staff and programs.
"Through my work with the NEMIGLSI network, I partnered closely with Michigan State University Extension and Michigan Sea Grant. Seeing what they are able to accomplish in Michigan is exciting," said Gass. "I also learned more about what the Sea Grant network is doing across the Great Lakes. Engaging a variety of stakeholders and connecting Great Lakes research with communities are huge passions of mine, and I am excited these strategies are at the heart of Sea Grant's mission."
Gass will begin her new position on Feb. 5, 2018, and will divide her time between MSU Extension offices in Arenac and Bay counties. She will provide services in five counties including Arenac, Bay, Tuscola, Huron and Sanilac.
"Meaghan will be an excellent addition to our Sea Grant team," said Dr. Heather Triezenberg, program coordinator. "We're excited that she will continue the work we've been doing in that region to address Great Lakes, Lake Huron and Saginaw Bay issues."
Michigan Sea Grant helps to foster economic growth and protect Michigan's coastal, Great Lakes resources through education, research and outreach. A collaborative effort of the University of Michigan and Michigan State University and its MSU Extension, Michigan Sea Grant is part of the NOAA-National Sea Grant network of 33 university-based programs.
Gass grew up in southern Illinois but loves living in northeast Michigan. "With all of opportunities for outdoor recreation, living close to Lake Huron has been fantastic. In the Saginaw Bay region, I look forward to collaborating with partners on water and coastal community resiliency issues that are key for the area."
Mischelle Warner, MSU Extension district coordinator for seven counties in northeast Michigan, said having Gass located in Arenac County, as well as Bay, offers more accessibility for residents and communities. "We're looking forward to having Meaghan with us in Arenac County. We know there are so many opportunities for programming and collaboration, plus, the county commissioners specifically requested support from MSU Extension in her expertise area for 2018 and beyond."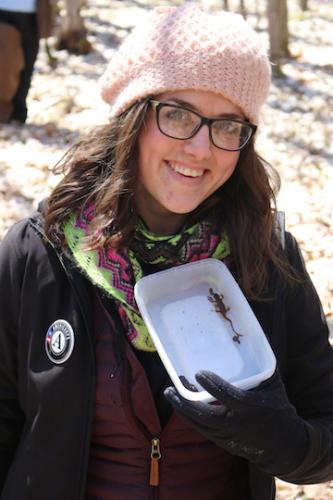 Gass received her bachelor of arts degree from Illinois State University and her masters in political science from St. Louis University. Her research focused on water and river basin governance. As an undergrad she majored in political science and French and minored in Spanish.
While living in the Alpena area, Gass has quickly become a part of the community and served in several volunteer roles, including as a board member for Huron Pines, a 4-H Club Leader, and co-president of the Alpena County League of Women Voters. "It's important to become part of the greater community," she said.
"Meaghan's work experience in northeast Michigan partnering with so many different organizations will lead to great connections, collaborations in the Saginaw Bay area," said Dave Ivan, director of the MSU Extension Greening Michigan Institute. "We are happy to have her join MSU Extension."
Gass is looking forward to her upcoming move to Bay City and to begin building connections with individuals and groups in the area. "We need to work together to ensure protection of the Great Lakes. Collaboration is key. I'm really excited to have this opportunity and look forward to what we can achieve in the Bay area.