Michigan teams take first and second place at national Junior Dairy Management Contest
Two teams from Michigan's Clinton County take top honors at the 2017 Junior Dairy Management Contest during the All-American Dairy Show in Harrisburg, Pennsylvania.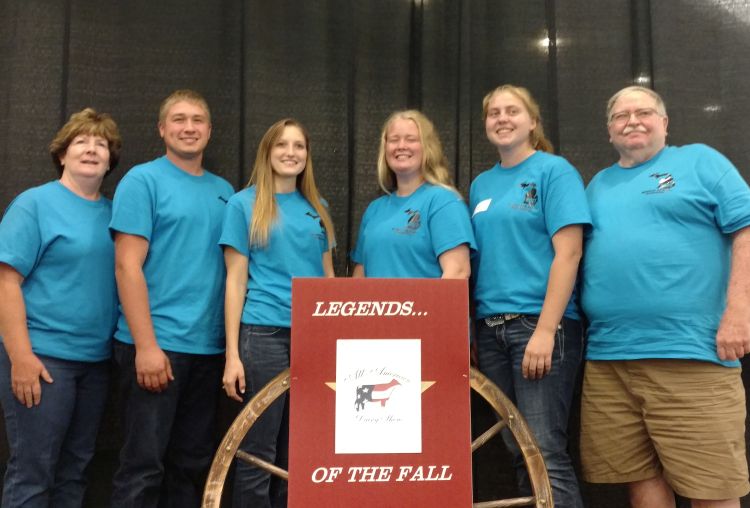 Eight youth from Michigan's Clinton County competed in the national Junior Dairy Management Contest held in conjunction with the All-American Dairy Show in Harrisburg, Pennsylvania, this past September 2017. The team of Miriam Cook from Pewamo, Jacob Arens of Portland, Madison Halfman of St. Johns and Cheyenne Jakus from St. Johns were the first place team in the 4-H division. Coming in a close second, with only a six point difference in overall score, was the team of Miriah Dershem from St. Johns, Jessie Nash of Elsie, Kyle Schafer of Westphalia and Amanda Hicks from St. Johns.
There were a total of seven teams in the 4-H division and 10 in the FFA division for a total of 97 youth in the contest. This was the highest number of participants for the educational contest in its 31-year history.
In addition to the two teams taking top honors, several Michigan youth earned individual awards. Miriam Cook won the contest and received a $1,000 scholarship. To win the contest, Cook had to have one of the top five overall scores from the six stations testing participants' knowledge on the dairy industry with topics including feed stuff identification, veterinary care and linear scoring of live cattle.
After completing the stations, Cook was interviewed and answered questions about current issues in the dairy industry. Her peers from Michigan also earned individual honors with Dershem coming in fourth overall, Nash in sixth place, Arens in ninth place, Halfman in 13th place and Schafer and Hicks tying for 15th place.
Coaches Rodney Pennock and Luann Learner have been working with youth in Clinton County for numerous years and have been very successful at this contest. Both adults spend months and countless hours working with youth to help them learn about the dairy industry and develop life skills to ensure their future success.
Reflecting on her experience, Cook said, "Rod and Aunt Luann, as we affectionately call her, knew that with the right coaching, we all had extreme potential. Every week we had practice and unlike when I competed in basketball and dreaded practice on the court, I looked forward to and anticipated these weekly study sessions with my team and coaches. Because of the support of my coaches and teammates, I was confident at the contest. Without them I would never have even made it to Harrisburg. My success is because of my coaches and all the dairy farmers and people involved in the Michigan dairy industry I had pleasure of talking to and learning from. The show was truly an enlightening experience that served to encourage me to keep learning about this wonderful industry of agriculture specifically dairy."
The Clinton County youth earned their opportunity to compete at this national contest by winning the senior division of the state 4-H Dairy Management Contest held on Monday night of 2017 4-H Youth Dairy Days. Dairy Days, held concurrently with Michigan Dairy Expo, is the largest dairy-centered event in Michigan. During the weeklong event, youth can compete in the dairy management contest, showmanship and breed shows, dairy cattle judging and quiz bowl. Senior teams (youth ages 15-19) who win the state contest in management or quiz bowl earn an invitation to the national contests held during the fall.
Michigan 4-H Youth Dairy Days and Michigan Dairy Expo will take place July 16-20, 2018, at the Michigan State University's Pavilion for Agriculture and Livestock Education in East Lansing, Michigan.
MSU Extension and the Michigan 4-H Youth Development program help to create a community excited about STEM (Science, Technology, Engineering, and Mathematics). 4-H STEM programming seeks to increase science literacy, introducing youth to the experiential learning process that helps them to build problem-solving, critical-thinking and decision-making skills. Youth who participate in 4-H STEM are better equipped with critical life skills necessary for future success.
To learn more about the positive impact of Michigan 4-H youth in STEM literacy programs and animal science programs, read our 2016 Impact Report: "Building Science Literacy and Future STEM Professionals."