Michigan youth have outstanding performance at national Junior Dairy Management Contest
Clinton County 4-H members take top honors at the National Junior Dairy Management Contest in Harrisburg, Pennsylvania.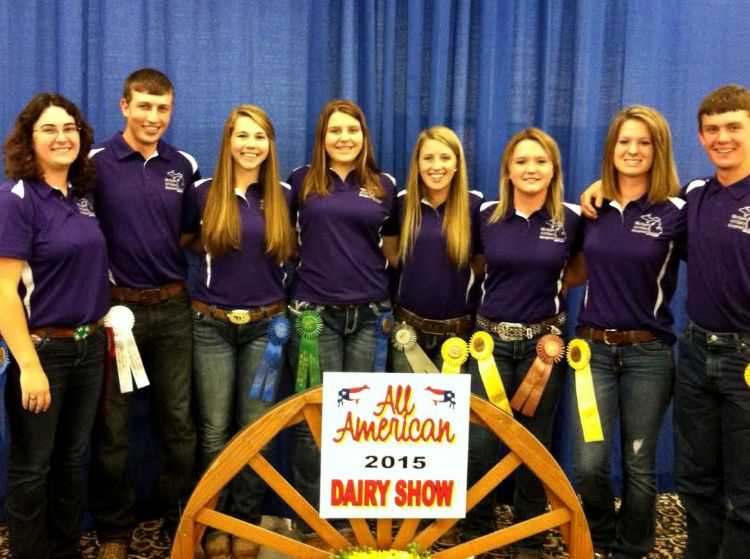 The drive from Michigan to Harrisburg, Pennsylvania, is over 500 miles, but the road to the Junior Dairy Management Contest, a youth-centered educational event held during the All-American Dairy Show, was much longer for eight youth from Clinton County and their coaches. The Junior Dairy Management Contest, which has a 4-H division, allows youth to demonstrate their skills and knowledge in a variety of dairy management scenarios, including farm finances and business management, feed and nutrition management and multiple other areas. Youth spend many hours preparing for this event in more formal practices and learning environments and their everyday lives as they live or work on a dairy farm.
This year, youth from Clinton County earned the chance to compete at the national contest by having the highest scores during the 4-H Dairy Management Contest held Monday, July 20, 2015, during 4-H Youth Dairy Days. For the state contest, youth practice and prepare in teams of three to four. Each participant then answers numerous questions based on common practices or skill in the dairy industry. Youth are also asked to demonstrate a skill, such as the proper method to administer an injection on a "patient" like a banana or orange. Management contests such as this allow youth to learn important tasks they may need to perform or better understand concepts that will be important as they become adults actively engaged in the dairy industry.
In addition to the specific dairy knowledge gained, youth are increasing their overall science literacy by defining the problems placed before them and designing solutions, analyzing and interpreting data, and evaluating and communicating information. Professionals such as Michigan State University professors from the Department of Animal Science or College of Veterinary Medicine, Michigan State University Extension educators, nutritionists and many other industry professionals assist with the contest, presenting youth with a networking opportunity for future internships or careers.
The youth representing Michigan at the national contest were Cameron Cook, Miriah Dershem, Carmen Hicks, Josh Markel, Madeline Meyer, Jessica Nash, Allison Schafer and Holden Schrader. Traveling with coaches Rodney Pennock and Luann Learner, the teams held multiple practices before leaving for Pennsylvania to compete in the contest.
The teams were very successful in the 4-H contest this year with one team consisting of Cook, Markel, Meyer and Schafer taking the highest team overall and the second team of Dershem, Hicks, Nash and Schrader placing fourth. Taking top honors as the high scoring individual and winning a $1,000 scholarship was Madeline Meyer. Six other youth placed in the top 10 individual scores: Schafer in second, Markel in third, Cook in fifth, Nash in seventh and Dershem in ninth. Two youth also received additional awards for obtaining the highest score in specific content areas: Dershem earned the highest rank in Dairy Business Management and Schafer had the highest score in Calf Management, Dairy Nutrition and Linear Scoring/Judging.
Reflecting on her experience at the contest, Meyer stated, "The National Junior Dairy Management Contest was definitely an amazing experience. I'm very fortunate to be a part of Clinton County 4-H, because our coaches and teammates treat you like family and encourage you to do the best you can. I'm so proud of how both of our teams did, and I was so surprised when they announced that four of us had made the top five! That meant a lot, because we have been coming to this contest for several years, so it felt awesome to finally win it, and showed that our hard work has paid off. Also, it was awesome to see all of the beautiful cows that are shown at the All-American Dairy Show, and to group with other young people that share a passion for the dairy industry!"
Nash, a first time participant at the contest, said, "The National Junior Dairy Management Contest was an amazing experience and I look forward to earning the chance to compete again. It opened my eyes to even more careers and aspects of the dairy industry. I learned a lot of information that can help me develops my career path. The interview judges gave speeches about how to start a career and told us their success stories. Overall, I think Harrisburg is an amazing experience that all dairy youth should attend and compete in. Plus, I love the smell of the dairy barns!"
Coaches Pennock and Learner have been working with the team for weeks preparing for the contest. Learner commented, "We are so proud of these amazing kids and the hard work they put in preparing for this contest. Clinton County, Michigan, is blessed with a large number of dairy 4-H kids who are committed to learn about the dairy industry and are a pleasure to work with."
Pennock echoed these thoughts, saying, "This group of kids set a goal last year that they wanted to win this contest, so they put in lot of time and effort into preparing this year. It was a lot of fun working with all these youth and having them challenge Luann and me for more information. Clinton County 4-H dairy has an amazing group of youth to work with."
To learn more about the dairy management contest during Michigan 4-H Youth Dairy Days, visit the Michigan Dairy Youth Program website.