Michigan youth inspired to run for office as a result of 4-H Capitol Experience
A trip to Lansing to 4-H Capitol Experience to learn about state government left one Upper Peninsula youth motivated to run for office someday.
June 1, 2017 - Author: Brian Wibby, Michigan State University Extension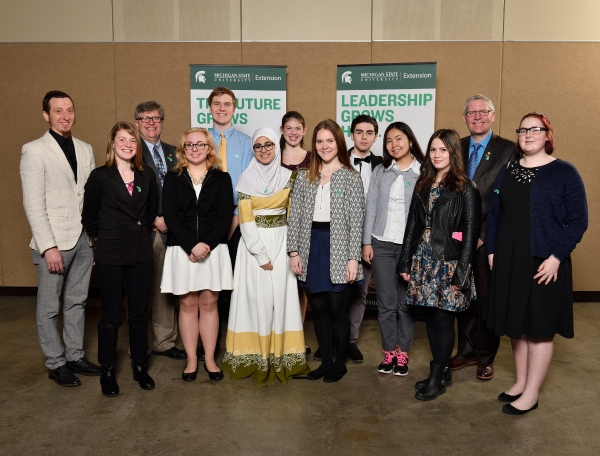 Have you ever wondered what it would be like to serve as a state senator or representative in Michigan's legislature? Have you heard bad things about lobbyists and wonder if they are true? Do you think the "average, everyday person" has any way to influence our state's laws and public policies?
Ten high school students from Michigan's Upper Peninsula traveled to Lansing, Michigan, in March 2017 to explore these questions, and one of them came home with a big goal for his future.
Levi Lauren, a senior from Gwinn High School in Marquette County, was one participant from the Upper Peninsula who found the experience to be impactful.
"When I had arrived in Lansing and saw my state's Capitol building for the first time, I was in awe," said Lauren. "I was able to tour the grand building and learn a lot about the history and stories that went on there. This experience allowed me to make a final decision that floated in the back of my head every once in a while: To hopefully, one day, become a state representative or senator."
Lauren and the other students were participants in the 2017 4-H Capitol Experience, a Michigan State University Extension sponsored program focused on civic engagement that engages high school-aged youth from across the state in learning about Michigan's state government and public policy process.
At the annual four-day program, youth work in teams called "issue groups" to draft a legislative bill to address a topic they identify as important within the state. This year's issue groups were focused on plant agriculture, the environment, animal agriculture, civil rights, natural resources, law enforcement, education and community health and human services.
In addition to drafting a bill, touring the Capitol building and speaking with other teens about public policy issues, Lauren and the other 4-H Capitol Experience participants met with a variety of people who help shape our state's public policy in different ways.
"I was able to meet many new and exciting people, including some 'famous' people from here in the Upper Peninsula," said Lauren.
This included meeting with state legislators, state government staff and officials, lobbyists and representatives from community-based organizations, nonprofits and educational institutions. Lauren was especially impressed with his meeting and interaction with two lawmakers who represent the Upper Peninsula in Lansing: Senator Tom Casperson and the late Representative John Kivela.
"For some reason I had the feeling they would act like politicians, but they felt like old friends and it was great to sit down and have a good conversation with them," said Lauren. "Being able to hear their story and how they became politicians was inspiring for me and gave me inspiration to hopefully become a state representative or state senator in the future. It was an amazing experience to be able to meet and have breakfast with them, as well as watch them in committee meetings and in their sessions."
State Senator Tom Casperson enjoyed his time with participants from the Upper Peninsula as well.
"It was great to meet the 4-H students from the Upper Peninsula as they visited the Capitol," said Casperon. "It makes me proud to see young people who are interested in learning how good public policy is developed and who are dedicated to improving their communities and their state."
Michigan 4-H has been conducting the 4-H Capitol Experience program for the past 35 years with the goal of increasing participants' understanding of civics and public policy. The 4-H Capitol Experience program addresses a lack of civics literacy among Americans that is evident in recent research findings.
A survey issued by the University of Pennsylvania in 2014 showed that only 36 percent of respondents could identify the three branches of government in the United States, and 35 percent of respondents could not name a single branch. Another report in 2014 by The Nation's Report Card showed only 23 percent of eighth graders in the U.S. were proficient in civics.
For Lauren, seeing how changes in public policy happen at the state level was a big takeaway from his experience.
"The 4-H Capitol Experience program gave me a much larger insight into the ways people from different backgrounds can make new laws and be able to change so much around them," he said.
While Lauren found value in understanding the public policy process from his experience, Senator Casperson sees 4-H Capitol Experience as a contributor to the development of new Michigan leaders.
"4-H is an outstanding organization that encourages civic involvement and helps support the next generation of Michigan leaders," said Casperon.
To learn about the positive impact of Michigan 4-H youth leadership, citizenship and service and global and cultural education programs, read our 2016 Impact Report: "Developing Civically Engaged Leaders". Additional impact reports, highlighting even more ways Michigan State University Extension and Michigan 4-H have positively impacted individuals and communities in 2016, can be downloaded from the MSU Extension website.
---