Michigan's Upper Peninsula predicted to have increased wildfire potential this spring
After two years with lower than normal risk, much of the upper Midwest is predicted to have higher than normal wildfire risk this April.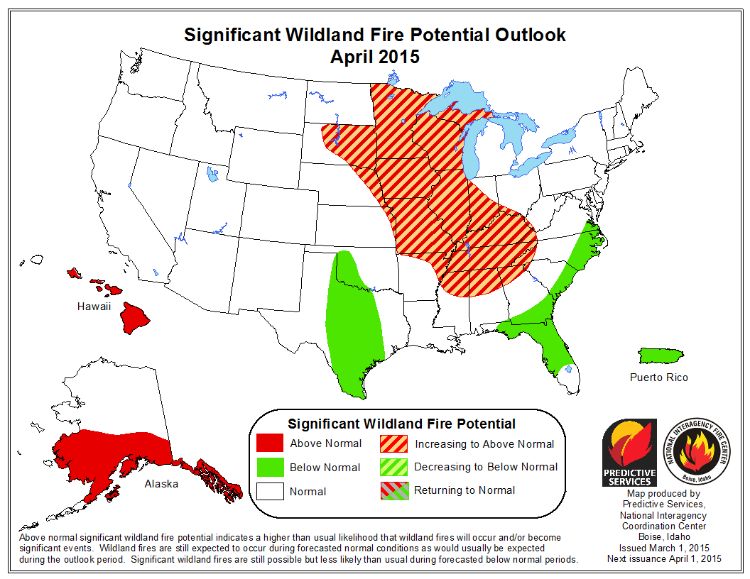 An analysis by for the National Interagency Fire Center, predicts that April wildfire potential in the upper Midwest through much of the Ohio River Valley will be above normal. Using information such as prevailing weather patterns, the index indicates that states including Minnesota, Iowa, Missouri, Wisconsin, Illinois, Kentucky, Tennessee and parts of Indiana and Michigan have an elevated fire risk this spring compared to normal years.
Winter weather was warmer and dryer than usual for areas of the Great Plains and there were lower than normal levels of precipitation for much of the Great Lakes states, both contributing to the prediction of increased wildfire risk throughout the region this spring. With changing weather conditions the fire potential outlook could change, and the next prediction will be issued April 1.
The main objective of the Wildland Fire Potential Outlooks is to improve information available to fire management decision makers for proactive wildland fire management, thus better protecting lives and property, reducing firefighting costs and improving firefighting efficiency.
At the same time, the outlooks can remind property owners in the wildland and wildland-urban interface that wildfire is an annual threat, some years more so than others. While trained and prepared wildland firefighters are critical to saving property and life, a property owner's best defense is to implement Firewise practices. Michigan State University Extension educators have written extensively on the topic of Firewise over the last several years. Some of the key resources include:
While being Firewise is an inherently personal and voluntary measure, local government has a role to play too. By educating property owners on wildfire risk, or adopting reasonable regulations to ensure property access by emergency responders, local government can also be Firewise. At the most basic level, information on how to be Firewise could be provided to property owners at the time of issuing building permits or zoning permits if properties are located in wildfire hazard areas. Two excellent resources available for distribution to property owners include:
Michigan State University Extension educators have also prepared a sample wildfire hazard zoning ordinance amendment for local governments to consider in fulfilling their responsibility to protect public health, safety and welfare. Remember, it's not if a fire starts…but when.