Midwest Cover Crop Council annual meeting hosted this spring in North Dakota
Learn more about cover crops, their benefits and uses at the 2018 Midwest Cover Crop Council annual meeting March 13-14, 2018.
February 15, 2018 - Author: Dean Baas, Michigan State University Extension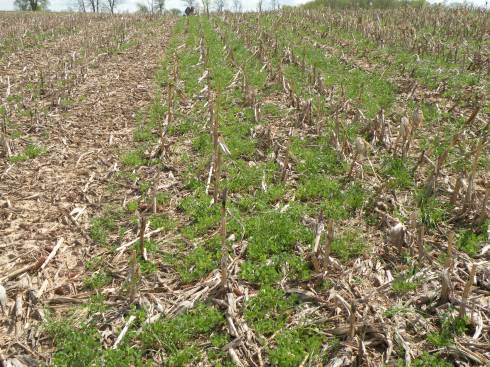 Cover cropping in any agricultural system works to increase soil health, slow erosion, enhance water quality and availability, smother weeds and increase beneficial insects. Depending on the cash crop, management style and cover crop variety, these outcomes can be very different. Those with years of experience and those just starting off can run into some issues, and those issues can result in some innovative solutions.
Every year, the Midwest Cover Crop Council has an annual business meeting followed by a conference for farmers, researchers and agribusinesses to learn from one another about the latest information in successful cover cropping. Farmers and agricultural professionals are invited to learn more about cover crops, their benefits and uses at this year's Midwest Cover Crop Council Annual Meeting and Conference, March 13-14, 2018, at the Hilton Garden Inn, 4351 17th Ave. S Fargo, ND 58103.
The conference highlights three keynote speakers. Ray Weil, soil scientist from the University of Maryland, has a long history of cover crop research and is the writer of "Nature and Properties of Soils," a staple book used in all introduction soil science classes. His address is titled, "Roots Run Deep in Cover Crop Science."
North Dakota native Clark Seavert, agricultural economist from Oregon State University, will be speaking on "Play to Win With Sustainable Systems," which will address how to evaluate the cost of adopting new practices.
Lastly, Daryl Ritchison, interim director of North Dakota Ag Water Network, will share experiences from those who lived through the 1930s. His powerful presentation, "Voices of the 30s, When the Soil Blew Away," puts sustainable practices into perspective.
In addition to the keynotes, concurrent sessions will feature cover crop presentations from farmers, researchers and educators from around the Midwest. Discussion sessions will address a number of practical topics on cover crops selection, benefits and management.
This year's conference main topics include:
Incorporating cover crops into rotation.
Managing diseases, pest and weeds when using cover crops.
Grazing opportunities with cover crops.
Nutrient cycling and availability with cover crops as a tool.
Relay and intercropping.
Economic decision tools for changing practices on-farm.
And much more!
Early bird registration for the workshop is currently $160 per person and pre-registration is required. The registration price will increase after March 2. Registration and more information can be found at 2018 Midwest Cover Crops Council Annual Meeting.
For additional information about the conference, contact Dean Baas at baasdean@anr.msu.edu or 269-967-9672.
The Midwest Cover Crop Council's goal is to facilitate widespread adoption of cover crops throughout the Midwest and to improve ecological, economic and social sustainability. The Midwest Cover Crop Council defines cover crops as plants seeded into agricultural fields, either within or outside of the regular growing season, with the primary purpose of improving or maintaining ecosystem quality. States represented in the Midwest Cover Crop Council are Illinois, Nebraska, Indiana, North Dakota, Iowa, Ohio, Kansas, Ontario, Michigan South Dakota, Minnesota, Wisconsin and Missouri.
This work is supported by the Crop Protection and Pest Management Program 2017-70006-27175 from the USDA National Institute of Food and Agriculture. Any opinions, findings, conclusions or recommendations expressed in this publication are those of the author(s) and do not necessarily reflect the view of the U.S. Department of Agriculture.
---