MIplace Partnership Initiative and partners receive special award at MAP Conference
The Michigan Association of Planning (MAP) recently held their annual conference Oct. 26-28, 2016, in Kalamazoo.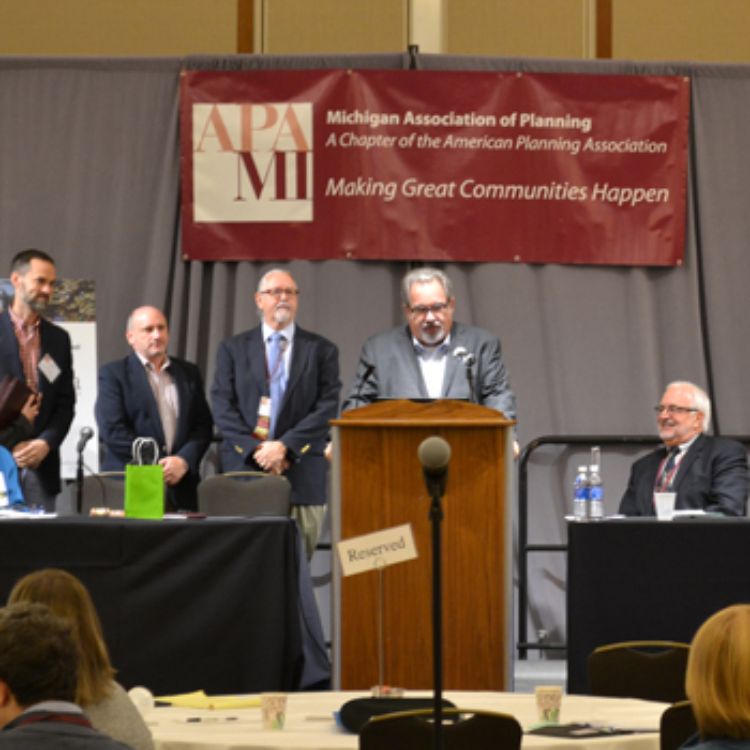 The Michigan Association of Planning (MAP) recently held their annual conference Oct. 26-28, 2016, in Kalamazoo. Every year, they host a Planning Excellence Award Banquet to recognize achievements of local planners. Occasionally, MAP bestows a special award to a major project or initiative of significant statewide impact. This special award is characterized by extensive stakeholder collaboration, unique partnerships and multiple activities that incorporate good planning principles and are likely to have a long-lasting impact across the state.
This year, the award was presented to the MIplace™ Partnership Initiative for its placemaking and PlacePlans work by its major partners: The Michigan State Housing Development Authority, the Michigan Municipal League, the MSU Land Policy Institute, MSU Extension and the MSU School of Planning, Design and Construction. The MIplace had four key elements over the last three years. Some of the key products and activities are listed below:
Education:
Development of the first comprehensive Placemaking Curriculum through which nearly 15,000 people were trained by nearly 100 trainers.
Development of the first comprehensive guidebook on placemaking, which has been distributed free to more than 1,100 people, including 40 people from a dozen countries outside of the U.S.
2. Policy:
Develop targeting strategies and initiate data gathering for placemaking projects.
Development of alignment protocols for state agency field staff to work collaboratively in support of local placemaking projects for state grants.
3. Research:
Identify placemaking best practices and research that shows the positive economic, social and environmental impacts of good placemaking.
Develop feasibility of new metrics to measure placemaking projects.
4. Implementation:
Development of 24 PlaceMarket case studies of placemaking in action.
More than two-dozen PlacePlans to prepare plans for and implement placemaking projects.
Also being recognized are the collaborative team that for three years helped to guide this effort with representatives of the organizations listed above (and MAP's Andrea Brown) and on behalf of the Michigan Sense of Place Council (with representatives of nearly 40 stakeholder groups), and the Intergovernmental Placemaking Committee (comprised of representatives of seven state agencies):
Staff of the Community Economic Development Association of Michigan, Jamie Shriner Hooper;
Staff of the Michigan Economic Development Corporation, Katharine Czarnecki; and
Present and former staff of MSHDA: Karen Gagnon and Julie Hales Smith.
Please join us in congratulating the MIplace™ Partnership Initiative and partners on their award and efforts!