Money matters: Teach children early
Research shows that soon after age four, children start formulating saving or spending habits. Many wonderful resources are available to assist parents in teaching their young valuable money skills.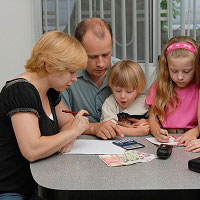 It is the opinion of many that children are born with a natural sense of money and how it is earned or used. It is also assumed people know how to make their money work for them as their earning potential grows. These are, of course, misnomers. Good financial management and knowledge comes from experience, exposure and learning.
The question then becomes, when should financial education begin? At what age can children begin to connect the dots about money and apply it to their lives? Experts with the National Network for Child Care say that by age 4, a child has a basic understanding of concepts related to number and size. At this age, their pretend play also extends into more elaborate settings like school, store or ice cream shop. With the child's abilities in mind parents, caregivers and others in regular contact with them can begin to introduce basic monetary concepts through play and teachable life moments.
Parents will not be their child's only influence when it comes to money. Outside influences on a child's development are strong and varied. The advantage parents who start early have, is they can model good financial behaviors for their children to observe thereby imparting their values and beliefs on the children ahead of outsiders. A parent playing store with their preschooler can use the opportunity to talk with the child about how they earn money working a job that pays them. In this way they can make the connection for the child between shopping for the family at a store in their hometown and buying items at the child's make believe store. They can also introduce savings by explaining to their child how putting aside money in their piggy bank today can help them to purchase something in the future; something that may not be affordable at that moment. One example of this may be a toy the child requests after seeing it in a movie or on a TV advertisement.
Readingbooks that teach valuable money lessons to a child is a wonderful way to spend enjoyable, quality time with them and make learning fun. "Alexander, Who Used To Be Rich Last Sunday" by Judith Viorst and "Just Shopping with Mom" byMercer Mayer are two wonderful examples.
For more information on this topic check out the article Financial education can start at any age on the Michigan State University (MSU) Extension news webpage. Start early to help ensure your child makes good financial choices in their future.
Other valuable activities and ideas can be found in the Thrive by Five lessons offered by the Credit Union National Association. For elementary-age children, visit the 4-H Build a Million club and click on the green tab labeled "Go To Youth Site."